Is WP Simple Pay Worth It? (Review in 2023)
Are you looking to accept one-time or recurring payments on your WordPress site while weighing the value of WP Simple Pay?
To help you make an informed decision on whether to purchase a premium WP Simple Pay license or even upgrade your existing plan, we've put together an in-depth review of all of the plugin's features.
Table of Contents
WP Simple Pay Review: Is it Worth it?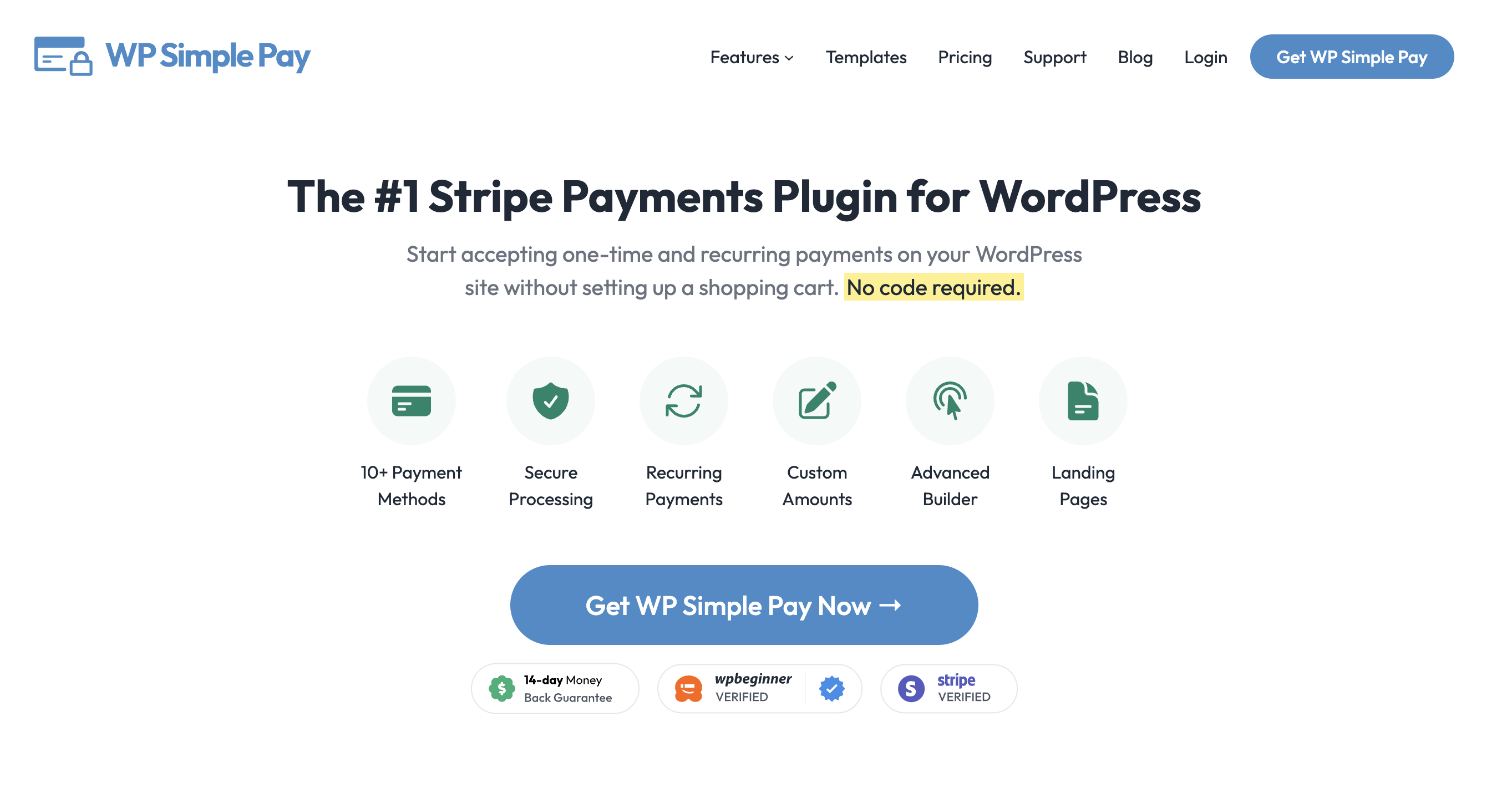 WP Simple Pay is the best Stripe payments plugin for WordPress. You can use the plugin's advanced drag-and-drop form builder to create attractive, professional-looking payment forms for products, services, registrations, subscriptions, fundraisers, and more.
WP Simple Pay lets you accept multiple payment methods securely via the Stripe payment gateway.
WP Simple Pay Lite
WP Simple Pay Lite is the 100% free version of the #1 Stripe payments plugin for WordPress.
WP Simple Pay Lite allows you to:
WP Simple Pay Lite's setup wizard makes connecting your Stripe account to your WordPress site easy by eliminating the need to manually enter your API keys.
WP Simple Pay Lite has over 10,000 active installations and a 4.4-star rating.

The free version offers a few essential features that make it a great option for businesses and non-profit organizations that need to start collecting payments effortlessly without the need for code or setting up a shopping cart.
With all of that said, if your business earns more than $1,650 per year, you'll want to purchase a Pro license, and here's why. With the additional Stripe processing fee of 3%, if you collect $1,650, you will have a total of $49.50 deducted from your earnings. Since the least expensive Pro plan costs $49.50 for the entire year, you can offset those fees simply by using the Pro version.
To help you grasp the amount you'll receive after you cover the processing fees, let's break down the math: Start with $1,650 and calculate 0.03% of it, which equals $49.50. Subtract this fee from the original amount, which results in a final amount of $1,600.50.
As you can see, for businesses that collect $1,650 or more annually, this alone makes transitioning to a premium license a smart choice.
Remove the additional 3% fee!
Most Stripe plugins charge an additional 3% fee for EVERY transaction
…not WP Simple Pay Pro!
Is WP Simple Pay Worth It?
WP Simple Pay is the #1 Stripe payments plugin for WordPress that lets you accept payments directly on your site without having to set up a shopping cart or storefront.
You can use WP Simple Pay Pro to:
Keep visitors on your site longer by allowing them to complete their transactions using On-site payment forms.
Rely on consistent income through recurring payments by enabling subscription payment options.
Improve the customer experience with customized email confirmations and messaging for individual payment forms.
Save time and boost conversions by automating purchase-related tasks like adding new customers to your mailing lists and posting social proof notifications.
Sell more products and services globally by offering your customers their preferred non-card payment method options based on their locations, including Cash App Pay, ACH Direct Debit, Affirm, Klarna, Przelewy24, Giropay, Alipay, SEPA Direct Debit, Apple Pay / Google Pay / Microsoft Pay, and FPX.
Increase average order values by offering flexible installment options.
Reach fundraising goals for your non-profit by implementing suggested donation amounts on your payment forms.
Grow your business and attract more interest in your brand with free trial periods.
Receive the full payment amount by passing on the 3% Stripe processing fee to your customers during checkout.
Increase conversions by allowing your customers to complete their payments 9x faster with a single click.
Keep your customers informed about their order status via SMS notifications by collecting a valid phone number.
If your business or non-profit would benefit from these features, purchasing a premium license is worth it.
Not completely convinced yet? Let's take a deeper dive into what WP Simple Pay Pro has to offer.
How Does WP Simple Pay Work?
WP Simple Pay Lite and the premium versions of WP Simple Pay offer the same advanced drag-and-drop payment form builder.
Once you've installed the plugin on your WordPress site, you can access the form builder and create payment forms straight from the WordPress admin dashboard.
The plugin's setup wizard will walk you through connecting your Stripe account to your WordPress site in less than five minutes. Unlike other Stripe payment plugins, WP Simple Pay offers Stripe Connect, which does not require you to enter your API keys manually.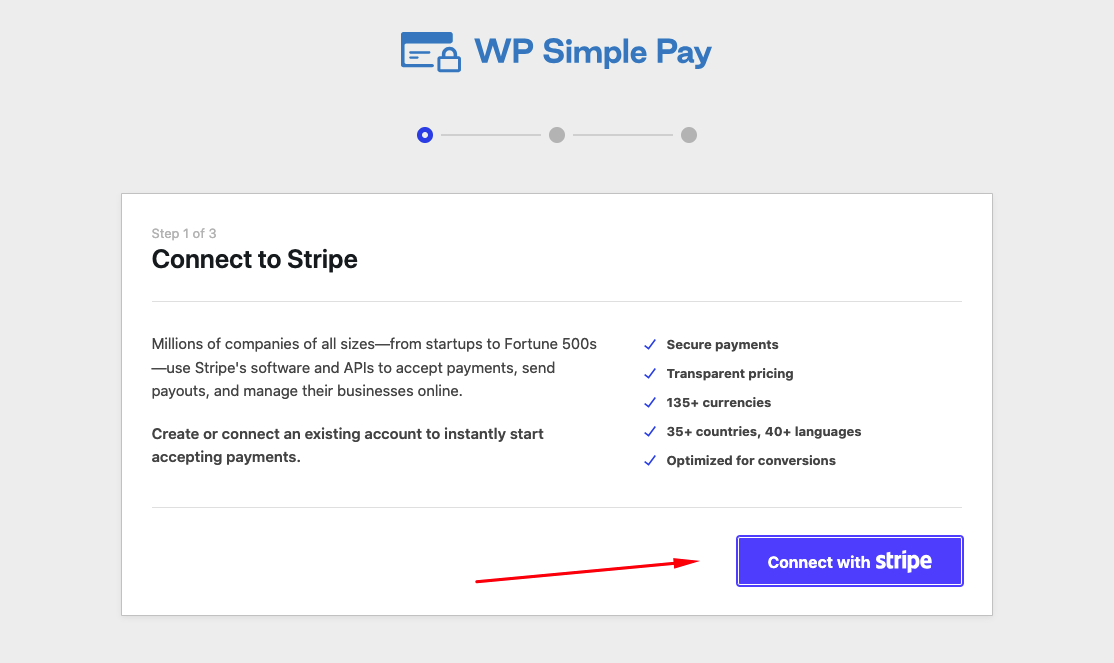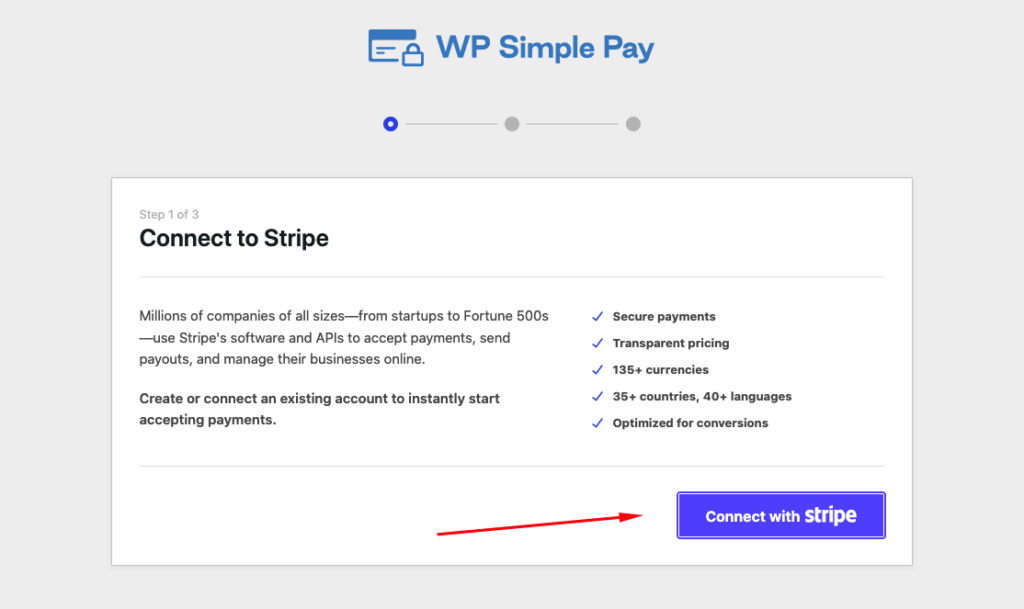 One of the real advantages of using WP Simple Pay rather than some of the other popular e-commerce plugins like WooCommerce is that you don't need to install a single addon or additional plugin to begin accepting payments because it is a standalone plugin.
Once you're finished connecting your Stripe account, you can create a payment form and have it up and running on your site in minutes.
First, you'll notice that WP Simple Pay offers tons of pre-built payment form templates to help you get a jump start. While the free version of WP Simple Pay offers a few templates for you to choose from, you can unlock the full library with a Pro plan.


Keep in mind that with WP Simple Pay Lite, you are restricted to Off-site payment forms that redirect your customers to a Stripe-hosted checkout page once they click on the payment button. They look like this: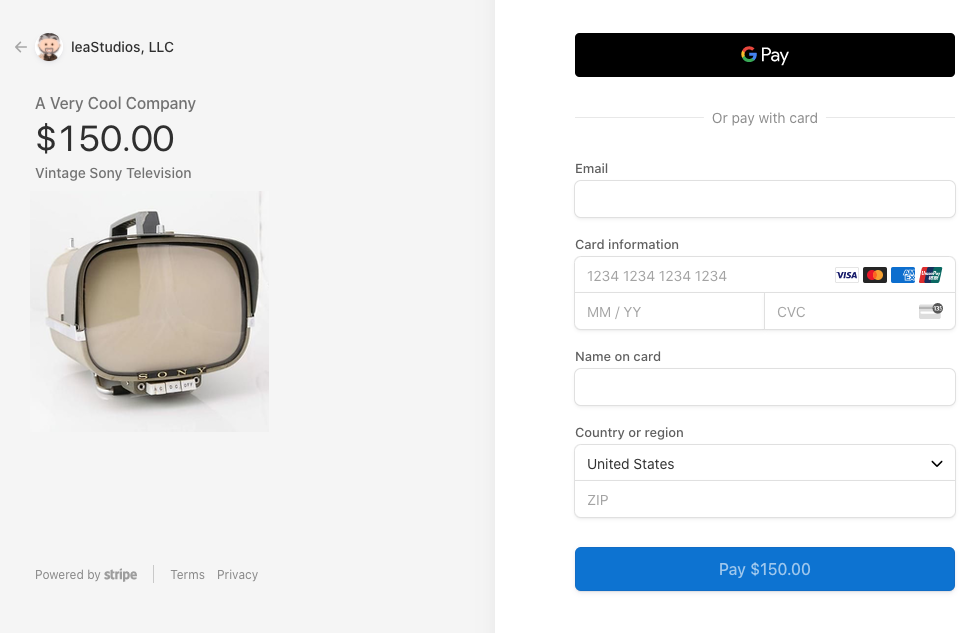 Once you've accessed the WP Simple Pay form builder through the WordPress admin dashboard and you've chosen your pre-built template, you're able to easily add your price amounts and price options. You can also choose between a One-time payment and a Subscription. With a Pro plan, you have the option to have the correct tax amounts calculated automatically based on the customer's location.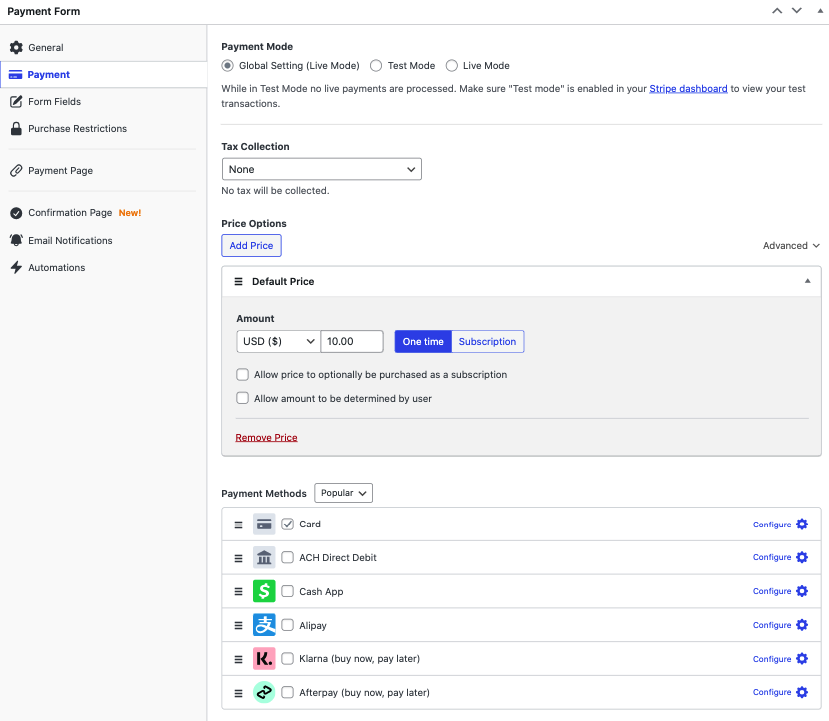 For the Payment Methods, you'll see the list of available options. All you have to do to accept multiple payment methods is check the boxes for the ones you want to offer.
Next, in the Form Fields tab, you can add, edit, or remove several different custom fields to ensure that you're collecting the information you need from your customers.


For the Purchase Restrictions options, you can schedule specific date ranges for when your forms accept payments. You can also prevent overselling limited edition products or time-sensitive event registrations by automatically hiding the payment form after a specified number of transactions.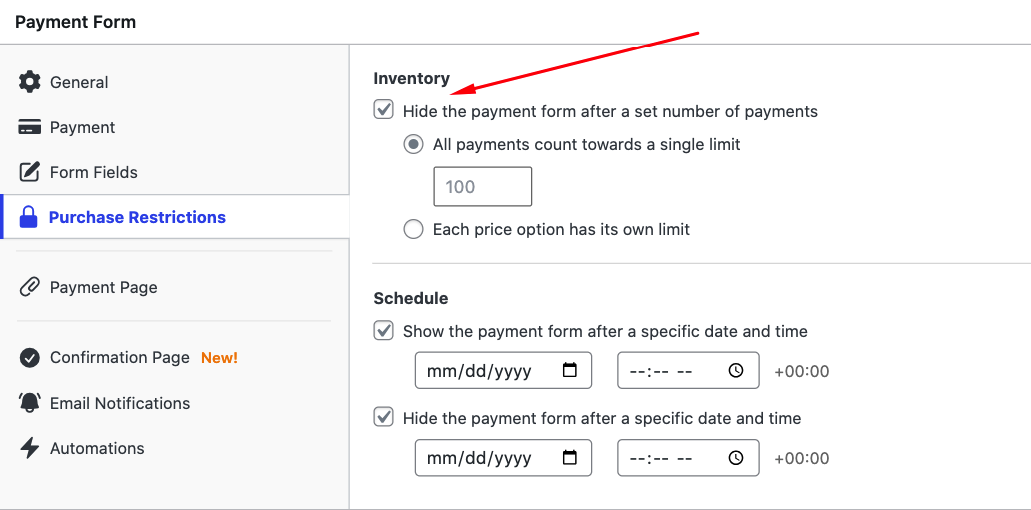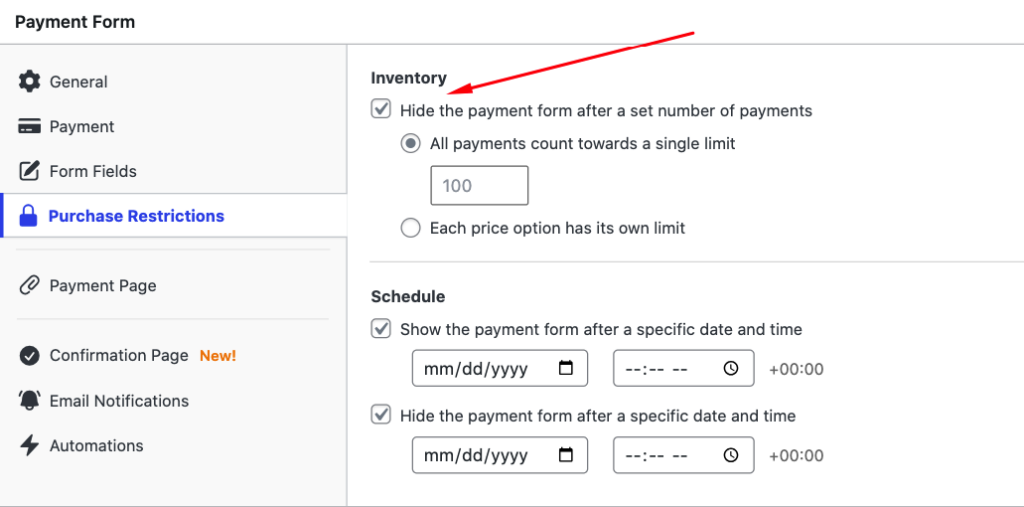 If you need to customize your payment confirmation message for a specific form, you can easily enter it in the Confirmation Page tab. If you sell tailored services, online courses, or a product or service that requires post-purchase steps or additional information, this is a great feature.


In the Email Notifications tab, you can personalize your payment confirmation email message for purchases made using this individual form.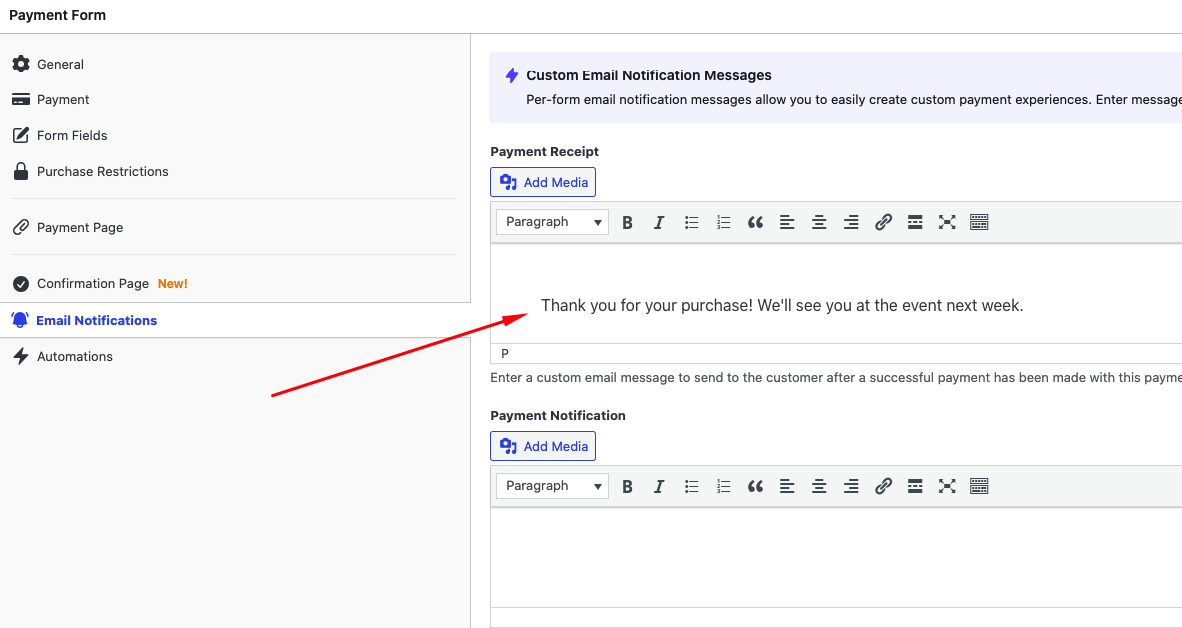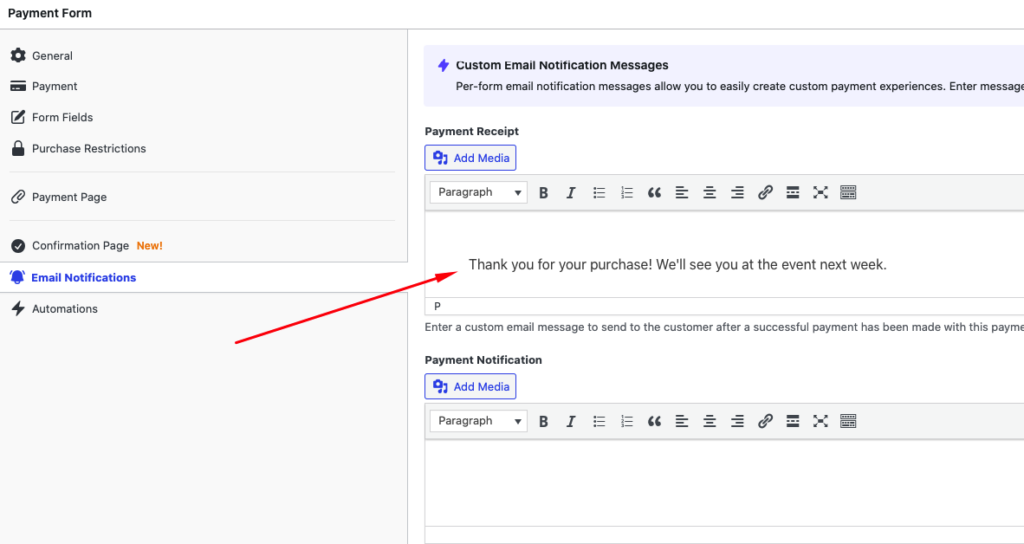 WP Simple Pay offers a built-in integration with Uncanny Automator, the most powerful automations plugin for WordPress, to help you save time and create automations for post-purchase tasks related to your forms.
You can use it to add new customers to your mailing lists, post recent sale notifications on your site to boost social proof, create new user accounts in WordPress, assign roles to donors, customers, or subscribers, and so much more.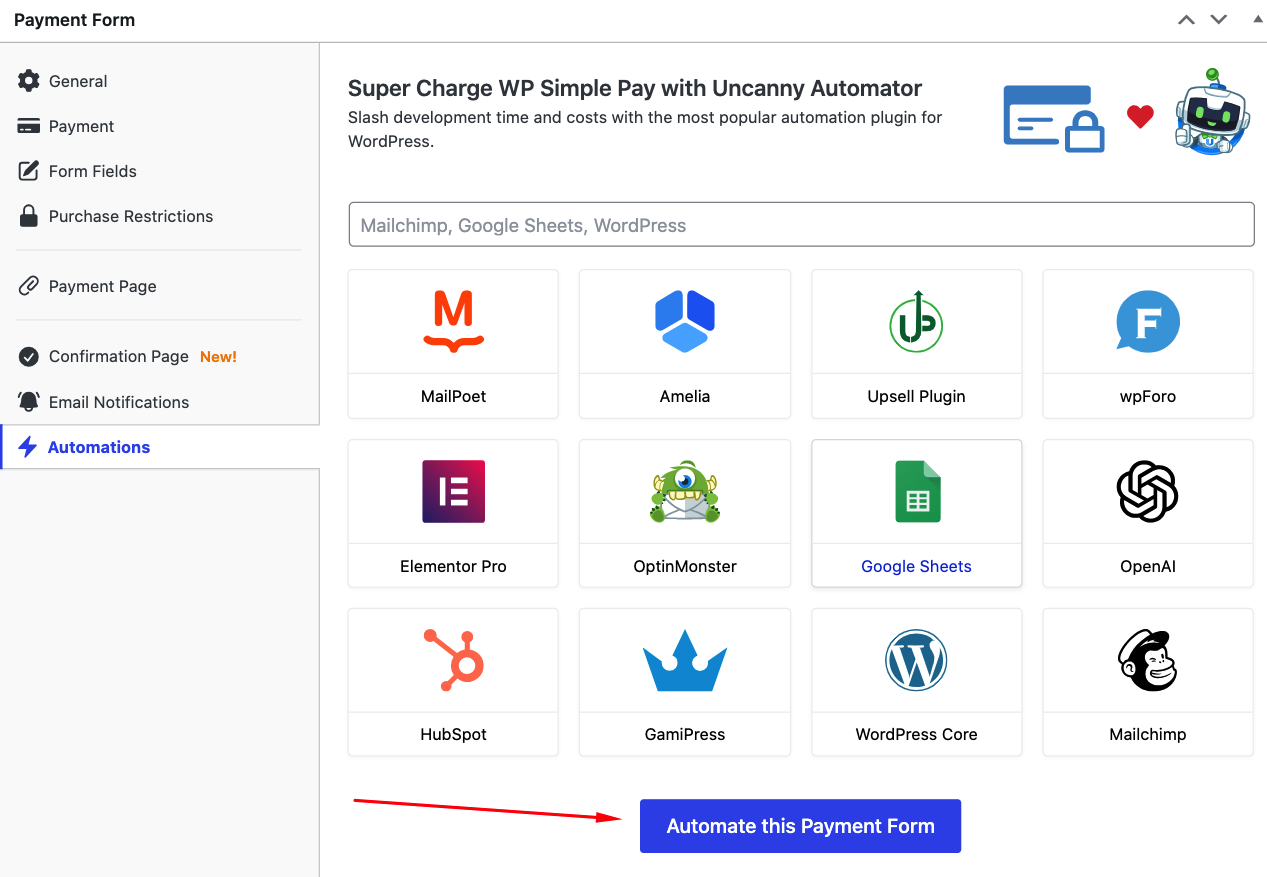 Adding your payment form to your WordPress site is super easy and can be done using two different methods:
Using a shortcode
Using the WP Simple Pay block editor
With the shortcode, you can simply copy it from the form builder and paste it onto the page or post you'd like your form on.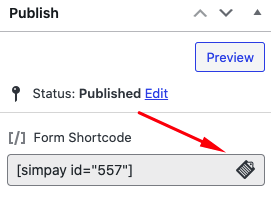 While manually copying and pasting the form shortcode is quite simple even for beginners, we recommend using the block editor. All you have to do is click on the + icon on the page or post to bring up the block editor. Then, find the form you've created in the dropdown menu and click on Update or Publish.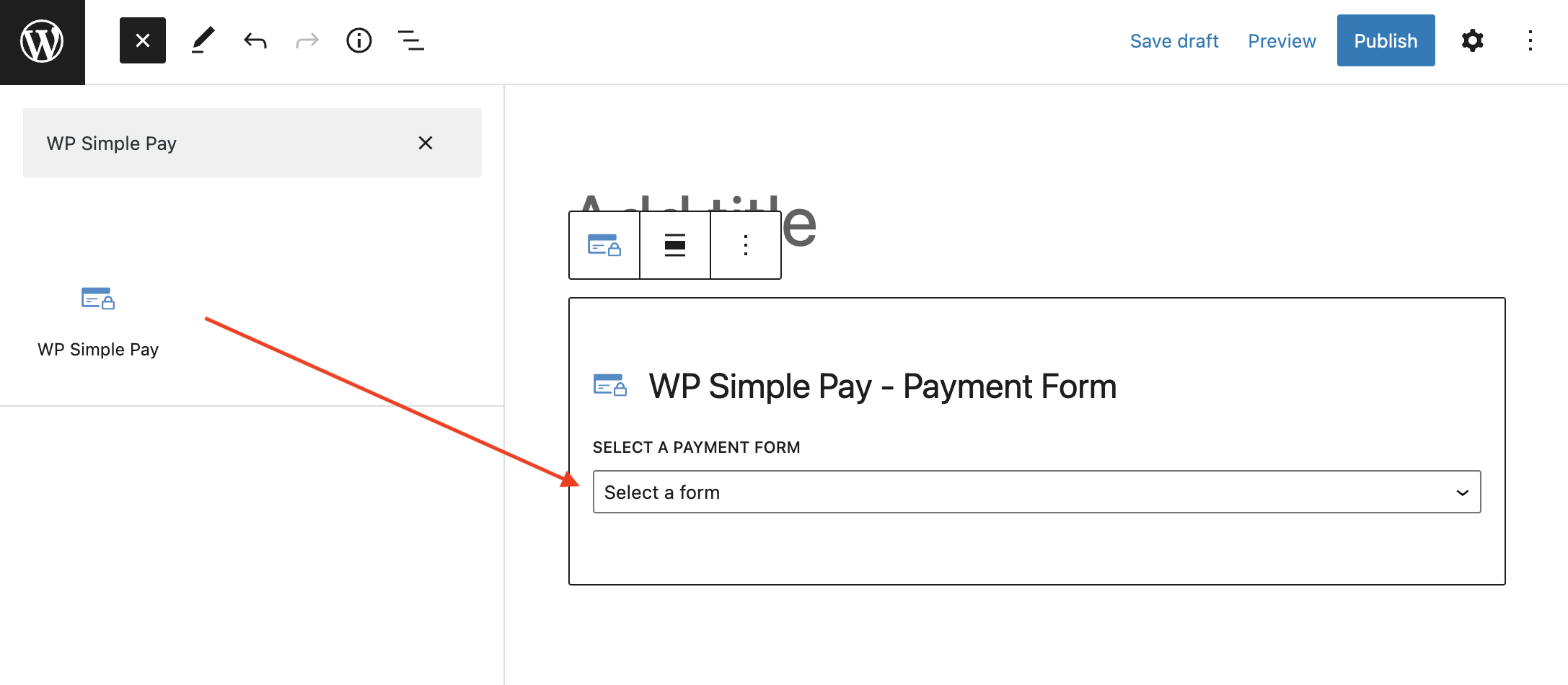 WP Simple Pay Review – Why Would I Pay for WP Simple Pay in 2023?
Still wondering why you should pay for WP Simple Pay? It's always a good idea to consider what others like about a WordPress plugin before you commit to purchasing it.
To help you make a comparison between WP Simple Pay Lite vs. WP Simple Pay Pro, let's take a look at five of the most popular features you'd be missing out on with the free version.
1. On-site Payment Forms
Keeping visitors on your site can be challenging, especially for new businesses.
With WP Simple Pay Pro, you don't have to send your visitors to a Stripe-hosted checkout page. They can complete their purchases on a distraction-free, branded landing page or directly on the page or post you've embedded your form on.
A distraction-free landing page can be easily configured and customized in the payment form builder: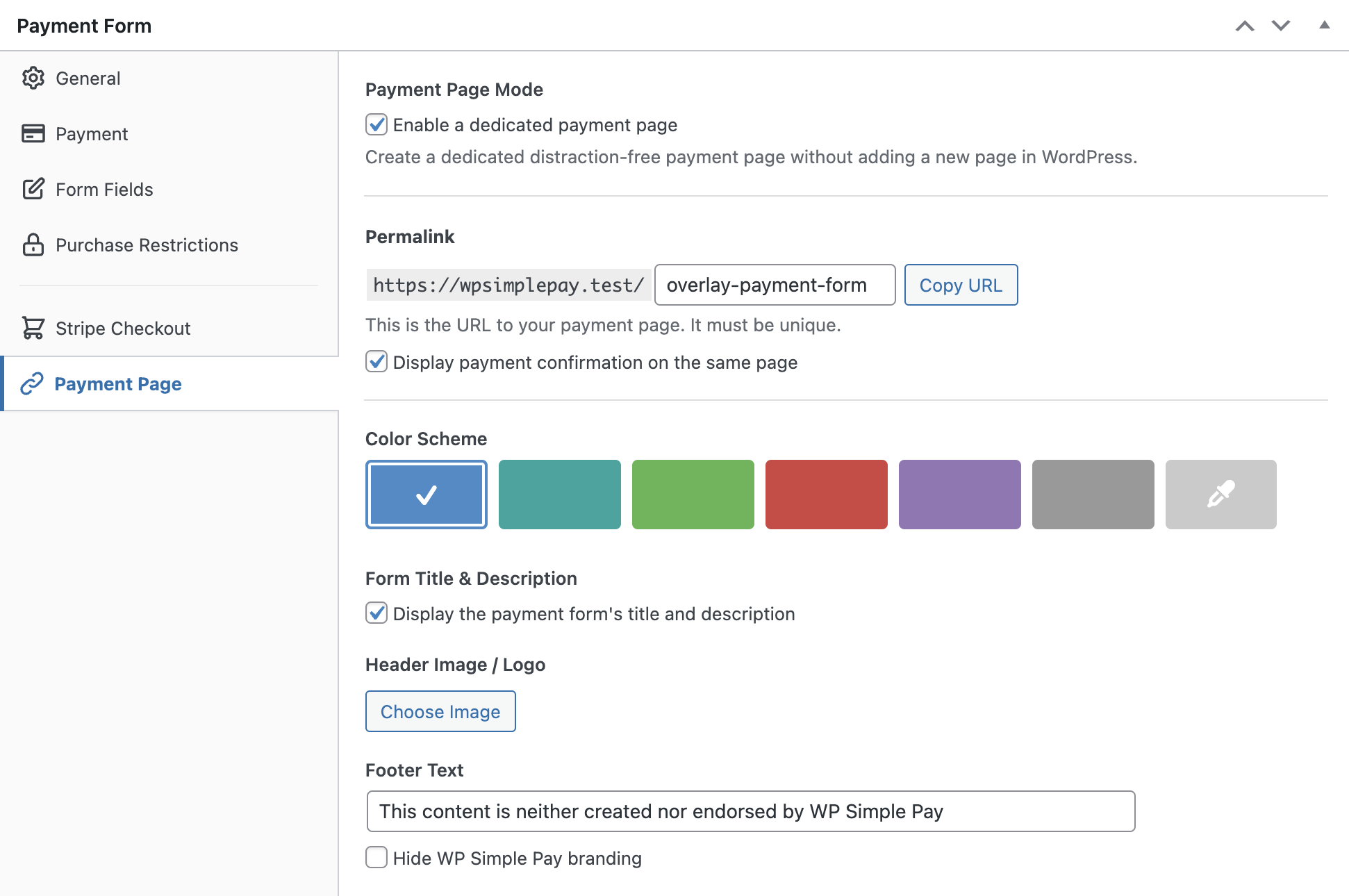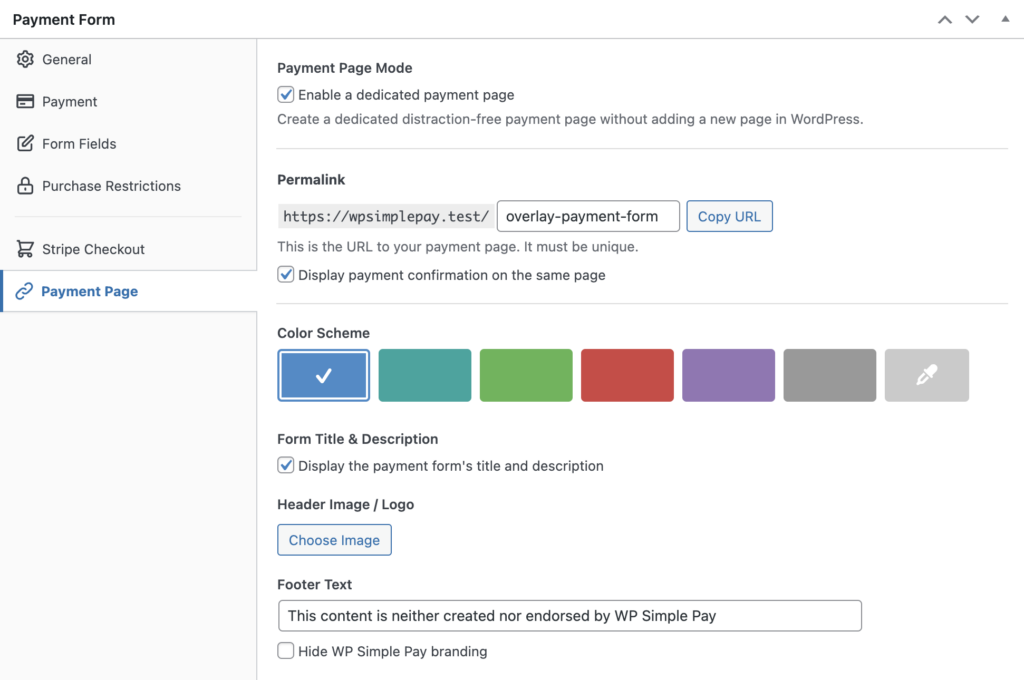 2. Additional Payment Methods
While WP Simple Pay Lite allows you to accept several non-card payment methods in addition to traditional credit cards and debit cards, an upgrade to Pro unlocks even more payment methods, including Cash App Pay, and Buy Now, Pay Later services like Affirm.
Adding additional payment methods allows you to establish a larger customer base and avoid excluding those from other parts of the world.
3. Recurring Payments
Many WP Simple Pay Pro users are benefitting from setting up recurring payments for repeat customers or donors.
Unlike several other online payment plugins and platforms, WP Simple Pay Pro lets you automatically accept repeat payments on a weekly, monthly, or yearly basis without ever having to send invoices or ask for payment details.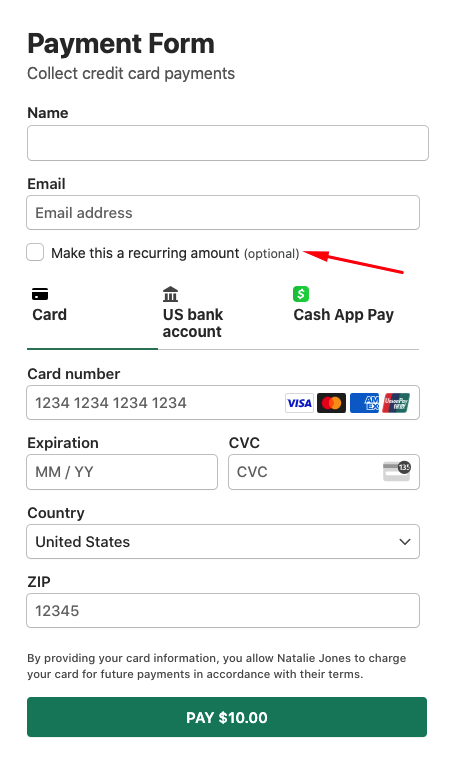 You can easily set up recurring payments and even charge a Setup Fee, or offer a Free Trial period in the payment form builder.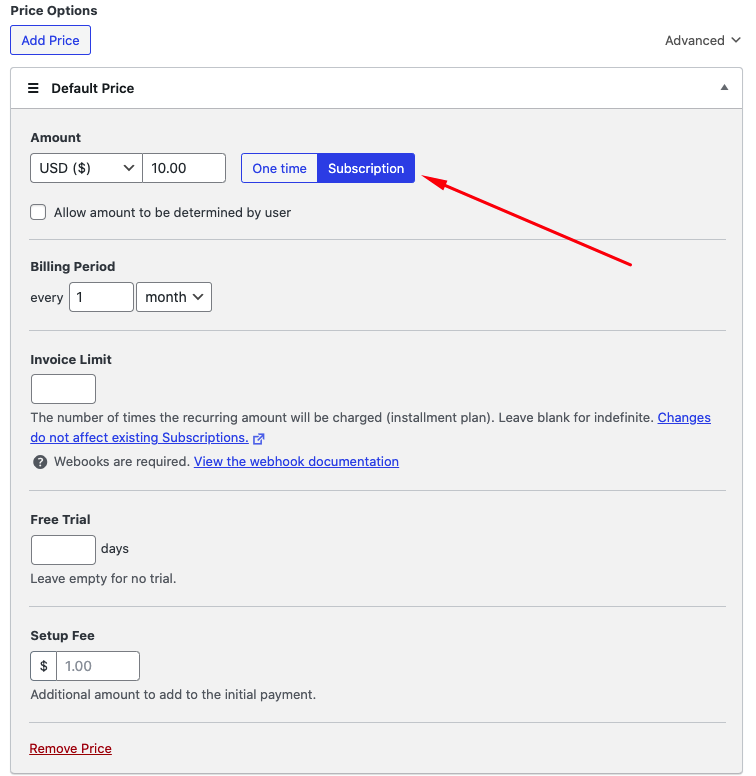 4. Powerful Integrations
WP Simple Pay Pro works with popular third-party plugins like Elementor and Divi, which means you can easily add your payment forms to your site if you're already using one of these options as your WordPress site builder.
Additionally, by integrating your payment forms with automation solutions like Uncanny Automator and Zapier, you can accomplish tasks like adding new customers to your mailing list and posting recent sale notifications on your site to improve your social proof.
If you're a non-profit looking to boost donations, you can even create targeted popup campaigns for your site that highlight your donation payment form.
With integrations, you can connect your payment forms to:
5. Coupon Codes
Who doesn't love receiving a coupon code for products or services?
Offering coupon codes can give you a significant advantage over your competition, foster customer loyalty, increase average order values, help you acquire new customers, and more.
With WP Simple Pay Pro, you can easily create fixed amounts or percentage-based discounts for both one-time and recurring payments. Plus, you can limit coupon code redemptions by count, date, or to specific payment forms.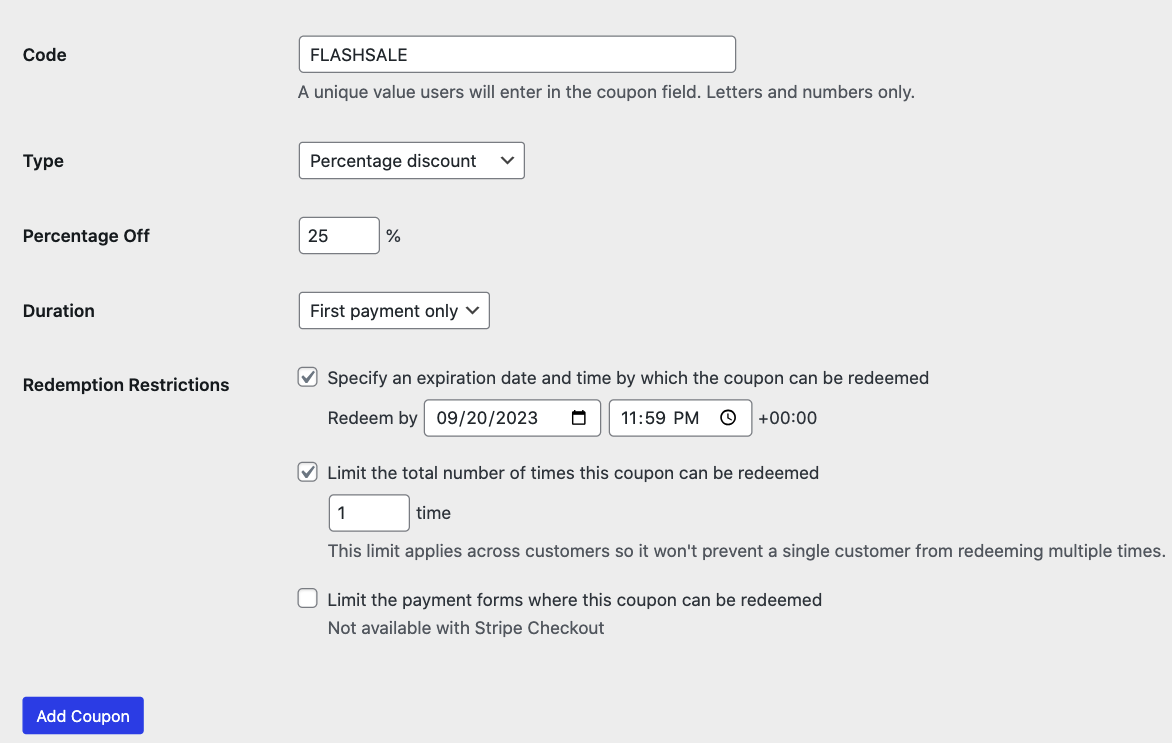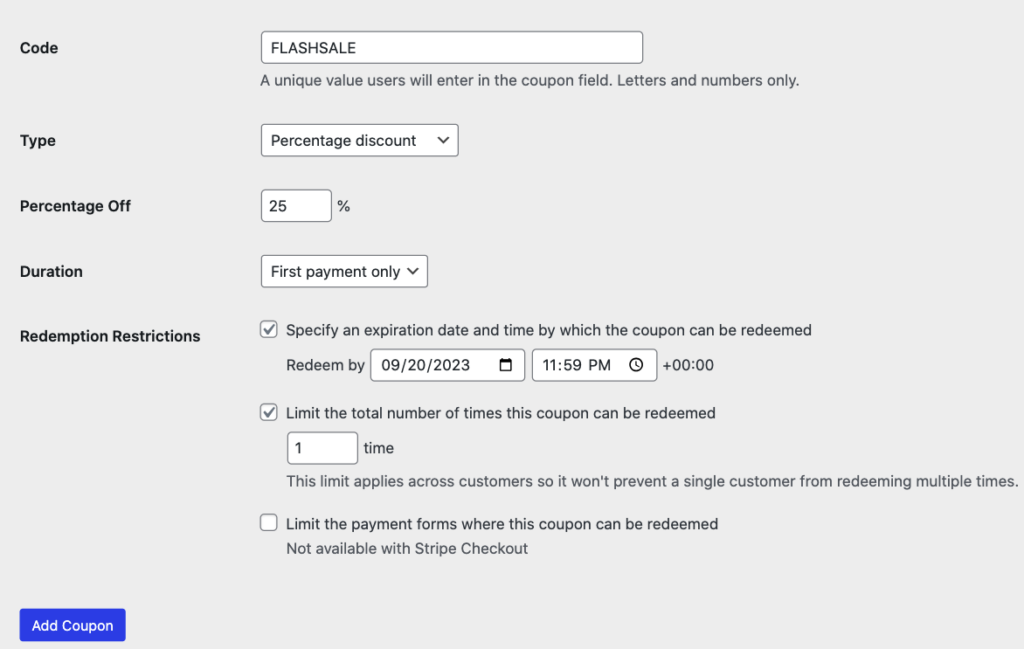 More WP Simple Pay Pro Features
There are several more powerful features that make WP Simple Pay Pro worth it for your business or organization.
How Much Does WP Simple Pay Cost?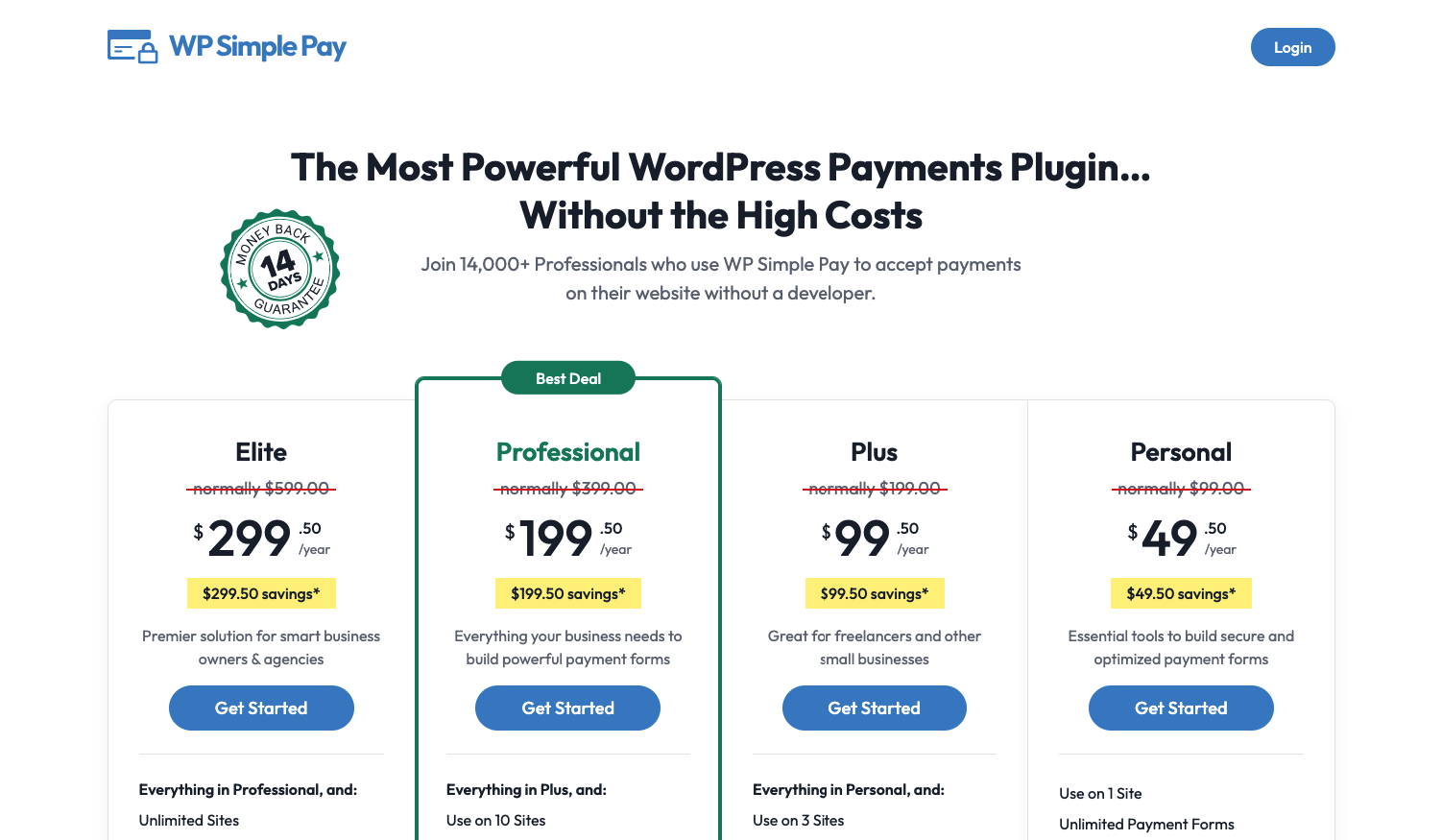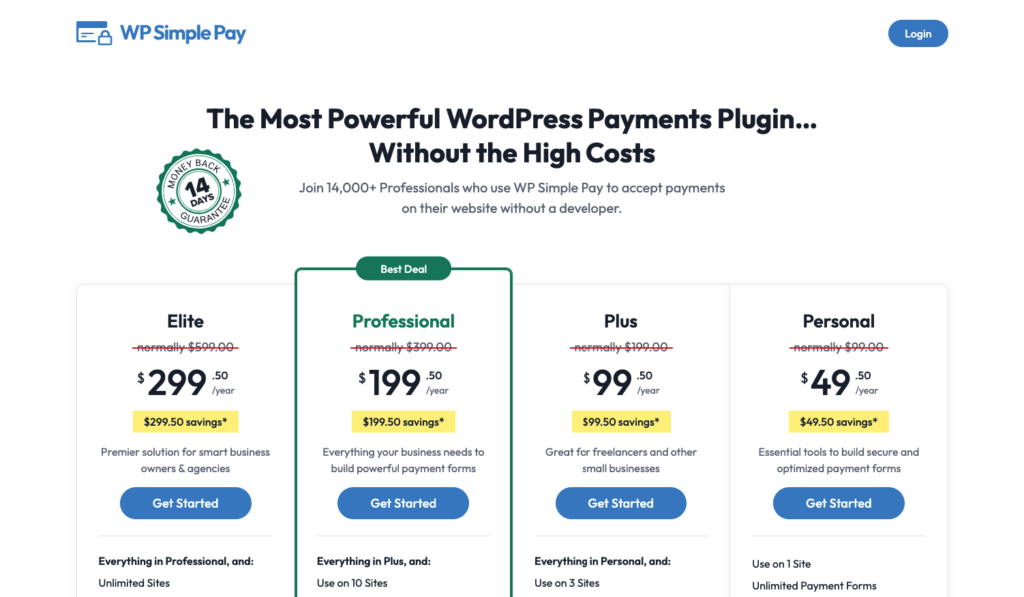 WP Simple Pay offers four licenses. Let's take a quick look at each of them.
WP Simple Pay Personal
Starting at $49.50 annually, the Personal plan gives you access to:
Use on one site
On-site payment forms
More Custom Fields
Fee Recovery for cards only
Coupons
Standard support
WP Simple Pay Plus
WP Simple Pay Plus starts at $99.50 per year and unlocks more features perfect for small businesses and freelancers because you can use it on up to three sites and accept recurring renewal payments.
With WP Simple Pay Plus, you get all the same features included in the Personal plan, plus:
Use on three sites
Fee Recovery for all payment methods
Recurring Renewals
Fixed Rate Tax Collection
Combined Inventory Limit
WP Simple Pay Pro
Offering powerful payment forms and advanced features, WP Simple Pay Pro is the most popular premium license and starts at $199.50 per year.
WP Simple Pay Pro allows you to:
Use on 10 sites
Accept Cash App Pay
Accept Buy Now, Pay Later services, including Klarna, Afterpay, and Affirm
Create Installment Plans
Offer Free Trials
Charge initial Set Up Fees for subscriptions
Use Location-Based Automatic Tax Calculation
Create Dedicated Landing Pages
Design Branded Payment Pages
Schedule date ranges for specific payment forms
Priority support
WP Simple Pay Elite
WP Simple Pay Elite is the ultimate solution for agencies. It costs $299.50 annually and allows usage on an unlimited number of sites.
Use on an unlimited number of sites
Premium support
WP Simple Pay Review: Is It Worth the Money?
Is upgrading to a WP Simple Pay higher-level license justified?
For starters, if your business brings in more than $1,650 on an annual basis, upgrading from the free version to a premium version of the plugin to eliminate the 3% Stripe processing fee is absolutely worth it.
Additionally, On-site payment forms just make sense for any business or non-profit. They allow you to keep visitors on your site longer and make the checkout process much easier for your customers, resulting in decreased checkout abandonment rates.
We all love choices when it comes to payment method options. Upgrading to a premium version of WP Simple Pay lets you offer your customers their preferred methods to help you extend your reach and increase conversions.
For example, unlocking Cash App Pay allows you to cater to the millennial and Gen Z demographics, who are responsible for two-thirds of Cash App's monthly transactions.
As we continue to add new features and functionalities to help you drive sales and scale your business with WP Simple Pay, we have consistently received positive feedback from users.


If you're still not sure, you can give WP Simple Pay a try risk-free and receive a full refund using the 14-day money-back guarantee if you decide it's not worth it.


That's it! We hope this review has helped you decide if WP Simple Pay is worth it for you.
If you liked this article, you might also want to check out WP Simple Pay Lite vs. WP Simple Pay Pro.
What are you waiting for? Get started with WP Simple Pay today!
To read more articles like this, follow us on Facebook and Twitter.