Is Stripe Atlas Worth the Money?
Opening a new business can be overwhelming. You just want to sell your products or services and help your customers, but there are a ton of hoops to jump through. There's a whole checklist to complete before you can start collecting money!
A lot of people find it easier to outsource the work of setting up a new company. That way, they can focus on their products or services and their customers. If you wouldn't mind spending a few dollars for a ready-to-go company, Stripe Atlas might be for you.
What Is Stripe Atlas?
Stripe Atlas is a service from Stripe that helps you establish a business from anywhere in the world. For $500, Stripe will…
Form a C Corporation or Limited Liability Company (LLC) in Delaware
Issue stock to founders of a C Corporation
Obtain a U.S. Employer Identification Number (EIN) for tax purposes
Open a U.S. business bank account
Create a U.S. Stripe account to accept payments from around the world
Connect to legal and tax experts
Access up to $5,000 in promotional credits from Amazon Web Services
Join the Stripe Atlas Community, a global community of entrepreneurs and experts
The whole process takes about two weeks.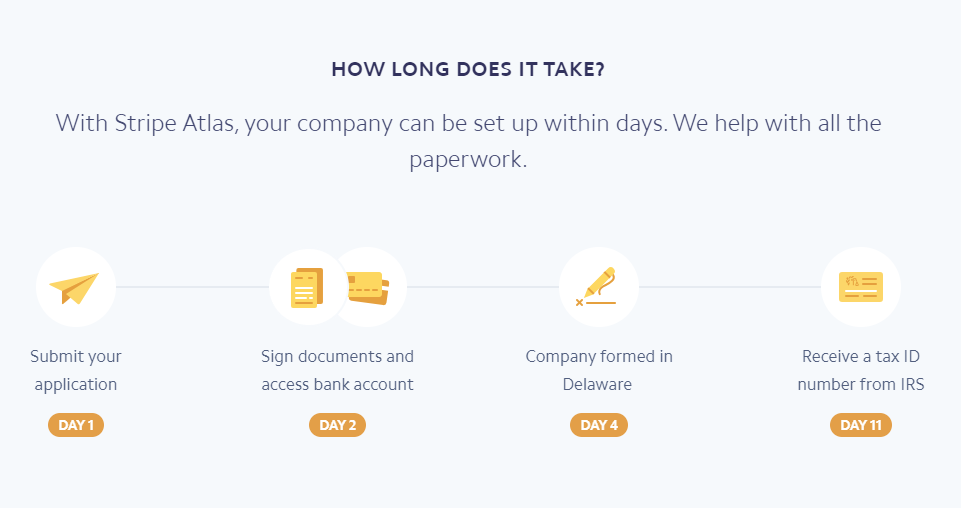 Why does Atlas incorporate you in Delaware? Delaware is a common place for new companies, especially ones who do business nationally or globally. It offers a number of advantages. Here are the important ones:
Stock owned by people outside Delaware are not subject to Delaware taxes.
There is no state income tax for non-residents.
There is no state corporate tax for companies formed in Delaware but do not do business in the state.
Shareholders, directors, officers, managers, or members (which includes just about everyone) don't have to be Delaware residents.
Taxation requirements are generally friendly to companies with complex capitalization structures and/or a lot of authorized stock.
Delaware has some of the most flexible business law in the country.
The Delaware Court of Chancery focuses solely on business law, has lots of expertise in the subject, and uses judges instead of juries.
It's also worth pointing out that Stripe is not the only company who provides this kind of service. There are countless attorneys, accountants, and business consultants who will set up your company quickly for a flat fee. Atlas is a way for Stripe to leverage its brand and bring people into its payment platform. It's certain not revolutionary.
Why Should You Use Stripe Atlas?
There are four major benefits to using Stripe Atlas.
1. You can set up a company from anywhere in the world
If you aren't from or living in the United States, it can be challenging to set up a company here. You need to travel to the U.S. or find someone to represent you here. Your lack of citizenship or residency status means you'll have to jump through additional hoops. With Stripe Atlas, you simply fill out your application and let them handle all of the legwork.
Why not set up a company in your home country? Investors don't need many reasons to pass you over. As a foreign business, they might decide you aren't worth the hassle or complexity. So if you're serious about your business and plan to raise money in the U.S., you'll want an American business.
2. It's remarkably fast
We're not sure how Stripe manages to get it all done so quickly, but two weeks is incredibly fast for something like this. They probably use a combination of software, people, and expedited channels (like an instantaneous way to open a bank account). You could spend twice that much time deciphering paperwork, let alone sending things through the mail.
3. It's simple and hassle-free
You may be a bootstrapper, but convenience still has value. Sometimes it's just easier to outsource a task to someone who will do it much faster and — more importantly — better than you will. Mistakes can be costly.
4. It's quite affordable
Since Atlas includes the Delaware filing fee, you're actually only paying $311 for Stripe's service. That's fairly cheap considering the whole process would take several hours of your time. It's considerably cheaper than hiring an attorney to set it all up.
Plus you get some other benefits like $5,000 worth of AWS credits, prepared documents, and someone to walk you through everything. These all make the service even more valuable.
Why Shouldn't You Use Stripe Atlas?
Those are some pretty great benefits, but that doesn't mean Atlas is for you.
1. You could do it yourself
Technically, Stripe Atlas doesn't do anything for you that you couldn't do it yourself. It may be fast and reliable, but they don't have any special access or permission that's unavailable to you. Essentially, you're just paying someone to handle the paperwork.
If you're an early startup on a super tight budget, you may not be able to throw $500 around for a little convenience. If that's the case, you'll want to open your own company manually. With a bit of research and hard work, you could do everything yourself.
2. You have to incorporate in Delaware
If you use Stripe Atlas, you must incorporate your company in Delaware. They don't allow you to choose another state. Delaware offers some special advantages to new companies, but that doesn't mean it's the right place for your company. If you need to open your company in another state, Atlas can't help.
3. You need to know your business type/model
Stripe Atlas Might not be right for you if you don't have a clear business model yet. Atlas asks for a detailed description of your company for tax purposes, but if you are a new startup, you may not have all of the information they need.
Abhi Nayar, co-founder of Tonebase, explains this problem well:
"If there was ONE negative it would be that Stripe really does ask you to describe your business in detail. When we applied for incorporation our business model was in flux – subscription platform, FFS platform, etc. We weren't really sure. This caused a delay and some small amount of tension, but it was honestly really helpful for us. My advice if you are in a similar situation would be to just pick a very straightforward, simple business model when you apply and then of course (like any good startup) pivot."
4. If you're a restricted business
If you are on the list of Stripe restricted businesses, you cannot use Atlas. We don't know for sure, but considering that Atlas is so affordable, Stripe probably doesn't make much money off it. The purpose of Atlas, we think, is to bring new businesses into Stripe's platform. So if they won't process payments for you, they don't want to set up your company.
5. If you're outside the U.S. and only do business outside the U.S.
If you won't do business in the United States, you can't be incorporated or have a bank account here, so Stripe can't help you.
6. If you're from a restricted country
Due to restrictions from the United States government and Stripe's financial partners, they can't work with you if you're from the following countries.
Central African Republic
DR Congo
Cuba
Iran
Iraq
Lebanon
Libya
North Korea
Russia
Somalia
South Sudan
Sudan
Syria
Ukraine
Venezuela
Yemen
7. If you don't need to incorporate
If you're a young, early stage company that doesn't have any customers or make any money yet, you may not need to incorporate. Many businesses survive a long time as simple sole proprietorships or partnerships.
So Is Stripe Atlas Worth the Money?
Yes. We think $500 is a good deal for the service Stripe provides. That isn't to say it's right for every new business, but most people find it fast, affordable, and simple. Startup founders in the YCombinator community agree that it's worth the money, though they admit it's possible to do everything yourself. (Some people find the AWS credits especially attractive.)
We should also mention that there are some ongoing costs beyond the $500. These are outside of Stripe's control. You would pay them anywhere, even if you opened your company yourself.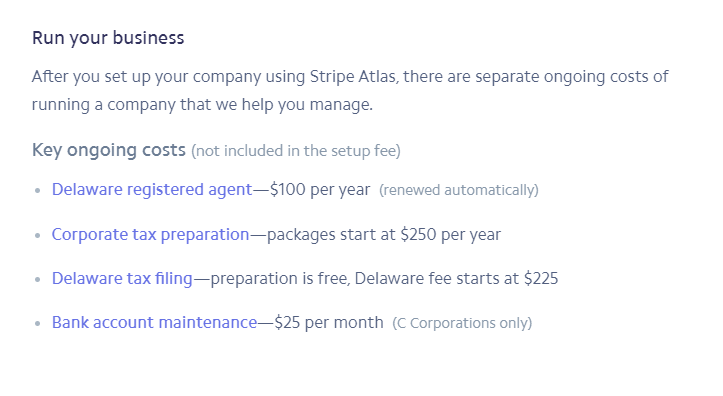 The bank account maintenance fee and registered agent fees are unavoidable, but the tax preparation and filing fees are optional. You may opt to handle those yourself or use another service, but having Stripe do it for you (since they already have all of your information) is very convenient.