How to Accept ACH Payments with WordPress (Step-By-Step Guide)
Last updated April 27, 2022
If your business is located in the United States and you regularly charge customers large amounts, did you know you can significantly reduce your transaction fees by accepting ACH payments?
In this article, we'll show you how to create a payment form that allows you to accept ACH payments with Stripe on your WordPress site.
When Should You Accept ACH Payments?
ACH payments are a way of charging your customers' bank accounts directly. The main advantage of accepting ACH payments over credit card, debit card, or digital wallet payments is the lower fees.
The Stripe fee for accepting ACH payments cost 0.8% per transaction with the cap set at $5. There's also a $1.50 charge per transaction for instant account verification.
Compared to the typical 2.9% + $0.30 USD per transaction fee for card and digital wallet payments, you can see that ACH payments make more sense at higher amounts. Here's a quick comparison:
Payment Amount
Card or Wallet Fee
2.9% + $0.30
ACH Debit Fee
0.8% (max $5) + $1.50
$200.00
$6.10
$3.10
$500.00
$14.80
$5.50
$2,000.00
$58.30
$6.50
Accepting ACH payments works for many US-based sites, but keep in mind many US customers are probably more accustomed to paying by credit card or digital wallets like Apple Pay and Google Pay to pay quickly. With WP Simple Pay, you can offer a single payment method, or multiple, depending on your site's needs.
How to Create a Payment Form that Accepts ACH Payments
The easiest way for WordPress website owners to create a payment form that accepts ACH payments is to use WP Simple Pay.
WP Simple Pay is the best Stripe payments plugin for WordPress that lets you create many types of payment forms without having to write any code or set up a shopping cart.
So let's dive in and create an ACH payment form with WP Simple Pay.
Table of Contents
Step 1: Install and Activate WP Simple Pay
First, you'll need to purchase a WP Simple Pay license.
Remove the additional 3% fee!
Most Stripe plugins charge an additional 3% fee for EVERY transaction
…not WP Simple Pay Pro!
After purchasing WP Simple Pay Pro, you'll need to download the plugin from your purchase receipt email or from your WP Simple Pay account.
Next, you'll need to upload, install and activate the plugin on your WordPress site. If you need more assistance here, just head to our step-by-step installation guide.
Once WP Simple Pay is activated, a setup wizard should appear automatically. During this process, you'll need to copy your license key from your purchase receipt email or from the Licenses area of your account.

Simply copy and paste this value into the license key field in the setup wizard, then click Activate and Continue.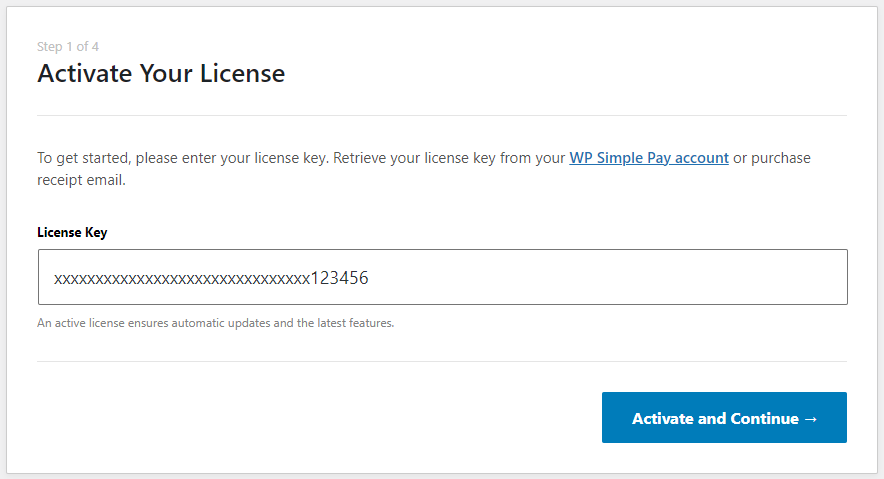 Step 2: Connect Your Stripe Account
On the next screen of the setup wizard, you should see a Connect with Stripe button.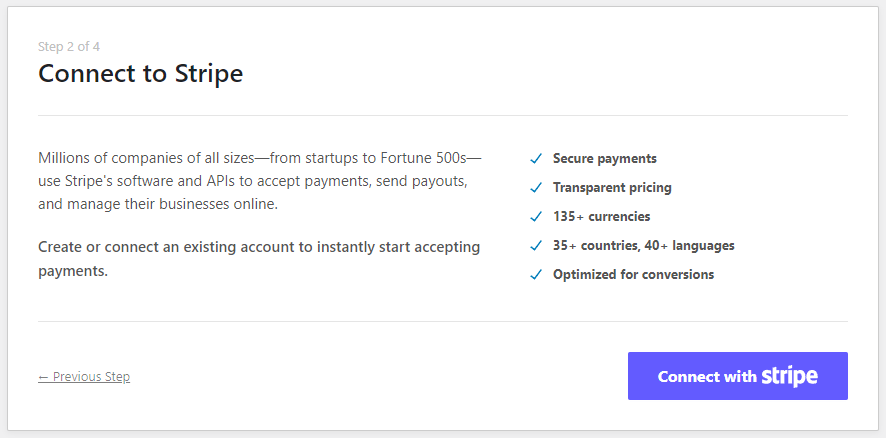 When you click this button, you'll be taken to Stripe, where you'll be directed to log in and connect to your existing Stripe account or create a new Stripe account. We also recommend staying in Test mode until you've completed setting up your payment form.
Step 3: Create Your ACH Payment Form
After a couple more steps the setup wizard should be complete. Click Create a Payment Form on the last setup step.
If you've already closed the setup wizard, on the left-hand menu find and click on WP Simple Pay » Add New to create a payment form.
At this point you should see the Select a template screen. Go ahead and choose the ACH Direct Debit Form template.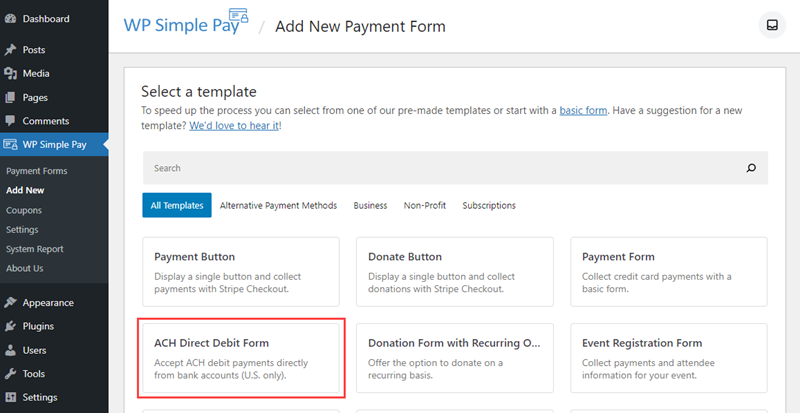 You should now be in the payment form editor. You can start by giving your form a Title and optionally a Description.
You can select any Form Type here as ACH works with all three (Embedded, Overlay and Stripe Checkout), but for this article we're going to select Embedded.
On the Payment tab, go to Price Options and update the amount you'd like to charge.
The One time payment will be selected, but you can switch it to a Subscription payment (aka recurring payment) if you purchased a Plus or higher license.
Make any other settings changes you need, including on the Form Fields tab, then you can test out the form by clicking Preview.
The ACH payment process test should look something like this: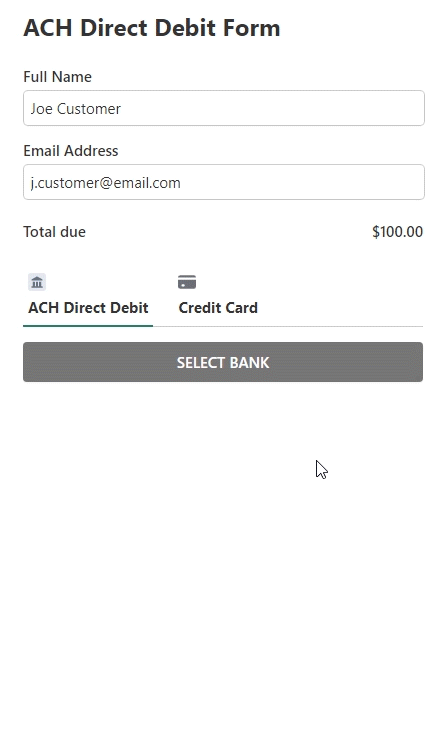 After you've fully configured your payment form. click Publish to have it ready to add to a page.
Step 4: Add Your ACH Payment Form to a Page
We're almost done! Now's the easiest part – adding your ACH payment form to a page on your WordPress site.
Before you do that, it's recommended that you edit your payment form and review all your settings. As always, we also recommend leaving the form in Test mode until a few transactions process as intended. You can toggle your entire site or individual payment forms between test and live modes (read more about Test mode).
While editing an existing page or after creating a new page, click on the plus (+) sign at the top, find the WP Simple Pay block, then select it to add this block to the WordPress block editor.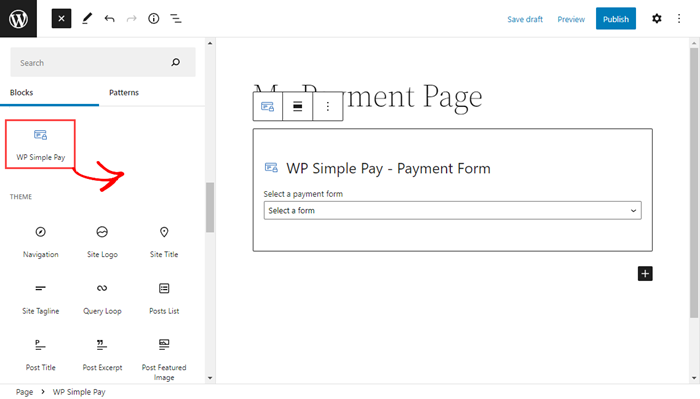 After that, select your payment form from the block's dropdown menu. Next, you can preview your form, publish it, then visit your page to see it in action.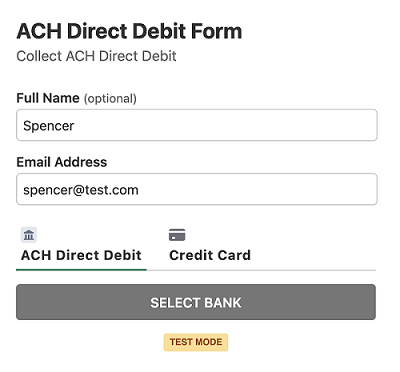 You can also view our ACH documentation or contact us if you have any other questions along the way.
Final Notes
For eligible businesses, funds received via ACH payments can be available within 2 business days from when the payment is processed. Otherwise, funds can be available within 4 business days. For more details and information on eligibility:
Ready to start accepting ACH payments on your website? Get started today with the #1 Stripe payments plugin for WordPress. WP Simple Pay includes many other payment methods, allows recurring payments with a Plus or higher license, and offers a 14-day money-back guarantee.