How to Accept Recurring Payments in WordPress (Step by Step)
If you're like a lot of online businesses, you want to accept recurring payments from the same customers. After all, getting repeat business from the same customers is cheaper than acquiring new ones, so it makes sense to design a business or fundraising model that draws revenue from a stable customer base.
In the past, billing customers on a subscription basis was difficult. You had to send invoices, direct them to individualized payment forms, or punch in their credit card details on every payment date.
But with automatic recurring billing, you can accept repeat payments seamlessly without bothering your customers.
Recurring billing is the practice of charging your customers, clients, or donors at a set interval for a period of time or indefinitely. Rather than sending an invoice or calling for payment, the amount is simply charged to your customers' credit cards. No one has to do anything manually once the Stripe payment form is set up.
The Advantages of Recurring Billing
Why would you offer recurring billing to your clients, customers, or donors?
You can automate your billing, which means no more cashing checks, running credit cards, or sending invoices every month. That's a lot less legwork to manage.
Since the system is automated, there are fewer late or missing payments.
Your customer/donor retention goes up due to inertia – the likelihood that customers will stay because they don't have to make a new buying decision every month.
Payment information stays secure because there's less duplication/circulation of sensitive information.
Fewer awkward conversations with your customers about late or missing payments, which improves your overall relationship.
Your cash flow becomes more predictable because you don't wait on anyone to get paid.
Less money spent on materials like paper, envelopes, and stamps.
Keep in mind that billing is an expense. Every minute you spend pouring over your accounts, entering credit card details, sending payment reminders, and following up is time you can't spend on more important work, like growing your business.
Your customers will appreciate it too, especially if they plan to work with you or donate to you for a long period of time. You'll save them the hassle of dealing with payments, too.
So if you charge the same customers regularly, it's smart to accept recurring payments automatically.
How to Set up Recurring Payments Through WordPress
In order to accept recurring payments, you'll need to choose a payment gateway. We recommend using Stripe, the best payment gateway that enables you to accept credit card payments on your site. To learn why we think it's the best payment processor for WordPress sites, read this article: 7 Reasons to Use Stripe to Accept Payments on WordPress.
And the easiest way to accept Stripe payment on a WordPress is to use WP Simple Pay.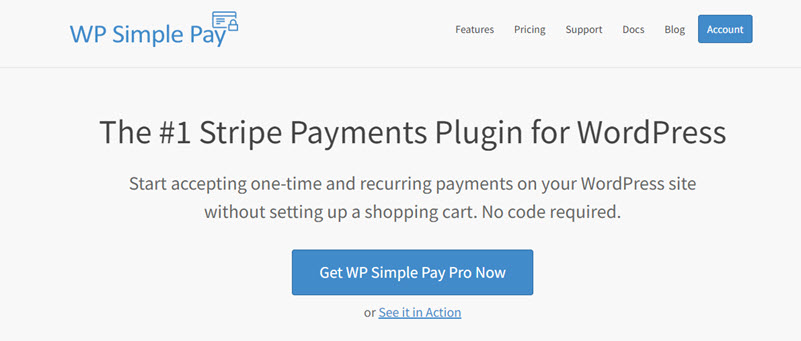 WP Simple Pay is one of the best WordPress Stripe plugins that lets you accept recurring payments with ease.
Please note that in order to accept Stripe payments on your site, Stripe requires your site to be using SSL/HTTPS encryption. Don't worry if you don't have an SSL certificate yet! All that you need to do is to follow this step-by-step guide on how to add SSL in WordPress.
Here's the form that we're going to create with this tutorial. You can easily customize the appearance of the form the way you want though.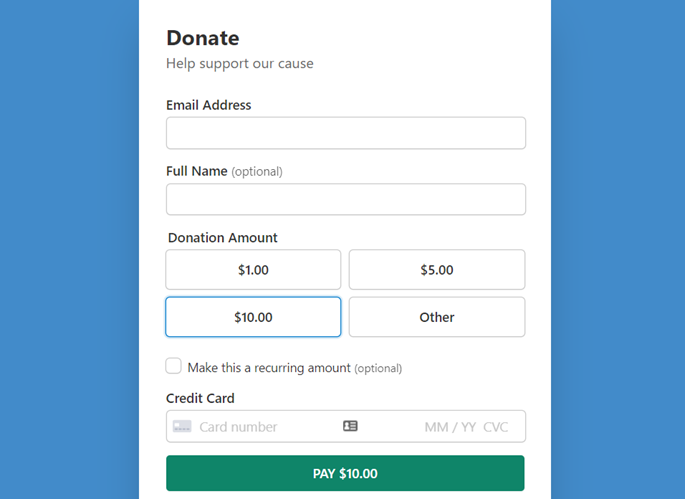 Step 1: Install and Activate WP Simple Pay
To start accepting recurring payments on your WordPress site, you'll need WP Simple Pay.
Remove the additional 3% fee!
Most Stripe plugins charge an additional 3% fee for EVERY transaction
…not WP Simple Pay Pro!
After purchasing the WP Simple Pay plugin, download it from your purchase email receipt or from your WP Simple Pay account.
To install it, go to your WordPress backend, navigate to Add New under Plugins, and then Upload Plugin. Click Choose File and find the WP Simple Pay .zip file on your computer. Click Install Now. When the upload is complete, press the Activate Plugin button.
If you want to install WP Simple Pay via FTP, follow this guide.
Once you activated the plugin, you'll be directed to the setup wizard. The setup wizard makes it easy to set up a Stripe account and connect it to your site. In the setup wizard, click Let's Get Started.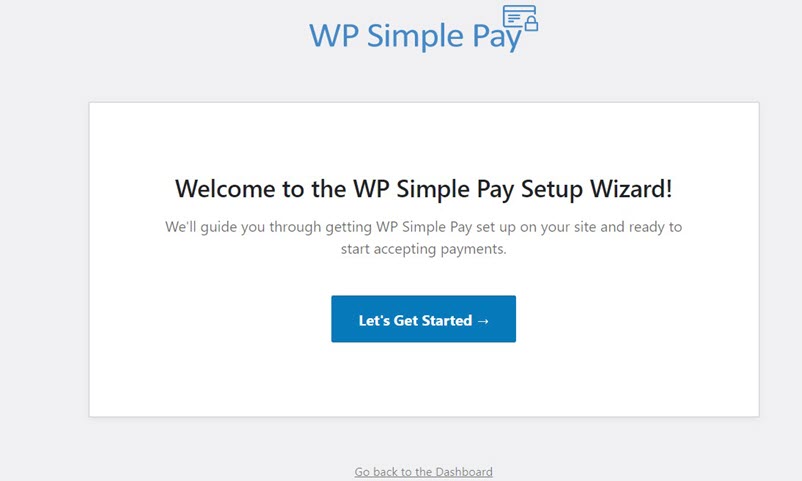 If you didn't see the setup wizard, simply head over to WP Simple Pay » Settings and then click on the Stripe tab where you can find the Connect with Stripe button. Just click on it to connect your Stripe account to your site.
Step 2: Connect WordPress to Stripe
In the previous step, you installed the WP Simple Pay plugin to start accepting recurring payments.
In this step, you'll be asked to create a new Stripe account or connect an existing account. Click Connect with Stripe.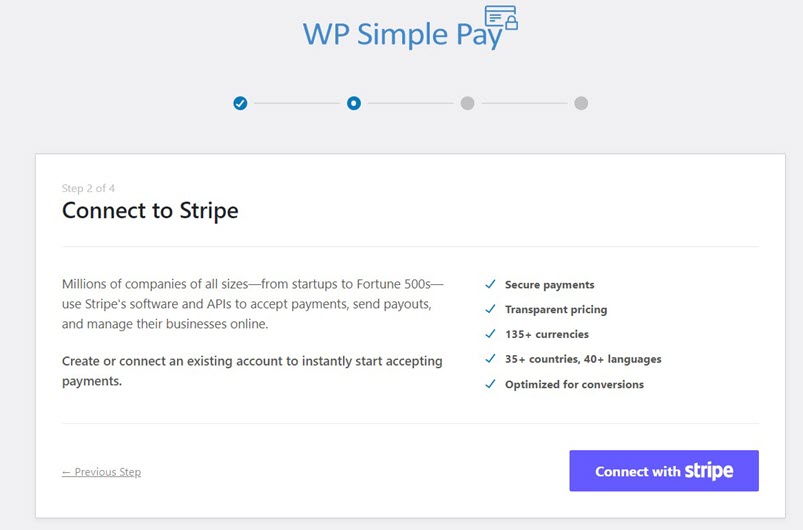 Next, let's NOT use "Skip this form" as this will create a temporary Stripe account that cannot be recovered or moved to Live Mode. Instead, enter your email address and start creating a Stripe account if you don't have one already. Otherwise, link your existing account to your site.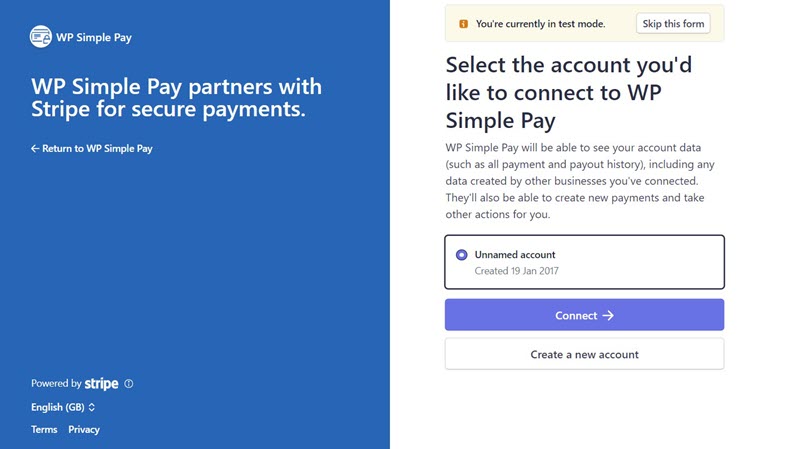 Upon completing this process, you'll be shown a success page that says Setup Complete. The next thing you'll need to do is to start creating a subscription payment form. Click on the button Create a Payment Form.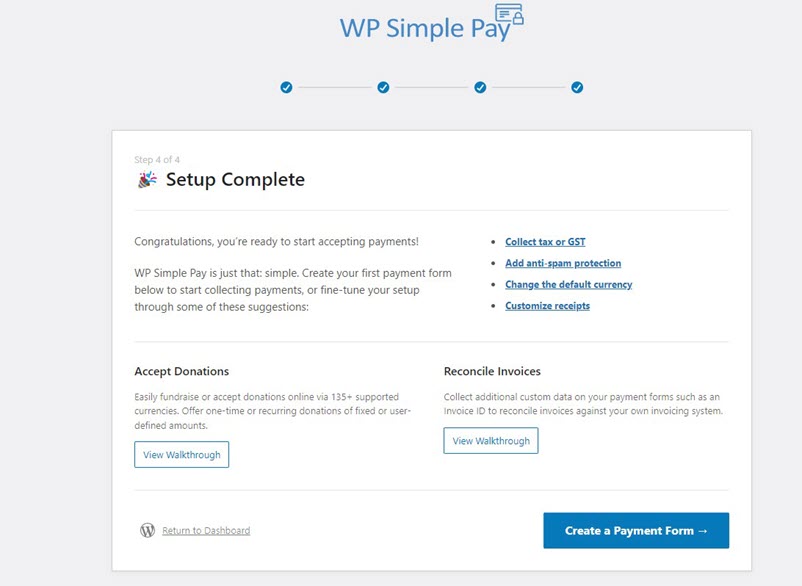 Step 3: Create a Recurring Payment Form
Now that you've connected your site to Stripe, let's start creating a payment form.
There are several different templates that let you accept payments, so you don't always have to start a payment form from scratch. If you're not on this page yet, you can navigate to WP Simple Pay » Add New to create a payment form.
Since there are too many templates, let's filter out all templates except for subscriptions by clicking on Subscriptions filter on the left hand side.
While you can choose any of those templates, for the sake of this article, let's choose Donation Form with Recurring Option.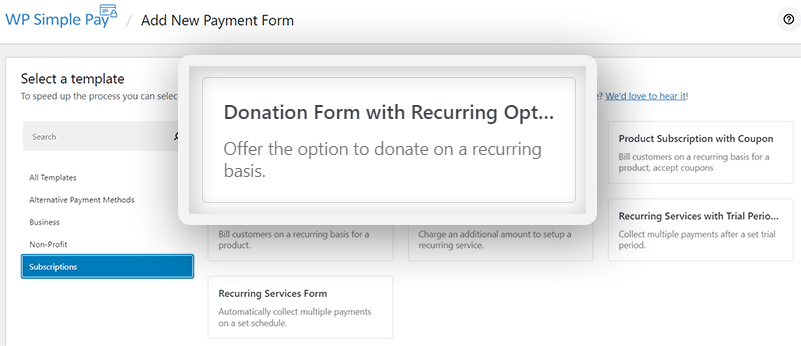 Step 4: Configure the Form to Accept Recurring Payments
After selecting your preferred Subscription template, you'll be directed to the configuration page, where you can choose different configuration settings.
In the General tab, you can change the title, description, and form type based on your needs. To know more, check out this post on selecting the right payment form types.
To customize the payment success page, choose either Specific Page by which you can redirect users to one of your existing pages on your site after completing the payment. Or choose Redirect URL, if you want to redirect users to a third-party URL.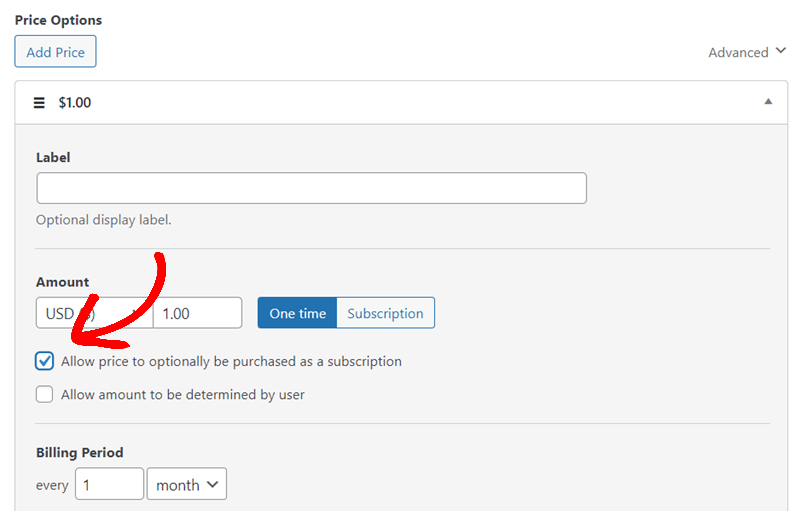 Next, click on the Payment option from the left, and you'll be able to customize the currency, amount, and even choose between one time and subscription payment.
When you click one of the amounts, you can see that the checkbox Allow price to optionally be purchased as a subscription is selected. With this option selected, your customers can make payments either one-time or as a subscription.
Alternatively, if you only want to accept recurring payments and disallow one-time payments, you can toggle on the button Subscription, instead of One time.
Feel free to change the billing period as you wish. In this tutorial, let's use the default values for the billing period — that is, billed every month.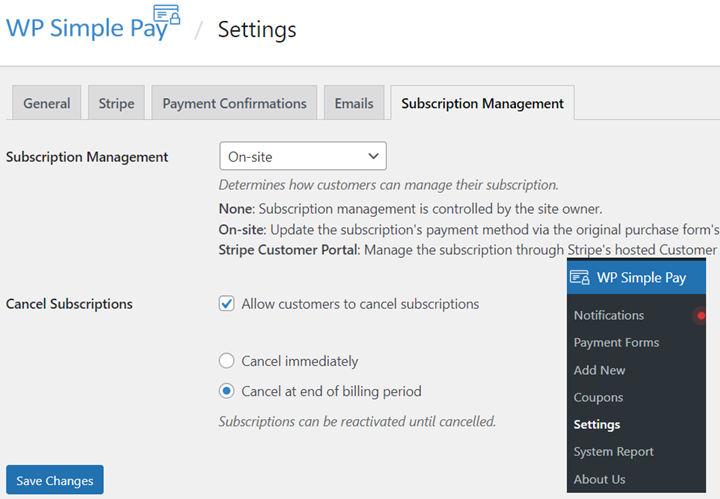 You can even customize how the subscription is managed by navigating to WP Simple Pay » Settings and then clicking on the Subscription Management tab in your WordPress dashboard.
Don't forget to publish your form when you're done.
Step 5: Add the Recurring Form to a Page
Make sure you test the form first before it goes live. You can toggle your entire site or individual payment forms between test and live modes (read more about Test mode).
Once you're ready, your final step is to put it on a page.
Navigate to an existing WordPress page/post or create a new one. Then click on the + icon to add the WP Simple Pay block. Then choose a form you just created. And then, click Publish or Update.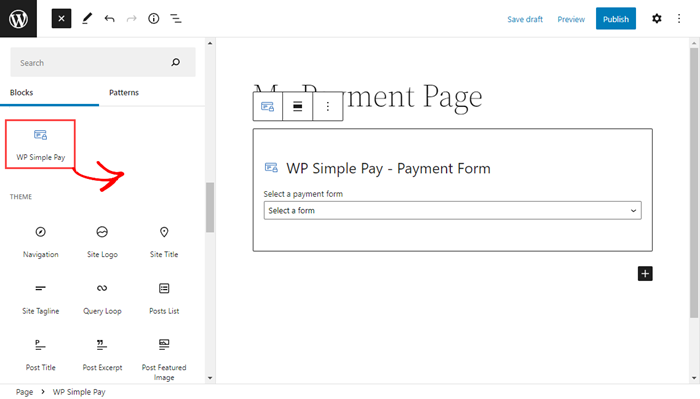 That's it!
We hope this guide helped you learn how to accept recurring payments in WordPress.
You might also want to check out our post on 9 things you don't know about Stripe.
Accepting recurring payments is simpler than ever. With WP Simple Pay and Stripe, you can enjoy the benefits of subscription billing without any of the hassle. Grab WP Simple Pay to get started.
To read more articles like this, follow us on Facebook and Twitter.