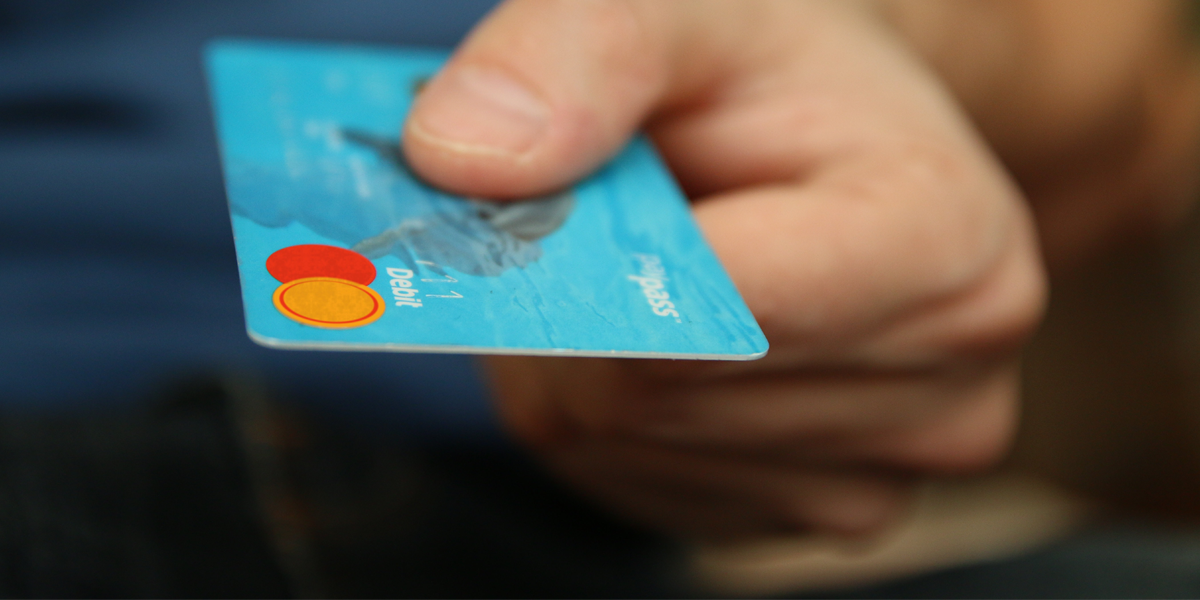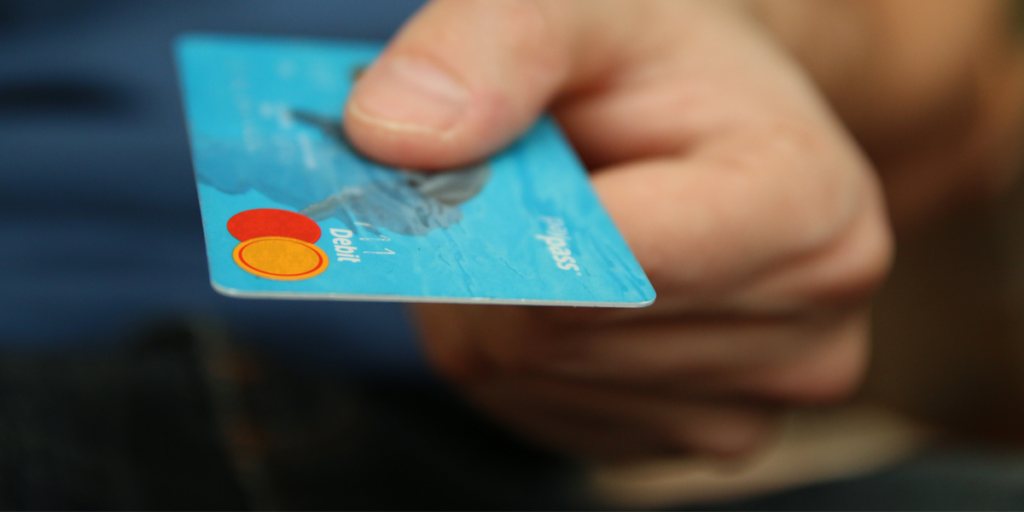 How to Accept Recurring Payments Through Your WordPress Site
If you're like a lot of online businesses, you want to accept recurring payments from the same customers. After all, getting repeat business from the same customers is cheaper than acquiring new ones, so it makes sense to design a business or fundraising model that draws revenue from a stable customer base.
In the past, billing customers on a subscription basis was difficult. You had to send invoices, direct them to individualized payment forms, or punch in their credit card details on every payment date.
But with automatic recurring billing, you can accept repeat payments seamlessly without bothering your customers.
Recurring billing is the practice of charging your customers, clients, or donors at a set interval for a period of time or indefinitely. Rather than sending an invoice or calling for a payment, the amount is simply charged to your customers credit card. No one has to do anything manually once the payment is set up.
The Advantages of Recurring Billing
Why would you offer recurring billing to your clients, customers, or donors?
You can automate your billing, which means no more cashing checks, running credit cards, or sending invoices every month. That's a lot less legwork to manage.
Since the system is automated, there are fewer late or missing payments.
Your customer/donor retention goes up due to inertia – the likelihood that customers will stay because they don't have to make a new buying decision every month.
Payment information stays secure because there's less duplication/circulation of sensitive information.
Fewer awkward conversations with your customers about late or missing payments, which improves your overall relationship.
Your cash flow becomes more predictable because you don't wait on anyone to get paid.
Less money spent on materials like paper, envelopes, and stamps.
Keep in mind that billing is an expense. Every minute you spend pouring over your accounts, entering credit card details, sending payment reminders, and following up is time you can't spend on more important work, like growing your business.
Your customers will appreciate it too, especially if they plan to work with you or donate to you for a long period of time. You'll save them the hassle of dealing with payments, too.
So if you charge the same customers regularly, it's smart to accept recurring payments automatically.
How to Set up Recurring Payments Through WordPress
In order to accept recurring payments, follow these five steps:
Step 1: Open a Stripe Account
In order to accept payments, you need to use a payment processor. We strongly recommend Stripe. To learn why we think it's the best payment processor for WordPress sites, read this article: 7 Reasons to Use Stripe to Accept Payments on WordPress.
Your first step is to open a Stripe account. Click the "Create Account" button on Stripe's website and enter your name, email, and password.
Once you reach the dashboard, click the "Activate your account" link on the left. Then follow the steps to confirm your email address and tell Stripe some basic information about your business.
This is also a good time to go through the links on the left to see if any apply to you. Stripe offers a lot of helpful features you may not be aware of.
Stripe takes up to a week (but usually less) to verify your bank account. This is actually shorter than most payment processors.
Now it's time for your second tool…
Step 2: Download WP Simple Pay
To make Stripe work through your WordPress site, you'll need WP Simple Pay.
After purchasing the plugin, download it from your purchase email receipt or from your WP Simple Pay account.
To install it, go to your WordPress backend, click "Add New" under "Plugins," and then "Upload Plugin." Click "Choose File" and find the WP Simple Pay .zip file on your computer. Click "Install Now." When the upload is complete, press the "Activate Plugin" button.
If you want to install WP Simple Pay via FTP, follow this guide.
Step 3: Integrate Stripe and WP Simple Pay
Before you can accept recurring payments, you'll need to link your Stripe account and WP Simple Pay.
Click into WP Simple Pay's settings on the left side of your WordPress dashboard. This is where you enter the API keys that integrate the two tools.
You can find your API keys on the API Keys page in your Stripe dashboard. Enter your Test Publishable Keys, as well as your Live Publishable and Live Secret Keys. This way you can test your forms before you make them live.
If you have trouble with your API keys, check out our full guide.
Finally, visit the "General" and "Payment Confirmation" tabs to review more settings. Change anything you think would be appropriate. You can always update them later.
Your final task is to create a subscription plan in Stripe so WP Simple Pay knows which options to display. Follow this guide: Adding Subscriptions Products & Plans in Stripe.
Step 4: Set up a New Form
Once your accounts are linked, your next step is to create a form for recurring payments.
Login to your WordPress admin, hover over Simple Pay Pro and click "Add New."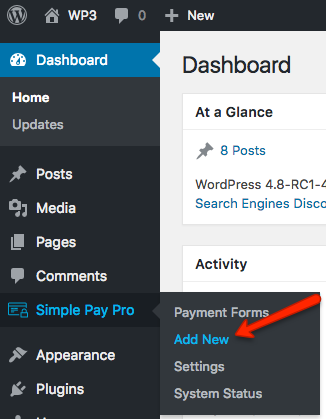 On the "Add New Payment Form" page, you'll see several vertical tabs with different groups of settings.
In the On-Page Form Display tab you can add custom fields to your form. This is where you customize the on-page form's layout and fields.
In the Checkout Display tab, configure the basic settings regarding the Stripe popup.
Next, click the "Subscription Options" tab.
(Subscription capabilities are included with Business and Elite licenses only.)
There are two types of subscription plans you can create:
"Set Single Plan" Payment Form
"User Selects Plan" Payment Form
To see what each type of form looks like on a page, check out our demo site.
The Set Single Plan payment form is where the customer can sign up for only one plan with no options. To create one, select the "Set Single Plan" radio button and follow these steps.
Then in the "Select Plan" drop down, choose one of the existing Stripe plans you created in Stripe a moment ago. If you want to charge a setup fee, add it here too.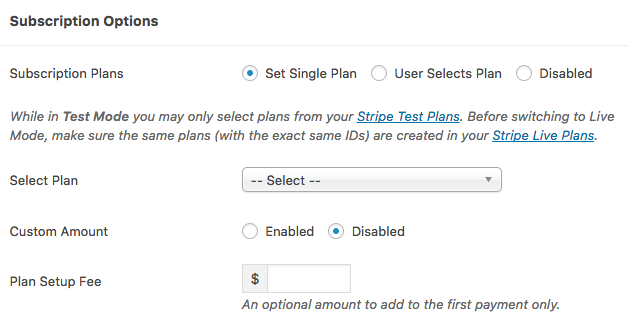 If you like, you can enable a recurring custom payment (great for donation pages) by enabling "Custom Amount." Simply enter a minimum amount and interval/frequency to charge the customer.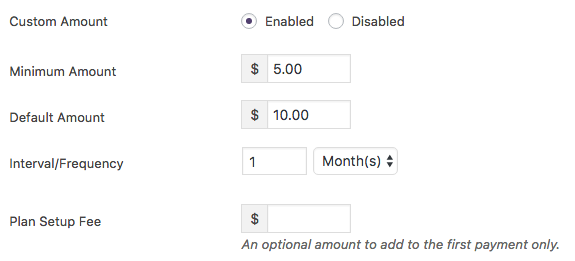 A User Selects Plan payment form is where the customer can sign up to one of several payment options. To create one of these, select the "User Sets Plan" radio button and follow these steps.
Choose your display style (radio or dropdown). This is how the options will be presented to the user on the form.
In the "Select Plans" column, add the plans the customer will be presented on the form. Give them customer labels, if you prefer.
Add any setup fees you'd like to charge to each plan.
Choose which plan will be selected by default.

Just like Set Single Plan payment forms, you can give users an option to input their own custom amount. Simply enable "Custom Amount" and fill out the other basic details.
Step 5: Add the Payment Form to a Page
Once your form is created, your final step is to put it on a page.
Navigate to an existing WordPress page/post or create a new one. Click the "Insert Payment Form" button above the text editor to bring up a window to select one of your WP Simple Pay payment forms.
Once you select a form, a shortcode will appear in the text editor. Move that code anywhere you want the form to appear on the page. You can see the form by previewing or publishing the page.
Get Started Today
Accepting recurring payments is simpler than ever. With WP Simple Pay and Stripe, you can enjoy the benefits of subscription billing without any of the hassle. Grab WP Simple Pay to get started.