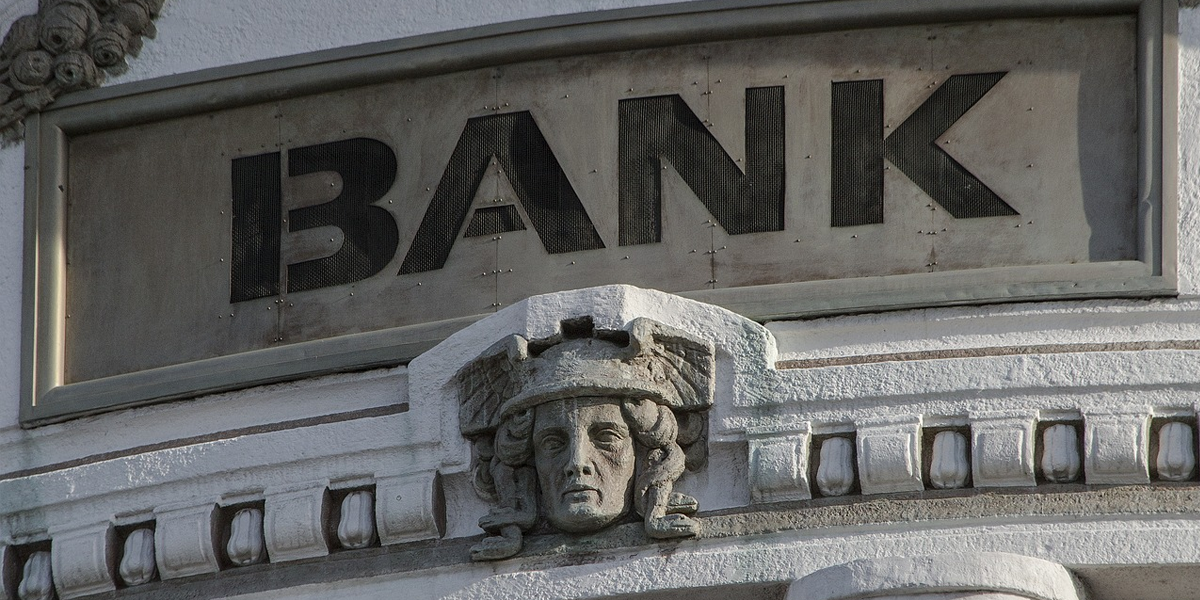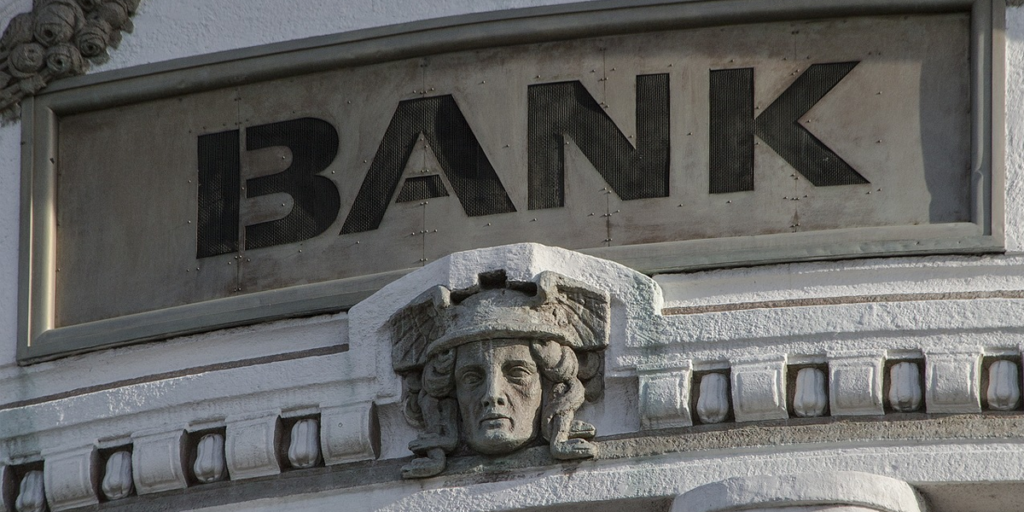 The Different Non-Card Payment Methods Supported by Stripe
Credit cards and debit cards aren't always the most trusted option in some parts of the world. In fact, they only account for about half of the world's online transactions.
If you want to sell your products and services globally, it's important to give your customers options to pay with their preferred methods. Bank payments, digital wallets, and cash are still demanded by customers, and in some cases provide additional benefits, like low risk and low transaction costs.
A major benefit of using WP Simple Pay to collect payments on your WordPress website is that you gain access to Stripe's robust functionality. As we improve WP Simple Pay over time, we continue to add non-card payment methods.
In this article, we'll go over the major non-card payment options that Stripe offers. Make sure you're set up to accept payment via these methods.
ACH Credit Transfers
The Automated Clearing House (ACH) network lets US bank customers send funds from their account to another US-based bank account. It must be initiated by the customer. The customer must know the online store's account number and routing number.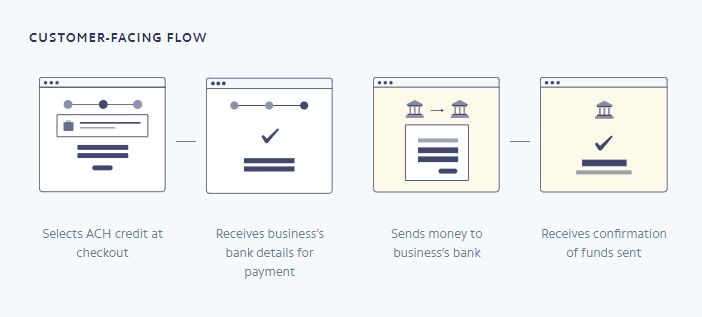 ACH transfers are irrevocable, which makes them great for businesses that want to avoid disputes. They're also low cost (in many cases, no cost), which makes them popular for business-to-business transactions. Since 2016, ACH transfers clear twice a day, which means payments can be received the same business day.
ACH Debit Payments
ACH debit payments are like ACH credit transfers, but in reverse. They allow businesses to collect funds from US customers by pulling the money out. The customer must first provide their bank account number, routing number, and authorization for the transaction. Software-as-a-service subscriptions and recurring charity donations are examples of ACH debit payments.
As of version 3.9, WP Simple Pay Pro allows you to accept ACH debit payments on your site using Stripe and a service called Plaid.
Fees for using ACH payments with Stripe are only 0.80%, capped at $5 per transaction.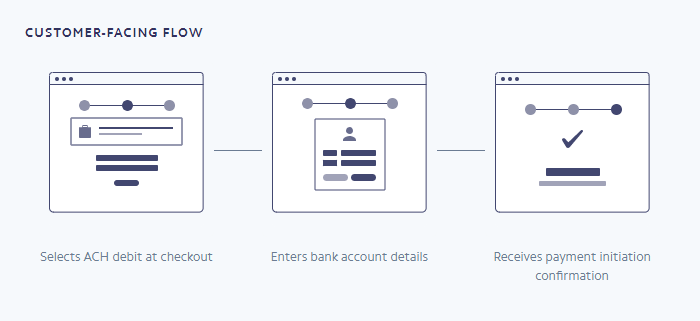 Unlike ACH credit transfers, ACH debit payments take up to five days. And they can fail or be disputed by customers after the payment is completed. There has to be some remedy, of course, otherwise, people could withdraw money from anyone's account.
Try our ACH debit payment demos
WeChat Pay
WeChat is China's largest mobile app with over one billion monthly active users. WeChat's parent company, Tencent, offers numerous web and mobile products across finance, social networking, media, games, and more.
WeChat is a lifestyle "super app" used for communication – personal and business. WeChat has its own payment system called WeChat Pay with more than 900 million users. Users can purchase goods and services for pretty much anything, including gaming, ecommerce, travel, food, and education.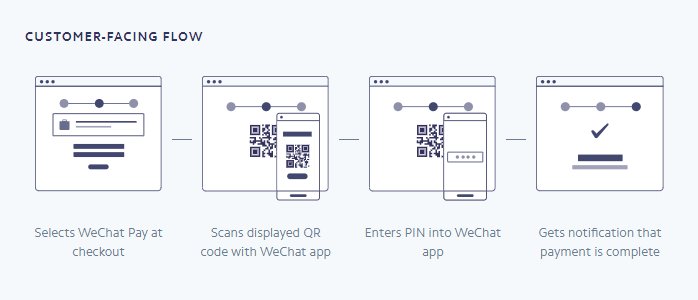 iDEAL
iDEAL is a Netherlands-based payment system that allows customers to use their banking credentials to complete transactions online. All major Dutch banks participate in this payment method, which is why it's the most popular way to pay online in the Netherlands.
When customers use iDEAL, they are redirected to their online banking portal to authenticate the transaction. This means the exact checkout flow they go through is different depending on their bank. While the payment experience isn't seamless or fast, customers find it reassuring. Businesses like this payment method because payments are irrevocable and immediately confirmed.
As of version 3.8, WP Simple Pay Pro allows you to accept iDEAL payments on your WordPress site.
Giropay
Giropay is a non-card payment method that was introduced in 2006 that allows customers of German savings banks and cooperative banks to complete transactions online. Funds are debited directly from their bank account. Customers use a second-factor authentication or PIN to confirm the transaction. Payments are immediately confirmed to the business and irrevocable.
Why offer Giropay? Because it reaches a lot of people in one of the world's largest economies – 17 million German online banking customers and about 60% of all commercial bank accounts. Since the funds are guaranteed, it's a great option for ecommerce stores that worry about chargebacks.
SOFORT
SOFORT is a common payment method in Germany and Austria. When customers choose to pay with SOFORT, they are redirected to SOFORT's site and enter their banking credentials.
Upon authentication, SOFORT initiates a bank credit transfer from their bank account.
SOFORT is popular among customers whose banks don't allow them to use Giropay, but it comes with one drawback: Authorizations usually indicate payment, but funds are not guaranteed until they are actually received. Essentially, SOFORT can't "capture" funds (designate them as spent) in a customer's account. Payments transfer between two and 14 days and cannot be reversed except by business-initiated refunds.
Alipay
Alipay is a popular digital wallet in China. It's operated by ANT Financial Services Group, which is an affiliate of Alibaba, the world's largest ecommerce company. It currently has over 450 million active users. Transactions most common with AliPay are ecommerce, education, gaming, food, and travel.
If you plan to sell to the Chinese audience, Alipay is an important payment method to implement (along with WeChat Pay). It's a relatively safe digital wallet because payments are authenticated with the customer's login credentials, which means dispute rates are low.
SEPA Direct Debit
SEPA stands for Single Euro Payments Area. It's a European Union initiative to simplify payments within and across member countries. It allows for the direct debiting of every EURO-denominated bank account within the SEPA region.
To debit an account, you need to collect the customer's name and bank account number in IBAN format. When customers confirm the payment, they must accept a mandate that gives the business an authorization to withdraw the funds (Stripe generates this mandate document.)
Disputes are a little different in a SEPA transaction as opposed to other non-card payment methods. Customers can dispute a transaction within eight weeks for any reason and funds are automatically returned to them. They can still dispute the transaction after eight weeks, but you and the customer will have to go through an arbitration process.
Klarna
Klarna is a flexible payment method that gives customers multiple options to choose how and when to make a payment. Customers have three payment options:
Pay Later – The customer pays the full amount at a later date within 30 days. Klara runs a quick credit check on the customer to evaluate the likelihood of payment.
Pay Now – The customer completes the transaction immediately using the stored payment credentials of a credit card or bank transfer. If the user doesn't have payment credentials stored already, they are prompted to set them up.
Slice It – The customer divides the purchase into several installments over time. Klara runs a quick credit check on the customer to evaluate the likelihood of payment.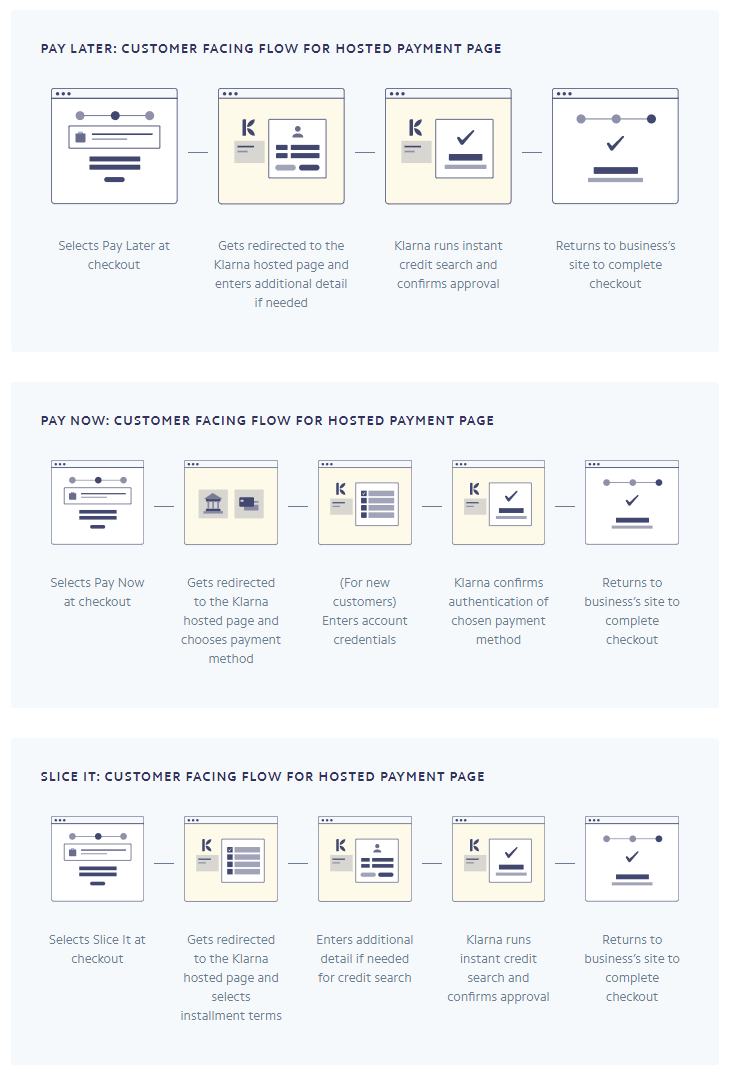 As the seller in a Klarna transaction, you don't have to worry about getting your money. Klarna pays you immediately and assumes all the risk of getting paid. You get your money right away and there's no risk of fraud.
Apple Pay & Google Pay
Apple Pay is one of the leading digital wallets in the US that lets customers pay for online and in-person purchases using their Apple device or Mac OS. A customer must link a credit or debit card to their Apple account, but they don't need to use their card during the transaction (or even have it on them). To make a payment, customers authorize the transaction via Touch ID, PIN, or a passcode.
To make the checkout process smoother (less friction is always good!), customers can also store their billing and shipping address, email, and phone number in their Apple account. These values will automatically populate on the checkout form.
Google Pay is similar to Apple Pay. It's a digital wallet linked to another payment method, like a credit or debit card, which eliminates the need for customers to remember their card numbers or enter payment information manually. Google Pay works in Android native apps and across the web on every major desktop and mobile browser.
A button to pay with Apple Pay, Google Pay, or even Microsoft Pay (depending on the browser and device combination) is easy to add to your payment forms when using WP Simple Pay Pro.
Try our Apple Pay & Google Pay demos
Give Your Customers Options
If you can implement the non-card payment options we listed above, you will put yourself in a good position to accept payments from anyone, all over the world.
All of the above payment methods are supported by Stripe and many of them already work using WP Simple Pay Pro (with more coming soon).