How to Easily Collect giropay Payments in WordPress
Do you want to accept giropay payments on your WordPress site? Enabling a localized payment method like giropay is one of the best ways to boost your presence in the local market; in this case, in Germany, where giropay is so popular.
In this tutorial, we'll show you to collect giropay payments with WordPress (step by step).
Should You Create a giropay Payment Form?
giropay is a German online banking system that accounts for 10% of online checkouts in Germany. If your customer base is located in Germany or you want to expand your online business there, you might want to enable giropay payments on your website.
With Stripe, you can enable multiple payment methods on your payment forms, such as credit card, giropay, Google Pay/ Apple Pay, and more, and let your visitors choose their preferred payment method.
The easiest way to offer giropay payments on your WordPress site is with WP Simple Pay.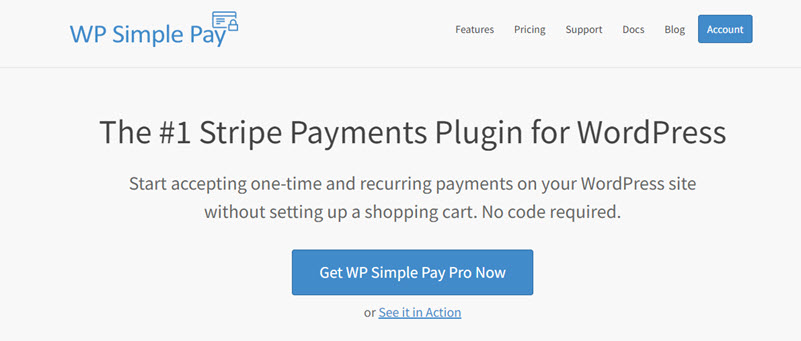 WP Simple Pay is one of the best WordPress Stripe plugins that makes it easy to create a payment form on your site. Plus, it offers advanced Stripe features like support for multiple payment methods, buy now pay later offers, tax collection along with the payment, and more.
Step 1: Install WP Simple Pay to Accept giropay
First things first! Go ahead and install WP Simple Pay to accept giropay payments on your site. To install the plugin, head over to the pricing page, pick a plan and complete your payment. Once done, you can find the plugin file, which you'll need to upload to your WordPress site.
For more details, see this step-by-step guide on how to install WP Simple Pay.
After the plugin is installed and activated, you'll be asked to set up WP Simple Pay and connect your site with your Stripe account. To proceed, click Let's Get Started.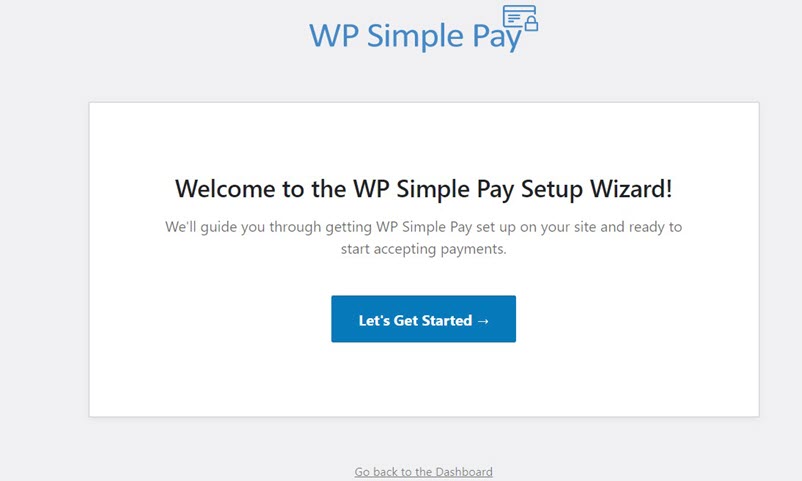 Step 2: Integrate WordPress With Stripe
As soon as you start the setup wizard, you'll be prompted to connect your WordPress site with Stripe. Click Connect with Stripe.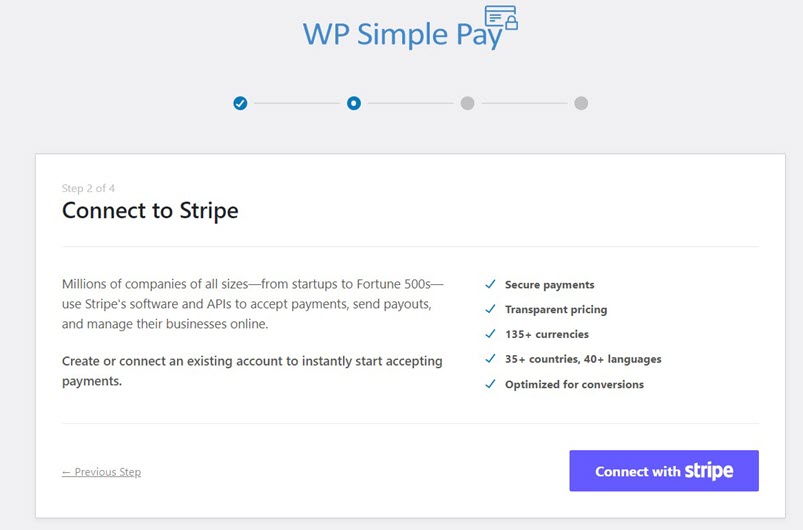 If you skip the setup wizard in the previous step, you can always go back to WP Simple Pay » Settings to connect your Stripe account with your site. You'll find the Connect with Stripe button under the Stripe tab. Simply click on the button to proceed.
Next, either create a new Stripe account or connect your existing account with your site. Let's NOT select Skip this form unless you're setting up WP Simple Pay on your test site. Clicking on that button will create a temporary Stripe account that's only capable of testing and can't be used for accepting real payments.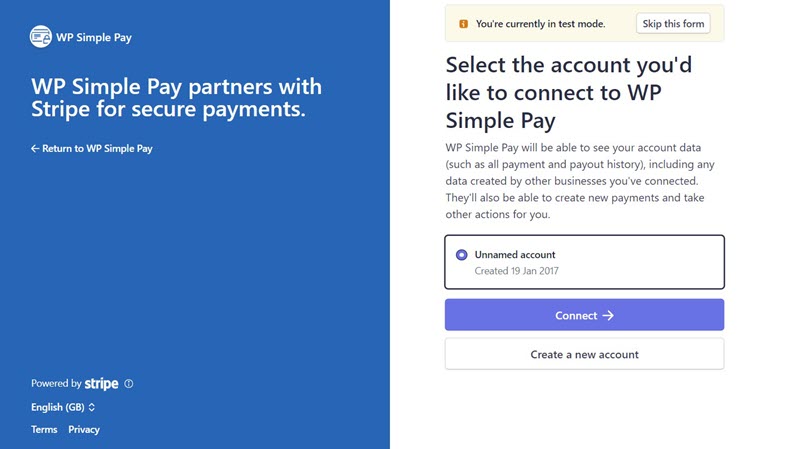 Once the setup is completed, you'll be shown a Setup Complete page. Now you can go ahead and create a giropay payment form by clicking the Create a Payment Form button.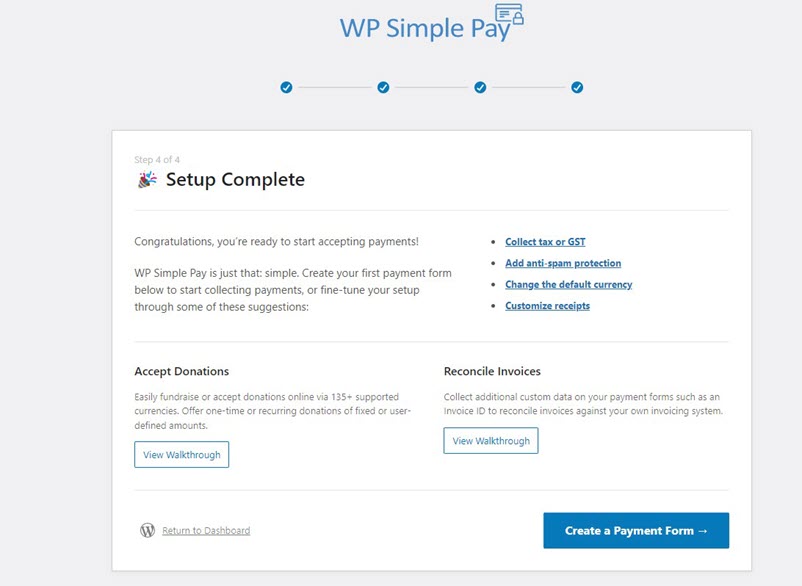 Step 3: Create a Form to Accept giropay
To collect payments via giropay, you'll first need to create a payment form.
In the templates library, you can select a template for your form.
If you skip the setup wizard in the first step, you can go to WP Simple Pay » Add New to choose a template for your form. Let's select the Payment Form template which lets you create a basic payment form.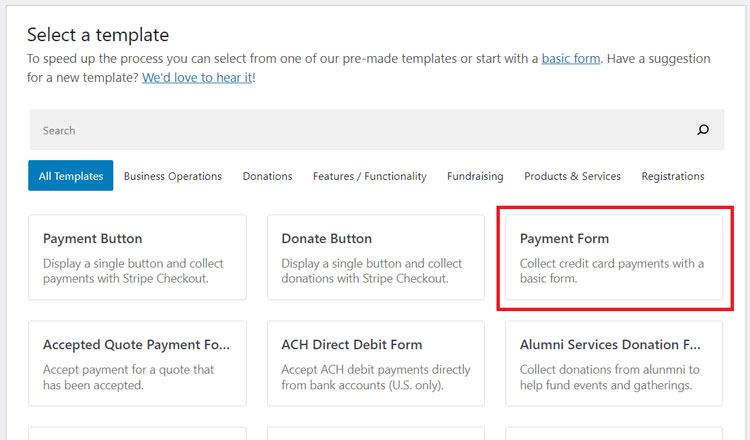 After selecting a template, you'll be prompted to configure the General settings of your payment forms. On this page, you can customize the title and description of your form. You can also choose between on-site or off-site payment form.
Now let's choose the Payment option on the left and you'll see an option to change the default price. You can also add new price options, currency, amount, and more. Make sure to enable giropay under Payment Methods.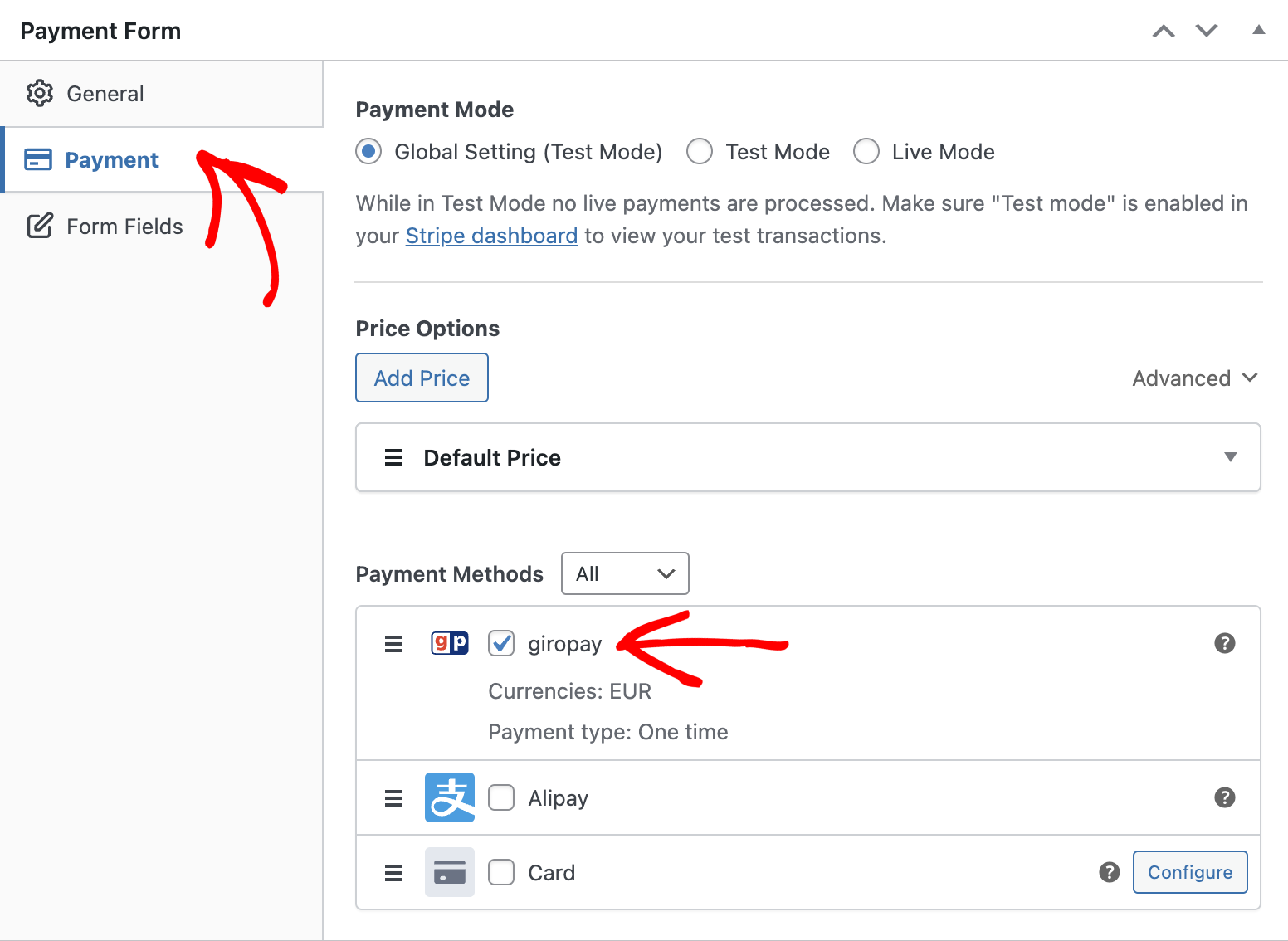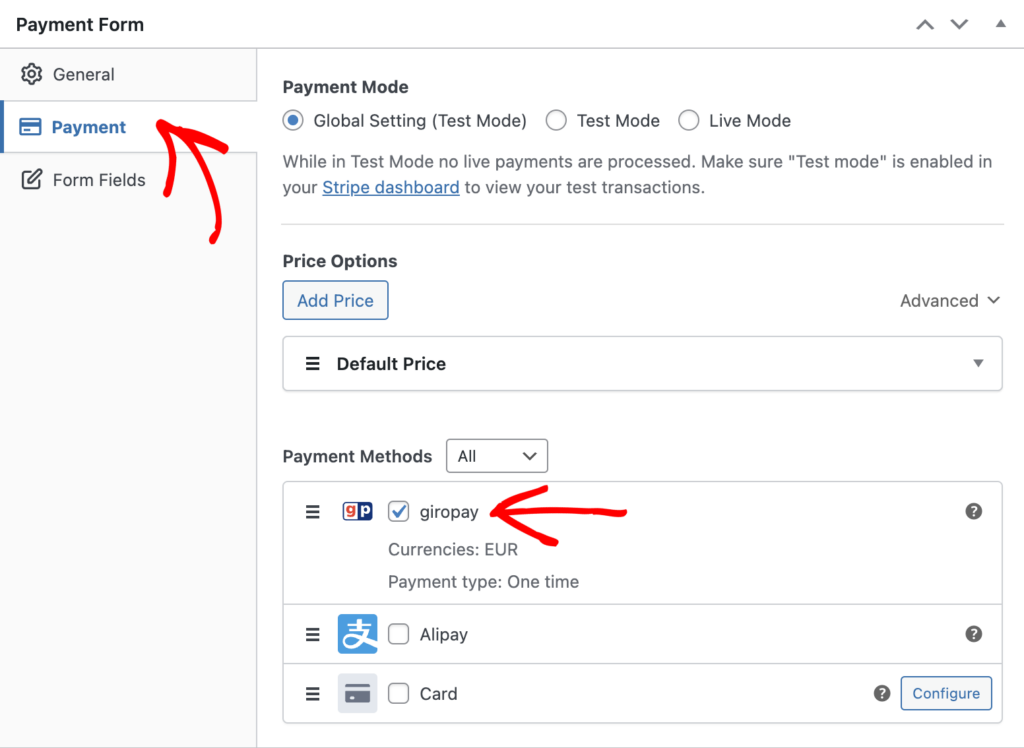 For now, let's NOT change the payment mode to Live Mode.
In the Form Fields option, you can add or customize any existing form fields.
Step 4: Publish Your giropay Form
That's it! You just created a giropay form on your website. You'll now need to publish and embed the form on your site.
To publish the form, click the Publish button on the right-hand side.
Make sure you test the form first before you embed it on your site. For more details, read more about Test mode.
To embed the form, go to the post or page where you want to publish it. Then click on the + icon to add the WP Simple Pay block. Then choose a form you just created. And then, click Publish or Update.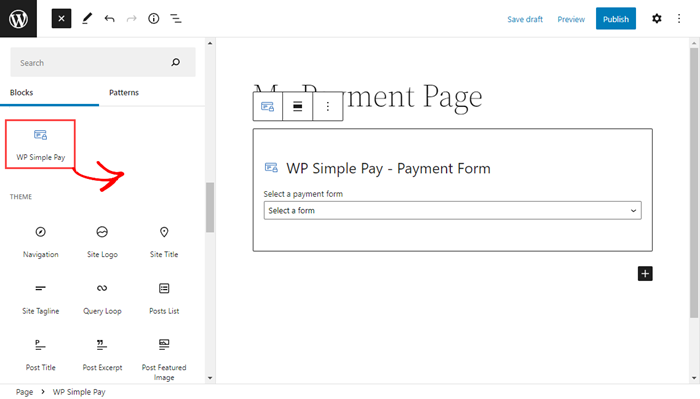 There you have it!
We hope this article helped you learn how to accept giropay payments in WordPress.
You might also want to check out our guide on how to allow users to select a payment mode.
Start using WP Simple Pay today and enable all the advanced Stripe features on your site.
To read more articles like this, follow us on Facebook and Twitter.