The #1 Stripe Payments Plugin for WordPress
Start accepting one-time and recurring payments on your WordPress site without setting up a shopping cart. No code required.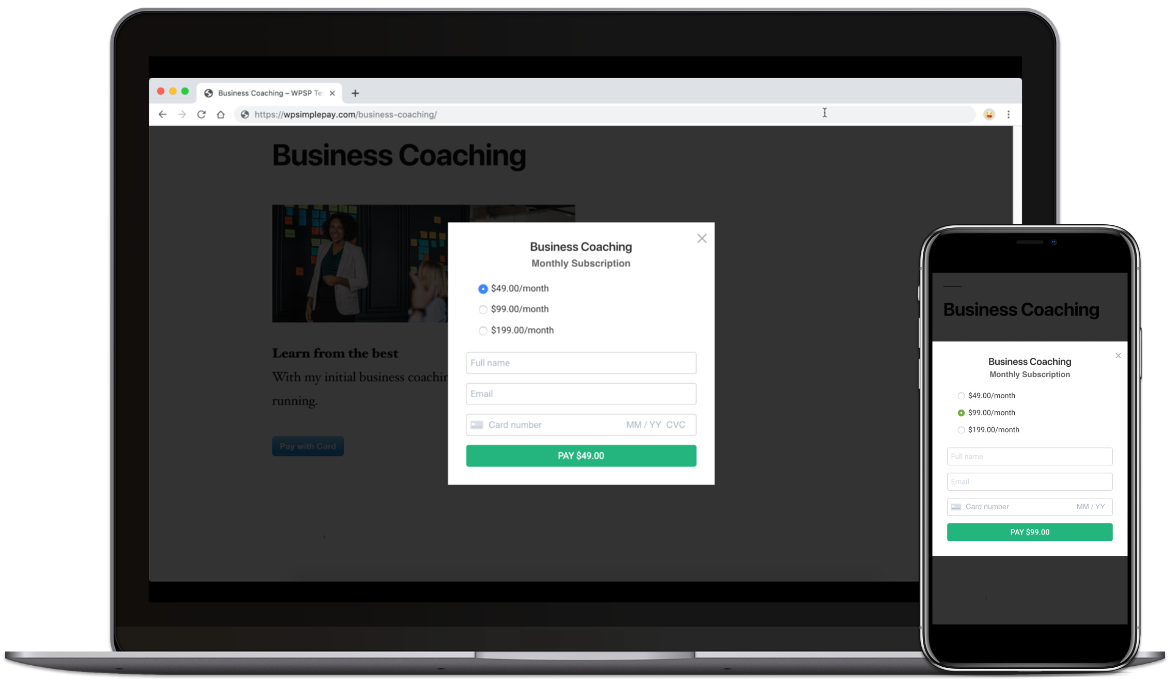 Join over 6,000 customers using WP Simple Pay Pro

Simple Payment Collection
Easily collect payments for services, single products or donations online without coding it yourself or hiring a developer. Skip setting up a complex shopping cart system.
Secure Payment Processing
Stripe is the fastest and easiest to use payment gateway available today. With WP Simple Pay Pro all payment records are stored on Stripe's ultra-secure servers, keeping your WordPress database size small and website loading fast.

Optimized for Mobile
Mobile and tablet visitors to your site will get a checkout experience optimized specifically for smaller screens. Apple Pay and Google Pay options offer mobile visitors an even easier way submit payments on your site.

Subscriptions Integration
Allow your customers to sign up for recurring payments. Subscription plans are easily created within your Stripe account and linked to WP Simple Pay Pro. Create installment plans, initial setup fees and trial periods as well.

Payment Form Builder
Our easy-to-use drag & drop builder allows you to customize payment forms to collect the data you need in addition to providing a high conversion checkout experience for your customers.

Custom Fields
Add a variety of field types to capture more data to store with each Stripe payment record: numbers, dates, checkboxes, drop-downs and more.

Custom Amounts
Allow your site visitors to pay what they want by entering an amount. Perfect for single and recurring donation or all-purpose payment forms.

Coupon Codes
Give your customers amount or percentage off discounts. WP Simple Pay Pro can access any coupon code created within in your Stripe account.

Multi-Language Support
Besides support for 14 languages, 30+ countries and 135+ currencies within Stripe Checkout, WP Simple Pay Pro is fully WordPress-translation ready.

Awesome Support
Besides our extensive documentation and automatic updates, if any issues arise our knowledgeable and friendly support staff is here to help.
SOME OF THE AWESOME COMPANIES USING WP SIMPLE PAY PRO