WP Simple Pay Lite vs. Pro: Is Pro Worth the Price?
Are you looking to upgrade your WP Simple Pay plan and wondering if it's worth upgrading? The free WP Simple Pay plugin, which is available on WordPress.org, comes with basic payment features. As you scale your business, you might want to upgrade to one of its Pro plans.
In this article, we'll examine which plan is best for you: the free version or the Pro version.
The Pro version has 4 different plans. We'll also explain the differences between each plan and figure out which one is the best option for you if you decide to go with a Pro plan.
Table of Contents
WP Simple Pay Lite – Best for Beginners
The free WP Simple Pay plugin is the best choice if you only collect less than $1650 annually and only need the basic features to accept payments online via Stripe.

The free plugin comes with essential features like:
Off-site Stripe checkout form: Add a payment button to your site that redirects users to an off-site Stripe checkout page to complete the payment
Payment methods: Aside from debit and credit card payments, WP Simple Pay supports Apple Pay / Google Pay, Alipay, FPX, Giropay, iDEAL, Link, Microsoft Pay, and Przelewy24.
Seamless integration: It integrates with popular WordPress plugins, like AffiliateWP, Divi, Elementor, and even Zapier.
Now you might be wondering, why is the free version recommended to only those who collect less than $1650, annually?
That's because, with the free plugin, you'll be charged an additional 3% transaction fee + Stripe fees for every payment you collect, which you could have saved with any Pro plan and a valid license. And the cheapest pro plan costs just $49.50.
Let's take a look at an example…
With a Pro version, if you collect $1650 annually after covering the Stripe fees, the exact amount of $1650 will be credited to your account.
On the other hand, with the free version, if you collect $1650 annually after covering the Stripe fees, you'll only receive $1600.50. That's because an additional 3% fee (that is, $49.50) will be charged for the payments you receive. (Here's the math: $1650 * 0.03 = $49.5)
Remove the additional 3% fee!
Most Stripe plugins charge an additional 3% fee for EVERY transaction
…not WP Simple Pay Pro!
Plus, with the free version, you're also missing out on the following features:
Not able to keep visitors on your site: Since the on-site payment form is not supported on the free version, the only way to let users make a payment is to redirect them to Stripe Checkout.
No drag and drop form builder: The drag and drop form builder makes it easy to build a payment form the way you want.
Verdict: Is the Free Version Best for You?
The free version is built for beginners who collect less than $1650 a year and only need basic features to accept payments.
With the free version, an additional 3% fee will be charged for every transaction, which can be saved with a valid Pro license.
That means using the free version doesn't make any business sense if you collect over $1650 annually because the additional fee you'll be paying would be over $49.50, the cheapest WP Simple Pay Pro plan available.
Personal Plan: Best for Optimal Payment Experience
With WP Simple Pay's Personal plan, you'll get essential payment form builder tools that help you create an optimal payment experience for your customers.
Create on-site forms
Charge additional fees
Sell products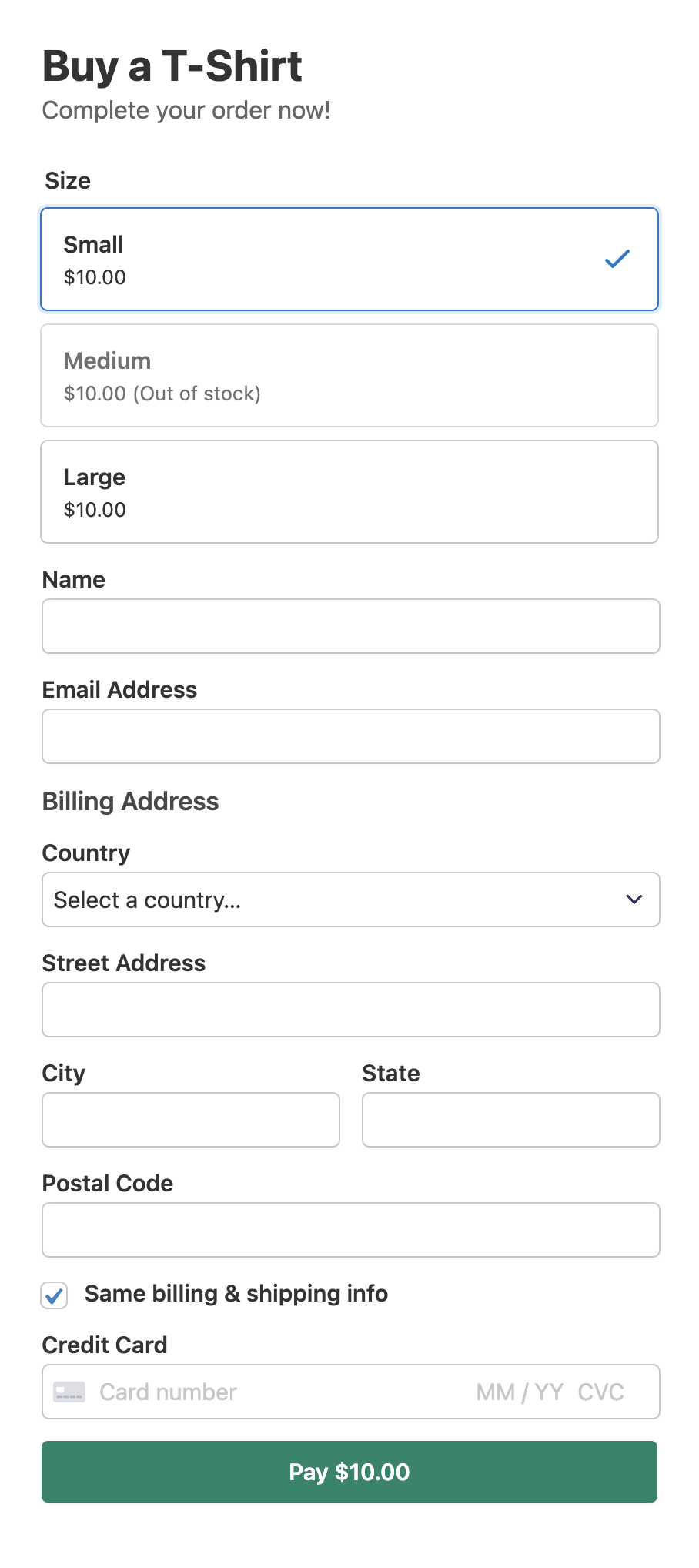 Here are a few key features that you don't find on the free version.
On-site payment forms: Keep visitors on your site and increase conversions by accepting payments directly without redirecting to the Stripe checkout page.
Drag and drop form builder: Create your payment forms with drag and drop the way you want without having to hire a developer.
Payment form templates: Our dozens of templates give you a head start, so you never have to start a form from scratch. All payment forms are also customizable.
Custom form field: Ask as many questions to your payers with text fields, dropdowns, and checkboxes and collect the data in Stripe.
User-entered amount: Allow users to enter a custom amount for payments. Best for non-profits to accept donations.
Fee recovery: Allow or force users to pay the Stripe processing fee.
Payment methods: Supports 10+ payment methods, including direct bank transfers.
What makes the Personal plan unique is that, unlike the free version, you don't pay 3% additional fees. The only processing fee you pay is the typical Stripe processing fee. Plus, you can keep the users on your own site until the payment completes.
With its fee recovery feature, WP Simple Pay lets you pass on Stripe processing fees to the payers so you can collect the full amount without any deduction.
The best thing about fee recovery is that you can manually configure the processing fee for each payment method. Since the processing fee would be different for each payment method, it even encourages users to choose a payment method with a lower fee, like a direct bank transfer.
Verdict: Is the Personal Plan Best for You?
The Personal plan is ideal for saving 3%fee that you would otherwise pay as the additional transaction fee. It also enables you to keep visitors on your own site while accepting payments. No redirection to Stripe checkout is needed.
With the Personal plan, you can accept multiple payment methods supported by Stripe like direct bank transfers. With its fee recovery feature, you can even collect payments without any deduction by passing on Stripe fees to the payers.
Price: The Personal plan costs $49.50
Plus Plan: Great for Accepting Recurring Payments
If your business accepts recurring payments and doesn't need the advanced features that the Professional plan offers, then the Plus plan is the best choice.
With the Plus plan, you get everything you need to accept subscription payments:
You get everything in the Personal plan and the license to use the plugin on up to 3 sites.
Subscription payments: Take your business to the next level by accepting recurring payments monthly, quarterly, or annually.
Automatic billing: Bill users on a daily, weekly, monthly, or yearly schedule.
Optional recurring toggle: Allow users to choose between one-time and recurring payments. Best for donation forms paired with custom payment amounts.
Send renewal reminders: Send emails right within your WordPress dashboard when invoice payments are coming up.
Verdict: Is the Plus Plan Best for You?
Choosing the best plan would be ideal for freelancers and small businesses that accept subscription payments on a regular basis. With this plan, you can remove the need to manually collect payments every billing cycle.
It's also best for non-profits that want to allow donors to make recurring payments.
Price: The Plus plan costs $199.5
Professional Plan: Get All the Tools You'll Ever Need
Do you want to make the most of the WP Simple Pay plugin?
Then choose the Professional plan that comes with everything you'll ever need from your favorite payment plugin.
Here are some key benefits you can enjoy with the Professional plan:
#1. Make High-end Products and Services Affordable to Everyone
If you're selling a high-end product or service on your site and want to make it affordable to most of your potential customers, then the Professional plan is the best bet.
WP Simple Pay lets you create a few different payment plans to give your customers flexibility over how they pay for their purchases on your site.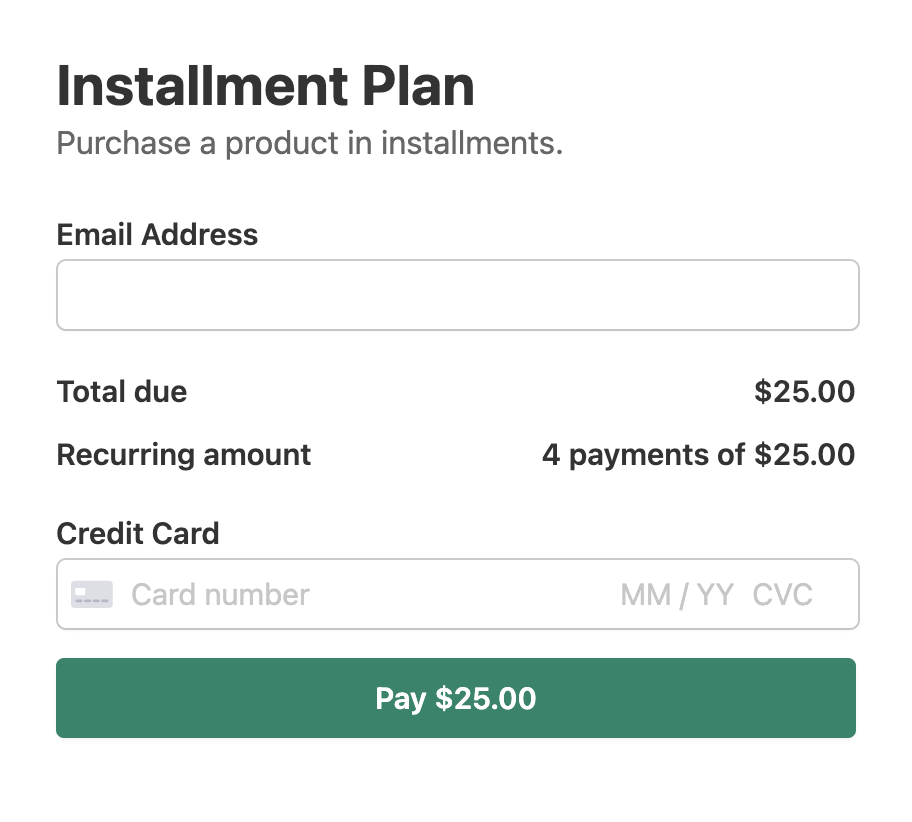 Installment payments: Allow customers to pay their first installment and then pay a fixed amount on a regular basis throughout the given billing cycle.
Buy Now, Pay Later: Get the full amount upfront while allowing your customers to pay regularly with a 0% interest rate via Buy Now Pay Later services.
Charge setup fees with installments: Collect an additional setup fee on the first payment of a subscription billing cycle.
Offer free trials: Offer a free trial period before the subscription payment is collected.
#2. Sell Products With Limited Availability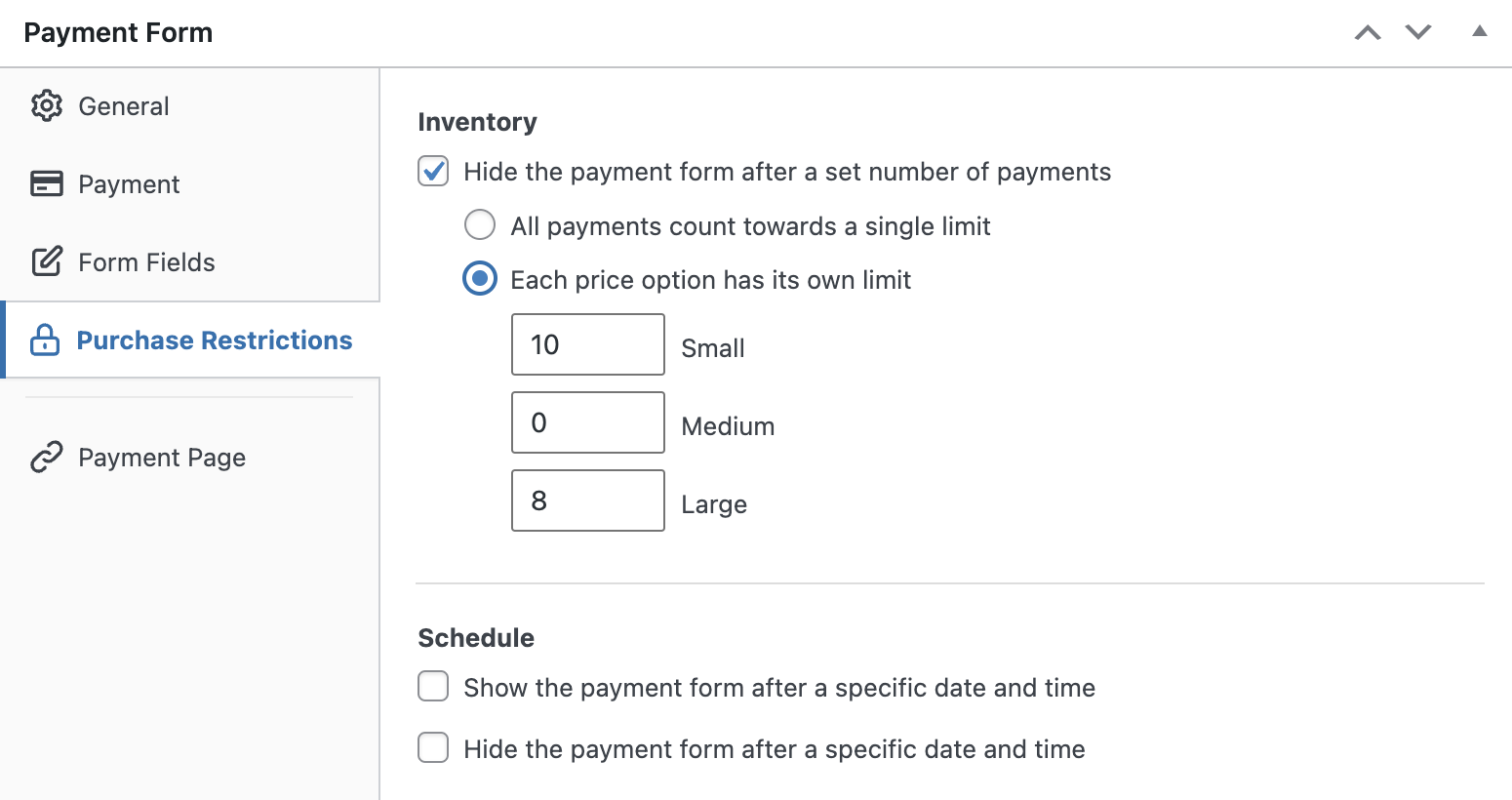 This is a great feature for selling products, such as tickets or limited edition items. You can limit the number of times each price option can be purchased with our smart inventory management.
#3. Accept Payments Within a Specified Time Period
This feature is ideal if you want to take pre-orders or do paid event registration on your site. You can decide when to start or stop accepting payments.
#4. Boost Payment Conversions With a Dedicated Landing Page
Easily convert your visitors into customers by accepting payments on a distraction-free landing page that's built specifically for your payment forms. The landing pages you create with WP Simple Pay are independent of your WordPress theme, meaning it doesn't comprise of distracting elements like, headers, navigation menu, sidebar, etc.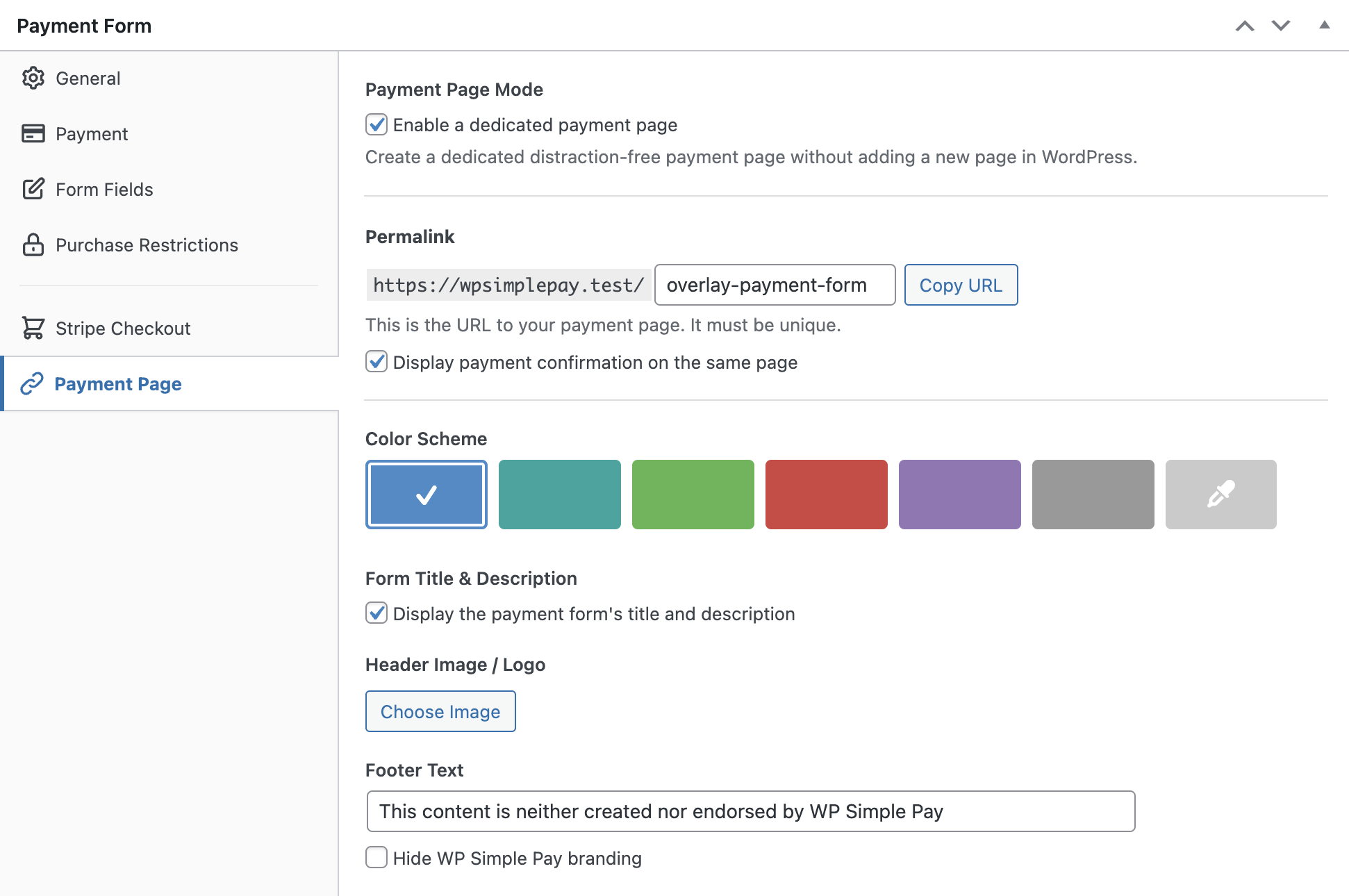 Plus, you can customize the header, logo, and other elements you use on that landing page.
Building a landing page is recommended especially if you want to collect additional information from your customers or if you think your payment form is too long.
#5. Collect Location-Based Taxes
Automatically collect the correct tax based on where your customers are located at. By collecting location-based taxes, you can stay compliant with the tax rules in the jurisdiction where you're selling your products or services.
Verdict: Is the Professional Plan Best for You?
If you're one among these, you'll need to choose the Professional plan.
Sell high-end products or services: WP Simple Pay makes your offerings affordable to most of your customers with installment payments and Buy Now, Pay Later.
Sell products with limited availability
Accept payments within a limited time frame
Collect location-based taxes
Boost payment form conversions with a landing page
Or if you're someone who wants to make the most out of WP Simple Pay
Pricing: $199.50
Elite Plan: Premier Solution for Agencies
The only difference between the Professional and the Elite plan is that the Elite plan gives you the license to use the plugin on an unlimited number of sites whereas, with the Professional plan, you can only use it on 10 sites.
Elite plan is the best bet for agencies and smart business owners who want to use the plugin on 10+ sites.
Pricing: $299.5
That's it!
We hope this article helped you learn the differences between each of the available WP Simple Pay licenses and its free version.
If you liked this article, you might also want to check out how to create a Stripe payment form with WP Simple Pay.
What are you waiting for? Get started with WP Simple Pay today!
To read more articles like this, follow us on Facebook and Twitter.