Read This Before Adding Subscription Payments to WordPress
Invoicing customers for your services is tedious and time-consuming, especially if you charge them every month. Like a lot of online businesses with WordPress sites, you're probably looking for an easy way to accept recurring payments.
But before you start charging subscription fees for your products and service, it's important to make sure your business is ready.
Here are four factors to consider before you start taking recurring subscription payments.
Are Subscription Payments Right for Your Model?
Subscription-based service models are obviously attractive. Who wouldn't want to collect money from the same customers month-after-month?
In fact, some of the most successful businesses in the world (especially in the software sector) have started offering subscription-based services in place of buy-once products. MGI Research expects the subscription economy to reach $102 billion by 2020.
But just because there's a lot of money to be made with subscription services doesn't mean it's the right path for your business.
So your first task is to determine if your business model can reasonably charge a subscription.
For instance, Dollar Shave Club sends you replacement razor cartridges every month. That's a reasonable subscription service because razors are disposable and new cartridges are expensive at your local brick-and-mortar store.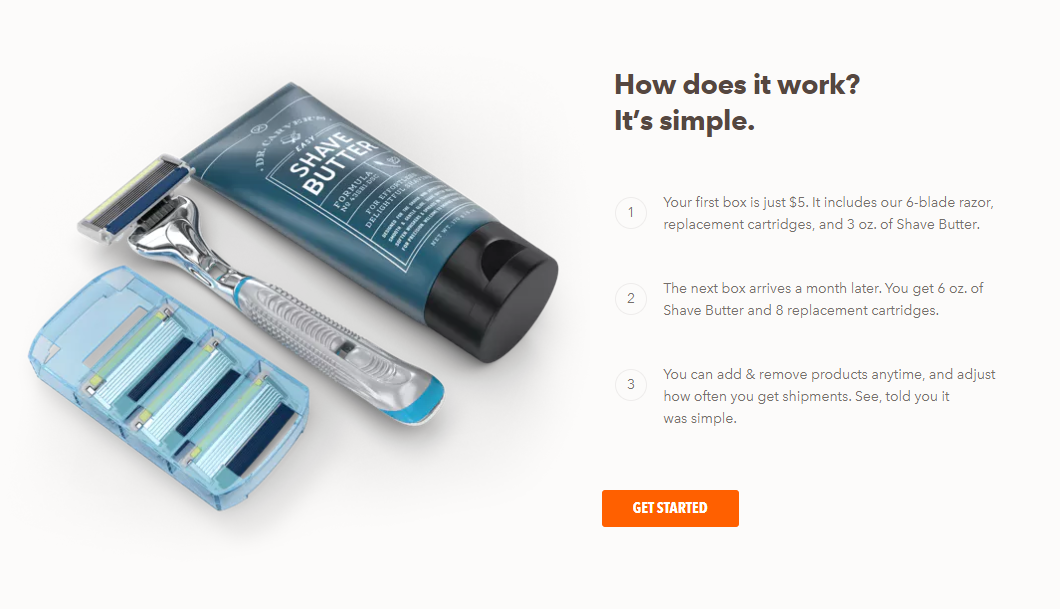 In other cases, it's reasonable to pay for access to something. You can buy access to a product (like software), a community (Ecommerce Fuel, for instance), or a physical place (like a gym).
But if your product or service isn't something people will want to pay for repeatedly, urging them on to a subscription plan is a waste of your time. For instance, asking customers to pay monthly for a logo design service doesn't make much sense because most businesses don't need a new logo every month.
This seems like an easy exercise, but many businesses get it wrong. They try to force their customers into a subscription plan even though the product doesn't mesh with that model.
That said, don't be afraid to transform your product/service into something that can be reasonably sold as a subscription service.
Does Your Payment Processor Permit Subscription Payments?
In order to accept subscriptions, you need a payment processor who allows you to accept recurring payments.
Most of the major payment processors let you accept recurring payments, but some are unique in how they go about it. Some require a special type of account. Some require additional monthly or per-transaction fees.
One of the reasons we recommend Stripe (and WP Simple Pay to connect it to WordPress) is because anyone can accept recurring payments at any interval without additional costs or integrating other tools. Plus, it's highly customizable.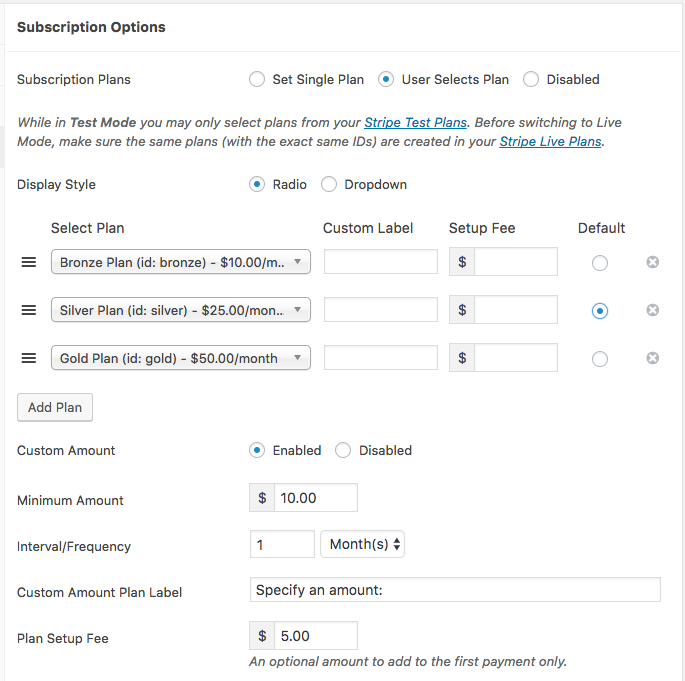 Furthermore, it's important to confirm your payment processor allows you to sell your subscription products or services through their platform. For instance, many payment processors prohibit users from accepting money in exchange for smoking products, counterfeit products, and dozens of other products. Stripe has a whole list of prohibited businesses.
Are You Pricing Your Subscription Service Properly?
Before you set up your subscription payment forms, it's important to get a clear understanding of what you need to charge in order to cover your costs and make money.
Sadly, many businesses charge too little for their subscription services. They fear customers will balk at high monthly fees, so they lower their prices. Lower prices may convert more customers, but what's the point if you don't cover your costs and make a profit?
Pricing your product or service is a complex issue, but there are four main considerations:
1. Your costs. Naturally, your prices should be greater than your costs. Costs include your salary. Factor your time into the equation as if it were an employee's labor.
2. Your value. Try to quantify what your service does for your customer. If your subscription saves your customer $1,000/month, charging $10/month for it means you're leaving money on the table. The only way to determine the right threshold is by talking to your customers.
3. Your competition. While you don't have to match your pricing to your competitor and you don't have to undercut them, it's helpful to at least know what they charge. If they charge significantly more for the same service, ask yourself if there might be costs you haven't factored or if the market is willing to pay more.
4. Your markup. You're running a business, so don't be ashamed to price your service above the value of your personal labor costs.
Once you've created some reasonable pricing, don't be afraid to adjust with your pricing. Patrick Campbell, the CEO of Price Intelligently, recommends re-evaluating your pricing's performance every three months. Experiment, collect data, and optimize.
How Will You Manage the Subscriptions?
Before you start accepting recurring payments, it's important to have a clear idea as to how you'll serve your subscription customers. Here are a few questions to ask yourself:
What will happen if they cancel their service?
What steps will you take when a customer decides to cancel? Will you prorate the service? Refund a portion of it? Refund all of it?
What happens to any data you collect on the customer once they cancel? Do you purge it right away, store for some time, or keep it forever?
How will you handle billing failures?
Billing failures can occur for several reasons, but usually they happen because the customer's card expired or their account lacked enough funds to cover the transaction.
You'll want a process in place to reach out to the customer for correct billing information. You should also come up with a policy as to how you'll deliver your service in the event of a billing error. Will you restrict access or stop working?
Can a customer pause a subscription, upgrade/downgrade a subscription, or hold multiple subscriptions?
Depending on the type of business you run and customer you serve, you may want to give your customers flexible options to manage their services. If so, it's important to make sure your payment processor gives you control over these options.
How will you deliver your service?
Once you have the customer's first payment, what steps will you take to deliver the service they purchased?
Will you send them an email with their next steps or instructions to access a members-only site or app? Will you call the customer personally?
Then determine what internal steps you'll take. You might inform your team to kickoff a new client, add new tasks to your Trello board, or start processing their order.
How will you keep track of everything?
It's easy to keep track of your customers if you sell one-off products or services, but things get more complicated when you sell subscriptions, especially if you have a lot of customers.
You'll need a way to record customers are eligible for your service and for how long. You'll want to know when a customer's subscription ends so you can restrict access or stop your service and/or reach out to the customer for a possible renewal.
An easy way to keep track of your customer data is by linking your payment processor with a Google Sheet. If you use Stripe, Zapier can push your sales data to Google Sheets.
How will you report on your performance?
Lastly, you'll need a way to report on the performance of your service.
How much revenue do you generate? What percentage of customers churn? What's your customer acquisition cost? What's the lifetime value of each customer? Are you absolutely sure your subscription service is profitable?
These are essential data points you can't run a business without. They help you make smart decisions to run and grow your business.
Going Forward
Charging subscriptions for your products and services is one of the best ways to create a business with stable revenue and strong cash flow. Once you address these four considerations, you'll be ready to add recurring payments to your WordPress site.