How to Add an Affiliate Program for Stripe Payments in WordPress
Do you want to know how to add an affiliate program for Stripe payments in WordPress?
Starting an affiliate program can help you grow your business exponentially. By integrating an affiliate program with your payment forms, you can encourage your affiliates to promote your products or services for an incentive/commission.
In this article, we'll show you how to integrate an affiliate program with your Stripe payment forms.
Growing Your Business With Affiliate Marketing
Affiliate marketing is one of the best ways to grow your business and revenue.
With affiliate marketing, you only pay a commission to your affiliates whenever their referrals make a purchase through your payment form.
Contrary to popular belief, you don't necessarily need to sell products with a shopping cart to let your affiliates promote your product. Even if you accept payments via a payment form on your site, you can use affiliate marketing and grow your business.
Affiliate Management for Stripe Payments (2 Tools)
To track referrals on your Stripe payment forms, you'll need to use 2 tools on your site:
WP Simple Pay is the easiest way to create an affiliate-friendly Stripe payment form and start accepting payments on your site.
It is the best WordPress Stripe payment plugin that also seamlessly integrates with several WordPress plugins, including AffiliateWP, the #1 affiliate program plugin for WordPress.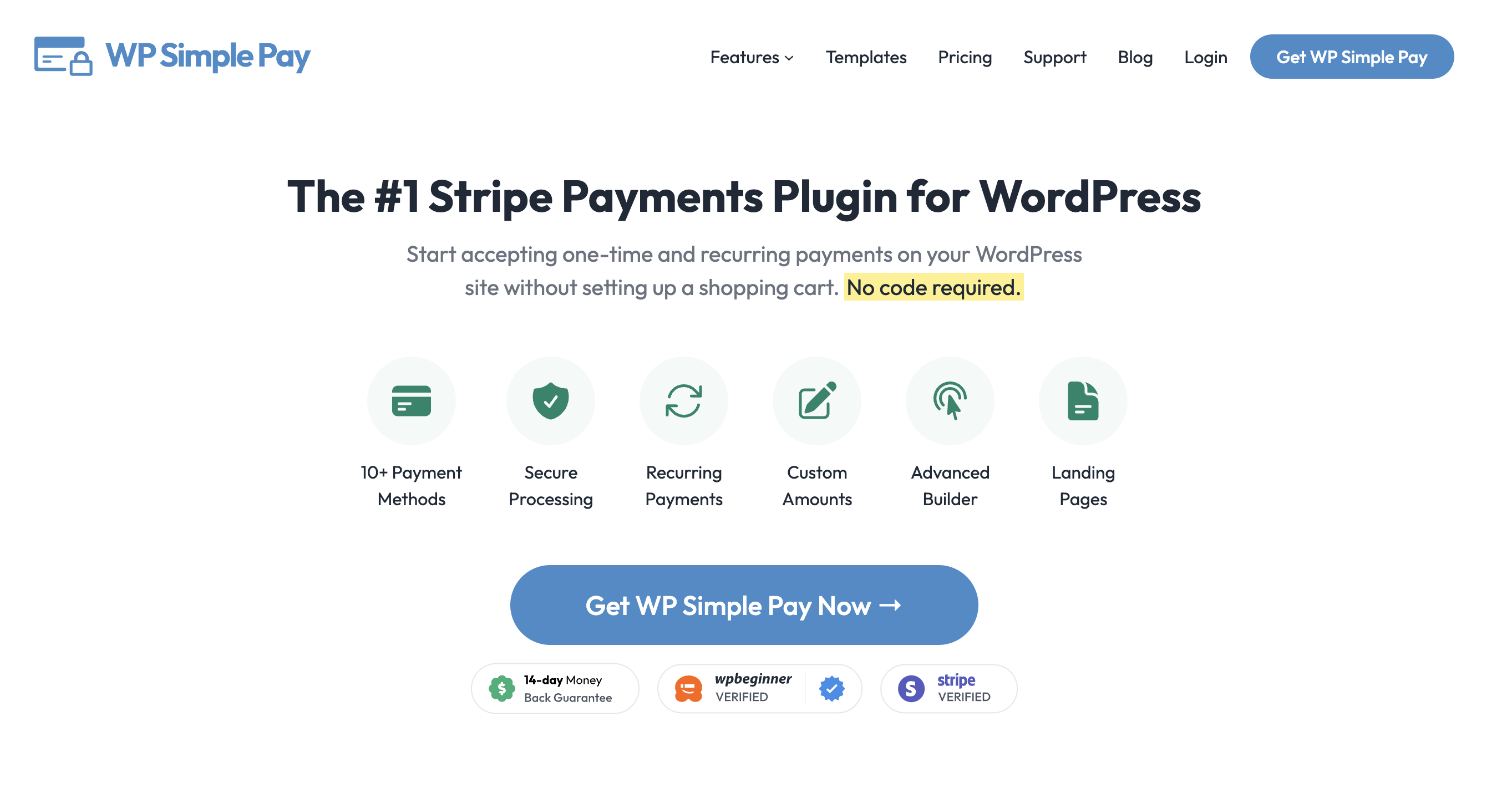 To make the affiliate program work with Stripe payments, you don't have to change any configuration or touch a single line of code as long as you use WP Simple Pay and AffiliateWP. Both plugins seamlessly integrate with each other and work out of the box without any modification.
WP Simple Pay makes it easy for you to create any type of payment forms, like recurring payment forms or one-time payment forms. It also supports advanced Stripe features like multiple payment methods, Buy Now Pay Later, Stripe Tax, and more.
AffiliateWP, on the other hand, is an all-in-one affiliate management suite for WordPress. The best part is that with AffiliateWP, you can save the affiliate network fees that you typically owe to an affiliate network. On top of that, it seamlessly integrates with major WordPress plugins, like WP Simple Pay, WooCommerce, Easy Digital Downloads, and so on.
Let's get started with our step-by-step tutorial.
Step 1: Create an Affiliate Friendly Stripe Forms
To create an affiliate-friendly Stripe payment form, the first thing you'll need to do is to install WP Simple Pay on your site.
After purchasing the WP Simple Pay plugin, download it from your purchase email receipt or from your WP Simple Pay account.
Then log into your WordPress admin panel and install the plugin on your site.
If you want to install it via FTP, follow this guide.
Remove the additional 3% fee!
Most Stripe plugins charge an additional 3% fee for EVERY transaction
…not WP Simple Pay Pro!
After activating the plugin, you'll be directed to the setup wizard, where you can connect your Stripe account with your WordPress site.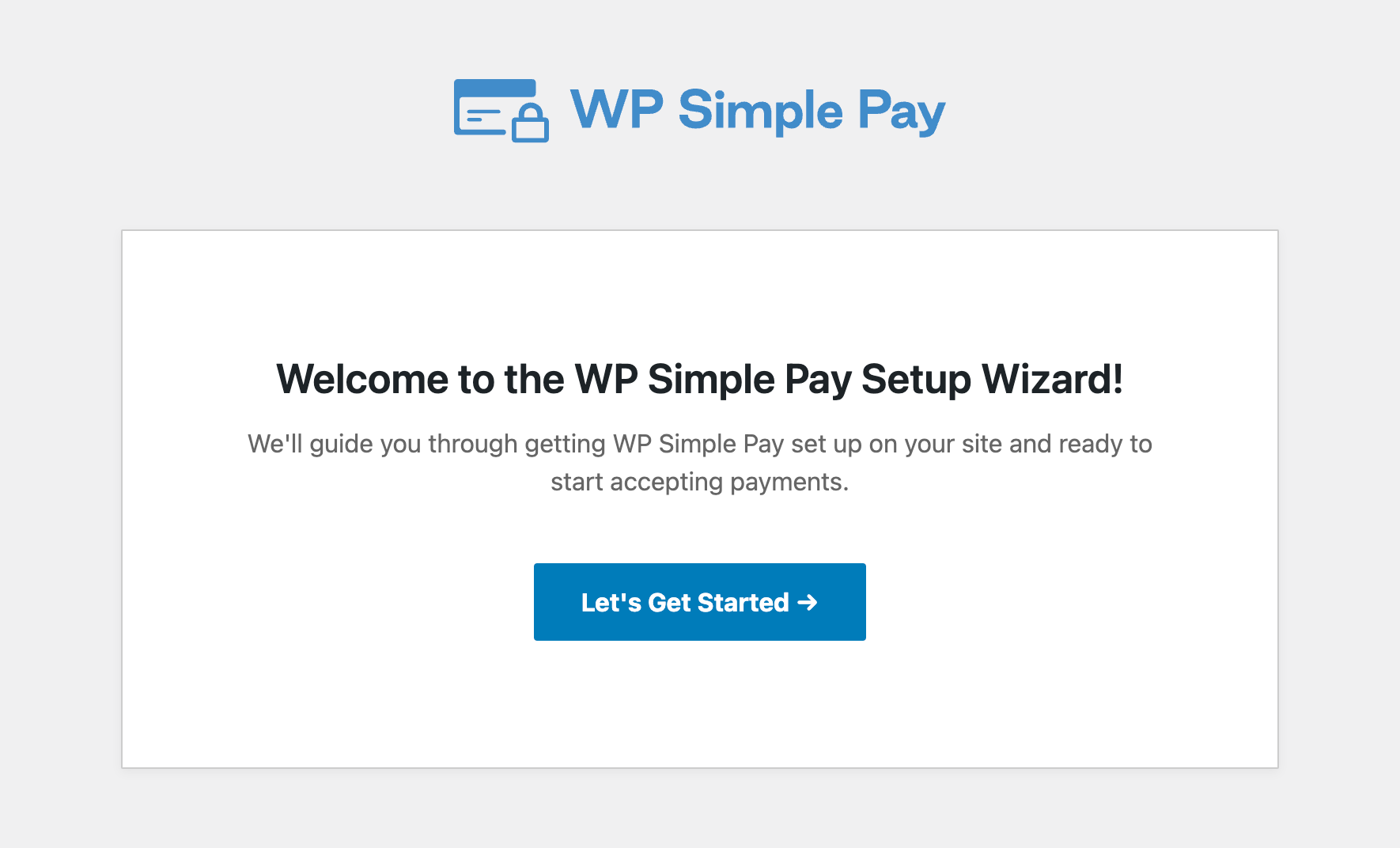 The setup wizard guides you through every step to connect your Stripe account with your site. Once done, you can create an affiliate-friendly payment form to accept payments from your customers.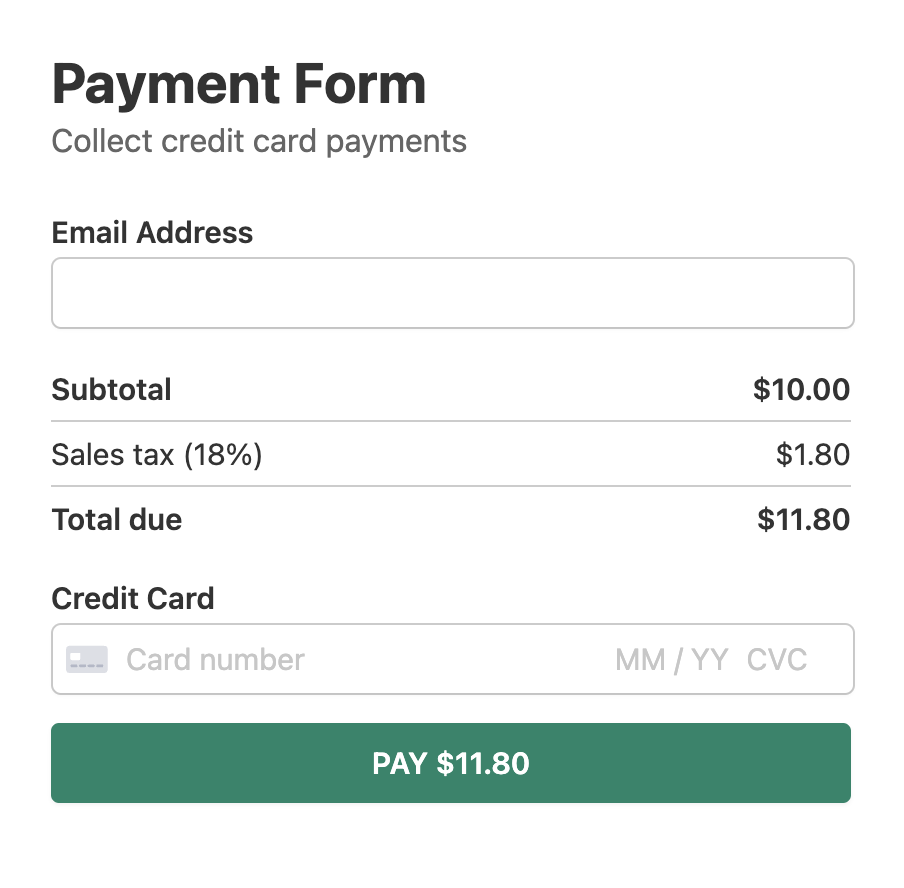 For more details, you can follow this guide: how to create a Stripe payment form with WordPress.
Step 2: Integrate Your Form Into an Affiliate Program
Now that you've created a Stripe payment form, the next thing you'll need to do is to create an affiliate program in WordPress and encourage affiliates to promote your business.
To create an affiliate program, install the AffiliateWP plugin on your site. On the pricing page, choose a plan you think would suit the best for your needs. After purchasing the plugin, you can download it on your computer and then install and activate it on your site.
Once the plugin is installed, head over to AffiliateWP » Settings. You'll now see a setup wizard, prompting you to enter your license key. Copy the license key from your AffiliateWP account and enter it in the wizard. Next up, you'll be asked to choose an integration to generate referrals.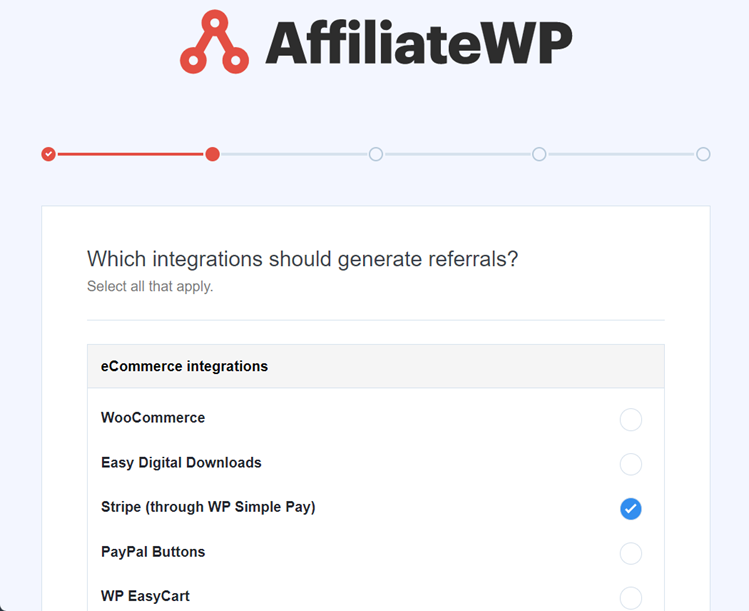 Under eCommerce integrations, select Stripe (through WP Simple Pay). Then, click Continue.
Next, you'll be prompted to specify the currency your store operates in and the referral amount. Specify them and click Save and Continue.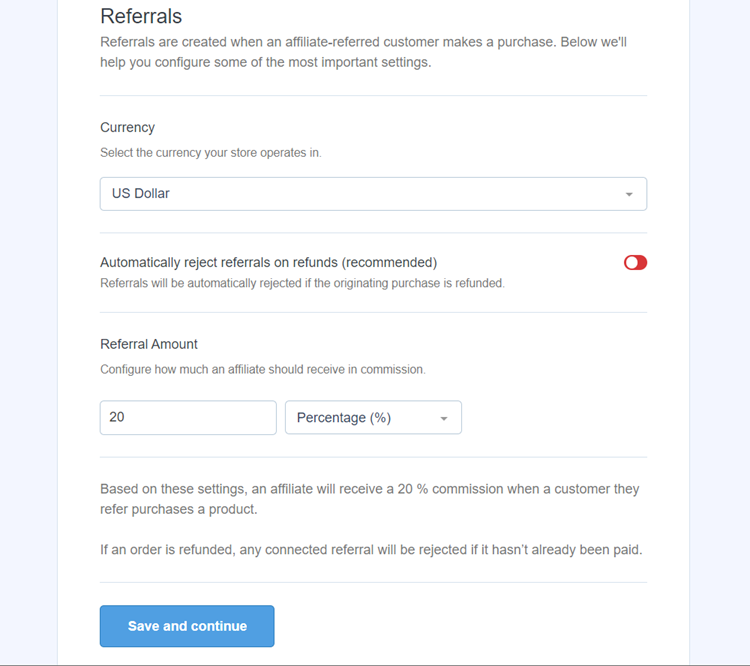 Finally, you need to enter the URL structure you'd like to use for affiliate referrals. Also, specify the Referral Link Cookie Expiration. Click Save and Continue and then exit the setup wizard.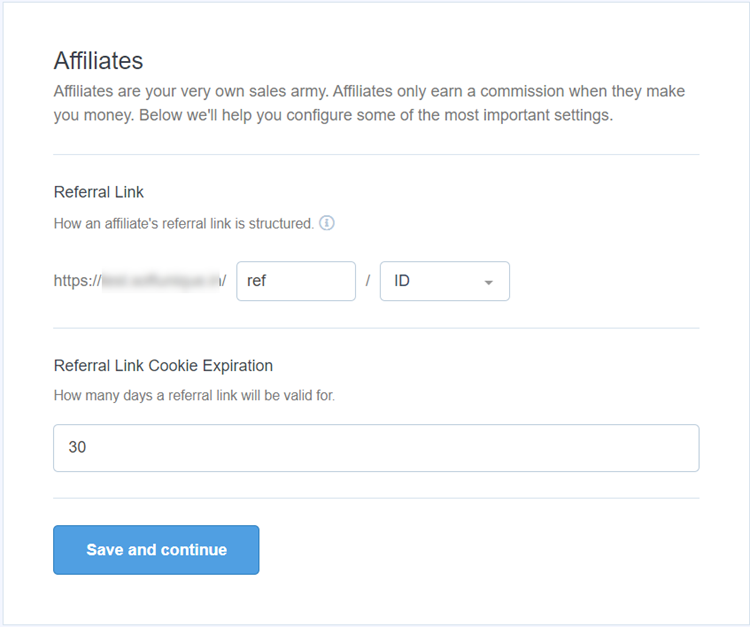 That's it!
Without any further configuration, your affiliates earn a commission when a customer makes a payment on your website through a referral link.
See WP Simple Pay + AffiliateWP in Action
So far, you've installed WP Simple Pay (your Stripe payment plugin) and AffiliateWP (your affiliate management plugin).
1. Registering New Affiliates
As soon as AffiliateWP is installed on your site, an affiliate signup page (known as Affiliate Area) will be created and published on your site. From that page, your users can register to become an affiliate and start promoting your payment forms.
The Affiliate Area page can start accepting new affiliate registrations without any tweaks.
However, if you want, you can customize the affiliate signup form with your favorite contact form plugins like WPForms, Ninja Forms, or any other. You can also tweak the page the way you want.
In your AffiliateWP dashboard, you can either approve or reject any affiliate registration requests.
2. Creating a Referral Link
Once an affiliate application is approved, your affiliates will get access to the Affiliate Area by logging in with their credentials.
In the Affiliate Area, your affiliates can generate a referral URL by entering any of your website URLs in the Referral URL Generator. Once the URL is generated, affiliates can promote it on their site, emails, and so on.
3. Reports and Payout
Affiliates can use the analytics in their dashboards to keep track of performance and see how much commission they have earned. 
Similarly, you can also keep track of your affiliate program performance from your Reports page and pay the commission they've earned right within your WordPress dashboard.
There you have it!
We hope this article helped you learn how to add an affiliate program for Stripe payments.
If you liked this article, you might also want to check out how to create a Stripe payment form with WordPress.
What are you waiting for? Get started with WP Simple Pay today!
To read more articles like this, follow us on Facebook and Twitter.