In the past, if you wanted to accept online payments through your WordPress site, you had to set up an ecommerce shopping cart. But your work wasn't done there…
Next, you had to connect the shopping cart to a payment processor. Finally, you had to set up a merchant account at your bank to accept money from the payment processor.
That's a lot of steps and most of them aren't simple.
Arguably, setting up the ecommerce store and customizing it to your needs are the hardest parts. Unless you're already proficient with tools like WooCommerce, you could spend hundreds of hours learning how to use the shopping cart and making it fit your business (you'll pick up a little coding knowledge along the way).
But if your requirements are simple, do you really need to set up a complex ecommerce shopping cart just to accept payments online through your WordPress site?
Truthfully, no. In fact, there are a number of drawbacks to using shopping carts.
The Drawbacks of Shopping Carts
If your needs are simple or you're trying to set up a website without the help of a professional developer, a shopping cart may not be the right choice for you. They have several disadvantages that make them tough to work with. Before you spend an entire week trying to customize a store for your basic needs, consider these drawbacks.
1. Hard to Customize
Shopping carts come with a lot to configure: Images, links, buttons, dividers/borders, margins, reviews, emails, APIs, layouts, padding, selectors, forms, etc. If you don't like the cart's out-of-the-box settings or it doesn't look nice with your theme, you'll have to make all the customizations yourself.
Just look at all the options you have to go through: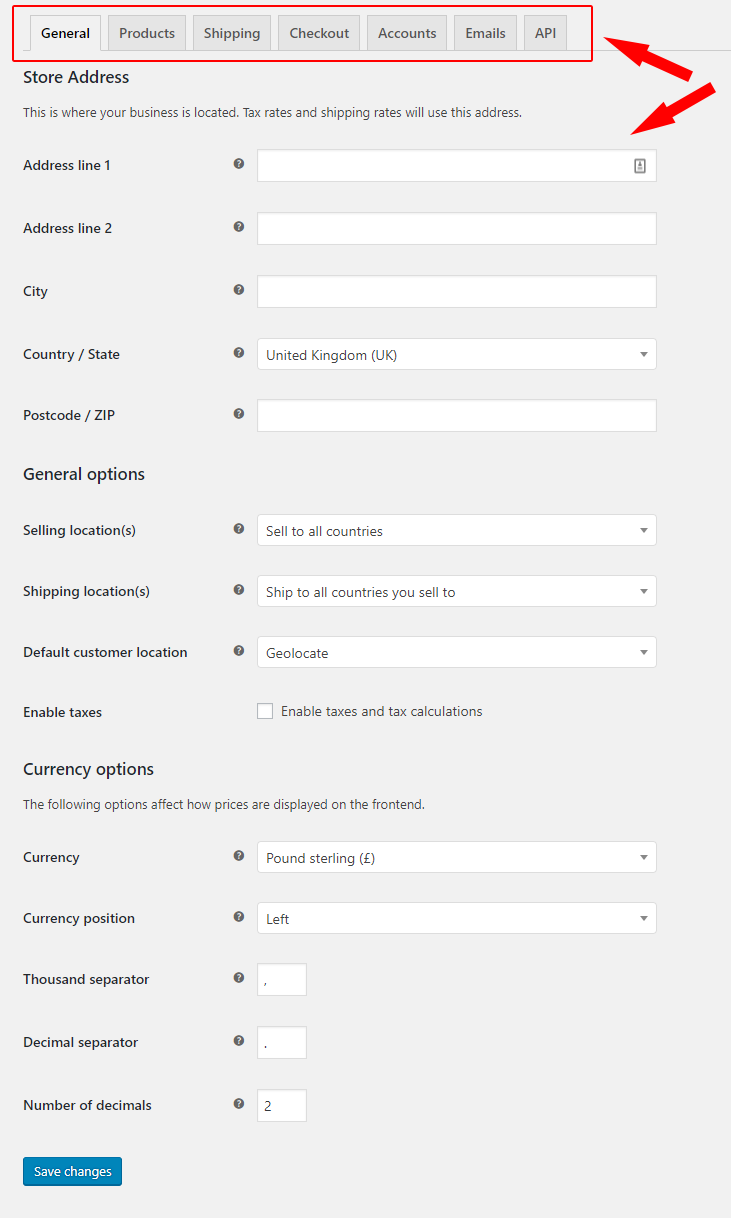 Some customizations are simple. There might be a page of drop-down menus and color pickers to make some basic style changes. But if you want anything more elaborate, you'll have to hire a designer/developer to make your customizations. This is expensive and time-consuming.
2. Resource Intensive
Shopping carts are robust tools designed to accommodate everyone's needs. They're generally large plugins that require 5-10 extensions. They process a lot of code and make a lot of requests of the server where your site is hosted.
This means more things happen in the background of your site, which causes your pages to use more resources and load slower. If you don't need all the features of a shopping cart, installing one would slow your site down pointlessly.
3. Expensive Premium Features
While some shopping carts (like WooCommerce – the most popular choice for WordPress sites) are free, their premium features come with a price. You may need to purchase several premium features just to get the functionality you need, and those costs add up.
For instance, if you want to sell subscriptions through WooCommerce, you need a special extension. Many of the extensions cost $50-$80 per year, depending on your payment processor.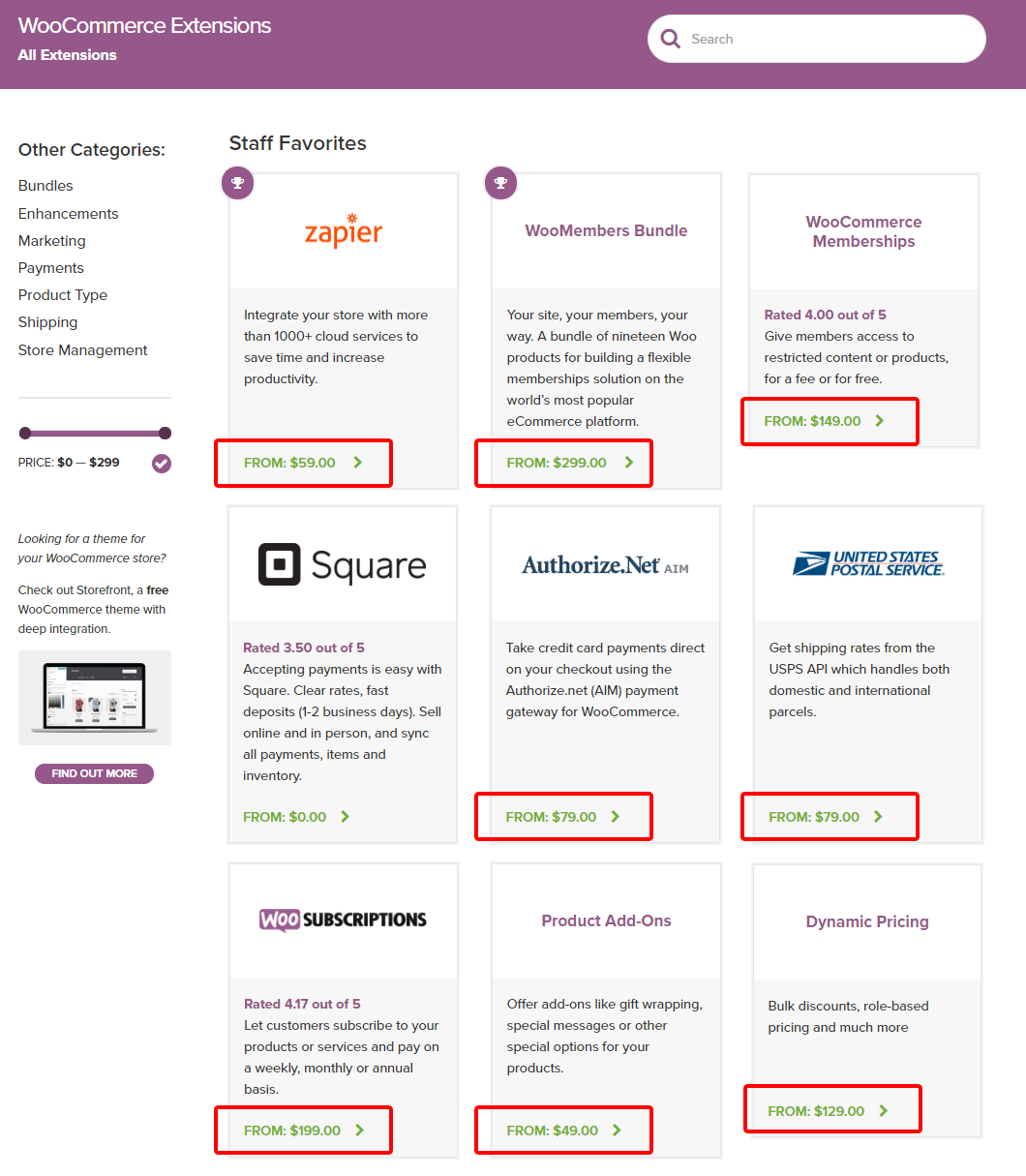 You'll also have to buy an extension if you want to improve WooCommerce's performance, integrate with Zapier (a popular integration), connect with a shipment company, automatically follow up with customers, and perform countless other functions your business may need.
While it's true there are some free or low-cost extensions, these come with their own risks. In many cases, they're built poorly (because the developer knew he wouldn't make any money off them) and they come with security vulnerabilities. It's smarter to use a paid plugin because it means the developer is incentivized to build it well.
4. Potential Plugin Conflicts
If you try to use a shopping cart with too many other free or lower-priced extensions, there's a good chance you'll run into a compatibility conflict where one plugin has an adverse effect on another plugin. In the best cases, these conflicts prevent some features from working. In the worst cases, they can break pages or your entire website.
Unless you're familiar with Javascript, jQuery, PHP, and MySQL (or don't mind paying someone who is), you won't be able to resolve these conflicts on your own, and plugin developers usually won't provide support unless you've purchased a paid license from them (if they offer one at all).  
You can avoid these conflicts by using only the plugins and tools you need to solve your immediate problems so there's minimal chance of bad interactions. If you don't need everything a shopping cart comes with, don't use it.
5. Security Vulnerabilities
Most shopping cart plugins are open source, including WooCommerce. This means anyone can view its underlying code. The creators make this information available so other developers can build their own extensions and customizations.
But that accessibility is exactly what hackers need to find vulnerabilities in software. It's like giving a map of the bank's security cameras to a thief.
With a shopping cart platform, this is especially worrisome because it stores sensitive financial information and integrates with your payment processor. If a hacker breaks into your shopping cart, they might find a way to your bank. So if you can, it's smarter to use a plugin to process payments that isn't open source.
Should You Ever Use a Fully-Fledged Online Store?
We built WP Simple Pay because we felt there wasn't a simple payment processing solution for founders and business managers. But as your business grows and your payment processing needs change, there are some circumstances when it would be smart to set up a full-fledged ecommerce store.
1. You Sell a Lot of Products
If your inventory grows (whether that's physical or digital products or services), you'll need a shopping cart to organize your products. This also lets customers purchase multiple products at the same time.
2. Your Products Have Variations (Size, Color, Style, etc.)
Ecommerce shopping carts are also useful if your customers can customize their purchases. For instance, if you sell a service package and the customer has to choose a type of service, payment schedule (monthly vs. quarterly), and additional upsells, you'll need a cart to keep these variations organized, otherwise you'd end up with dozens of payment forms.
3. You Need a Unique Feature
If you need a special feature that doesn't come standard with a simple payment plugin like WP Simple Pay, you may have to go through the hassle of installing a shopping cart and attaching the right extension or add-on. Make sure the feature is truly worth your time and/or the development cost before you go down this road.
Use Only the Tools You Need
As you build a business, it's tempting to consider what it will look like in the future. You might think, "I'll have lots of products someday, so I'll save time by setting up a shopping cart now." It's good to think about the future, but building more than you need today will actually cost you time and money.
Let's say you set up your shopping cart today, but your business changes over the next year. Instead of offering 10 products, you decide to focus on one or two. Or maybe you pivot to something entirely unique. All the time you spent customizing your shopping cart will be wasted.
It's better, therefore, to only use the tools you need right now. Keep things simple for yourself and your customers. Iterate on your business incrementally over time. As your business grows, it might make sense to graduate to a shopping cart at some point, but while your needs and resources are simple, stick to simple tools. If you ever decide to move to a shopping cart, you can use the same Stripe account, which keeps things simple.
WP Simple Pay is the easiest way to accept payments on your WordPress site without setting up a shopping cart. It's perfect for business owners with simple needs. Why is it better than an ecommerce shopping cart?
You don't need to hire a developer to set it up.

You can set up unique payment options (including subscriptions).

It won't slow down your site with extra server resources.

The form customizer gives you lots of flexibility.