What You Need to Start Selling Digital Products on WordPress
Are you interested in selling your own digital product? You aren't alone. Countless online businesses are adding digital products to their product lines because they're great ways of creating additional revenue streams for your business without all of the cost. After all, there are no limits to the number of digital products you can sell.
But before you can start selling digital products, you have to get a few things in order. Without these four key elements, you won't have much success.
A Digital Product
Before you can start selling digital goods, you'll need to create a product. You don't have to be revolutionary here. You can sell a product that uses a traditional format, but it should have some kind of unique value that can't be found anywhere else.
Here are some of the most common digital product formats. These are just ideas to get you started. Feel free to come up with something unique.
eBooks
PDF guides
Documents
Workbooks and quizzes
Manuals and tutorials
Poetry, essays and stories
Cookbooks
Sheet music
Textbooks
Blueprints
Contracts & policies
Printables
Stock photos, charts, and graphics
Image presets/filters
Templates, vectors, and PSDs
Online courses
Access to membership sites
Test preparation materials
Video series
Email courses
Educational resources
Video footage
Webinars
Image, sound, and animation libraries
Podcasts and audiobooks
Stock audio
Icons, fonts, and infographics
Software as a Service (SaaS)
Apps and code snippets
Website themes and templates
Plugins/extensions
Video games
Alternatively, you could resell someone else's digital product. You would have to establish an agreement with the original creator to buy their digital products at a discounted price and sell at retail. Or you could negotiate an affiliate arrangement where you receive a commission for each referral.
If you aren't sure what to create, check out this article by Easy Digital Downloads: 7 simple digital product ideas almost anyone can create right now. You'll learn about several digital products you can create to make some side money, experiment with creative ideas, or start your own business.
A Platform/Website
Once you have something to sell, you'll need somewhere to sell it. It's possible to sell your products on someone else's platform – like Amazon, E-Junkie, Gumroad, or Sellfy – we always recommend selling your products on a platform you own completely: your own website.
In most cases, the cost of selling on your own website is considerably less than selling on a third-party platform. With a little work and creativity, you can create robust and polished websites using WordPress and a free theme. With the right WordPress plugins, you can create an automated business and a powerful experience for your customers.
When you build your website, don't be afraid to explore some paid themes. There's a massive difference between a free theme and a $50 theme. Free themes are usually just stripped-down versions of paid themes, so they lack critical features and customization options. Paid themes, even the cheapest ones, usually give lots of flexibility.
All that said, you should absolutely list your products on third-party platforms. There's no downside as long as you take their fees into consideration when you price your products. The exposure they offer is often worth their cost, especially if you only pay a fee when you make a sale. If you sell an eBook, for example, you should definitely list it on Amazon because that's the only place many people look for books.
However you display your products for sale, make sure you have these critical elements:
1. Landing Page
Each digital product needs its own page where you explain its benefits and lay out its features to potential buyers. They should be able to make a purchase on this page as well (more on this in a moment). If your website is solely about a single digital product, your home page can also be your landing page.
2. Terms of Purchase
It's important to explain the terms of purchase somewhere on your website. This page exists to protect the customer, but also you. If you have multiple products, this should be its own page that's accessible through the footer.
The terms of purchase page should clearly lay out what buyers get when they make a purchase, like where they can download their licenses, how they get support, and how they can get a refund if they aren't satisfied. Make sure to be crystal clear about your intellectual property rights and your willingness to enforce them in court.
3. Blog
A blog is a powerful way to promote your products at scale for very little cost (only your time). With smart SEO and well-crafted content, you can reach countless customers with problems you can solve. All WordPress themes come with blog functionality, but make sure yours is styled well and that customers can access those posts.
An eCommerce Tool
You've got a product and a place to sell it. Now you need a tool to promote and sell your products on your site, which necessitates an eCommerce tool. The type of eCommerce tool you use depends on the type of product you sell.
If you have basic needs, we recommend our tool, WP Simple Pay. You can connect WP Simple Pay to your Stripe account and set up payment forms pretty quickly. You can create variations, sell subscriptions, and market with coupons. This plugin is great for sellers who only offer one or a small selection of digital products.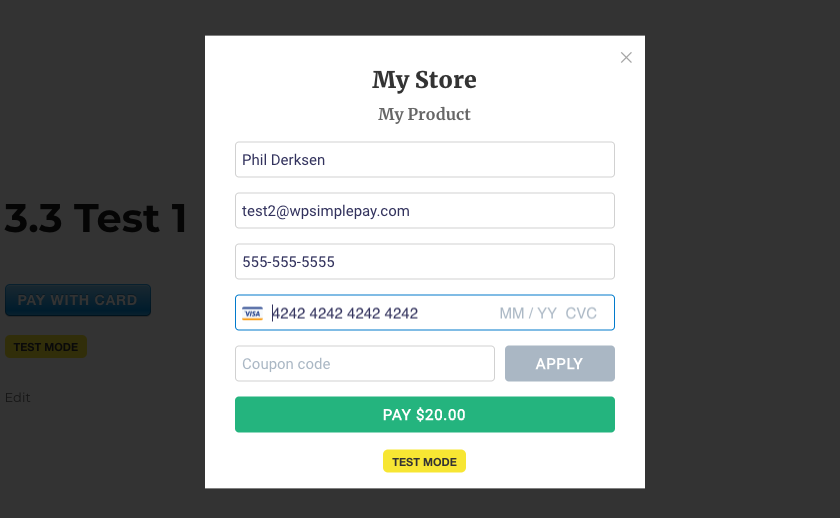 If you have more advanced needs or a larger selection of digital products, we recommend Easy Digital Downloads. With Easy Digital Downloads you manage everything from your WordPress back-end and there are tons of extensions and integrations to expand its core functionality.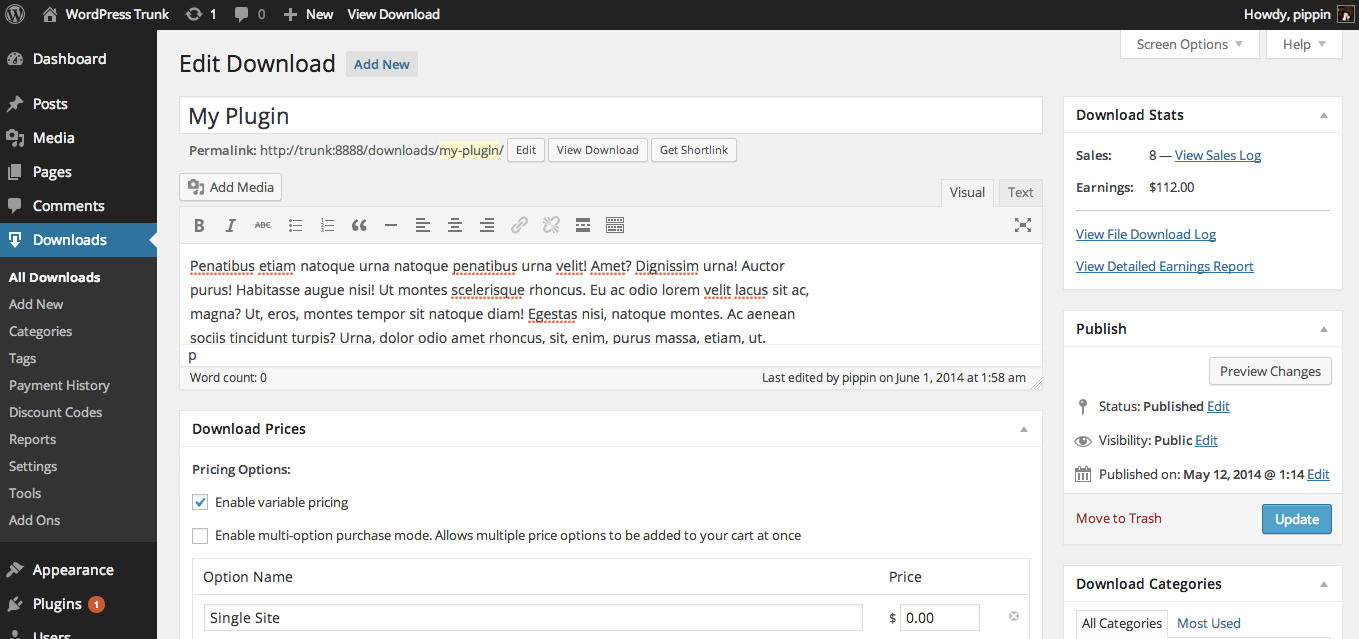 If you're selling affiliate products, we recommend AffiliateWP, a full-featured affiliate program for WordPress. It's simple, reliable, and affordable, and again lets you manage everything from your WordPress back-end.
AffiliateWP has a tight integration with many eCommerce tools and is built by the same team behind WP Simple Pay and Easy Digital Downloads. Like Easy Digital Downloads, AffiliateWP also has many extensions to tie into the other tools you're using. For example, do you need to use Stripe to send payments to your affiliates? The AffiliateWP payouts service makes this a breeze!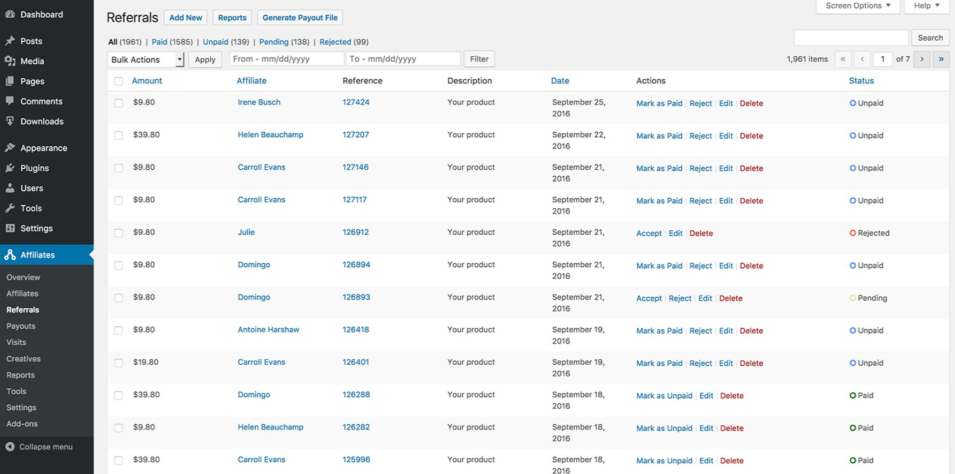 Marketing Tools
Making your digital products available for sale isn't enough. You also need to drive traffic to your website, convert visitors into customers, and turn customers into repeat customers. All that requires a few more tools.
Here's a list of basic tools you need to sell digital products. This list isn't exhaustive. Use the tools that make sense for your business and your product.
Email Marketing Software
Every online business should use an email marketing tool to send messaging to its audiences. Notify them about product updates, new products, promotions/sales, and remind those who haven't purchased about the benefits of your products. MailChimp is an entry-level email marketing tool, but you should also check out Jilt and Drip.
Customer Relationship Management (CRM) Software
If you plan to use your digital products to build deeper relationships with people, look into using a CRM. A CRM tracks relationships at scale so you never lose track of your contacts. For instance, you might add each buyer to your CRM and send reminders to follow up with them after two weeks to pitch them on other services. Pipledrive and Salesforce are popular CRMs that have features for everyone.
Analytics Software
Tracking the performance of your website and your products is key to growing your sales. Use analytics software to analyze their behavior and measure the effectiveness of your landing pages and other campaigns. This will help you make smart marketing decisions. Google Analytics is the most common tool and it's entirely free.
Social Media Management
Growing an audience on social media requires a LOT of activity. The social media platforms aren't designed for the volume of posting and commenting you need to do to grow a community, so it's useful to use a social media tool built for brands.
Tools like Meet Edgar, CoSchedule, and Buffer make scheduling content quick and painless. Hootsuite, Sprout Social, Mention keep you informed when someone talks about you on social media so you can engage with them.
Going Forward
Those tools should get you started, but you're bound to have other needs as you develop your product, build an audience, and build a brand. You might need some artistic tools to make enticing graphics or an A/B testing tool to optimize your landing page. It's okay if you don't have everything in order on the first day. You can always iterate over time. Good luck!