Adding an Affiliate Program to Your WordPress Site
There are many ways to market your products and services, but word-of-mouth is by far the most effective. No blog post, Facebook ad, or email campaign will boost your revenue as much as the personal recommendations from people who know you (and your business) well.
But word of mouth is hard to generate on your own. It helps to incentivize your customers and followers so they recommend your products and services to their friends and family. You can do this with an affiliate program.
Affiliate programs aren't new. They're one of the oldest forms of marketing. In this article, we're going to explain affiliate programs, how they could benefit your business, and how to add one to your WordPress website.
What Is an Affiliate Program?
An affiliate program is a way to enlist the help of affiliates who sell your products and services on your behalf. Each time an affiliate makes a sale for you, they receive a commission as compensation.
To make a sale, affiliates simply post a custom link somewhere on the web. They might link from their social media profile, a blog post, banner ad, etc. It's up to each affiliate to promote your offerings in their own way. When customers follow that link to your site, the affiliate receives credit for the sale in your WordPress backend.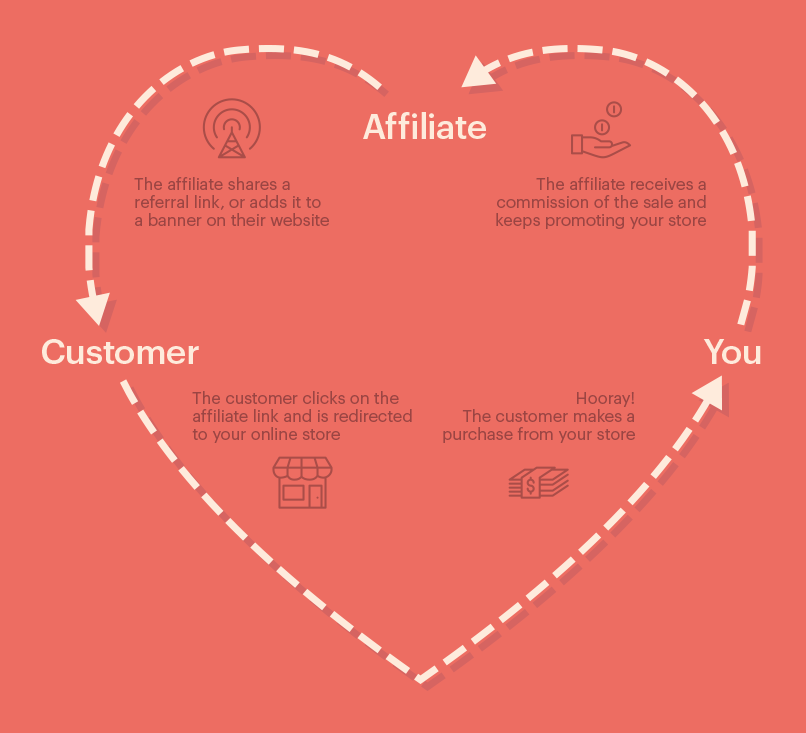 Affiliates can be niche influencers, industry bloggers, popular websites, or simply people who want to make a bit of cash online. You could limit your affiliates to a carefully curated group or let anyone join your affiliate program.
The beauty of an affiliate program is that YOU only pay the cost if YOU make a sale. If an affiliate posts their referral link on their website, but no one clicks it, you won't pay anything. The costs of affiliate marketing are 62% lower than traditional marketing, which is why 81% of online brands use affiliate marketing in some way.
Here are some other benefits of affiliate programs that are worth mentioning:
It doesn't take much work on your end. Once the program is set up, affiliates sign up, get their referral links, and sell on your behalf without your involvement. (However, there are lots of ways you can support your affiliates.)
It usually avoids ad blockers. When an affiliate posts your link on social media or in the content of a page, ad blockers see it as a normal link.
Affiliate customers become regular customers. Once a customer buys through an affiliate, they almost always return directly to you for future purchases.
It's extremely low risk. WordPress affiliate plugins are cheap, so there's little risk in setting up a program on your website. Like we said, you only pay a commission when an affiliate makes a sale.
Fortunately, starting an affiliate program is not that difficult. You just need the right tool.
How to Add an Affiliate Program to WordPress
While it's possible to manage an affiliate program manually, the amount of work it would require would eclipse its benefit, especially in the beginning. So like any time you want to extend the functionality of your WordPress site, you'll need a plugin.
To create an affiliate program on your WordPress site, we recommend AffiliateWP. It's simple, reliable, and affordable. Most importantly, you can manage everything from your WordPress back end, including sending payments to affiliates. You don't need to login to another app.
(Full disclosure: AffiliateWP is part of the Sandhills Development family along with WP Simple Pay and several other great WordPress plugins.)
Step 1: Install AffiliateWP
When you purchase AffiliateWP, you're given a download link on the confirmation page and in your receipt email. Download the plugin .zip file. Then follow these steps:
In your WordPress admin, go to Plugins → Add New.
Click Upload Plugin.
Click Choose File and select the .zip file.
Click Install Now.
Once installed, click Activate Plugin.
Step 2: Activate Your License
When you purchase Affiliate WP, you're given a license key that grants you access to the plugin, updates, and support. Navigate to Affiliates → Settings, enter your license key in the box, and click Activate License to register your website with the license key.
Step 3: Set Up the Affiliate Area
An Affiliate Area is a page on your website where affiliates can log in to their accounts, view their referral stats, generate affiliate links, and view their earnings. AffiliateWP automatically creates a page called Affiliate Area when it's first installed and populates it with the Affiliate Area shortcode.
The page looks like this by default: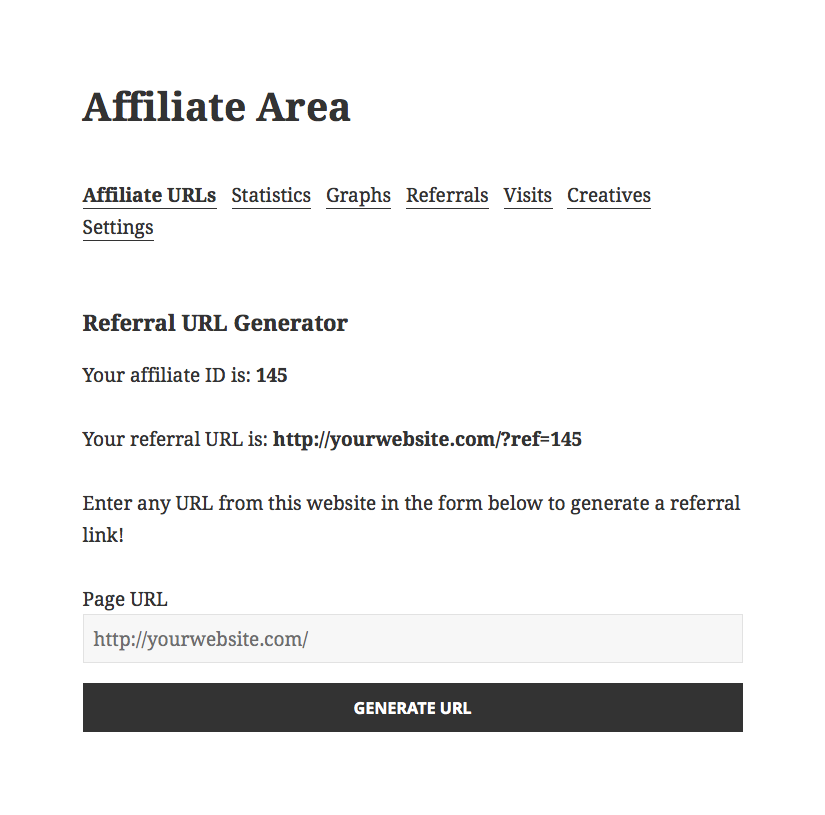 If you want to use a different page for your Affiliate area, simply paste the Affiliate Area shortcode on whichever page you want that content to appear. Then designate that page's name as the Affiliate Area in Affiliates → Settings.
Step 4: Set Your Referral Rates
Your next step is to designate how much you'll pay for an affiliate's referral. There are a few ways to do this.
You can set a global rate that applies to all purchases in Affiliates → Settings.
You can set a custom rate for a specific affiliate in Affiliates → Affiliates. Then search for the affiliate by name or ID, click Edit, and enter the referral rate for that specific affiliate. This will override all other referral rates.
You can set a per-product referral rate (for some ecommerce integrations). To learn how, see the setup documentation for the ecommerce/membership plugin you are using in the Integrations section.
Step 5: Integrate Your Other Tools
AffiliateWP integrates with a number of other powerful tools. Fortunately, this step is easy. Visit Affiliates → Settings → Integrations to select the ones you want to use with AffiliateWP.
For example, you can use WP Simple Pay with AffiliateWP. Once enabled, all of your purchase forms set up through WP Simple Pay will be able to generate referral records for affiliates.
Step 6: Paying Your Affiliates
The last thing you need to know about adding an affiliate program to your WordPress site is how to pay your affiliates. If you don't pay them for their referrals in a timely manner, they won't promote your products and services for long!
There are a few ways to pay your affiliates:
Option #1. Use AffiliateWP's Payouts Service
This is the easiest way to pay your affiliates. Navigate to Affiliates → Settings → Payouts Service to register. Once enabled, affiliates will be given the option to register their payment details inside of the Affiliate Area. To submit a payout, log in to your WordPress site's dashboard and navigate to Affiliates → Referrals and click Pay Affiliates.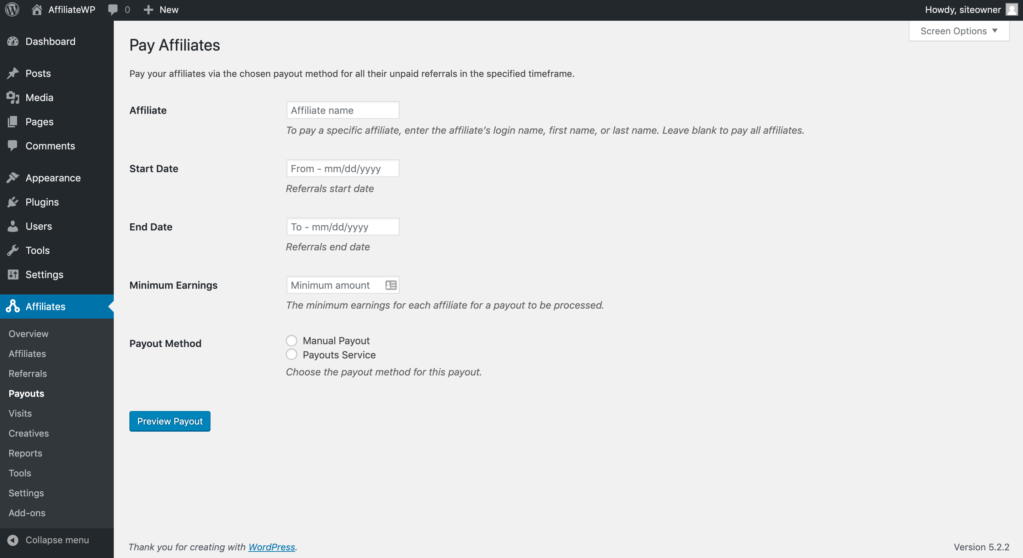 Option #2. Pay affiliates via PayPal or other online mass payment system
Navigate to Affiliates → Referrals and click the Pay Affiliates. Choose your Payout Method as Manual Payout. On the next page, click Generate CSV File to generate a CSV file of affiliates and their collective totals.
The CSV file will contain email addresses, collective amounts, and the currency for all affiliates that have unpaid earnings. The file has been formatted for the mass payment options of PayPal, Skrill, and similar systems. Upload the CSV to your payment system to pay your affiliates.
Option #3. Pay affiliates with a bank transfer
If you prefer to pay your affiliates with a bank transfer, you'll need to do it manually through your bank. Your affiliates will need to provide you with their bank account details so you can transfer money to their account. Once you have paid your affiliates, manually set the referral status to paid in Affiliates → Referrals.
(Depending on your bank, you may be able to upload the mass payments CSV that we explained in option #2. Otherwise, you will have to pay your affiliates individually.)
Option #4. Pay affiliates with PayPal Payouts Pro add-on
If you want to use PayPal to pay affiliates, and your account has the MassPay/Payout API enabled, the PayPal Payouts add-on lets you process payouts from within your WordPress dashboard.
Option #5. Generate payout for a single affiliate
If you want to generate a payout for a specific affiliate, visit Affiliates → Referrals and click the Pay Affiliates. Add the affiliate's name, set your payout method to PayPal, and enter any other criteria. Click Preview Payout, check for accuracy, then click Submit Payout.
Other Considerations
That tutorial will get you started, but in order to set up your affiliate program just the way you want it, it's smart to review the other options and settings. There's a lot more to AffiliateWP than we covered in this article, so we recommend browsing their getting started documentation.
Once your affiliate program is up and running, and with the help of a friend to test. Ask them to open an affiliate account, post their referral link somewhere, click it, and make a purchase. Finally, test your payout configurations to make sure your affiliates can receive compensation for their work.
When you're satisfied with your affiliate program, promote it aggressively to your customers, especially the repeat buyers. The people who love your products and services the most will be eager to promote your business in exchange for commissions. The faster you recruit affiliates, the faster you will enjoy the low-cost marketing of your affiliate program.