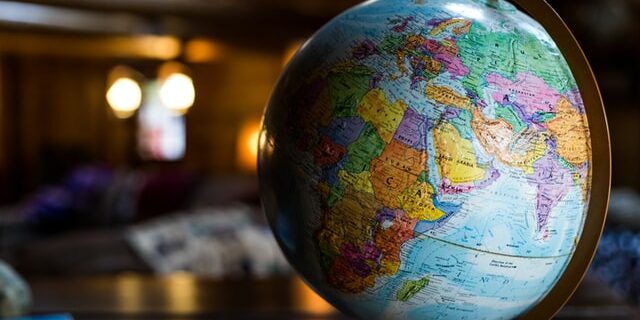 5 Considerations Before Selling Globally
The internet has always connected people across the globe – but thanks to a worldwide pandemic that forced millions of people to stay at home, the power of the web to connect merchants with buyers in many different locations has never been stronger.
In 2020, global ecommerce increased over 30%.
And with many areas of the world still under full or partial lockdowns and lots of jobs transitioning to remote positions, that growth is expected to continue – even if it slows down a little.
So, now is still a great time to take advantage of the uptick in online buying activity by stretching your online store beyond the borders of your home country. However, there are a few things you should know first.
Below, we cover five key points to consider before you start selling globally.
1. Buying motivations
To be successful with selling globally, you'll not only want to open your store to international customers; You'll want to optimize it for them as well.
Think broadly about the kinds of things that will motivate an international audience, compared to the things that may push domestic consumers to make a purchase. Of course, you don't want to stereotype anyone, but spending a bit of time doing some cultural research might help make your online store more appealing to a new international audience.
For example, in the United States, consumers are often driven to buy from vendors that appeal to their core values and beliefs – like businesses that uses green manufacturing standards, for example.
On the other hand, as KPMG points out in a research report on consumer buying behavior, online merchants selling to other countries may be competing against sheer convenience.
As an example, the study refers to consumers in Hong Kong, where most households are within five or ten minutes of a shopping mall. Consequently, many online merchants have had to improve shipping speeds to compete with brick-and-mortar businesses.
This can help you customize any international marketing outreach or special promotions.
2. Language barriers
It's no secret that English speakers have a bit of an advantage when it comes to selling internationally. In fact, data indicates that English is the third-most-popular language in the world, after Chinese and Hindi.
But even if you are marketing to a country with a lot of English speakers (like Canada or Germany, for example), you should still be aware that certain phrases and words may mean something completely different abroad than they do in the United States.
An easy example: Decades ago, Colgate manufactured a toothpaste product named "Cue." Unfortunately, no one at Colgate's corporate team did enough research to realize that "Cue" was also the name of a popular adult magazine in France.
Seemingly innocent mistakes like these are littered throughout the history of marketing and advertising. The risk is especially high if you are going to be translating your eCommerce store into another language. But as referenced above, even just keeping your products and website in English and marketing it to another country has its risks.
It's certainly not enough to simply copy and paste your website text into Google Translate. Ideally, you'll want to have a native speaker translate your store's copy, or at least review it for you once it's completed. If your budget allows, you can also look into hiring a localization specialist, who can adapt your content for a specific locale.
3. Accepting different currencies
Another important consideration when it comes to international selling is accepting new forms of currency. Most payment processors will allow you to accept multiple currencies, but each one handles it slightly differently.
For example, with Stripe (our processor of choice), online merchants can accept over 135 different currencies.
With an easy form option, WP Simple Pay allows you to display a native currency to users in different locales. From there, Stripe automatically converts the currency before settling the transaction.
Remember: Depending on a customer's bank, their credit card may charge them fees for making purchases outside of their local currency.
Before you roll out your store to a new international audience, be sure to have a plan in place for accepting new currencies. This will help you avoid potentially costly fees for you or your customers, and ensure that you don't run into any technical problems that compromise your store's user experience.
4. International shipping
Depending on what you sell and where you want to start selling, shipping can be the most complicated part of opening up your store to international sales.
One of the easiest ways to handle global orders is dropshipping, which means that you partner with a company in another country that handles all of your order fulfillment and shipping for you. However, depending on what and where you're selling, this may or may not be a viable option.
If you need to ship your orders in-house, you'll want to pay special attention to concerns like packaging guidelines, postage, duties, and other fees that may apply to international shipments.
If you've never shipped internationally before, it may be a good idea to start small by only adding one or two products to an international market – especially if you anticipate demand to be relatively high. This gives you a good way to test the waters and get a sense of how things will go before jumping head first into international sales.
5. Localized social media
There's not much use to selling internationally if you aren't able to communicate with prospects and customers in your new market.
Whether it's pre-purchase questions or post-purchase commentary and reviews, social media is an extremely common method of communication for today's online consumer. If you're opening up your product or service to a new country, it's worth spending a bit of time considering how you can interact with them.
In many places, popular social networks are the same as those in the United States. For example, Facebook and Instagram are both very popular in India and surrounding countries; There are now more Facebook users in India than in the U.S.
But in other countries (Russia and China, for example), there are other popular local social networks that may actually reach more of your target audience.
One easy way to leverage social media for quick access into a specific market is influencer marketing. Do some research on the biggest social media accounts that use the most popular networks in your target country and demographic, and reach out to them about partnerships.
Investing this time and effort upfront can make a big difference if you're expanding your audience to other countries.
Final thoughts on international eCommerce
If your business has the resources available, it's always a good idea to expand your potential customer base as widely as you can. Fortunately, in the modern era of eCommerce, it's easier than ever before to serve a worldwide audience.
But doing business internationally isn't always as simple as translating your website into a new language and changing a few options on your payment processor – especially if you are selling a physical product that needs to be shipped to your customer's doorstep.
The key points in this article are a good framework for getting started selling globally. However, you'll still want to devote some time to researching and understanding the market in the specific places you're looking to sell.
With WP Simple Pay, you can simplify at least one part of the equation: Accepting payments in different currencies. Thanks to our integration with Stripe, your WordPress store can easily display prices and accept payment in dozens of different currencies.
To learn more about WP Simple Pay, check out our pricing page. To see how the plugin works with foreign currency, you can visit our Alternate Locale and Currency Demo page.