10 Common WordPress eCommerce Mistakes to Avoid in 2023
WordPress is one of the most popular content management systems available, especially for eCommerce sites. It offers enormous customizability in terms of design and functionality, but that flexibility also leaves some room to make mistakes.
As the makers of the best Stripe payments plugin for WordPress, we see a lot of eCommerce sites. Too often, we run across eCommerce stores that make critical mistakes and errors that cost them conversions and sales.
In this article, we'll lay out the most common eCommerce mistakes we see all the time. If you're making any of these errors, you'll need to fix them quickly to boost engagement and your bottom line.
1. Not Using High-Quality Product Images
If you take a look at the most successful eCommerce stores, you'll notice they all use tons of high-quality photos. In fact, the best sites publish a bank of photos for each product, including multiple angles, different positions, and 360-degree views. Basically, you want to give your visitors everything they need to make buying decisions.
This doesn't just apply to physical products. It's important to use carefully selected imagery for services as well. These help shoppers connect with your offerings on an emotional level. Ultimately, high-quality images increase your conversions.
Instead of downloading low-quality stock photos, publishing whatever you can capture with your camera phone, or using whatever the manufacturer supplied, invest some time and money into good quality photos. Don't be afraid of taking your own photos. There are several free editing software options you can play with to fix any errors.
2. Not Backing Up Your WordPress Site
It's easy to assume that nothing bad will ever happen to your site.
"Nobody wants to hack my site," you might tell yourself. While it's true that hackers don't usually target small and new eCommerce sites, it doesn't mean you are safe.
There are tons of ways you could lose your data. There might be a problem on your host's end. One of your WordPress plugins may have a security vulnerability that hackers exploit. Or, you might make a mistake yourself that crashes the site.
The solution is simple: Install a WordPress plugin that creates automated backups of your website. Set an interval you like, but we recommend backing up at least weekly. This way you'll always have a recent version of your website to restore if something bad happens.
We strongly recommend using Duplicator, the #1 backup and migration plugin for WordPress, because of its user-friendly interface. It also allows you to schedule your backups to ensure that your site is saved and stored at regular intervals.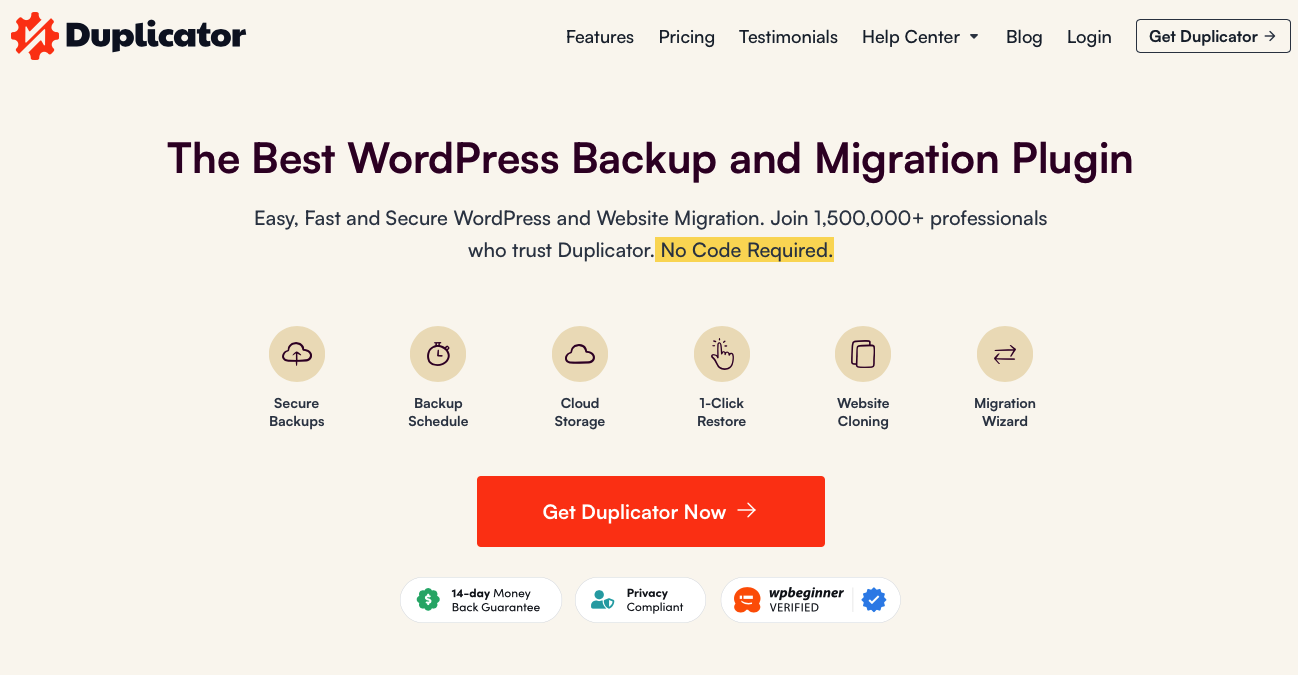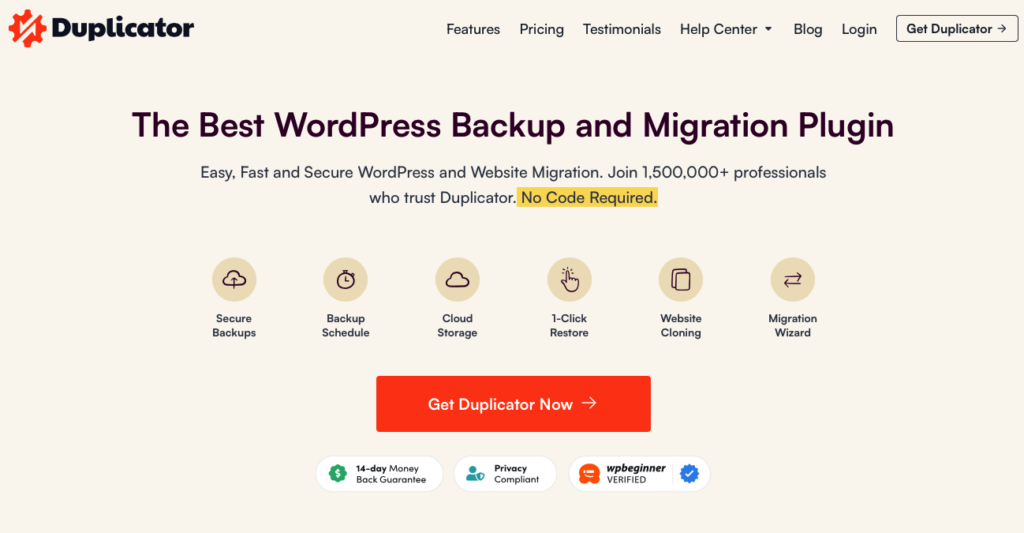 The plugin's offsite storage integrations allow you to save your data on several different cloud providers, including Google Drive, Dropbox, and Amazon S3.
3. Failing to Update Your Plugins
Like many WordPress users, you probably have a dozen plugins installed to extend the functionality of your website. Your plugins will need to be updated from time to time. If you forget to update your plugins, they will eventually break and become useless. In some cases, a broken plugin could break other elements of your site.
WordPress makes updating plugins super easy. Simply click Updates on the left side of your dashboard. WordPress will show you a list of everything you should update. Click each item to update.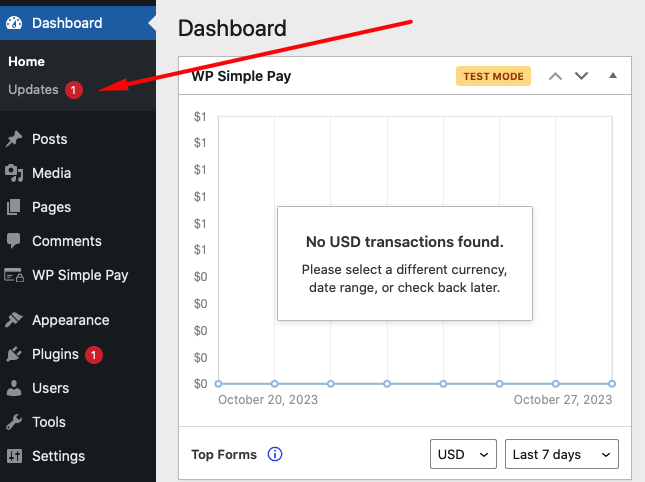 To ensure that your plugins get updated when new versions become available, you can enable automatic updates. Simply navigate to the Plugins tab in the admin dashboard and click on enable auto-updates.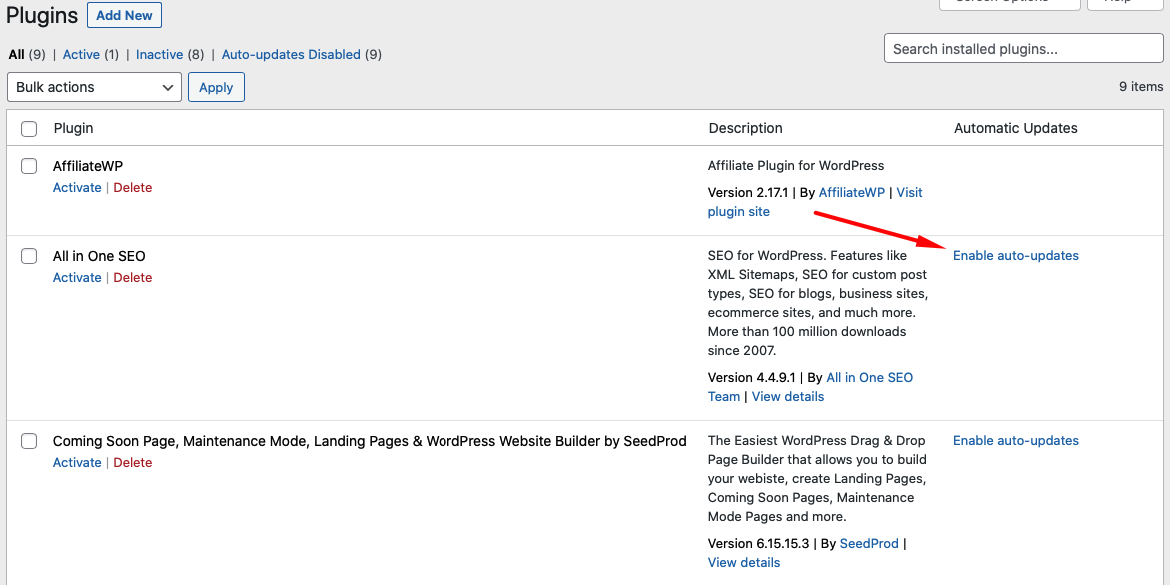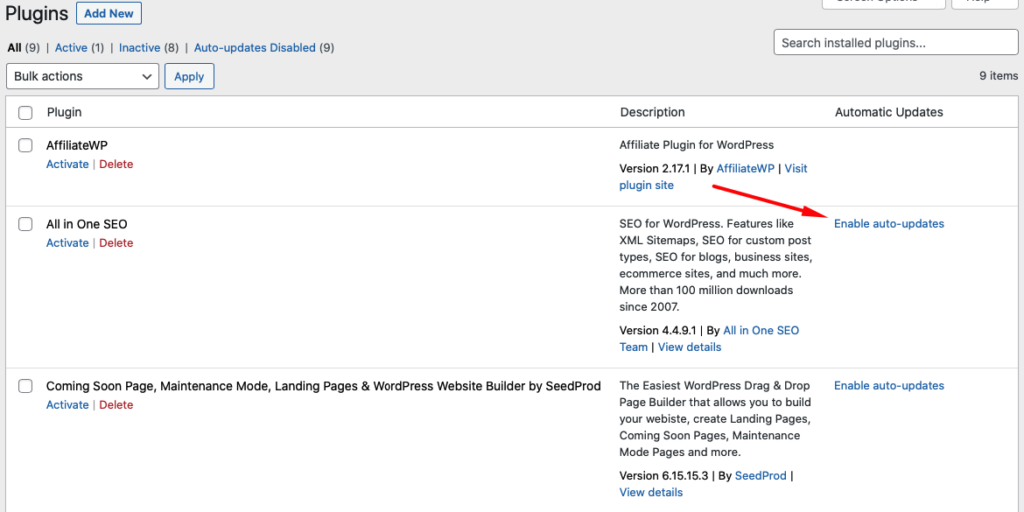 4. Failing to Consider Shipping and Other Fees
You probably know that eCommerce shoppers prefer free shipping. But it isn't free for you. You have to roll that cost into the price of your product.
It's the same with other fees, as well. For example, you can avoid the Stripe processing fee by passing it on to your customers if you're using WP Simple Pay to accept payments on your site.
Take a moment to consider the true cost to deliver your products and services. Consider the entire cost to make the product or provide the service (including your time), packaging and shipping costs, and taxes.
You'll also need to consider the costs you endure that aren't based on sales. For instance, that $15/month software tool you pay for doesn't divide evenly into your sales, but it's still a cost you need to account for in your prices.
Remove the additional 3% fee!
Most Stripe plugins charge an additional 3% fee for EVERY transaction
…not WP Simple Pay Pro!
5. Not Monitoring the Reviews
Reviews are an important part of the eCommerce experience. Users use reviews to decide whether to make a purchase. Generally speaking, more positive reviews means more conversions, so it's smart to encourage customers to leave their thoughts.
But you have to review their reviews. If you let them flow in without oversight, customers may leave comments that aren't representative of your products.
Don't misunderstand us: We are not suggesting that you delete negative reviews. Bad reviews can actually help by making your business seem authentic. However, sometimes a customer will leave a review that's so off-the-walls inappropriate that you have to remove it.
For example, one retailer we know had a customer leave a terrible, 0-star review on a product page, but their comment referred to a product the retailer didn't sell. Somehow the customer became confused, so the review had to go.
It may be time-consuming, but it's important to read every review that comes in. Besides, they may have lots of valuable feedback.
Social Proof
In addition to monitoring your online reviews and testimonials, you should also consider implementing social proof strategies on your site to boost conversions and build trust in your products or services. This is especially important for new eCommerce businesses that need to establish themselves in their respective spaces.
There are a number of ways you can boost your social proof. One effective method in particular is through automated posts on your business's Facebook Page. Assuming you already have one of those, it's easy to set up this functionality using a couple integrations.
For example, if you're using WP Simple Pay to create payment forms, you can easily automate posts for your Facebook Page using Uncanny Automator. It's already built-in to the payment form builder, so all you have to do is connect your Facebook Page to the plugin to get started. The best part? It requires zero code, so even WordPress beginners can automate these types of social media posts directly from the admin dashboard.
To learn how to automate social proof posts on Facebook Pages in WordPress, check out our detailed, step-by-step guide.
Trust Badges
Trust badges and security seals are an important component to any eCommerce site. They help prove to your visitors that your products or services are legitimate, which motivates them to go ahead and purchase from you.
You'll want to showcase your certifications, accredidations, awards, and more on your homepage.
To learn best practices for adding trust badges and security seals to your site, see our guide.
Recent Sale Notifications
Recent sale notifications work similar to social proof posts. They can create a sense of urgency around your products or services, as well as show visitors that others are buying from you.
Again, if you're already using WP Simple Pay on your site, you can easily create recent sale notifications for your homepage by integrating TrustPulse with your payment forms.
Our guide, How to Create Recent Sale Notification Popups in WordPress, walks you through the entire process.
Similar to automating social proof posts on your Facebook Page, this integration doesn't require a single line of code, so you can do it even if you're new to WordPress.
6. Not Providing Transactional Emails
Transactional emails can be messages such as order confirmations, fulfillment updates, shipping confirmations, and anything else that relates to a customer's order or account.
These are critical tools to keep your customers informed about the status of their orders and to ease their natural anxiety over making an online purchase.
You'll want to ensure that you're transactional emails are tailored to specific products or services you offer.
Using WP Simple Pay, you can easily customize your payment confirmation emails for individual payment forms. This means that if you sell more than one product, or offer several different services, you can create custom confirmation messages for each specific payment form you use on your site.
This feature is a great solutiuon for all types of sites, including subscription-based businesses, membership sites, digital products, non-profit organizations needing to collect donations, and more.
WP Simple Pay lets you set up your per-form confirmation emails directly in the payment form builder.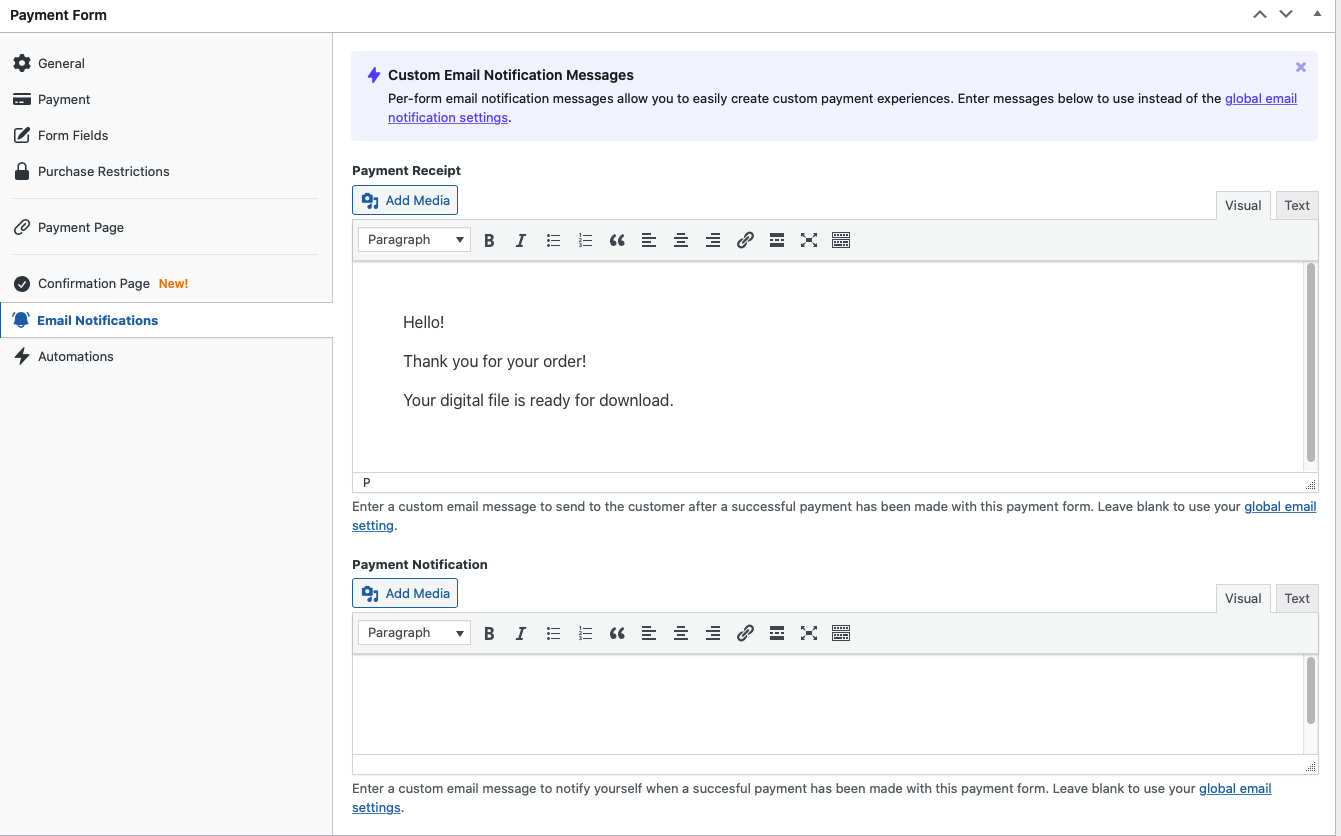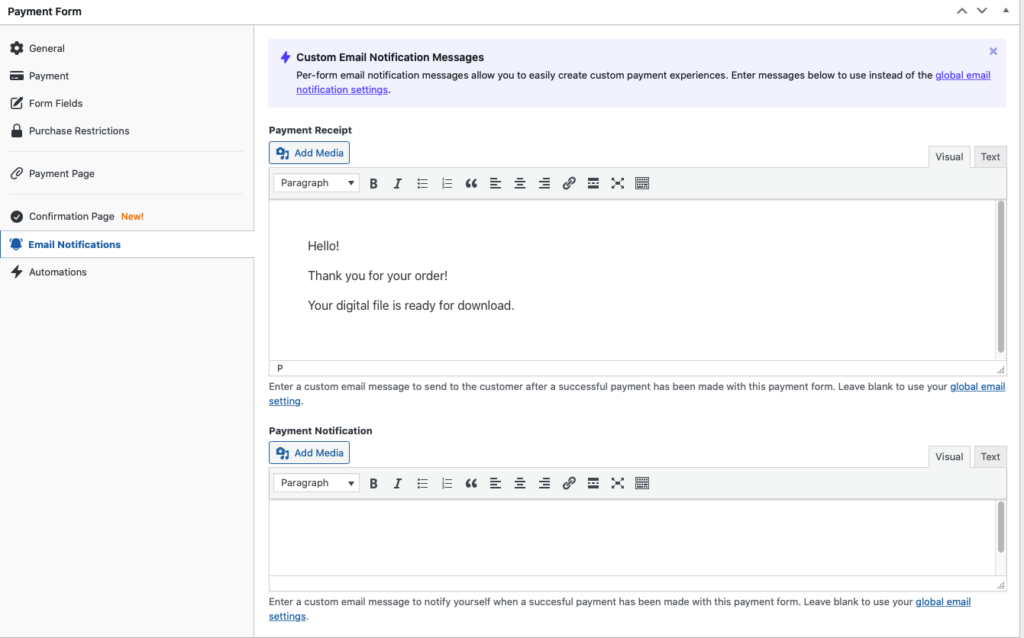 If you fail to provide these, customers will ask lots of questions. They'll want receipts and frequent updates. If they don't hear from you at least once after the purchase, they'll assume you scammed them out of their money.
7. Short and Generic Product/Service Descriptions
Your descriptions are where you get the best chance to make a case for your products and services. By the time a potential customer is reading your description, there's a good chance they'll make a purchase, so you need to spend some time here.
Short descriptions that fail to answer readers' questions are extremely common on eCommerce sites, but they're easy to fix. Yes, it's important to lay out the basic information: size, colors, dimensions, uses, etc. But, you should also use your copy to connect with the customer.
Focus on the benefits of your products and services in your descriptions. Explain why the product or service is right for them. Tell a story about how their lives will be better after they buy. Don't be afraid to add helpful images and videos.
Furthermore, update your descriptions over time as you learn more about your customers. If several customers ask about your delivery times, for example, add a note in your descriptions to preemptively answer this question.
8. Providing a Complex Checkout Process
Inevitably, you'll lose some users during your checkout process, but it's important to keep that number as low as possible. If your checkout process is complex or hard to understand, you're sure to lose some customers who would otherwise happily complete their purchase.
How do you keep your checkout process simple? By removing friction. Friction includes obstacles, tasks, or problems that stand between your customer and clicking that "Place Order" button. For instance, a customer might experience friction if they can't find the answer to a critical question.
Here are some ways to simplify your checkout process:
Reduce the number of pages (make it one page if you can).
Reduce the number of fields you ask customers to complete.
Consider your customers' objections and address them early.
Include a visual progress indicator.
Enable a "guest checkout" option.
Select "same as billing address" by default
Offer multiple payment methods
Your checkout process will depend on the tools and plugins you're using. Some lock you into a poor checkout process. Others give you some customization options. With WP Simple Pay, checkout is simple, whether you use an embedded form, an overlay form, or Stripe checkout.
The plugin also offers tons of different payment methods, so your customers can always pay with their preferred method.
Another way to eliminate friction during the checkout process is to create branded, distraction-free landing pages for your payment forms.
WP Simple Pay lets you easily create these payment pages for your site from the payment form builder. You can add a logo, or featured image, and choose a color scheme that best matches your brand.
Below is an example of a dedicated landing page you can create without code using WP Simple Pay.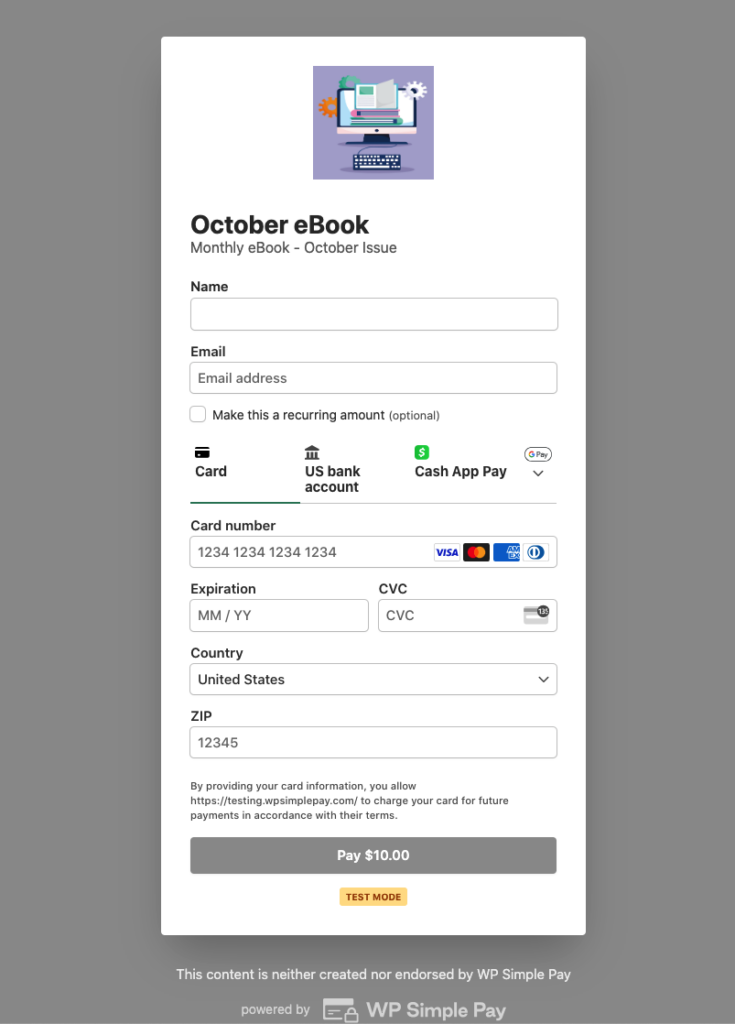 To learn how to create a dedicated landing page for your Stripe payment pages, follow our step-by-step guide.
9. Not Offering Contact Information
Imagine you're about to make a purchase, but you have an important question. There's no email address or form on the site to contact anyone. If you're like most people, you decide not to take the risk. You probably just move on to another provider.
In fact, some customers see a lack of contact information as distrustful, even if they don't want to contact you. They assume you're hiding something. If there's a problem with their purchase, they won't have a way to get a hold of you.
Fortunately, this is an easy fix. Create a contact page on your site and publish your phone number, email address, or a contact form. It also helps to list contact information in your website footer so it's available on every page, as well as somewhere in the checkout process.
10. No Limited-Time Offers
Limited-time offers are an easy, yet effective way to boost conversion rates and increase sales.
As mentioned before, most eCommerce shoppers are looking for free shipping offers. Additionally, when a discount code is offered, your visitors are more likely to make a sale for fear they will miss out on savings.
Limited-time offers can be promoted and marketed in several different ways, including in your email newsletters, social media platforms, popup notification campaigns, banners, and more.
To learn how to best implement limited-time offers on your site, read our guide.
There you have it! We hope this article has helped you learn more about the most common mistakes WordPress eCommerce sites make. We're confident that if you identify with any of these errors, you can use the tips we've outlined to improve your site and increase sales!
If you liked this article, you might want to check out how to add SSL/HTTPS in WordPress (easy way).
What are you waiting for? Get started with WP Simple Pay today!
To read more articles like this, follow us on Facebook and Twitter.