Why Trust Badges and Seals Can Help You Convert Sales
If you want customers to make purchases on your website, you have to make them trust you.
Trust is a key component of your customers' buying decision. They won't send you their sensitive financial information if they don't trust that you'll abide by your end of the deal (giving them something valuable in return and keeping their information safe).
Considering all the high-profile data breaches we've seen lately, trust is at an all-time low. Customers are more hesitant than ever to do business with small businesses online.
You can help your customers trust your brand by incorporating trust badges throughout your site.
Trust badges are symbols or graphics that help your website visitors feel more comfortable about using your website and making a purchase. They elevate your status, boost your credibility, and make your site seem legitimate.
Trust badges are everywhere. You probably see them every time you surf the web. Here are some of the most common trust badges:
Trust badges aren't just pretty. They have a significant impact on your customers' behavior.
A study by Actual Insights found that 75% of people feel trust badges increase the perceived trustworthiness of a brand, and 61% of people recalled a time when they chose not to make a purchase because trust badges weren't present.
A survey by Econsultancy and Toluna measured how customers decide to trust a website. They learned that trust signals are the most important factor.

According to a 2005 study, nearly 70% of shoppers have terminated an online order because they did not "trust" the transaction. The same study found that 78% of shoppers believe a trust badge indicates that their information is secure.
Trust badges work by associating your brand with other reputable companies. It's like having a popular person introduce you at the party.
A trust badge can be anything as long as…
Your customers understand and respect it, and
It adds credibility to your brand
Studies show that the success of a trust badge (that is, how well it influences the customer) depends on whether the customer recognizes it.
If your customers don't know what the trust badge means or doesn't find it credible, it won't influence their purchasing decision. In fact, irrelevant or untrustworthy trust badges can actually damage your conversion rate by aligning you with an unsavory brand.
For instance, if you use Stripe as a payment processor, it makes sense to include their logo somewhere during the checkout process. This will help a shopper trust that their sensitive financial information is safe with you.
Different Types of Trust Badges
Payment processor logos aren't the only ways to include trust badges. There are several different types of trust badges, each with their own purpose.
1. Credit Card Logos
Credit card logos serve two purposes. First, they inform your customers of the types of payments you accept. Second, they associate your brand with big, well-trusted financial intuitions your customers work with regularly.
2. Awards and Honors
Awards are great ways to show that your product or brand is well known and respected. They also assure customers that it's better to buy from you than the competition because you have the award.
3. Logos of Customers, Clients, or Partners
By publicly associating yourself with other brands you work with, you can leverage any goodwill they've created with your customer base. If you work with a well-liked company, you should brag about it!
A lot of companies do this by simply displaying a row of logos across their home page.

These are easy badges to add to your site because you don't have to win an award, use a specific service, or comply with regulations. You just need their permission to display their logo.
When choosing logos to add to your website, make sure your customer knows of them. You may do a lot of business with a big brand, but if your customer has never heard of it, it won't add any credibility or help them make a purchasing decision. You only build trust when they recognize the logo.
4. Customer Satisfaction Badges
A customer satisfaction badge gives your customers an important piece of information to nudge them toward converting. They instill confidence by resolving one of your customer's fears.
You've probably seen badges that say things like this:
"Money-back guarantee"
"100% satisfaction guarantee"
"Lifetime warranty"
"Integrates with your other tools"
"Works with all types of [relevant products]"
"Free shipping"
"Quality materials"
5. Security Seals
Security seals are trust badges that verify that your website is safe for customers to input their sensitive information. These types of badges are especially important for websites that process online transactions.
The most common security seal is the lock icon next to your site's URL in your customer's browser. You get this by adding an SSL certificate to your website.

If you need an SSL certificate, grab a cheap one here.
There are other types of security seals, as well. For instance, this Salesforce landing page includes Norton and TRUSTe badges to let subscribers know their data is private and safe.
6. App Store Logos/Buttons
App store badges are unique trust badges. They tell your customers a few things:
The brand is accessible in several ways.
The brand has been vetted by big companies like Apple and Google.
The brand is healthy because it can afford to invest in app development.
If the customer is unhappy, the app stores might provide some remedy.
Generally, you wouldn't include app store logos during the checkout process. Your shoppers might click them to download your app and never complete their purchase. But it's smart to include them in an accessible place on your website, like the footer.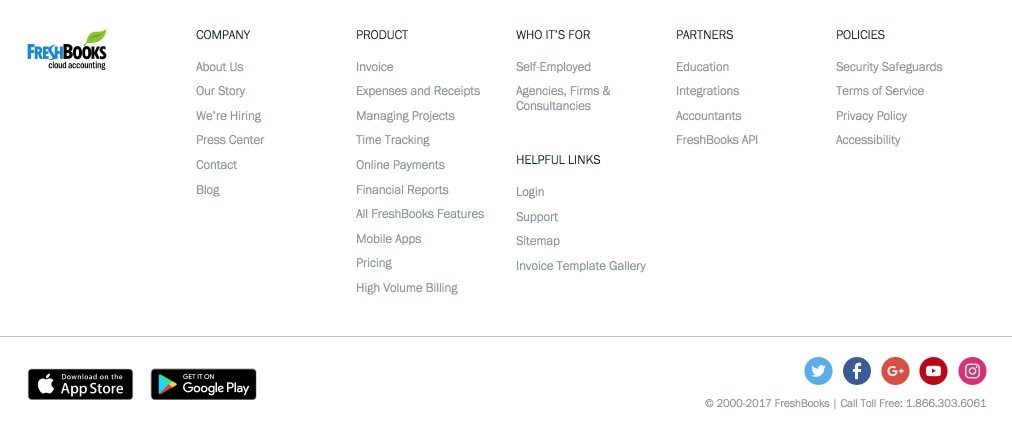 Trust Badge Locations
There are hundreds of different types of trust badges you can put on your website, but you shouldn't include them all. It's important to add the ones that have the greatest impact on your customers.
Placing your trust badges in the right locations is just as important as having them at all. There isn't much point if your visitors can't see them.
Customers generally don't go looking for trust badges, so it's best to put them in places they can't miss, or near points where you want them to input information or make a decision.
Make sure to match the trust badge to the action you want them to take. For instance, if you want your visitor to sign up for a demonstration, it wouldn't make sense to place financial-type trust badges near the form because the user isn't making a purchasing decision. In this case, it would be smarter to put logos of your partners or customers, or perhaps a "No obligation" customer satisfaction badge.
The header can be a good spot for trust badges if they're important to the customer's buying process. For example, you might put a "Google Partner" logo in your header if you know your customers are looking for products that work well with Google products. Limit yourself to one – maybe two – trust badges in the header or you risk cluttering the page.
Key Takeaway
Trust badges are important for every website, but they're critical for sites that take payments, whether you have a full line of ecommerce products or you process simple transactions. They make your customers comfortable making a purchase, which leads to more sales.