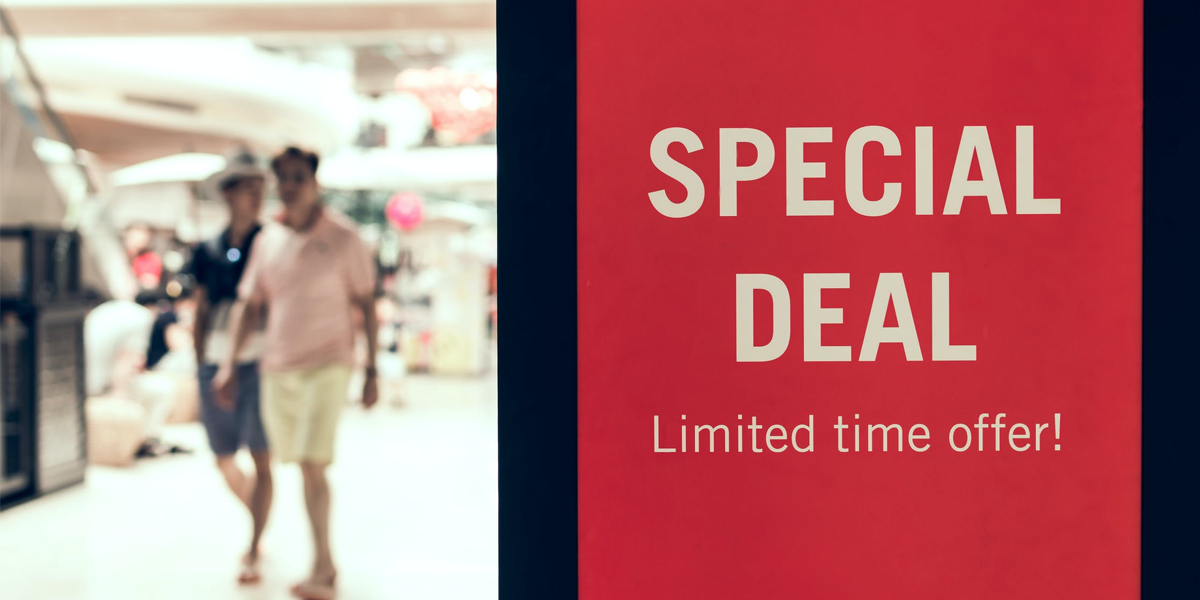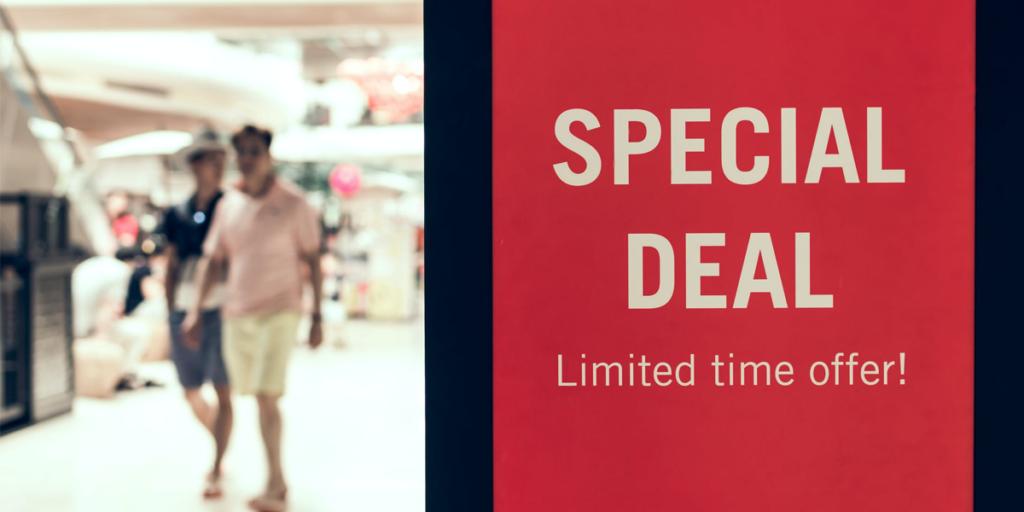 How to Boost Sales with Limited-Time Offers
"One day only." "Offer ends at midnight." "Labor Day only" You've undoubtedly seen promotions like this before. These are actually powerful psychological hacks that businesses use to convince their customers, subscribers, and fans to buy more.
This type of promotion is called a limited-time offer. As an online seller, you can take advantage of this simple tool to create a sense of urgency that spurs buyers to hit that "add to cart" button quickly. In this article, we'll explain how limited-time offers work and teach you how to create effective offers of your own.
Limited-Time Offers Explained
A limited-time offer is a promotion with a deadline. It could be a discount code, a free gift, a special upgrade, a shipping deal, or any other offer, as long as it ends at some point. Here's a basic example. "This deal disappears in 3 days" is the time limit.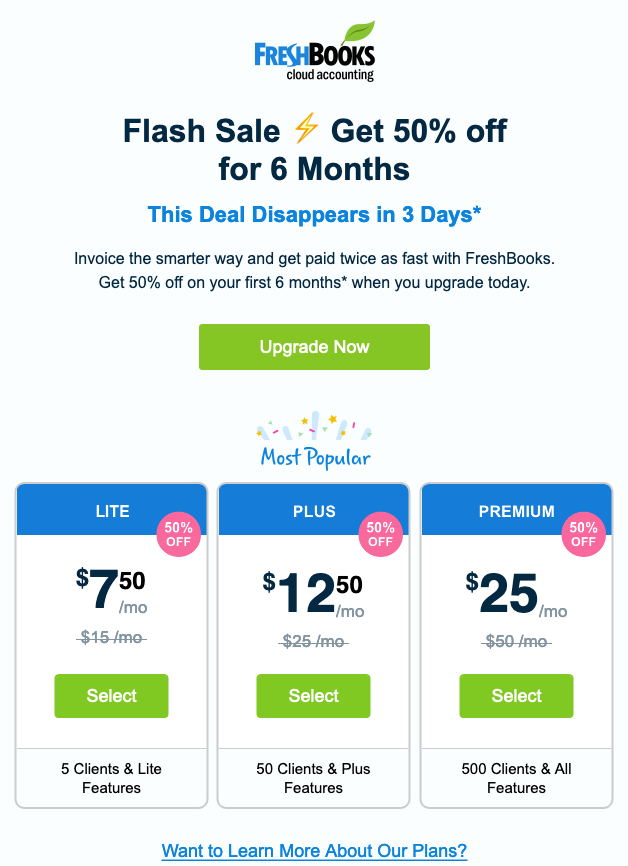 Limited-time offers take advantage of the principles of scarcity and urgency, which relies on our natural fear of missing out (FOMO). These are key pricing strategies you should understand. Consumers see limited-time offers the same way they see any other promotion: sales campaigns, email newsletters, website banners, popups, Facebook ads, etc.
The purpose of this type of offer is to convince the would-be buyer to make their decision now. You want them to think, "I better use this offer before I lose it." If they wait too long, they'll lose the benefits of the offer (which generally means they'll pay more or get less). Essentially, you're adding a constraint to a deal that creates scarcity.
Limited-time offers are powerful tools used to sell everything from software to cars. Even salesmen who peddle real estate and million-dollar industrial equipment like to give deals to customers if they'll take the plunge quickly.
Like all types of promotions, limited-time offers are subject to the "death spiral of discounting" if you push them too often. This is when a brand uses sales so often that buyers become conditioned to expect them. Rather than purchase at full price, they wait for your next discount. Over time, this forces you to offer deeper and deeper discounts, ultimately shrinking your margins.
How to Use Limited-Time Offers
Now that you understand limited-time offers, let's go over some steps to create effective offers of your own.
1. Pair Your Offer with a New Experience
Offering a discount on something your customers already know isn't very exciting. It's far more effective to combine your offer with something new. This could be a new product or service, a new type of promotion you've never offered before, or something totally unique.
For instance, if you offer coaching retainer packages, you might offer a limited-time discount for people who purchase your new one-off mini coaching sessions. Not only is that an enticing new product, but the discount makes it easier for them to try something new.
Whenever you create an offer, it's always important to ask yourself, "What makes this offer different?" If it's not a once-in-a-lifetime opportunity, most people will just ignore it.
2. Make the Time Limit as Organic as Possible
In many cases, time limits often feel artificial. Why does a sale end Monday? Couldn't you extend it one more day? Questions like these come up a lot with digital products that aren't subject to inventory challenges. If you sell a digital product, you've probably dealt with customer requests asking you to honor last week's sale.
You can avoid this problem by making your limited-time offers as organic as possible. Try to create a natural reason for the constraint.
Merchants of physical products have an easy way out here. They can offer a free gift "for the first 100 customers." They can offer a sale "until the inventory is gone." If you sell a digital product or a service, however, you have to be a little more crafty.
Shutterfly is a great example of this. They regularly offer free images, photo prints, and generous shipping deals, so they had to do something unique for the holidays. For the holidays, however, they offered a free calendar with purchases.

What's great about this gift is that the limited-time offer is built into the promotion. It's a holiday calendar. It wouldn't make sense to give out a free holiday gift in March.
3. Define a Clear End Date
Limited-time offers need clear, impossible-to-misunderstand dates so buyers know when the deal ends. If you're vague with this point, you could end up with a mob of angry customers who blame you for their loss. They may even accuse you of being intentionally vague to trick them.
Plus, an offer with a vague deadline gives people the impression they have time, which defeats the entire purpose of a limited-time offer. The whole point is to get them to act quickly.
Here are some examples of bad phrasing:
"Act now before this sale ends!"
"Only available while supplies last."
"Sale ends after the holidays."
Notice how those phrases express scarcity, but they don't offer much information. Here are some examples of better phrasing:
"Sale ends December 15th at midnight."
"The special course is only available for the first 50 people."
"Only available Friday before 6 PM."
"BIG One Day Sale"
Free Shipping – This Month Only
"Today only."
4. Promote Your Limited-Time Offers Well
If you want to maximize the effectiveness of your offer (obviously you do), it's important to promote it ahead of time. This lets customers know a great opportunity is coming. It also nudges their fear of missing out so they keep their eyes open for your deal.
Next, make sure to promote your limited-time sale on your website as thoroughly as possible. You want to make sure buyers don't forget about the sale. You also want to inform visitors who weren't aware of your site before visiting.
You can do this in a few places, such as a well-timed popup. Don't block out the whole screen (Google doesn't like this), but use something that captures visitors' attention.

You can also use an exit-intent popup (a popup that detects when a user is about to leave) to remind/inform them that the deal expires soon.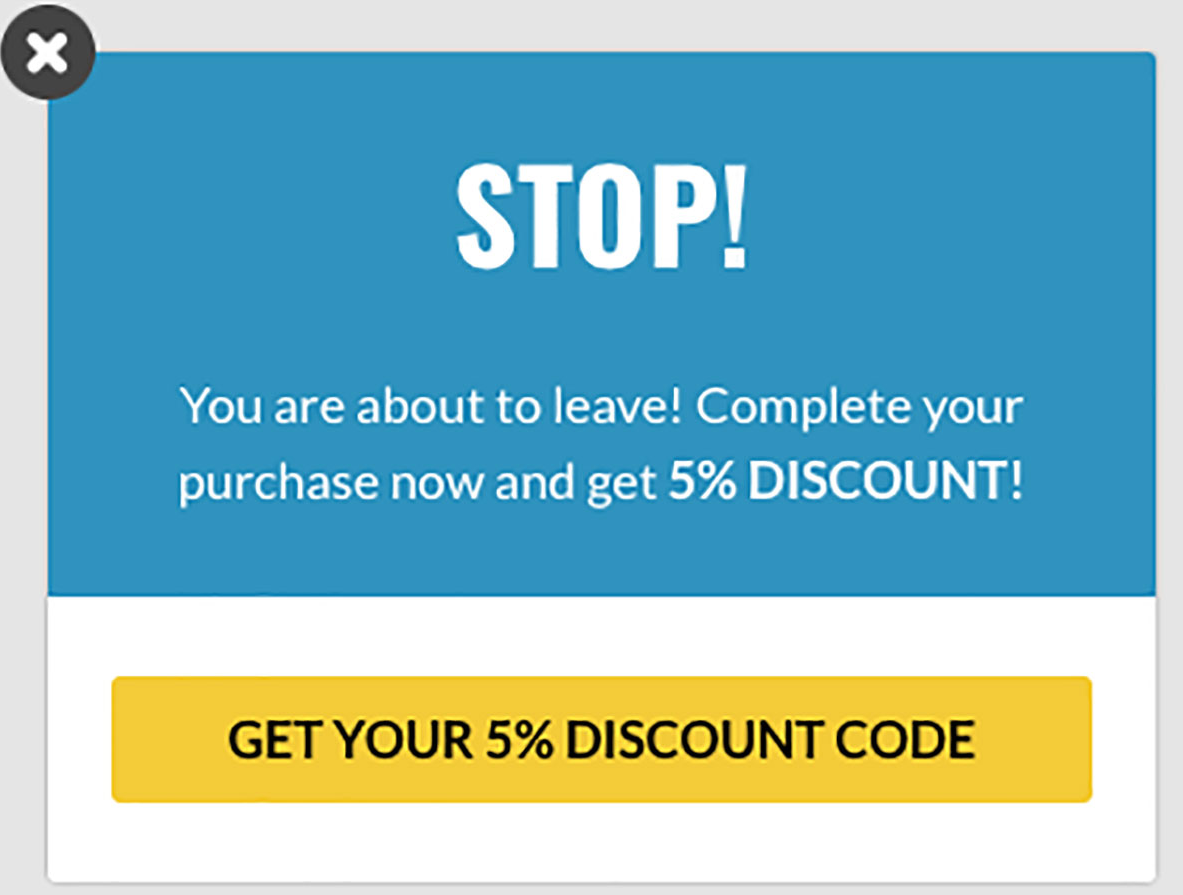 Furthermore, make sure to promote your limited-time offer everywhere, such as your social media pages, your email newsletter, home page, and checkout page. You want people to see your deal as often as possible to push their FOMO button.
5. Keep Your Offer Brief and Simple
It's always best to make your limited-time offers simple. You don't want to confuse your buyers or make them misunderstand your promotion. Your offer should be something they can read and remember easily.
To do this well, create an offer that can be reduced to as little language as possible. Avoid complicated terms and conditions. Use a single deadline.
Here's a bad example. Notice how complex this ad seems. There are so many numbers, it's impossible to tell at a glance what you actually get. Imagine trying to calculate your savings as you shop on the store's website. Do they all apply? Or just one?

Now here's a good example. There are no confusing details. No terms to remember. Just 35% off three different products and a clear deadline.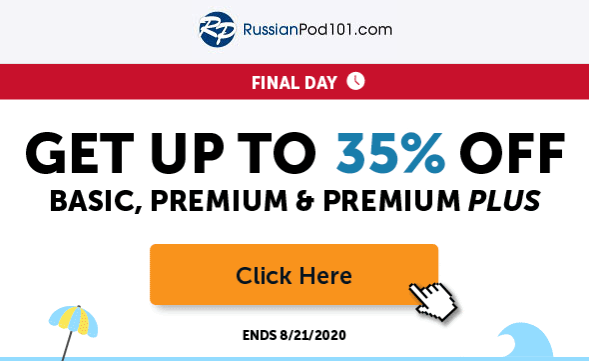 Going Forward
Limited-time offers are great marketing tools that leverage people's fear of missing out on good things. As you can see, however, they require a bit of thought if you want them to be effective. Use the tips we explained above to craft limited-time offers that convince customers to buy quickly without affecting their loyalty.