How to Get an Unlimited Free Trial of WP Simple Pay
Are you looking for a free trial of WP Simple Pay?
There are two versions of WP Simple Pay: WP Simple Pay Lite is free for an unlimited time, while WP Simple Pay Pro is the paid premium version available in four different plans.
In this article, we'll explain what WP Simple Pay Lite is, and how you can get an unlimited free trial of the WordPress plugin.
What is WP Simple Pay Lite?


WP Simple Pay Lite is the free version of WP Simple Pay Pro, the #1 Stripe payments plugin for WordPress.
The standalone Stripe payments plugin eliminates the need for you to build a complicated eCommerce storefront or use a platform like WooCommerce to begin accepting transactions. By simply connecting your Stripe account to the WP Simple Pay plugin in WordPress, you'll be ready to receive payments in no time at all.
With WP Simple Pay, you can add a button to your website that redirects your customers to an off-site Stripe checkout page to complete the payment quickly and securely.
WP Simple Pay accepts credit and debit card payments, as well as Apple Pay / Google Pay, Alipay, FPX, Giropay, iDEAL, Link, Microsoft Pay, and Przelewy24. The plugin supports integration with a list of widely-used page builder plugins, like Elementor and Divi. It even integrates with AffiliateWP, the best WordPress affiliate program plugin.
WP Simple Pay Lite Features
WP Simple Pay Lite does a lot more than just provide a safe and secure Stripe checkout page for you to collect payments.
It allows you to create custom branded checkout pages, collect shipping and billing information from your customers in Stripe, and accepts 135+ currencies from 45+ countries.
Here are a few additional features you get with WP Simple Pay Lite:
Developer-friendly for building custom integrations
Smart fraud protection & spam prevention
PCI compliant & SCA-ready credit card payment forms for secure payments
Accept credit card payments in addition to Alipay, FPX, Giropay, iDEAL, Link, Microsoft Pay, and Przelewy24 with embeddable payment form buttons
WP Simple Pay Lite is a great option for WordPress newcomers and beginners who generate less than $1650 annually. If your business goes over the annual threshold of $1650, it is recommended that you upgrade to one of the four WP Simple Pay Pro plans. This is because you'll be charged an additional 3% transaction fee + Stripe fees for every payment you accept using the free plugin. With a WP Simple Pay Pro plan, that fee is removed.
And, since the cheapest pro plan costs $49.50, you'll be able to purchase the license for the entire year with the money you'll be saving in additional fees.
For example, with a Pro version, if you collect $1650 annually after covering just the Stripe fees, the exact amount of $1650 will be credited to your account. However, if you collect over $1650 annually using the free version, you'll only receive $1600.50.
(Have a look at the math: $1650 * 0.03 = $49.5).
Remove the additional 3% fee!
Most Stripe plugins charge an additional 3% fee for EVERY transaction
…not WP Simple Pay Pro!
Now that you know what features come with WP Simple Pay Lite, you're probably wondering what you get with each of the WP Simple Pay Pro plans. Let's take a look at how they compare.
WP Simple Pay Pro vs. WP Simple Pay Lite
While WP Simple Pay Lite offers the basic features you need to start accepting Stripe payments on your website, you can easily upgrade to a WP Simple Pro plan to get even more powerful capabilities and also avoid the additional 3% fee for every transaction.
WP Simple Pay Pro is the best fit for you if your business collects more than $1650 annually. This is because the 3% fee that applies to the free plugin is removed with a pro plan.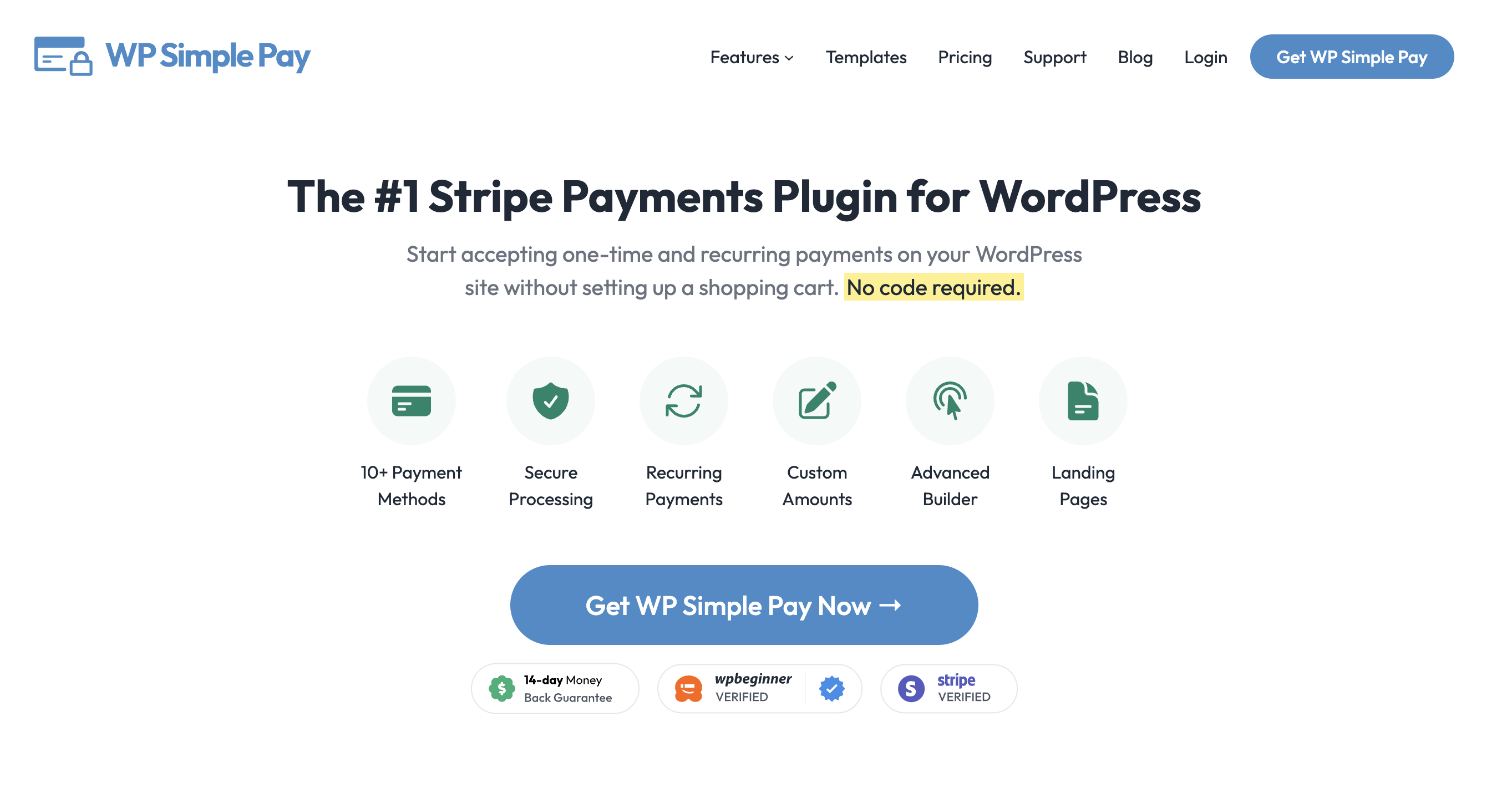 With WP Simple Pay Pro, you can also keep your visitors on your website by eliminating the need to redirect them to an off-site Stripe payment page to complete the purchase.
Additionally, WP Simple Pay Pro gives you the ability to customize your payment form fields to store customer data that can be used in the future for quicker checkouts.
WP Simple Pay Pro also offers tons of pre-made payment form templates for you to choose from based on your needs. If you prefer to build your own payment forms, you can do so using the user-friendly drag and drop feature that requires zero coding.
WP Simple Pay Pro Plans
Now, let's break down each of the four pro plans to help you determine which one best suits the needs of your business.
Personal Plan: Ideal Payment Form Solution
The Personal Plan offers several features to enhance your payment forms and payment options.
If one of your priorities is being able to use pre-built payment form templates on your website that are easy to customize, the Personal Plan is a great option for you. With this plan, you can also customize payment receipts and purchase confirmation emails. This is a great way to establish a connection with your customers.
A key benefit of using the Personal Plan is its fee recovery feature. You can pass the Stripe processing fee that comes with every transaction onto your buyers so that there are absolutely zero deductions taken from your earnings.
With a Personal Plan license, you are able to use the plugin on one website. If you need to use it on multiple websites, you will want to upgrade to a more advanced pro plan.
Plus Plan: Best for Recurring Payments (Subscriptions)
If you need to set up recurring payments for your business, the Plus Plan is a great way to accomplish that.
Automatic subscription payments are a great way to retain customers. With the Plus Plan, you have the option to set them up monthly, quarterly, or annually.
This plan allows you to use the plugin on three websites.
Professional Plan: The Total Package
With the Professional Plan, you'll get everything you could ever need from a payment processing plugin to take your business to the next level.
The Professional Plan has a ton of advanced features for you to provide a great payment experience for your customers, including customizable branded payment pages, installment plan options, buy now, pay later options, discount options, coupon codes, and payment restriction functions. You can even offer free trial periods to your customers.
Elite Plan: Ultimate Solution for Agencies or Freelancers
The Elite Plan includes all of the same features as the Professional Plan, with the only difference being that it allows you to use the license on an unlimited number of websites. The Professional Plan limits you to 10 websites.
If you need to use WP Simple Pay on more than 10 websites, upgrading to the Elite Plan is the right choice for you.
How to Get a WP Simple Pay Unlimited Free Trial
You've now learned all about the features of WP Simple Pay Lite. If you're ready to give it a try and start collecting payments on your WordPress website with the #1 Stripe payments plugin, follow these easy steps.
Step 1: Install and Activate the WP Simple Pay Lite Plugin
To install the plugin, go to your WordPress website's dashboard. Click on the Plugins tab in the left panel, and then Add New. Search for "WP Simple Pay" and click on the Install Now button.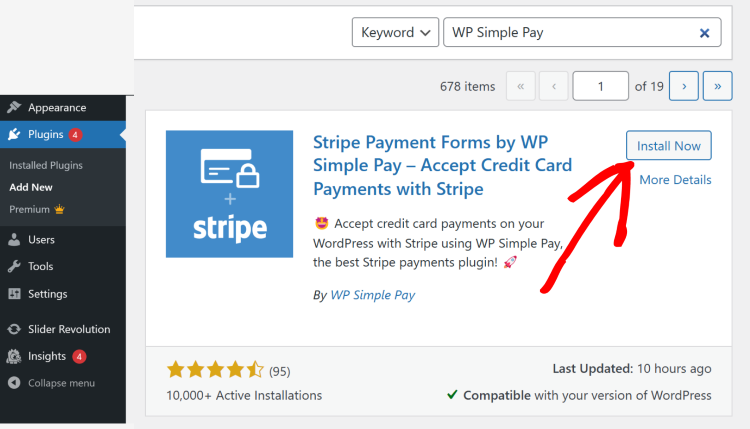 Step 2: Activate WP Simple Pay Lite
When the installation is complete after a few seconds, click on Activate. The plugin should now be ready to use on your website. It is listed in Installed Plugins in the left panel of your dashboard.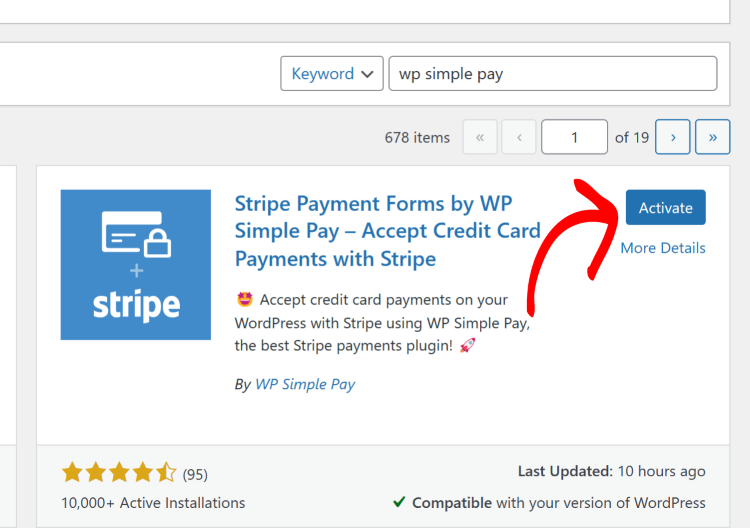 Step 3: Integrate Your Stripe Account
Lastly, you will need to connect your Stripe account to your WP Simple Pay Lite plugin. If you don't have a Stripe account, you will need to sign up for one.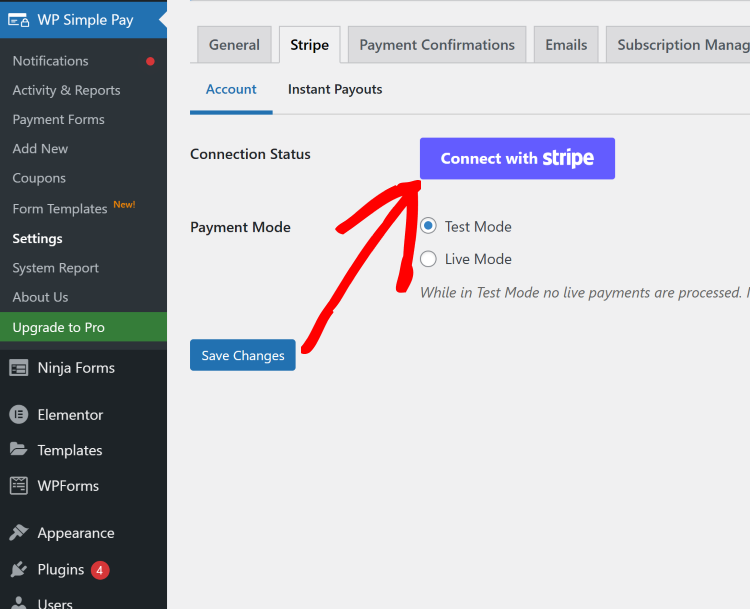 You did it! You can now use your plugin to begin accepting transactions with the best Stripe payments plugin for WordPress.
What are you waiting for? Get started with WP Simple Pay today!
To read more articles like this, follow us on Facebook and Twitter.