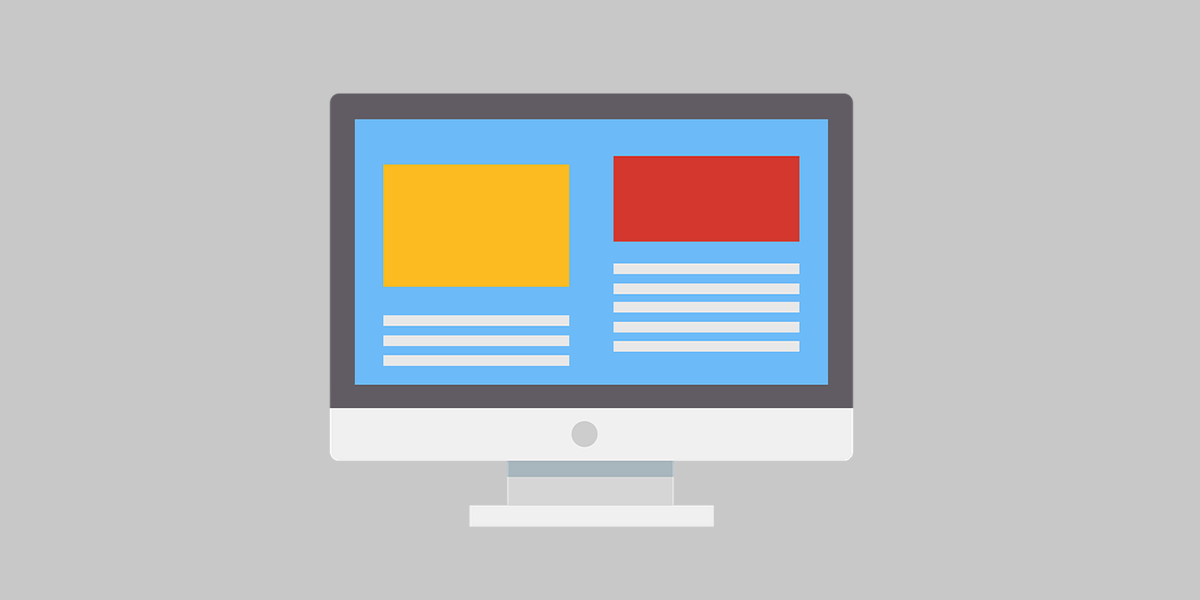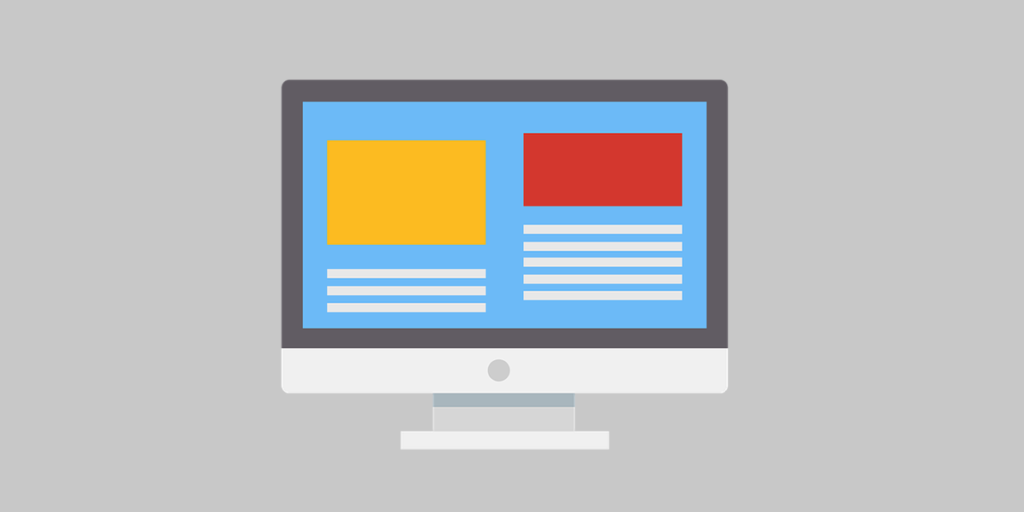 The Principles of a High-Converting Course Sales Page
You've made your own course and now you need to convince people to buy it. Your course sales page is where you'll make the case that your course will create a difference in your customers' lives. It's where you argue that your content is worth their money. It's also where they'll register and pay.
That may sound simple, but the course sales page is arguably one of the most challenging parts of building an online course. And you thought making the actual course was hard!
Your sales page is the gateway to your course. It's also a critical step in your revenue stream. So it's important to optimize this page as much as possible so you can help the most people and make the most money.
Let's go over some critical principles of a high-converting course sales page. If you follow these rules, you'll build a page that reliably converts customers.
Create a Unique Landing Page
This step is obvious, but we wanted to mention it just in case.
Your course sales page should have its own dedicated page on your site. Selling the course should be the only purpose of the page. Remove anything from the page that doesn't relate to the course or help you sell it.
Furthermore, don't link to any other pages on your site or other sites. Strip out any links in the header and footer. Your users should only have one button to click: "Buy now."
Write Compelling Copy
Your course sales page;s body copy is where you show prospective customers that you understand their problems and that you have the right solution. It should lay out how your customers will benefit from your course – how they will become better people by learning the skills and information in your course.
Here is a simple but powerful copywriting framework to guide you:
Problem: Start by acknowledging their problem. Show them you understand how painful it can be. Include your own story and emotional language.
Agitate: Expand on their problem by letting them know how much worse it can get. What happens if their pains are left untreated? How much will it hurt in the future?
Solve: Once the customer is fretting over their situation and anxious about the future, explain how your course will give them the skills they need to avoid or eliminate the problem.
Your copy should be direct and to the point. Even your title should clearly lay out the benefits of your course without getting too witty. Include a subtitle that expands on the title.
Here's a great example of how a title and subtitle should work together. Notice how these are simple, short, and easy to understand.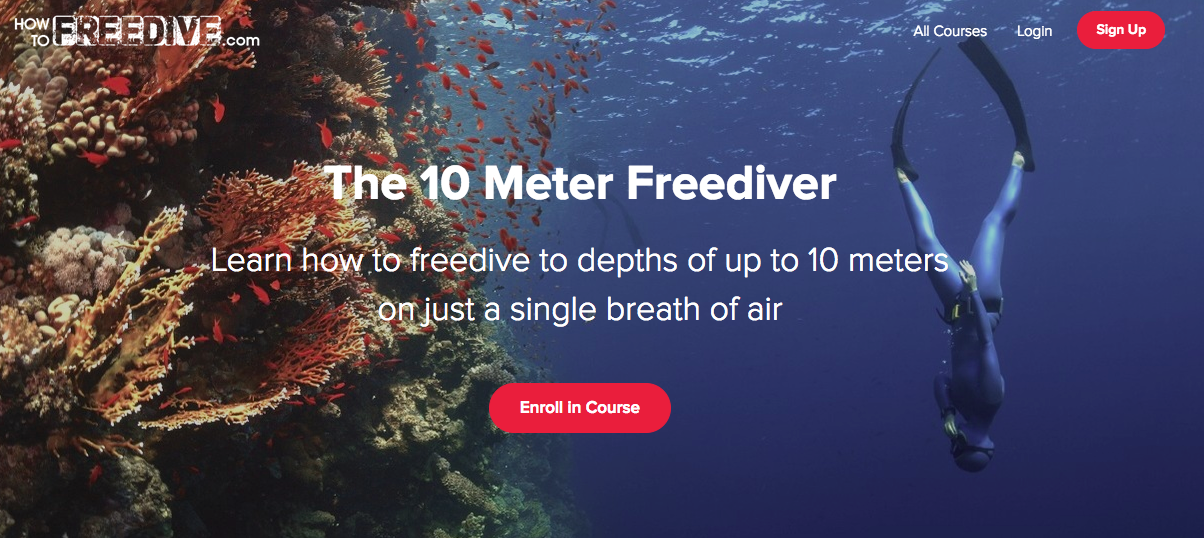 Finally, include lots of urgency language in your copy. Tell your customers why they need to buy your course now. Lay it on thick that waiting to take your course will make their problem worse.
Make Your Content Easy to Scan
You may have a lot to say on your course sales page, but it's important to lay out your content in a way that's easy to scan and consume. Prospective customers won't read thousands of words in dense paragraphs. They want an easy experience and the ability to find answers to their questions.
You can create easy-to-consume content by using lots of headings, subheadings, lists, and paragraph breaks. Use icons to indicate important points. Use images wherever they add value to the content, but don't include pointless stock photos.
Show Results, Case Studies, and Proof
Your customers don't buy your course because they like taking courses. They buy it because they expect the course will lead them to something. They want the benefits of the course.
Help your customers see exactly what they will get by showing them the results other people achieved after taking your course. This is far more impactful than simply telling them what to expect.
On Melyssa Griffin's Pinfinite Growth sales page, she includes screenshots of the growth her customers achieve after using the strategies in her course. Her customers see that and think "Oh yes, that's exactly what I want!"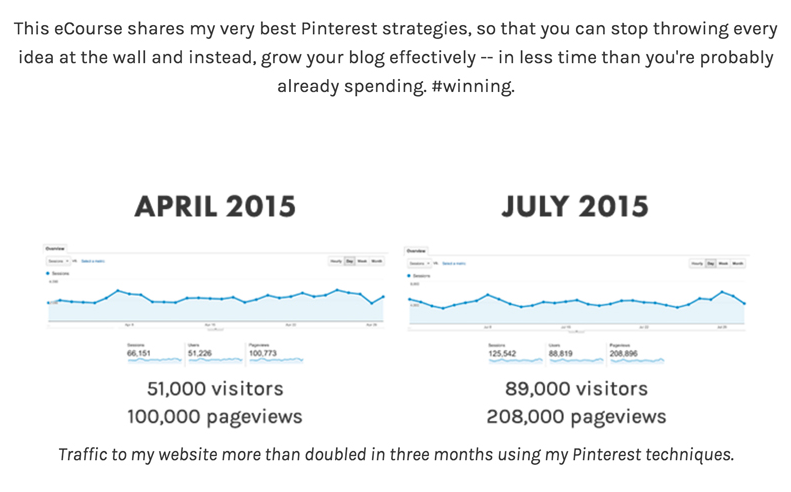 Lay Out Exactly What Buyers Will Learn
Once you've laid out the benefits of your course, it's time to describe the features. For a physical product, features include the color, size, weight, shape, texture, use, etc. For a digital product like an online course, you'll want to show your potential customers what they'll learn.
You can do this by showing off a list of the individual modules or lessons in your course. This shows them exactly what they'll learn and when. It's also helpful to show estimated times for each lesson so customers know exactly what they're committing to.
If you have additional materials (like videos, worksheets, or quizzes), list those out too. You want the customer to be amazed at how much stuff they get.
Leverage Testimonials and Social Proof From Customers
We use social proof in our personal lives all the time. We look at Google reviews before trying a new restaurant and Amazon reviews before making a purchase. We also solicit recommendations from our friends before hiring a contractor and choosing a new dentist.
Simply put, before someone feels comfortable buying your course, they want to see that other people have purchased it and been happy with their decision. You can address this need by sticking testimonials and social proof right on the course sales page.
Testimonials can come from anywhere: Twitter, emails, blog comments, etc. Use screenshots wherever possible for authenticity. Prioritize testimonials that reference the benefits of the course. "I love this course!" is alright, but "This course helped me get a job in two weeks!" is far better.
The Wham Bam Instagram course is a good example. It shows exactly how the course helps people.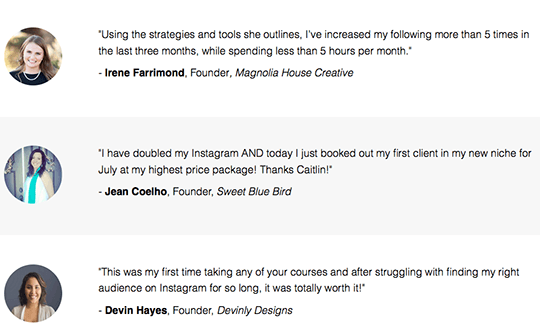 If you don't have any testimonials for social proof about your course, reach out to friends and colleagues who can speak to your authority and expertise on that topic. You could also give away your courses for free in exchange for a testimonial you can publish.
Describe the Creator's Credentials (That's You)
Courses – and all information products – rely on your expertise. You're selling your knowledge, insights, and experience. If you want your customers to buy what you're selling, you have to convince them that you know what you're talking about.
Spend some time talking about yourself. Make sure to include…
Your professional credentials (schooling, employment, etc.).
Where/how you learned this information ("12 years helping clients boost conversions").
What kind of results you've achieved with the information ("grew an ecommerce store to $100K/month in just one year").
Oh, and don't forget to include a photo of yourself. People love connecting with faces.
Address Your Customers' Objections
Even if your customers understand the value your course provides, trust your credentials, and feel compelled by your great testimonials, they may still have concerns or problems that keep them from buying your course. You'll want to address these objections right on the page to bring them closer to hitting that "buy now" button.
The easiest way to do this is by including a section of frequently asked questions. Simply write out the questions your customers may ask and supply answers. It doesn't matter if anyone has actually asked any of these questions.
What are some questions your customers might ask?
How long will I have access to this content?
Will someone notify me if the content is updated?
How do I get my money back if I don't like it?
How long will it take to get through the whole course?
Will the creator be available to answer questions?
Those are just some examples. Talk to your customers to learn what they want to know about your course before they buy.
This is a great FAQ section from the Fantastic Flourishes course: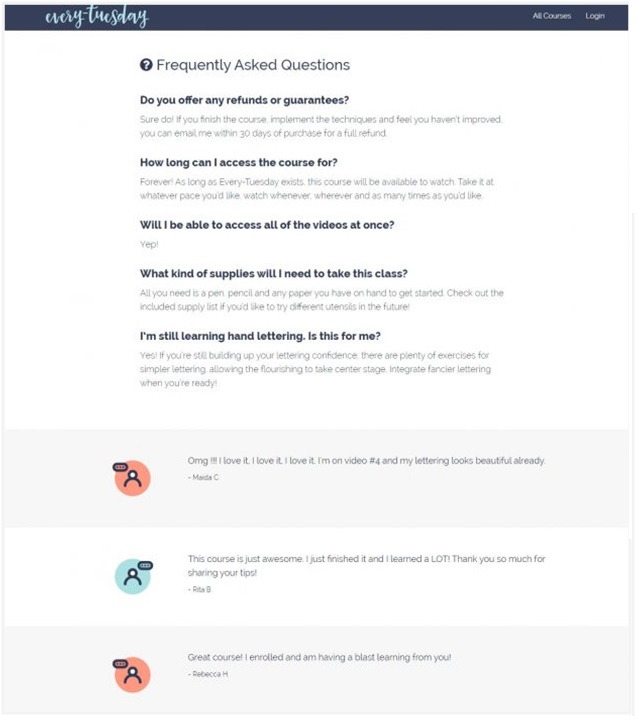 Offer a Money-Back Guarantee
A money-back guarantee is essentially a refund policy. In most cases, course creators offer to refund customers' money if they aren't happy for any reason. This is a powerful way to create trust.
If the idea of a refund makes you nervous, you aren't alone. What stops someone from buying your digital product and returning it because they "didn't like it." Frankly, nothing, and that will happen to a small degree.
Fortunately, most people don't behave that way. Most membership courses have a reasonable return rate. If they have a lot of people using the money-back guarantee, it's usually due to a legitimate reason. Just make sure to state any conditions and your time frame.
Here is an example of a guarantee from VR Dev School:

Use a Simple and Pain-Free Payment Form
Once your customers decide to purchase your course, it's important to clear their path of any obstacles that get in the way of paying. This means using a simple and fast payment form that doesn't introduce any additional friction.
You don't need to gather a lot of information with your payment form. Limit your form fields to only what you need to process the transaction. You can always gather more data points at a later time.
Most importantly, your form should use a payment processor that people already trust. they will feel more comfortable because you are backed by a strong brand.
WP Simple Pay is the perfect form for courses. It's lightweight, easy to set up, and processes transactions through Stripe – one of the trusted payment processors. You can charge one time or set up recurring billing. You can also offer discount codes, which are great for marketing your course. Build as many forms as you like for each unique landing page.
Going Forward
Create your page according to these principles, but don't stop there. Your course sales page isn't finished the day you publish it. It's important that you test and experiment over time to find ways to optimize your conversions. Play around with the copy, images, and format to find ways to boost your conversions.