How to Optimize Product & Services Pages in WordPress
Are you wanting to optimize your product or services pages to increase sales on your WordPress site?
Like most online sellers, you'd probably like to see your pages convert better. If you've already been doing the work to drive traffic to your site, improving your product and services pages to increase sales is the next step. With a few adjustments, you can optimize your pages to gain new customers and ultimately grow your business.
In this article, we'll offer a few strategies to help you optimize your product and services pages to boost conversions.
Product & Services Pages vs. Landing Pages
Oftentimes, new WordPress users confuse landing pages with product and services pages; however, the two have a few distinct differences and objectives. Let's quickly go over what each of them are to help you determine what you're currently using on your site.
The purpose of a landing page is to drive visitors to your product and services pages. Think of them as a simple marketing page that is designed to give your visitors just enough information about what you're offering to make them want to continue to your product and services pages.
Landing pages can be used to promote limited-time offers, announce a new product line, or even just to collect contact information that can be used to send emails in the future. Landing pages should always include some form of Call-to-Action, which can be to get visitors to go to your product or services pages, sign up for your eNewsletter, or receive a discount.
The product and services page is usually the actual page that includes specific information about your product or service and lets customers complete their online transaction.
Optimizing Your Products & Services Pages
For larger eCommerce businesses that sell a lot of different products or services, a landing page can also include all of your products broken up into categories to help visitors more easily find what they're looking for.
While this type of WordPress site may require a more complex eCommerce solution, such as Easy Digital Downloads or WooCommerce, smaller businesses and non-profit organizations oftentimes don't need a full-fledged shopping cart to accept payments.
In fact, if you offer services, a small number of products, or need to collect donations, it's much easier to use a standalone payments plugin to accept payments directly on your site. This is because a standalone payments plugin doesn't require any additional integrations or plugins to create payment forms and begin collecting payments.
While it's important for larger businesses to create marketing landing pages that include a Call-to-Action to drive visitors to their checkout pages, smaller businesses can achieve similar results by using their landing page as their actual payment page.
WP Simple Pay is a perfect example of a simple, yet powerful payments plugin for WordPress that lets you create both a payment form and a dedicated, distraction-free landing page for your payment form. One of the best parts about the plugin is that it lets you customize your payment page, while also creating a friction-free checkout experience for your customers all without code.
Because WP Simple Pay is supported by Stripe, the best payment processor, you can choose whether you want to host your payment form on your own product and services page, or on a secure Stripe-hosted checkout page. You can use the plugin to easily add a "Buy Now" button to your product and services page that directs your customers to a Stripe Checkout page.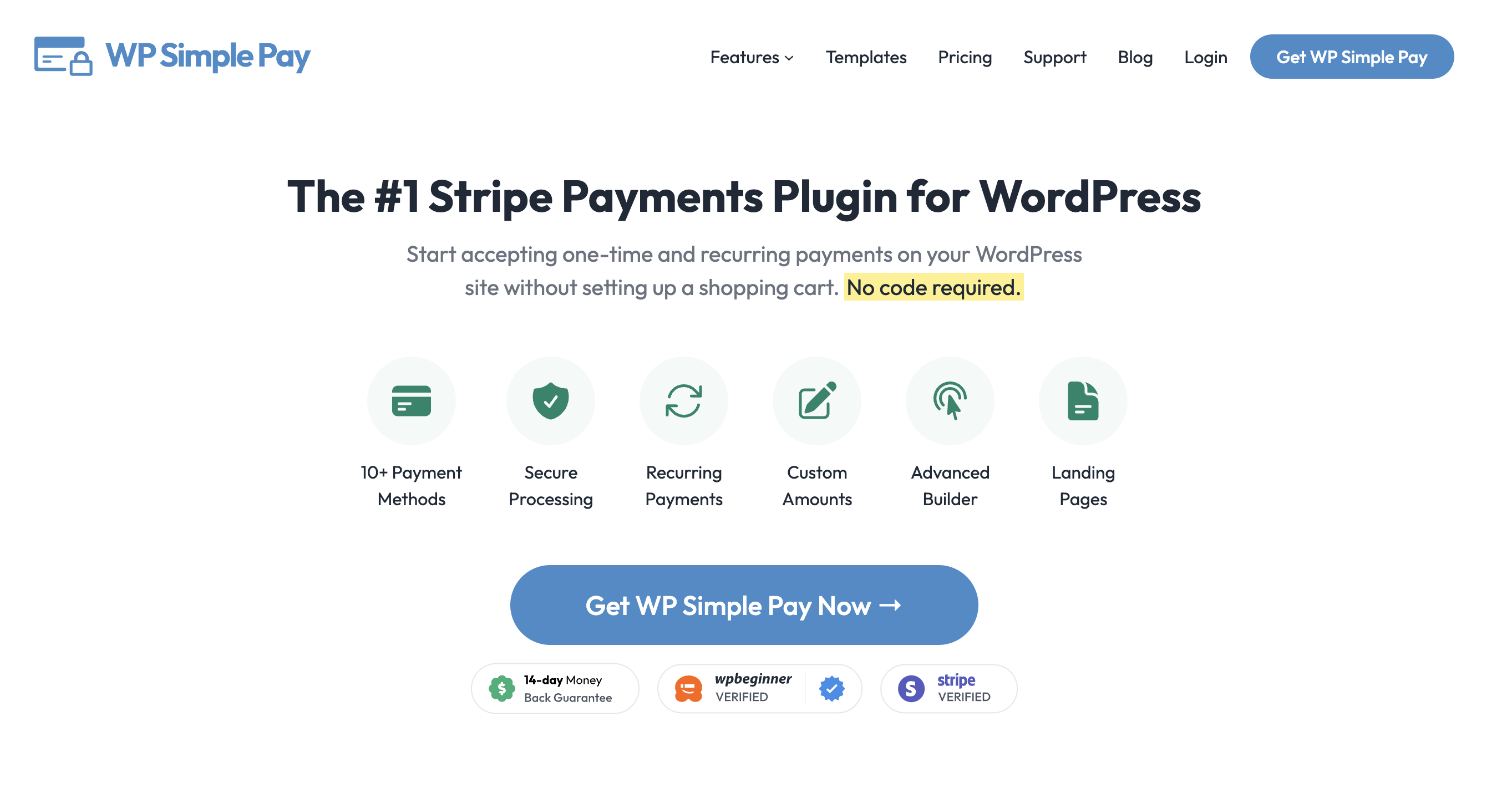 Additional features of WP Simple Pay include:
Multiple Payment Methods: Accept multiple payment methods, including traditional credit and debit cards, ACH Direct Debit, Alipay, Cash App Pay, Apple Pay / Google Pay / Microsoft Pay, and more, to ensure that you're offering your customers their preffered way to pay.
Subscriptions: Allow your customers to sign up for recurring payments on a weekly, monthly, or yearly basis to bring in consistent income.
Third-party Integrations: Integrate popular third-party solutions with your payment forms to automate a ton of purchase-related tasks, like creating a new user account in WordPress once a subscriber has completed their purchase, and adding new customers to your mailing list.
Advanced Drag-and-Drop Form Builder: Create customized payment forms without a single line of code.
Per-form Payment Confirmation Messages: Send payment confirmation emails and payment page messages for individual payment forms.
And More…
Remove the additional 3% fee!
Most Stripe plugins charge an additional 3% fee for EVERY transaction
…not WP Simple Pay Pro!
Now that you know more about the product and services pages, let's take a look at some easy ways to optimize them.
1. Showcase Quality Photography
If you sell physical products, it's absolutely critical that you show large, high-quality images. Your customers can't touch, taste, or try your products before they buy, so you have to give them as much information as possible. Include multiple angles, 360-degree views, and videos. All of these assets should look great at any size, in any browser, and on any device.
If you don't sell physical products, photography is still important. People use images to connect with your service or cause, so make sure you show them something that relates.
For instance, if you sell a membership course that teaches people how to organize physical spaces, it would make sense to show a large photo of a well-organized space.
2. Provide Detailed Product Copy
After your images, your product copy is the most important element on the page. This is where you relay the features and benefits of your product or service and ultimately convince your visitors to make a purchase.
How you arrange your copy will depend on what you're selling. If your product page sells a physical product, it's best practice to provide a short and simple top-level description of the product with its most important benefits, then a longer, in-depth description lower on the page.
Your copy might be arranged differently if you sell access to a product or a service. But generally, it's best to put your most important copy first where people are most likely to read it.
Here are some tips to optimize your page copy:
Optimize your copy for search engines so people are more likely to find the page.
Use natural language that visitors can connect with.
Explain why your product or service is better than your competitors' product.
Consider why visitors would choose not to buy your product, and address those objections.
Make the price larger than other text on the page since this is a key piece of information visitors will look for.
Keep your copy useful, relevant, and easy to understand.
Include relevant specifications, like size, weight, color, and purpose.
If your copy is long, create structure using headings and bullet points.
Take a look at the copy Pinpaper adds beneath their basic product description. The company knows that buyers want to know how much product they actually get with their purchase, so they offer a few different examples.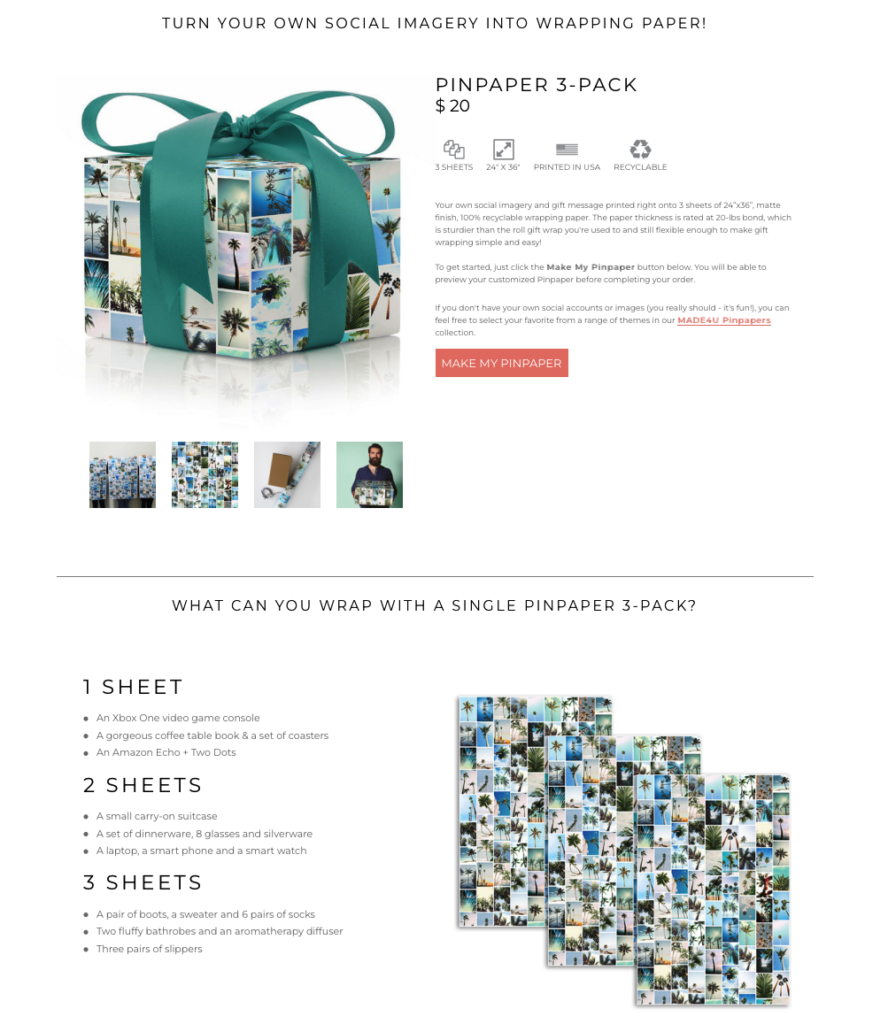 Keep in mind that customers don't buy products and services because they love your brand. They buy because you help them achieve a goal, solve a problem, or create a better version of themselves. Think about how your offerings make your customers' lives better and then explain those benefits with your copy.
AIOSEO, the best WordPress SEO plugin, is a great option if you need some help with your WordPress SEO settings. It lets you easily implement proper SEO foundations in minutes without using code.
3. Make Call-to-Action Buttons Obvious
As mentioned before, your Call-to-Action is the "Buy Now" or "Add to Cart" button. There should only be one on the page.
Optimizing this element is easy. Ensure that your button stands out from the rest of the page so there's no mistaking it. Use a color that contrasts with the rest of the page. Don't get clever with the language here. You want your shoppers to understand the button's purpose right away.
Using WP Simple Pay, you can easily customize your Call-to-Action buttons directly from the payment form builder whether you host your payment form directly on your products and services pages or use a Stripe-hosted checkout button.
Below is an example of a services page you can easily create for your own site using WP Simple Pay.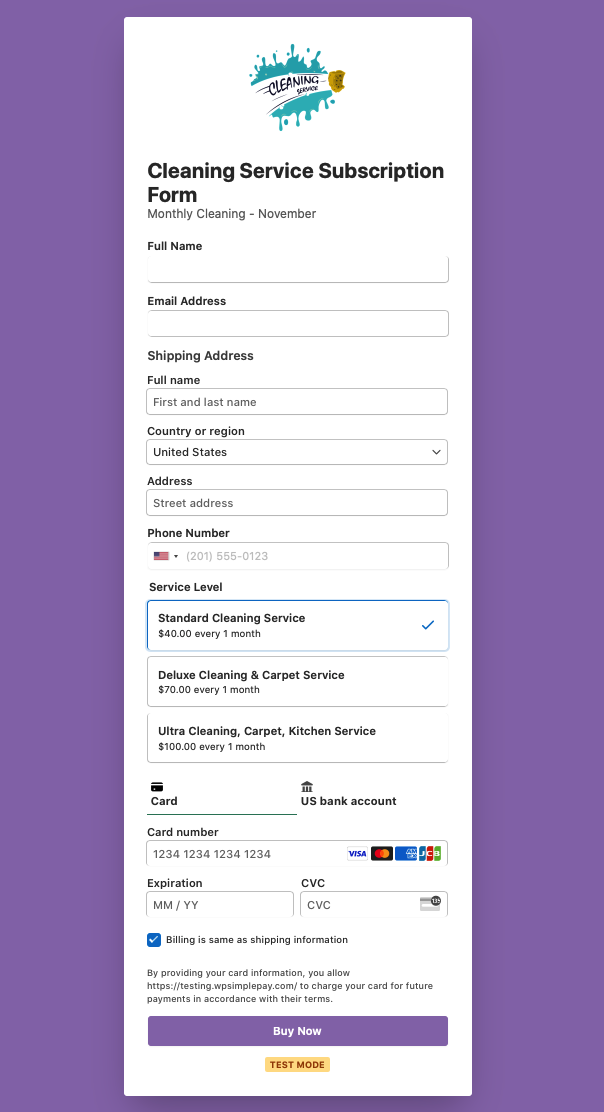 WP Simple Pay offers a lot of flexibility when it comes to customizing your Call-to-Action buttons.
For example, if you want to simplify your services page, you can easily customize the Button Type from the payment form builder. This is the button customers will see on the Stripe Checkout page.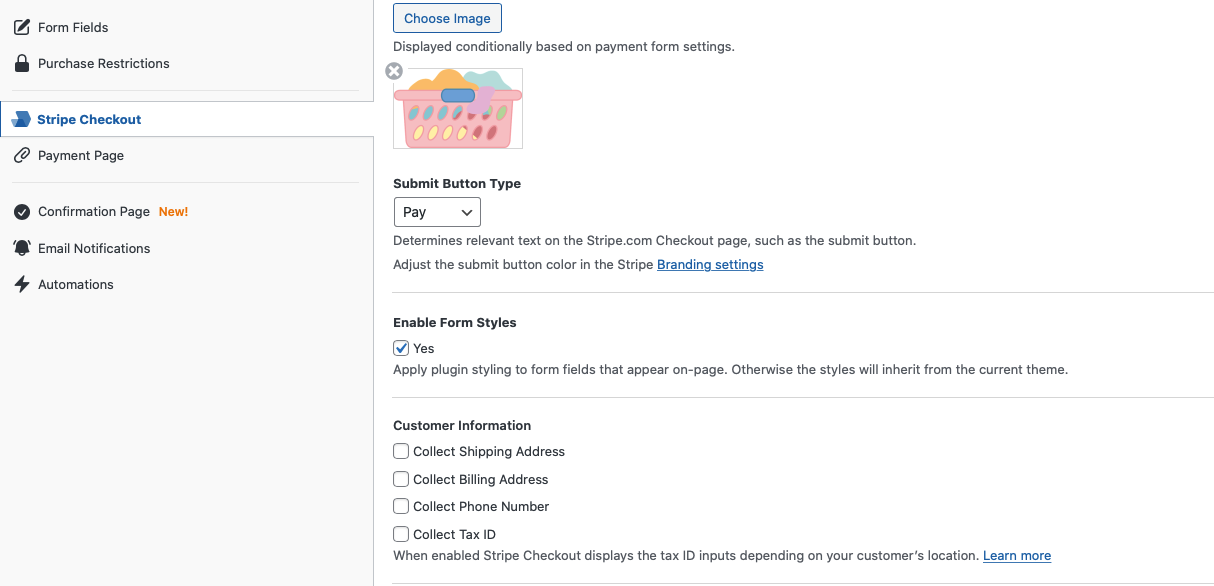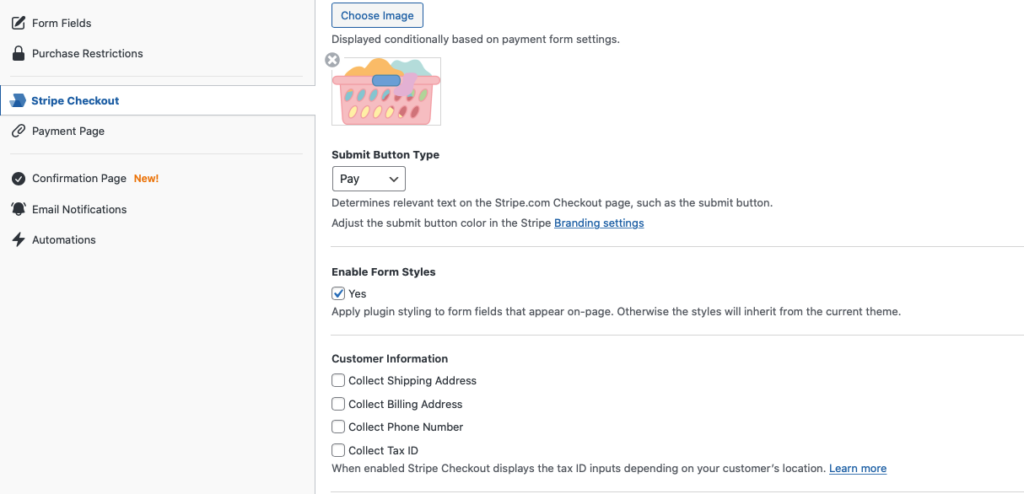 4. Get Your Technicals Right
If your page doesn't perform well, visitors won't stick around to enjoy it. You have two technical factors to consider:
Page Speed
No one has much of an attention span anymore. If your pages load slowly, many people will abandon your site. According to a recent study, the first five seconds of page-load time have the highest impact on conversion rates. In addition, eCommerce site conversion rates drop by an average of 4.42% with each additional second of load time. With all that being said, you'll want to ensure that your pages are as light and as fast as possible.
We stronlgy suggest testing your page loading speed with Google PageSpeed Insights. It will show your overall speed and offer suggestions to improve it.
Mobile Optimization
Recent statistics show that as of the first quarter of 2023, smartphones accounted for approximately 74% of retail site traffic worldwide and generated 63% of online shopping orders.
On top of that, Google gives preference to WordPress sites that perform well on mobile. So, if your site doesn't work well on mobile devices, you're losing traffic and sales.
Use a responsive theme that's designed well for mobile. Test your pages in multiple browsers to make sure it collapses appropriately on mobile devices. Ensure it looks good and functions properly.
5. Leverage Customer Reviews and Ratings
They may seem like simple additions, but reviews, ratings, and testimonials are powerful conversion boosters. Like trust badges and seals, they are a kind of social proof people use to make buying decisions.
Online shoppers use reviews to better understand your products or services, address their objections, and make sure it will serve their needs.
Send your customers an email after they have had time to enjoy their purchase. Encourage them to submit ratings and reviews. Keep in mind that some people won't be willing to write a comment, so make sure there's a one-click rating option. In some cases, you may have to offer an incentive. Publish their reviews on your product pages.
Also, don't be afraid of the occasional negative review. Customers are leery when all of your reviews are positive. A few less-than-perfect reviews make them all seem legitimate.
Thanks to a built-in integration with Uncanny Automator, the best automations plugin for WordPress, WP Simple Pay makes it easy for you to automate recent sale notifications on your social media platforms, including Facebook Pages.
We also strongly recommend looking into Smash Balloon, the #1 social feeds plugin for WordPress. It allows you to easily embed social feeds from Twitter, Instagram, Facebook, and YouTube on your site without code.
To learn more about how to easily create recent sale notification popups in WordPress, see our detailed guide.
6. Create a Sense of Urgency
One of the best ways to convince your shoppers to buy right now is to create a sense of urgency. By leveraging their fear of missing out, you can convince them that there's no better time to make a purchase than right now.
Creating urgency is tricky and how you use it depends on what you sell. In some cases, creating urgency is as simple as announcing a limited-time offer. Shoppers are more likely to convert if they think they will miss out on a great deal.
In other cases, however, customers don't accept that kind of artificial scarcity. They know, for instance, that you aren't going to run out of eBooks. So, you have to use your copy and images to explain how their problems will persist every minute they don't make a purchase from you.
There you have it! We hope this article has helped you learn how to optimize your products and services pages to boost sales on your WordPress site.
If you liked this article, you might also want to check out our guide on how to maximize coupons on your WordPress site.
What are you waiting for? Get started with WP Simple Pay today!
To read more articles like this, follow us on Facebook and Twitter.