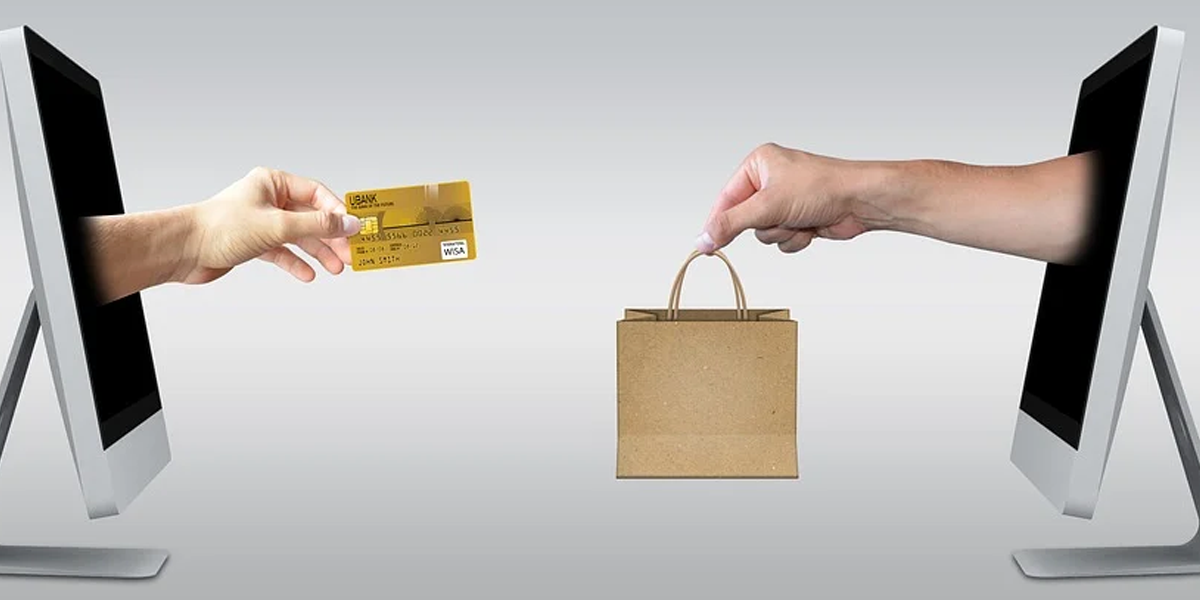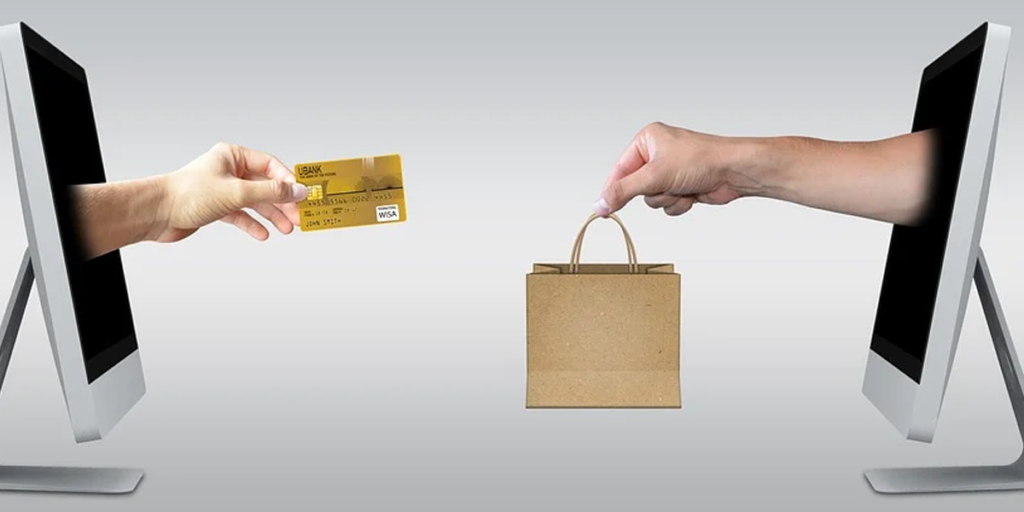 How to Optimize Your Product Pages to Boost Sales
If you're like most online sellers, you'd like your product pages to convert a little better. A few more customers each day could equate to a lot of revenue for your business.
This is especially important if you already have a decent amount of traffic visiting those pages. You've already done the work to get them there, now you just need to turn them into customers.
In this article, we offer some strategies to optimize your product pages. These are the key areas where most product pages need improvement.
(For the purposes of this article, when we say "product page," we're referring to any page on your site where you try to get people to make a purchase. It could be a page where you sell physical products, digital products, or services. It could also be a page where you collect donations.)
Showcase Awesome Photography
If you sell physical products, it's absolutely critical that you show large, high-quality images. Your customers can't touch, taste, or try your products before they buy, so you have to give them as much information as possible. Include multiple angles, 360-degree views, and videos. All of these assets should look great at any size, in any browser, and on any device.
"My experience as a web designer has taught me that when it comes to ecommerce, people DO judge a book by its cover, so invest in solid product photography," says Mark Perini, Founder of ICEE Social, an ecommerce consultancy.
If you don't sell physical products, photography is still important. People use images to connect with your service or cause, so make sure you show them something that relates. For instance, if you sell a membership course that teaches people how to organize physical spaces, show a big photo of a well-organized space.
Provide Detailed Product Copy
After your images, your product copy is the most important element on the page. This is where you relay the features and benefits of your product or service and ultimately convince your visitors to make a purchase.
How you arrange your copy will depend on what you're selling. If your product page sells a physical product, it's best practice to provide a short and simple top-level description of the product with its most important benefits, then a longer, in-depth description lower on the page.
Your copy might be arranged differently if you sell access to a product or a service. But generally, it's best to put your most important copy first where people are most likely to read it.
Here are some tips to optimize your page copy:
Optimize your copy for search engines so people are more likely to find the page.
Use natural, human language that visitors can connect with.
Explain why your product or service is better than your competitors'.
Consider why visitors would choose not to buy your product, and address those objections.
Make the price bigger than other text on the page since this is a key piece of information visitors will look for.
Keep your copy useful, relevant, and easy to understand.
Include relevant specifications, like size, weight, color, and purpose.
If your copy is long, create structure using headings and bullet points.
Take a look at the copy Pinpaper adds beneath their basic product description. They know buyers want to know how much product they actually get with their purchase, so they offer a few examples.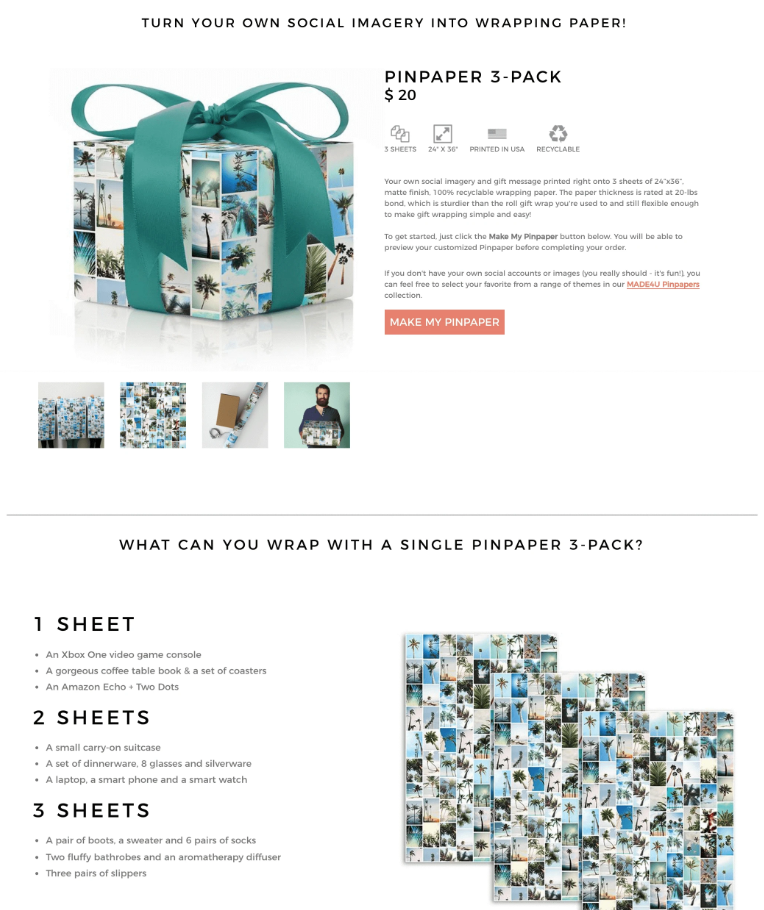 Keep in mind that customers don't buy products and services because they love your brand. They buy because you help them achieve some goal, solve a problem, or create a better version of themselves. Think about how your offerings make your customers' lives better and then explain those benefits with your copy.
Make the Call-to-Action Obvious
On a product page, your call-to-action is the "buy now" or "add to cart" button. There should only be one call to action on the page.
Optimizing this element is easy. Make your button stand out from the page so there's no mistaking it. Use a color that contrasts with the rest of the page. Don't get clever with the language here. You want your shoppers to understand the button's purpose right away.
Birchbox is a great example of call-to-action use. Notice how they use a unique color and surround the button with whitespace so you can't miss it.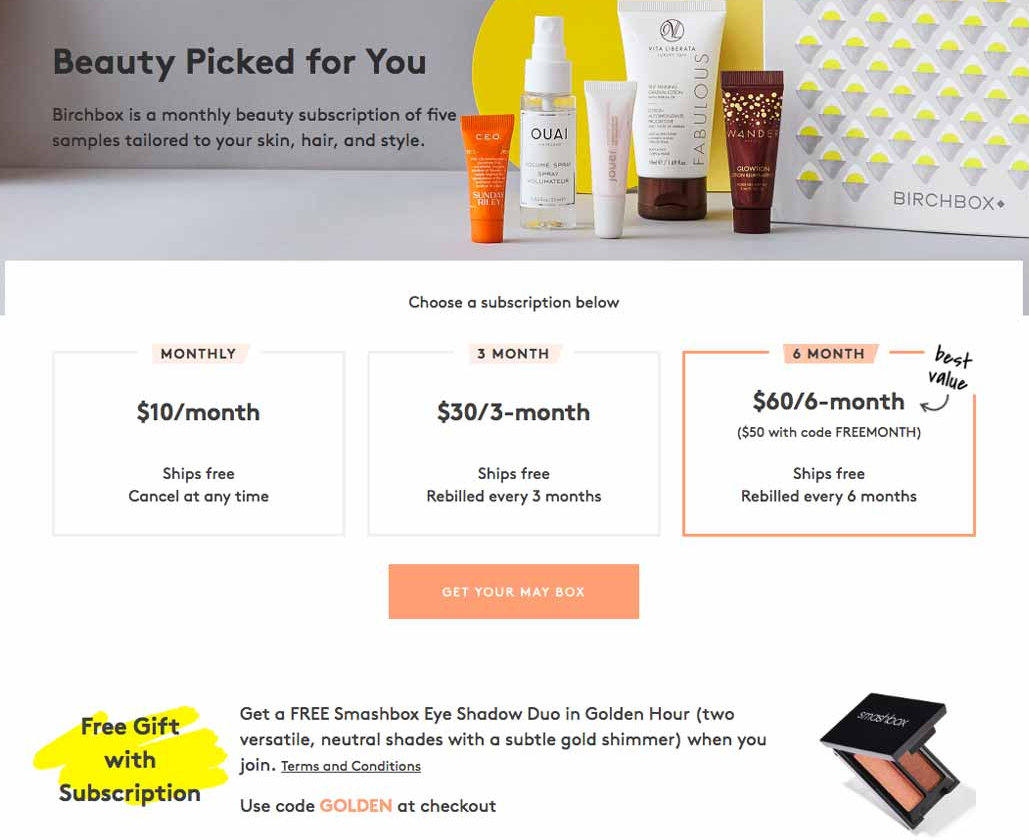 Get Your Technicals Right
If your page doesn't perform well, visitors won't stick around to enjoy it. You have two technical factors to consider:
Page Speed
No one has much of an attention span anymore. If your pages load slowly, many people will abandon your site. According to a study by Akamai, a 100-millisecond delay in your page loading speed reduces your conversion rates by 7%.
Make your pages as light and fast as possible. Test your page loading speed with Google PageSpeed Insights. It will show your overall speed and offer suggestions to improve it.
Mobile Optimization
82% of online shoppers shop using mobile devices. 35% of them are mobile-only shoppers. On top of that, Google shows preference to sites that perform well on mobile. So if your site doesn't work well on mobile devices, you're losing traffic and sales.
Use a responsive theme that's designed well for mobile. Test your pages in multiple browsers to make sure it collapses appropriately on mobile devices. Ensure it looks good and functions properly.
Add Customer Reviews and Ratings
They may seem like simple additions, but reviews and ratings are powerful conversion boosters. Like trust badges and seals, they are a kind of social proof people use to make decisions before making their own purchase.
85% of consumers today trust online reviews as much as personal recommendations. They use reviews to better understand the product or service, address their objections, and make sure it will serve their needs.
Send your customers an email after they have had time to enjoy their purchase. Encourage them to submit ratings and reviews. (Some people won't be willing to write a comment, so make sure there's a one-click rating option.) In some cases, you may have to offer an incentive. Publish their reviews on your product pages.
Oh, and don't be afraid of the occasional negative review. Customers are leery when all of your reviews are positive. A few less-than-perfect reviews make them all seem legitimate.
Create Upsell and Cross-Sell Opportunities
If a visitor arrives on one of your product pages, it means they're at least considering making a purchase. They know their problem, know how to solve it, and trust your brand. When customers are in this mode, you have to take advantage of every opportunity.
An upsell is when customers choose to buy the better version of their original product/service. For instance, you might convince customers to take your elite course instead of your basic course. Or you might upsell them to the developer's license of your plugin.
Beardbrand upsells customers by prompting them to join their monthly subscription service. That could turn a one-time $25 purchase into hundreds of dollars over the year.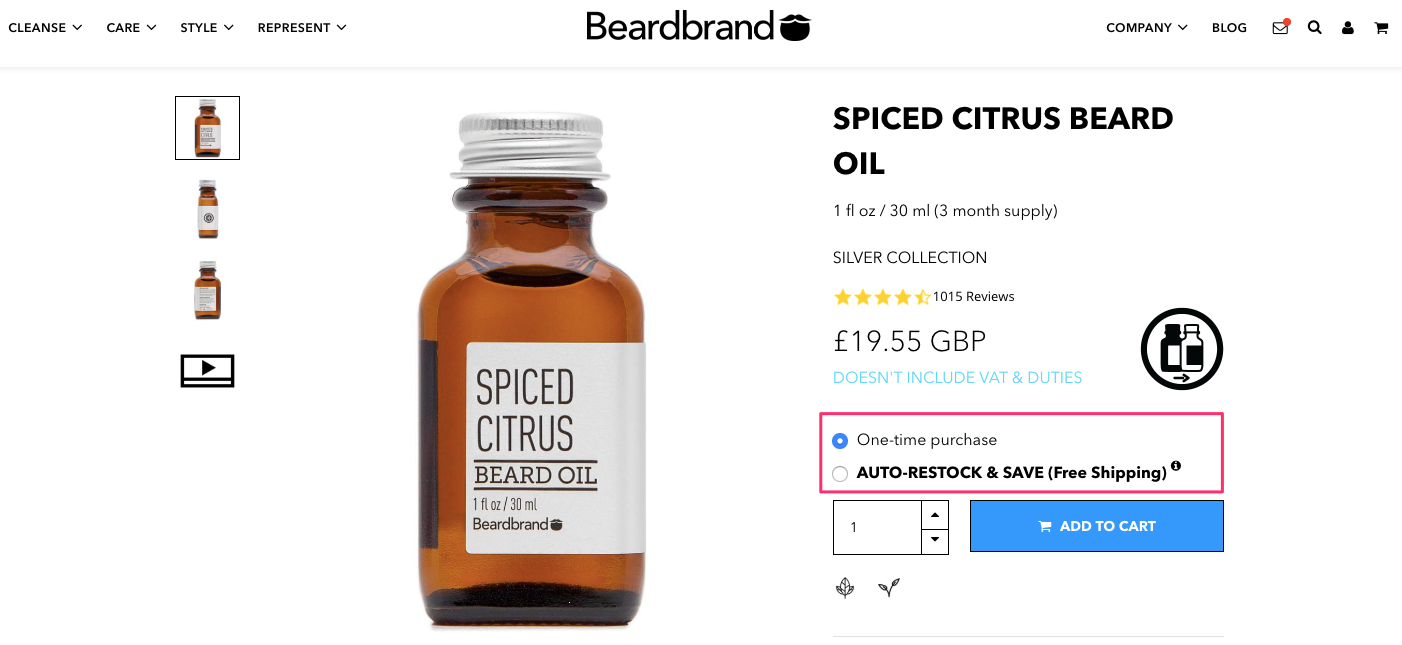 A cross-sell is when your customers buy additional products to go with their original purchase. For instance, you might convince them to buy your course's extra supplementary materials.
Take a look at how ecommerce brand Firebox uses cross-selling. They give customers the opportunity to add accessories to their cart right from each product page.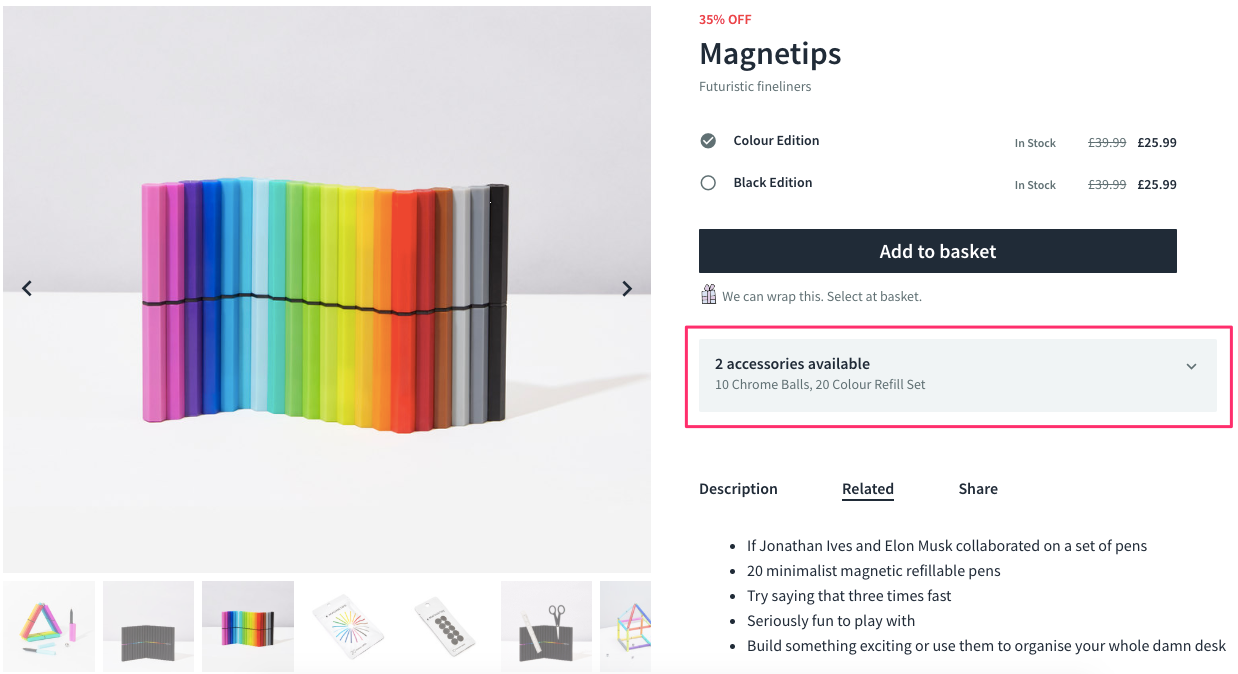 Create a Sense of Urgency
One of the best ways to convince your shoppers to buy right now is to create a sense of urgency. By leveraging their fear of missing out, you can convince them that there's no better time to make a purchase than right now.
Creating urgency is tricky and how you use it depends on what you sell. In some cases, creating urgency is as simple as announcing a limited sale. Shoppers are more likely to convert if they think they will miss out on a great deal.
In other cases, however, customers don't accept that kind of artificial scarcity. They know, for instance, that you aren't going to run out of ebooks. So you have to use your copy and images to explain how their problems will persist every minute they don't make a purchase.
Going Forward
Now that you understand the most impactful ways to boost conversions of your product pages, go through your pages and make the necessary changes. As always, use A/B testing to uncover the results of your work. Refine your pages over time until you crank that conversion rate as high it can go!