Tips to Collect More Donations on Your Website
As a nonprofit, you need to collect donations anywhere you can. Your website is a powerful fundraising tool because it's always running, always serving visitors, and always ready to take payment. You don't have to make phone calls, throw parties, or shmooze with donors.
It's important to maximize your website's fundraising performance as much as possible. If you turn your website into a powerful resource, it will collect donations on autopilot indefinitely.
In this article, we recommend some valuable strategies to collect more donations on your website.
1. Design a Professional Website
You might think that donors would rather see you spend your money on your cause rather than a fancy website, but that isn't the case.
Donors want to see that you have a modern, professional face. Ironically, they want to see that you have a bit of money because it means other people donate to you as well (a weird form of social proof, but donors aren't the only group persuaded by the appearance of wealth).
Notice how Charity:Water uses a professional design and striking photos to collect donations. That kind of photography isn't easy or cheap, but it converts.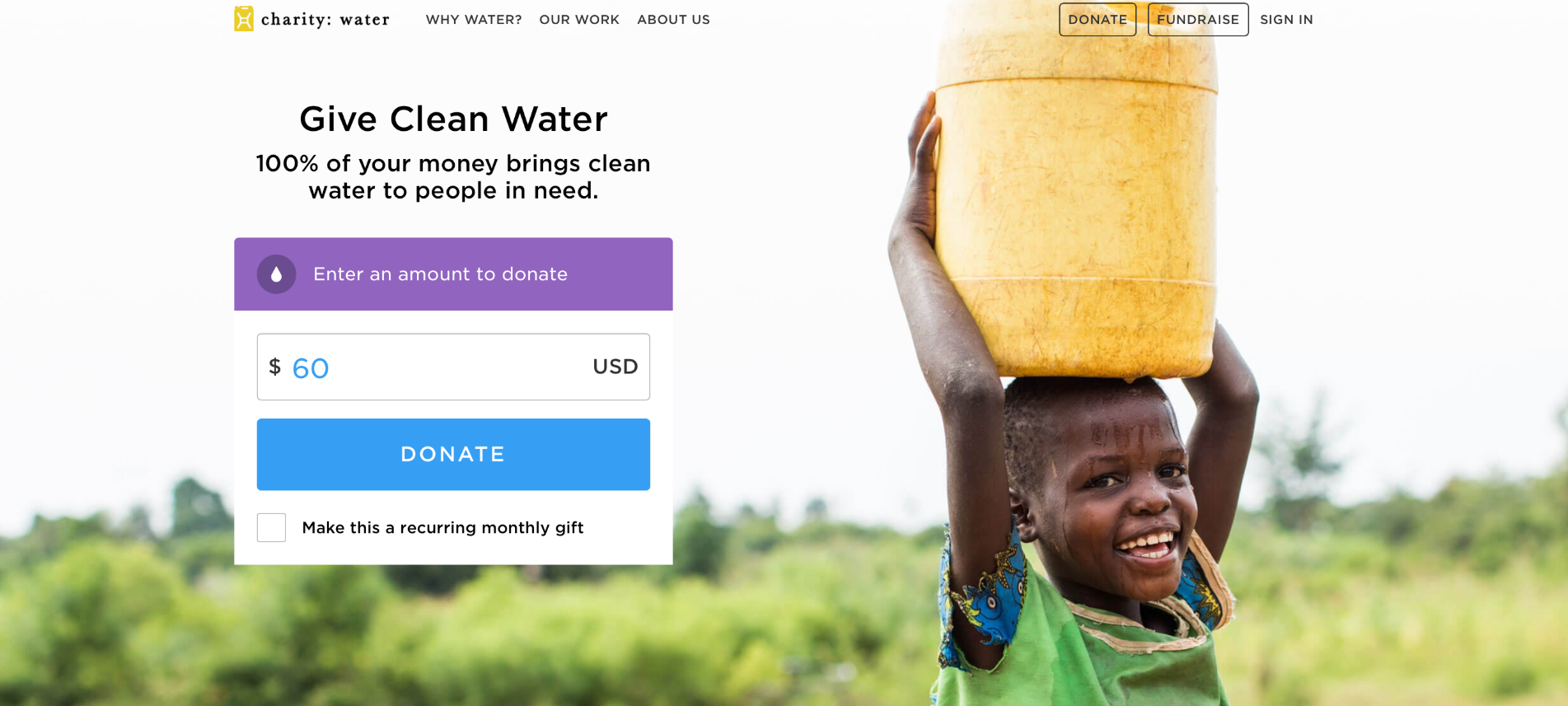 Fortunately, you don't need to spend tens of thousands of dollars on custom development to have a professional website. With a platform like WordPress, a solid theme, and the right combination of plugins, you can build a functional website all on your own.
2. Make Your Donation Page or Form Easy to Find
If someone comes to your website to donate, they shouldn't have to search for the right page. Make your donation button easy to find on every single page. Donors should be able to access it the moment they decide to donate.
The World Wildlife Fund puts their donation right in their header. It's also a bright contrasting color so you can't miss it.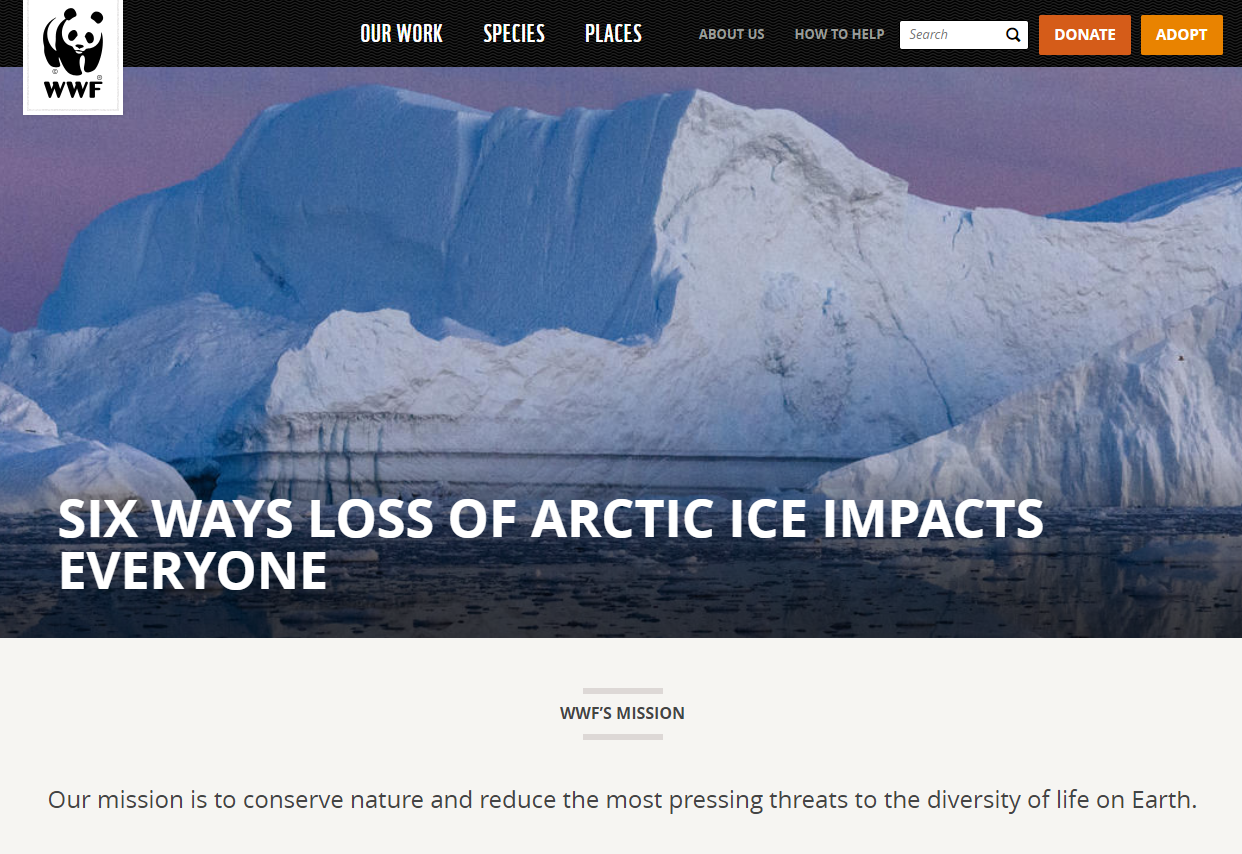 Furthermore, your donation button should take the potential donor straight to the donation form. If they're willing to click "Donate," it means they don't need much more persuading. Any additional steps can actually hurt your conversions.
3. Sell Merchandise on Your Site
Real goods aren't technically donations (because the buyer gets something in return), but they're still great tools to raise money for your cause. People are willing to overpay for goods if they know the proceeds will be used for a good reason.
And truthfully, people like bragging about their philanthropy. They want other people to know how generous they are. A "free" T-shirt in exchange for a donation satisfies their ego.
PETA is a great example. They have an entire store on their site that raises funds for their cause.
Fortunately, selling merchandise on your charity's website is simple these days. There are two ways to go about it.
Buy merchandise and fulfill it yourself. You'll need an ecommerce tool like WooCommerce or Shopify to take orders through your site.
Let someone else handle fulfillment. Use a print on demand vendor to make and ship products when your donors/customers place an order.
What should you sell? That depends on your cause and your target donors. Sell products that people will keep around and use for a long time. Put your logo on everything.
4. Feature Your Top Donors
People like being recognized. They like the celebrity status they can buy with their donation. This is why you see donors' names on plaques in hospitals and museums. You can offer the same recognition on your website.
Celebrate your top donors by featuring them on your website. You could…
Create a page for top donors with names and stories.
Write blog posts about donors and why they contributed to your cause.
Record videos of your donors, including their stories and history.
Post donor testimonials in your sidebars and footers.
Include donor stories on your landing pages as social proof.
That said, don't surprise your donors with a feature spot. Include the feature spot in the donation package so they know it's part of what they get in return. This will entice more people to make a donation.
5. Design Landing Pages for Donor Segments
Segmentation is one of the most popular tools in online marketing. Essentially, segmentation is the practice of splitting your audience into groups and creating messaging for each group.
For example, let's say someone comes to your website expecting to donate $500. They reach your donation landing page and see suggested donation amounts of $25, $50, and $100. They hit the $100 button even though they would have donated more.
In this case, it would be smarter to send that person to a special landing page made just for people like them. Perhaps the suggested donation amounts would be $500, $750, and $1,000. Since this donor intended to donate $500, they can hit the button on this page.
(To learn how to create suggestion donations, read our full guide.)
You can segment users any way you like. You might segment them by location, age, or reason for donating. Tag them in your email marketing tool or CRM so you can send the right content and offers to each segment.
6. Offer Multiple Payment Options
Some people like PayPal. Some use Amazon or Google Pay. Others like to use their credit card. It's important to accept multiple payment options if you want to maximize conversions. Not only does this make your nonprofit more accessible, it also makes people feel more comfortable with the transaction.
(If you use WP Simple Pay to accept online payments, we now support Google Pay, Apple Pay, and Microsoft Pay.)
7. Be Transparent About Money
Lots of donors want to know how you'll use their money. In fact, this is the deciding factor for many people. They won't donate if they don't understand how you spend money (they'll assume you'll do something inappropriate with it).
Explain what percentages of their money goes toward your cause, fundraising, administrative costs, etc. Break it down as much as you can. Don't forget to update this section as your financials change.
8. Keep Your Donation Page Simple
Once a donor has decided to open his or her wallet, every step you put in front of them is an obstacle they have to climb over. You can improve your conversions by clearing the way.
The most impactful way to keep things easy is by simplifying your donation payment form. Skip the unnecessary questions like "title," "company name," or "where did you hear about us?" You can gather those data points later.
Name. Email. Payment information. That's all you need to take their donation, so that's all you should ask for.
One of the reasons we designed WP Simple Pay is because too many payment forms are long and complex. Taking donor money should be simple. See a demo of WP Simple Pay here.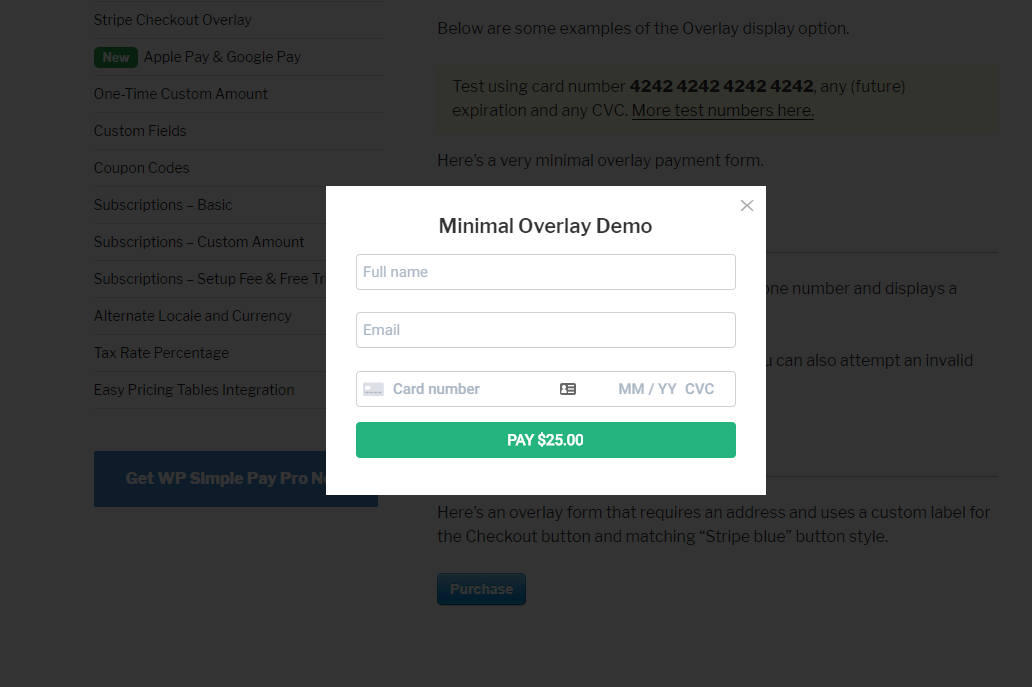 Here are some more ways to keep your donation page simple:
Limit your images and copy to only what's necessary. Opt for less content that's more impactful, rather than lots of content that doesn't mean much.
Remove the menu, header, footer, and sidebar. Once the donor is on the donation page, their only option should be to donate.
Keep your page title short, engaging, and powerful. Talk about the benefits of donating (e.g. "Change the Lives of 10 Kids for Less Than a Cup of Coffee").
Use headings and bullet points in your body copy so it's easy to read.
Offer suggested donation amounts so donors don't have to think.
Optimize your page for mobile so it looks clean on any device.
Keep the page easy to follow. Your visitors should know where you want them to look. They should be able to follow the page's flow easily.
As Always, Optimize
The best tip we can give you to maximize donations from your nonprofit website is to test every element of your page for performance, especially your donation page. Make simple adjustments and measure your new results. Use A/B testing for your experiments. Every tweak you make to increase donations will compound over time.