Six Best Bloomerang Alternatives for Nonprofits
Are you looking for the best Bloomerang alternatives?
Receiving donation payments online is a powerful way to raise funds for nonprofits and other important causes.
In this article, we'll share some of the best Bloomerang alternatives that will help you collect one-time or recurring donation payments on your site.
Table of Contents
What is Bloomerang?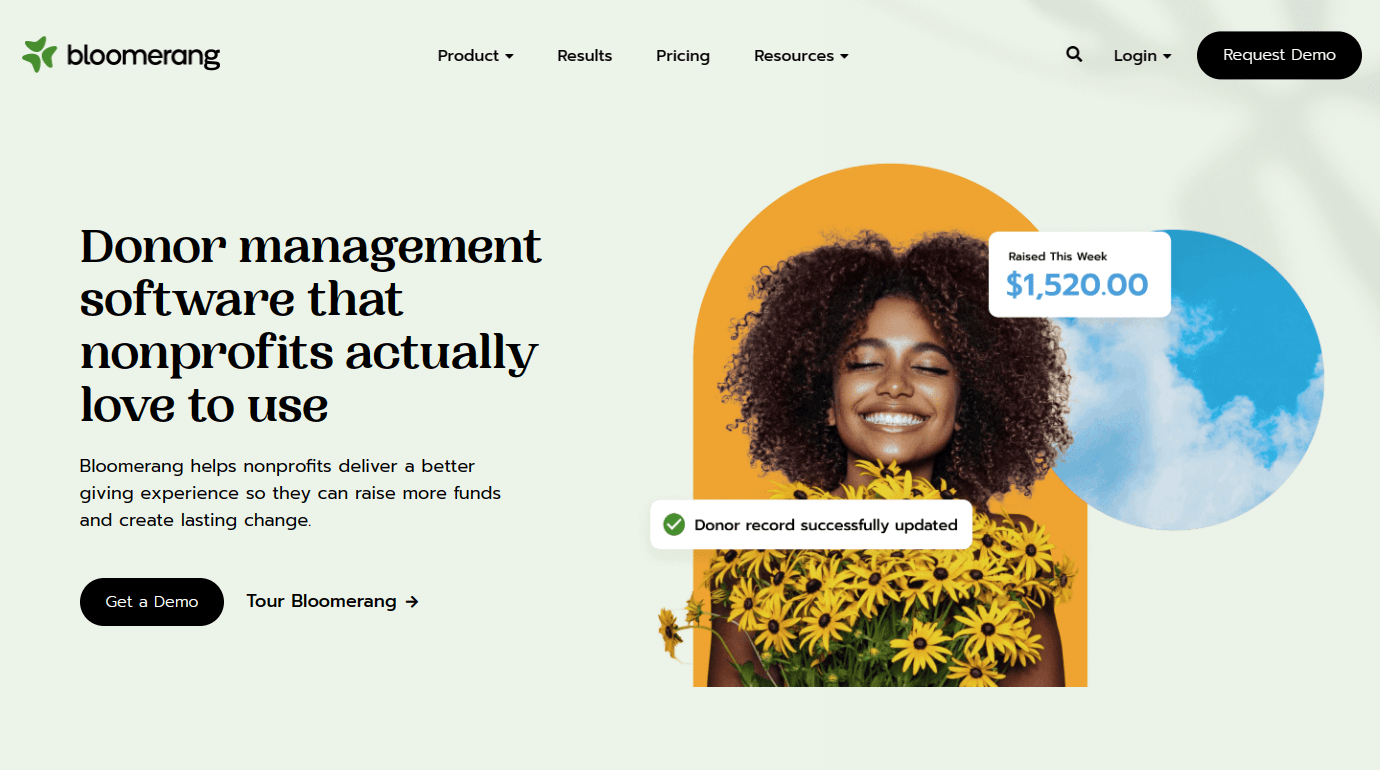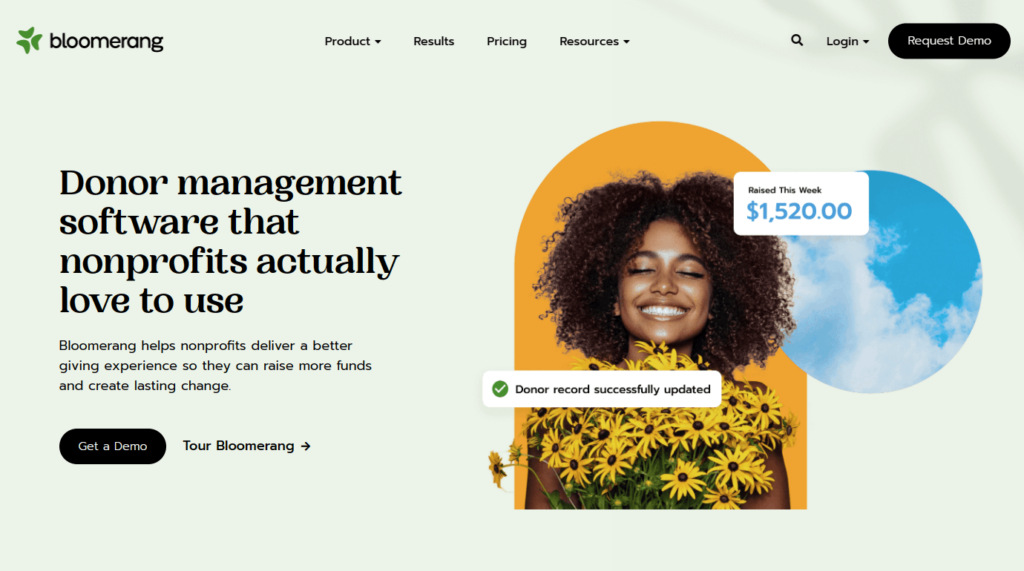 Bloomerang is a cloud-based donor management and fundraising software for nonprofits. It can be used to view donor records, track the best time to contact each donor, and measure donor engagement levels to improve outreach.
In addition, Bloomerang aims to help nonprofit organizations manage their entire constituent database, including donors, volunteers, sponsors, and grant givers.
Bloomerang Pricing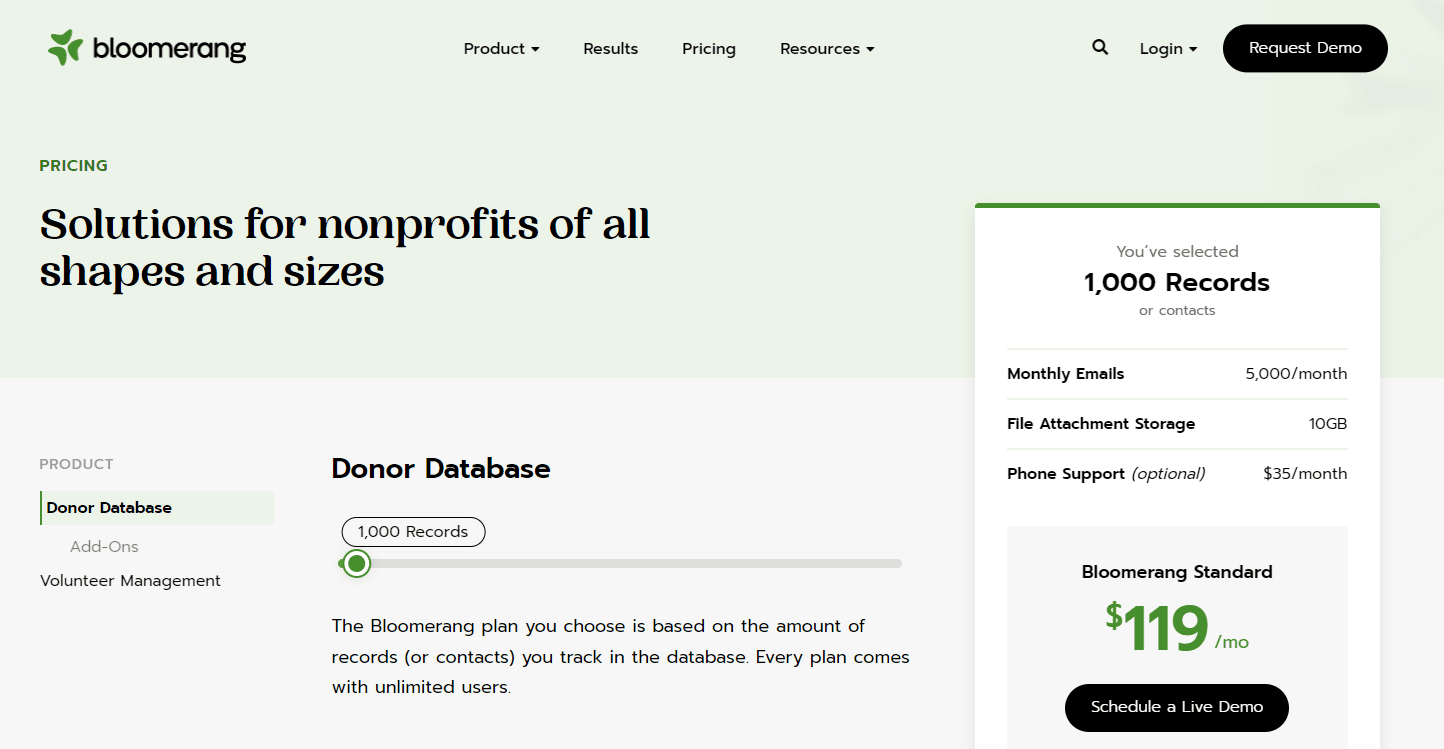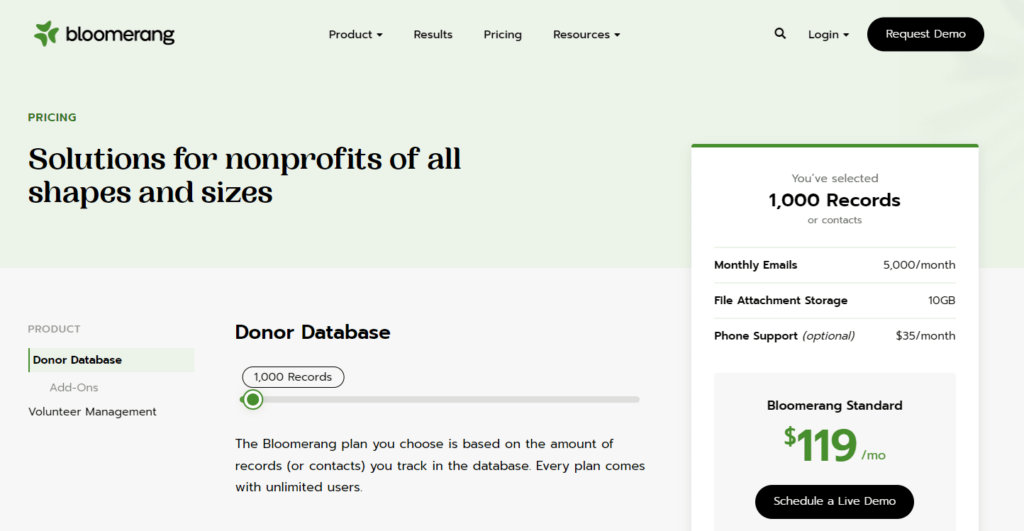 The pricing options for Bloomerang are based on how many contacts you have in the database. For the standard plan that supports up to 1,000 contacts, the cost starts at $119/mo. An additional $35 is required to receive technical support over the phone. Once you go over 1,000 contacts (donors), the cost rises significantly to $239/mo.
While the platform does offer Bloomerang Payments, a feature that processes donation payments made via credit/debit cards and ACH direct debit using Stripe, there is a processing fee of 2.9% + $0.30 per transaction. The ACH direct debit fee is processed at 1% + $0.30 per transaction.
Choosing the Best Donation Payment Solution
When it comes to choosing the best online donations solution for your specific needs, there are a few essential factors you should consider. While there are several donation and fundraising platforms out there, some of them are expensive, quite difficult to use, and don't always offer needed customization features.
Being able to easily and securely receive donation payments on your site is no doubt critical to the success of your nonprofit or charity organization. In addition, maintaining communication with your donors as well as targeting potential donors can make all the difference in reaching your particular goals.
Ensuring that you implement the right donation solution on your site depends on your skill level, the payment methods offered, fees, and customization options.
Another factor you'll want to think about is whether you need your donation management software to integrate with third-party tools like email marketing services, and whether you already have an existing site for your nonprofit. Because Bloomerang is a SaaS (software as a service) platform, keep in mind that you won't be able to use it on a WordPress site.
Without further ado, let's explore some of the best Bloomerang alternatives based on the above recommendations.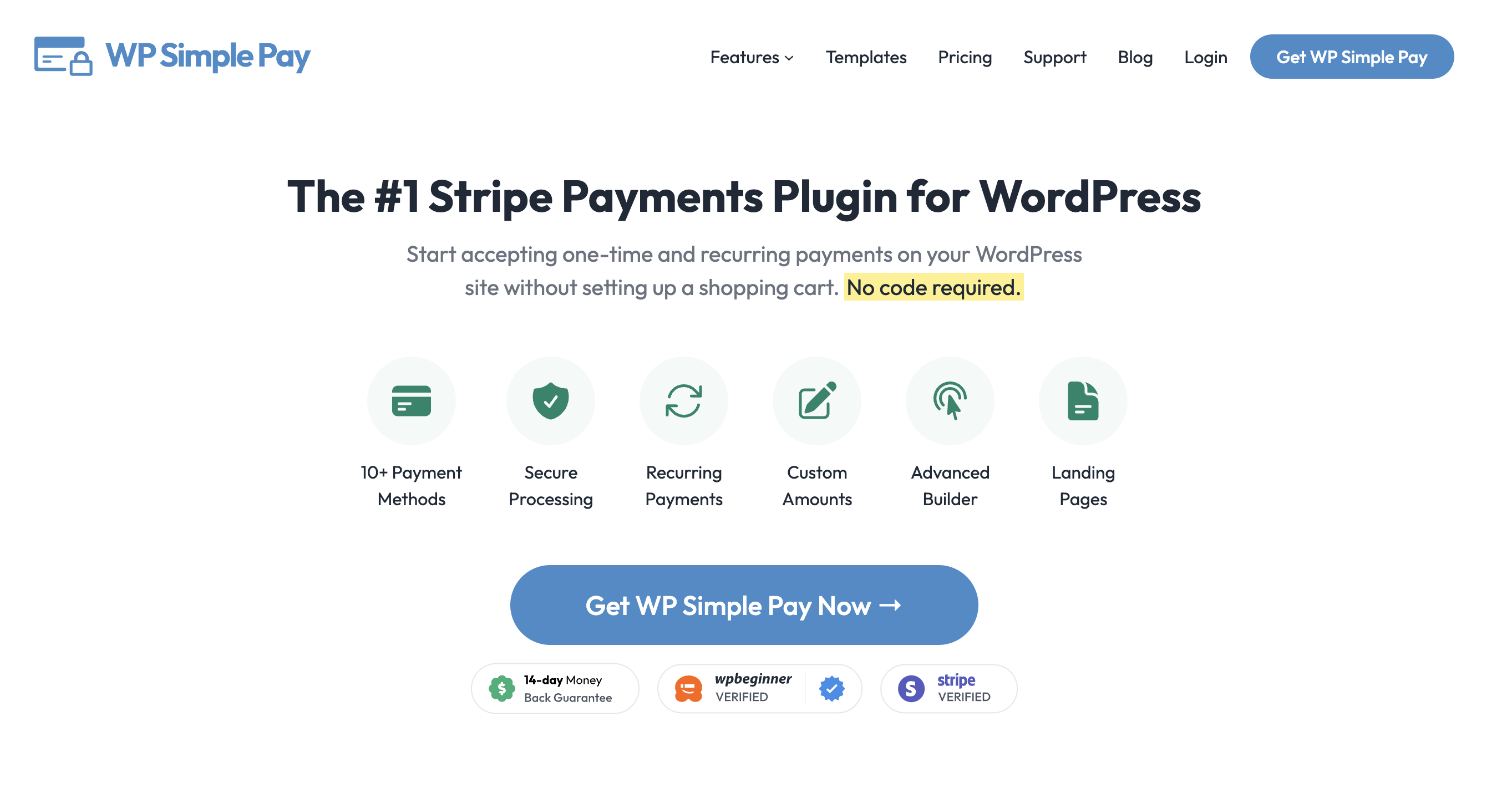 WP Simple Pay is the #1 Stripe payments plugin for WordPress that lets you easily accept one-time or recurring donation payments directly on your site. The plugin offers an advanced drag and drop payment form builder that helps you get the perfect payments forms up and running in minutes.
In addition, WP Simple Pay allows you to customize your payment forms with dropdowns, text fields, checkboxes, and more to collect additional information from your donors. You can also set up predefined donation amounts or even allow your donors to enter a custom amount.
On top of all that, you can control when your donation payment forms start and stop accepting payments to ensure you're reaching your fundraising goals.
Additional features of WP Simple Pay that are great for any nonprofit or charity include:
Multiple Payment Methods: Offer your donors their preferred payment methods to increase donations, including traditional credit/debit cards, ACH Direct Debit, Cash App Pay, Apple Pay / Google Pay, and more.
Customizable Email Receipts: Instantly send email receipts to your donors after they've completed their payment.
Fee Recovery: Require or request your donors to cover the additional Stripe 3% processing fee so you can collect the full amount.
Third-Party Integrations: Integrate with third-party tools like Zapier, Uncanny Automator, and OptinMonster to automate tasks like adding new donors to your mailing list and creating targeted campaigns on your site to drive more conversions.
Remove the additional 3% fee!
Most Stripe plugins charge an additional 3% fee for EVERY transaction
…not WP Simple Pay Pro!
Pricing: WP Simple Pay offers a free version, WP Simple Pay Lite, to help you get started. To create on-site payment forms and accept recurring payments for your nonprofit, you'll need to purchase a premium plan.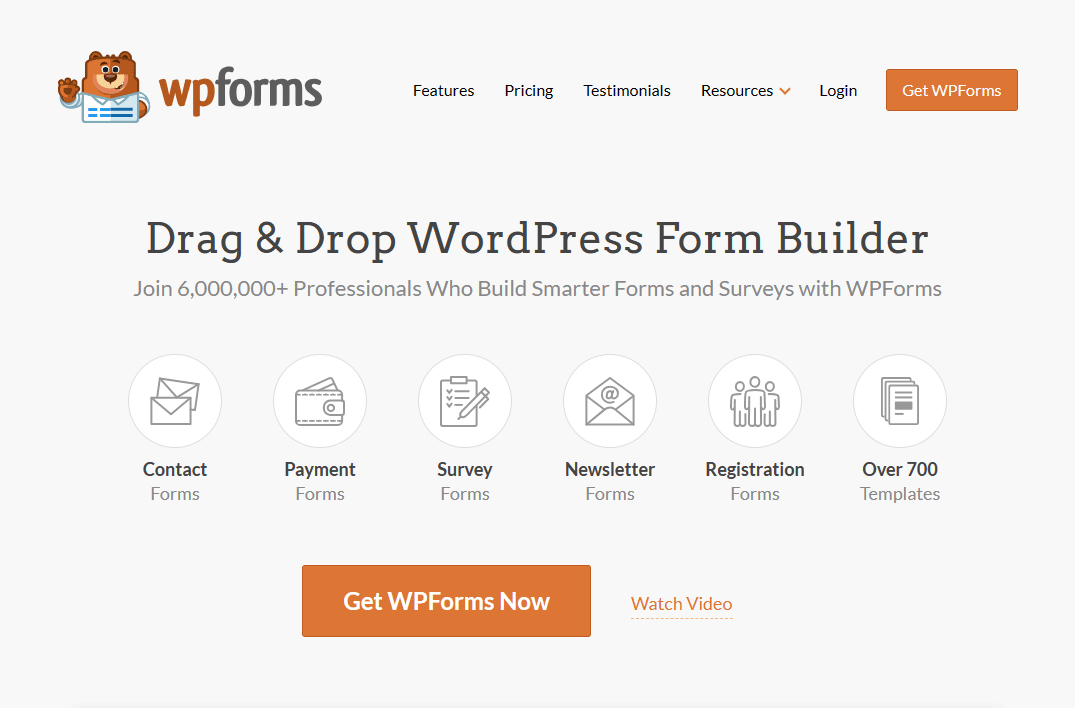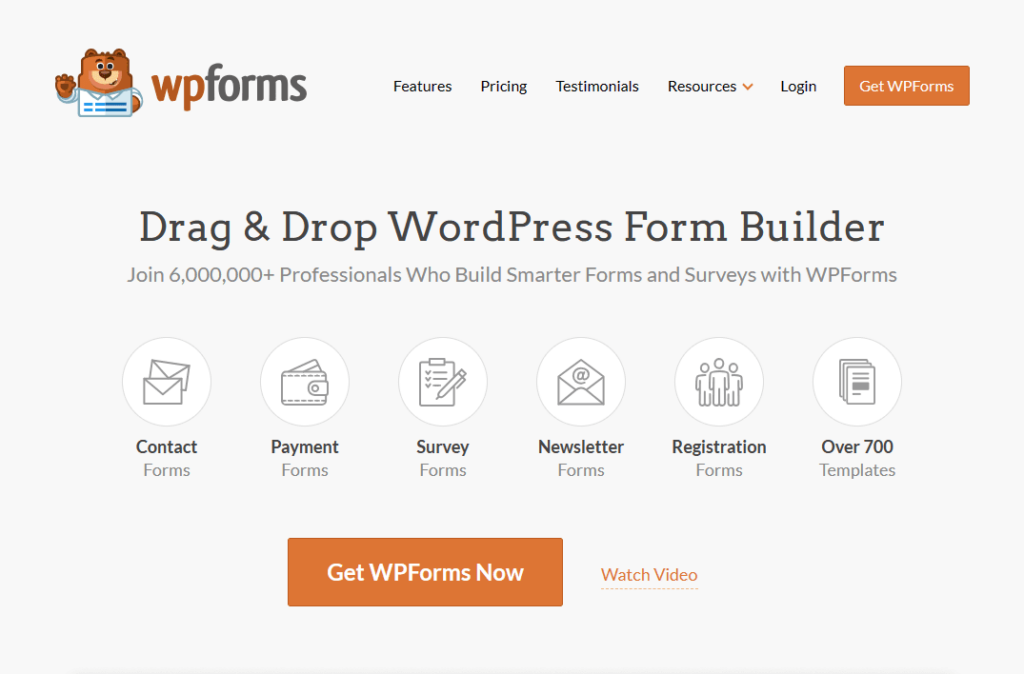 WPForms is the easiest drag and drop form builder plugin for WordPress. Using the plugin, you can easily create forms for just about anything your organization needs, including payment forms, registration forms, surveys, polls, and more.
One of the best parts about WPForms is that you can accept multiple payment methods via Stripe, PayPal, Authorize.Net, and Square. This means you can accept donation payments for your cause directly on your site.
The plugin also integrates seamlessly with top email marketing service providers and CRMs like MailChimp, Constant Contact, and HubSpot so you can easily manage your donors and streamline communications.
For non-profits and charities looking to accept donation payments online, manage their donors, and automate tasks like email marketing all in one place, WPForms is a better suited option than Bloomerang.
Additionally, it's important to remember that WPForms is a plugin for WordPress that is only compatible with a self-hosted WordPress site. This means that Bloomerang is a good option if you already have a site hosted by another service provider and you're simply looking for a donor management system.
Pricing: Premium plans start at $49.50/mo.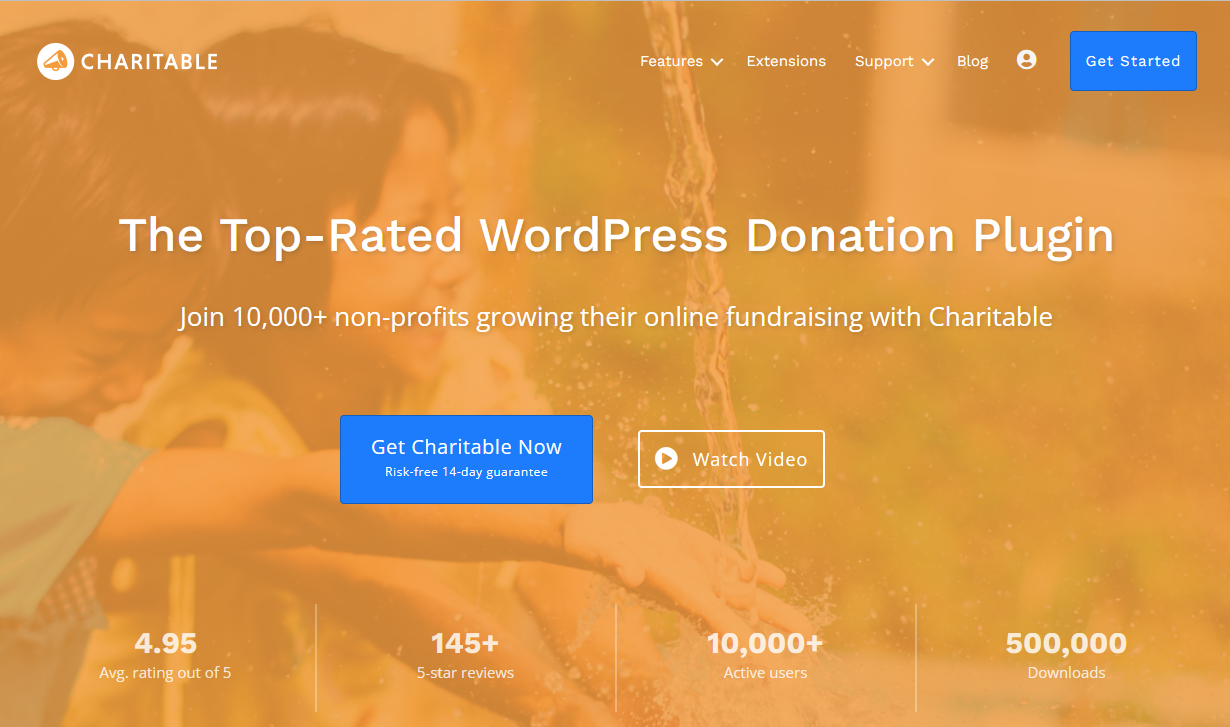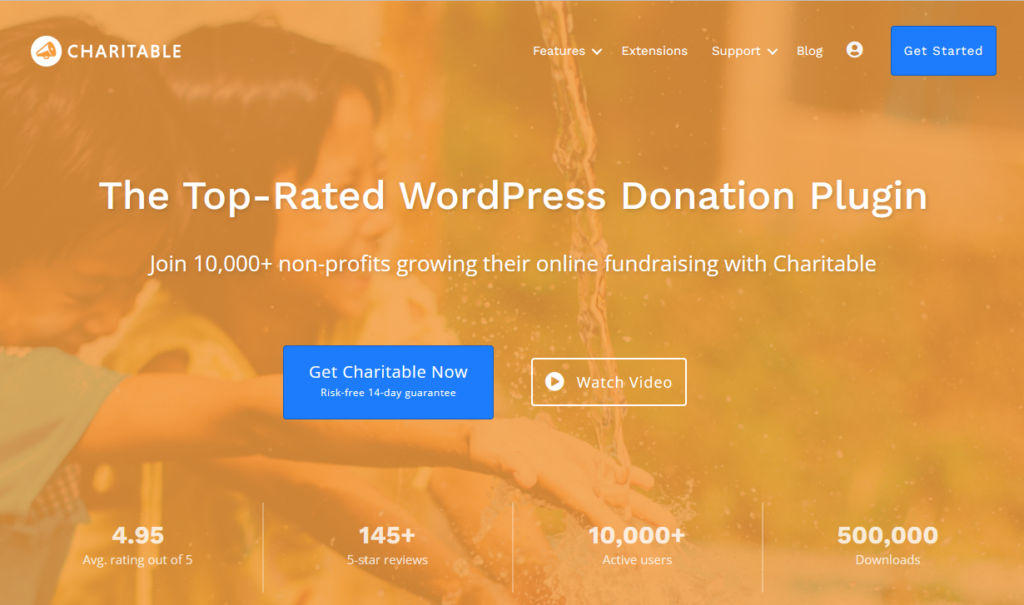 WP Charitable is another popular donations plugin for WordPress that lets you accept donation payments on your site.
The best part about WP Charitable is that you can use it to create peer-to-peer fundraising campaigns without having to use a hosted fundraising solution.
The plugin also offers multiple payment gateways, including Stripe, Authorize.New, PayFast, PayUMoney, PayPal, and more.
Similar to WP Simple Pay, you can use the plugin to easily set up weekly, monthly, quarterly, semi-annually, and annually recurring donation payments. As a result, you can increase your long-term funding.
In addition, using the plugin, you can remove the 3% Stripe processing fee by requiring your donors to cover it.
If you're looking for a solution that lets you accept donations on your WordPress site and send your donors email communications, WP Charitable is a good option. The plugin integrates with Mailchimp, Active Campaign, Campaign Monitor, Mailpoet, Mailster, and Mailer Lite to help you create and send emails and newsletters.
Pricing: Premium Plans start at $99/yr.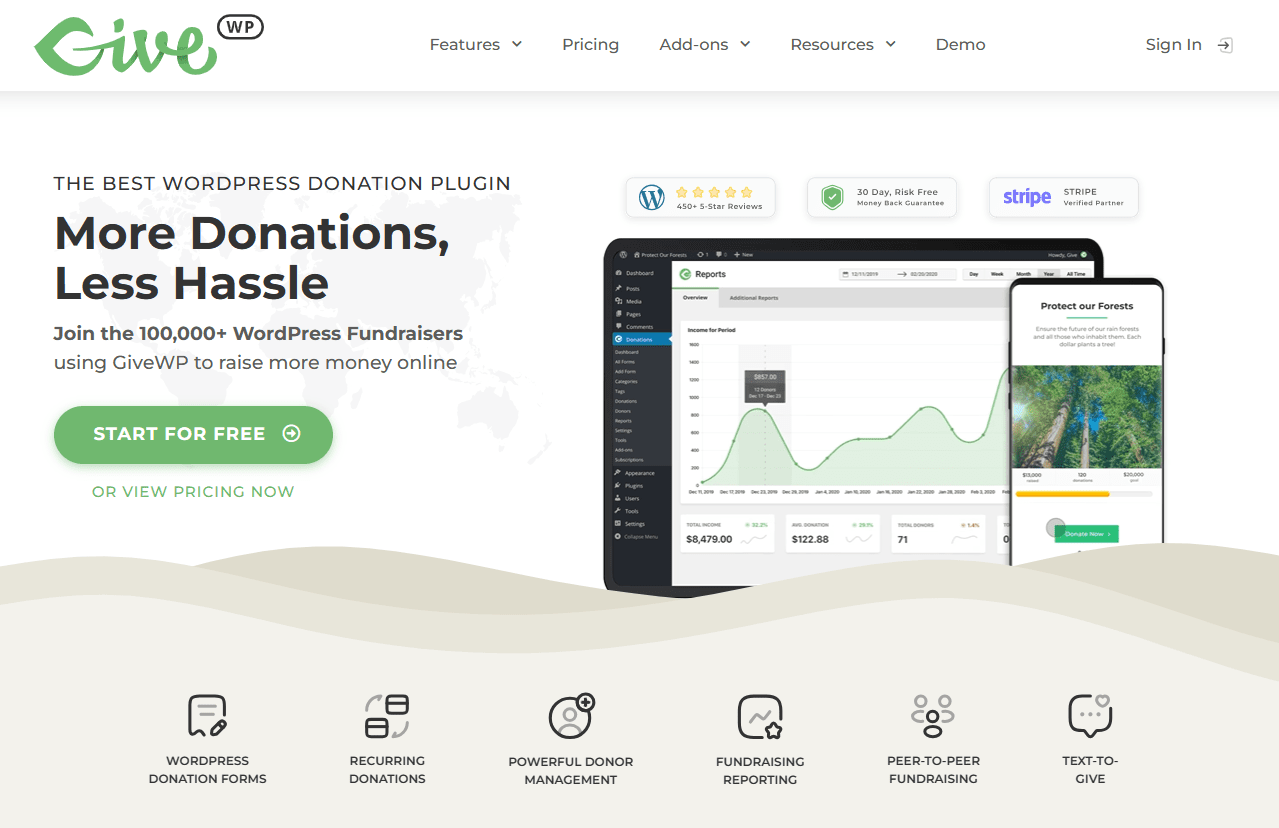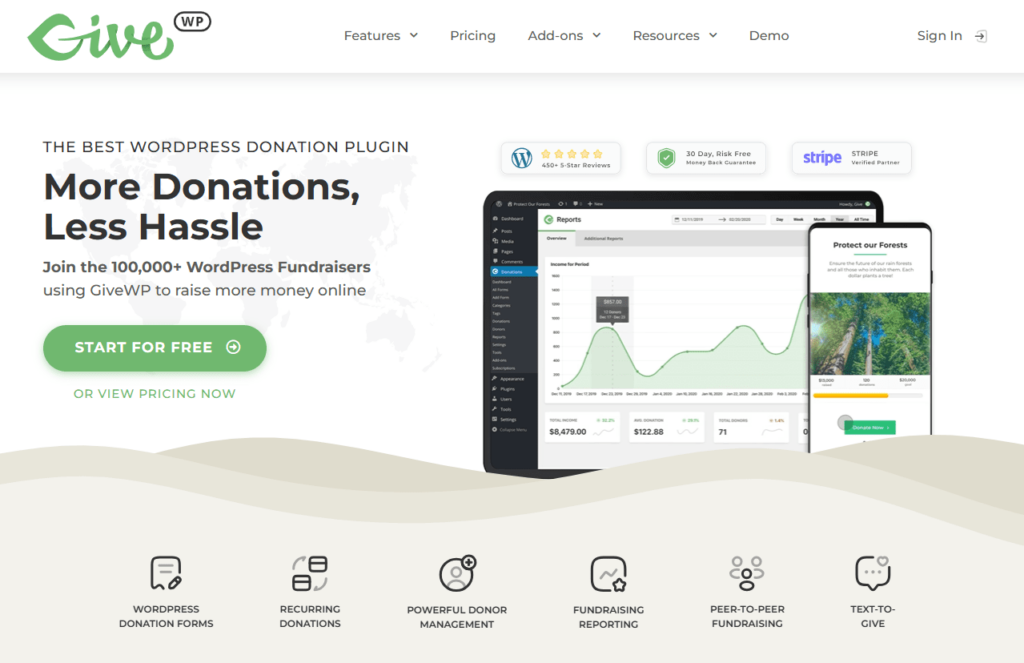 GiveWP is a fundraising plugin for WordPress that lets you accept one-time or recurring donation payments on your site.
The plugin allows you to accept payments via Stripe and PayPal.
Similar to WP Simple Pay, you can use the plugin to create customizable donation payment forms using one of its pre-built templates. In addition, you can remove the 3% Stipe processing fee with a premium plan.
The plugin also integrates with popular email marketing service providers like MailChimp and Constant Contact.
Like WP Simple Pay, WPForms, and WP Charitable, you'll need to use the GiveWP with a self-hosted site on WordPress.
Pricing: Starts at $149/yr. To unlock the fee recovery and recurring donations features, you'll need to purchase a Plus plan for $349/yr.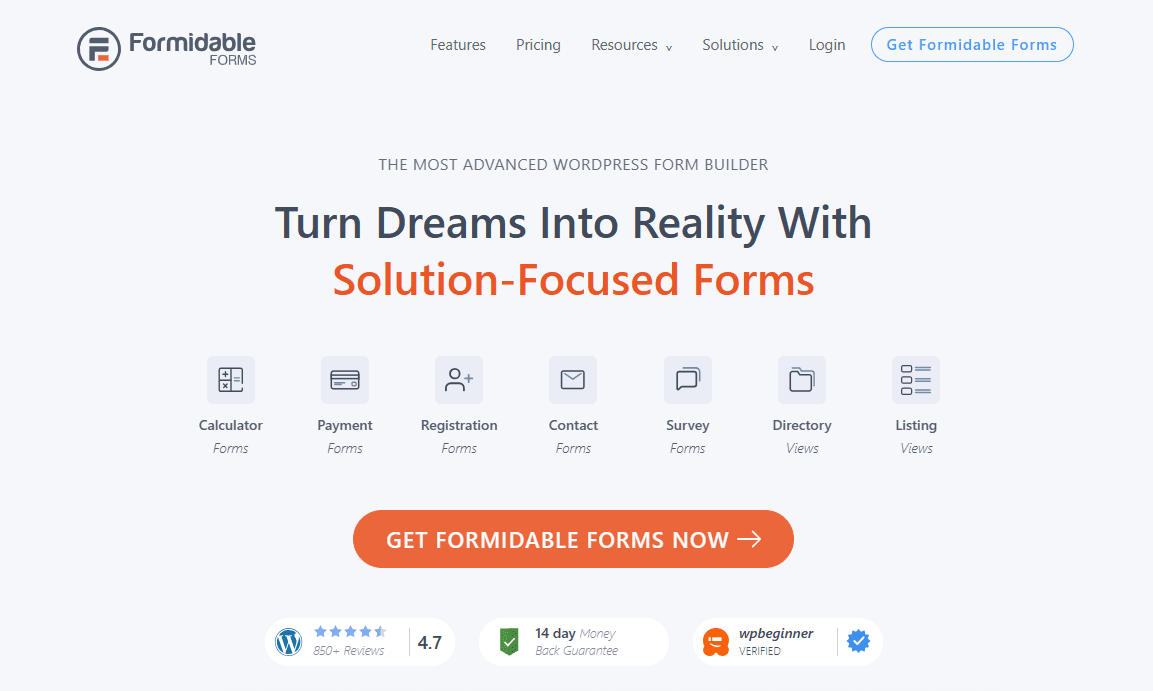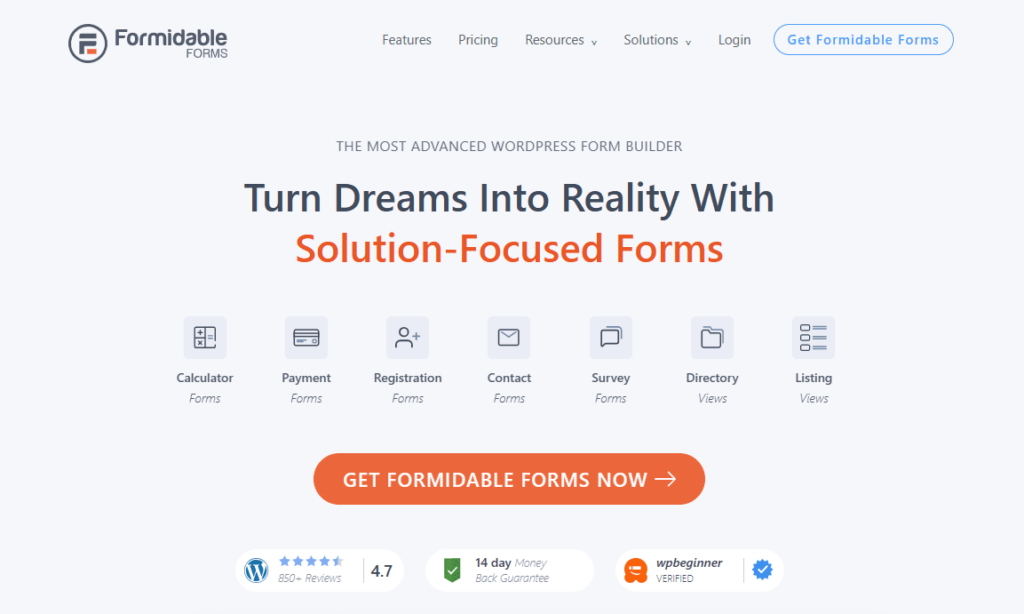 Formidable Forms is an advanced form builder plugin for WordPress. It lets you create payment forms for your non-profit with a user-friendly drag and drop builder directly from the WordPress admin dashboard.
Similar to WP Simple Pay, the plugin offers several pre-built form templates for donations to help you start accepting the funds you need within minutes.
With the Stripe payment gateway, you can use Formidable Forms to offer tons of payment method options, including credit/debit cards, Buy Now, Pay Later services, Cash App Pay, and more. Additionally, the plugin offers Authorize.Net and allows you to collect recurring payments via PayPal.
Because Formidable Forms allows you to create payment forms for physical goods in addition to donations, it's a great option if you're wanting to sell merchandise that represents your cause on your site.
Pricing: Premium plans start at $79/yr.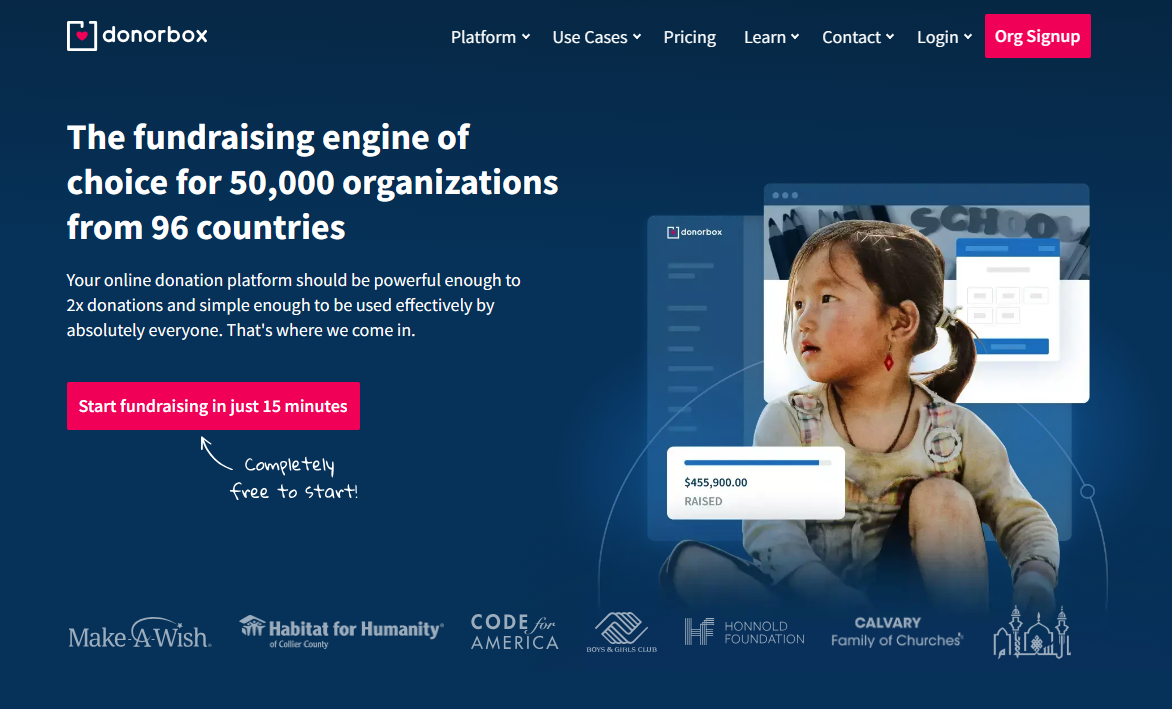 Donorbox is an online fundraising software that allows individuals and nonprofit organizations to collect online donations. You can use it as a WordPress plugin on your site or with an existing standalone site.
It offers a powerful donation payment form builder and lets you accept credit/debit cards, Apple Pay / Google Pay, ACH direct debit, SEPA bank transfers, and PayPal.
Additionally, you can use Donorbox to create memberships, fundraising pages, peer-to-peer campaigns, and more.
It also offers features such as donor management, donor walls, end-of-year tax receipts, goal meters, and email marketing service provider integrations.
Pricing: The standard Donorbox plan requires no monthly cost but includes a 1.75% platform fee for every transaction/donation in addition to 2.2% + 30¢ for Stripe processing and 1.99% + 49¢ for PayPal. The fee for bank transfers via Stripe is 0.8% (capped at $5 per donation. To get a 1.5% flat rate platform fee and access more features, the cost starts at $139/mo.
There you have it! We hope this article has helped you learn more about the different Bloomerang alternative options so you can decide which one is best for your specific goals.
If you liked this article, you might also want to check out How to Increase Donations with Targeted Popup Campaigns.
What are you waiting for? Get started with WP Simple Pay today!
To read more articles like this, follow us on Facebook and Twitter.