How to Create the Perfect Online Donation Experience [Guide]
If you're a nonprofit that relies on donations, you probably use your website to accept payments and grow your donor list. You aren't alone. In 2016, online fundraising accounted for 75% of all fundraising.
In order to maximize your online donations, it's your job to create an engaging, meaningful experience that gives your visitors all the information they need about your cause. Then you need to drive them to take action.
In this article, we'll explain how to create the perfect online donation experience on your website.
Give Your Donors Options
It's important to keep your donation process as simple as possible by reducing the number of choices your donors have to make, including how much they'll donate.
Pre-select some donation amounts for your donors to select. Set them in simple increments, like $5, $10, $20, etc. It's best to offer three or four donation levels. Any more and you risk burdening them with analysis paralysis.
Provide a field for donors to input their own custom amount in case they aren't happy with the options provided. This gives them an opportunity to donate more than you recommend. It also gives them a chance to donate something, even if they can't meet your lowest recommendation.
Furthermore, many people can't give a lot at once, but they're willing to donate a little bit regularly. Give your donors the opportunity to donate every week or month by suggesting they donate on a recurring basis. This means more revenue for you, a higher donor retention rate, and convenience for your donors.
Make Your Donate Button Obvious
This seems like a strange piece of advice, but a lot of organizations (and for-profit businesses, for that matter) fail to make their calls-to-action obvious. They bury their buttons in paragraphs of text, use simple text links instead of colorful buttons, or surround their buttons with lots of images that make it hard to determine what is clickable.
Donation buttons should be above the fold (before the user has to scroll) on each page. Use bright colors that work with your website's theme, but still stand out on the page.
Most importantly, use clear, action-oriented language on your button that drives the visitor to take the next step. Don't get fancy here. Just say "Donate."
Invisible Children takes a unique approach by attaching their donation button to the right side of every page. The button stays in place, even when you scroll, so it's impossible to miss.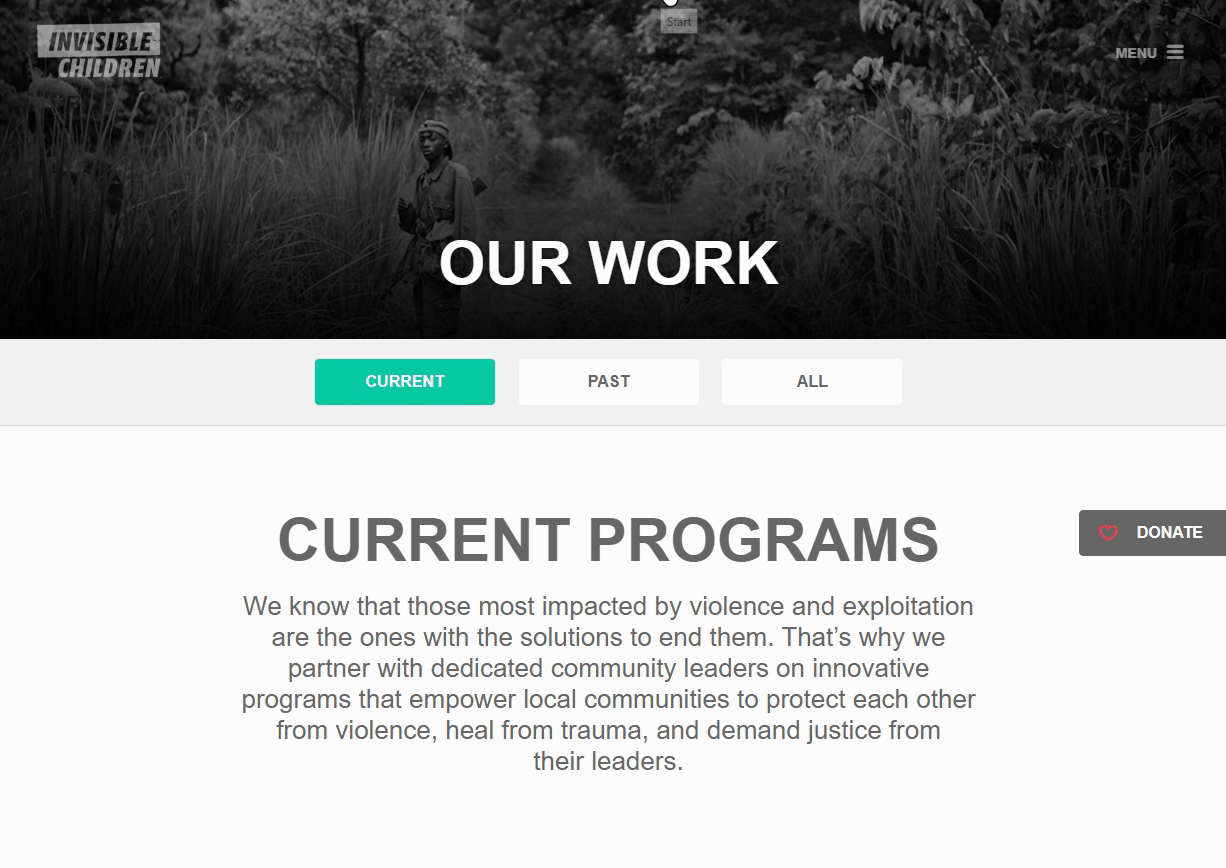 Keep Your Forms Simple
Once people decide to donate (indicated by clicking your "Donate" button), your next step is to ferry them through the donation process as painlessly as possible. Each obstacle you put in their way is an opportunity for them to leave the page and forgo donating.
Research from Formstack shows that forms have an average of 11 fields and convert at about 17%. You can improve your conversion rate by reducing the number of fields you ask your donors to complete.
Popular digital marketer Neil Patel was able to increase his conversion rate by 26% by removing just one form field. ImageScape dropped its contact form from 11 to four fields and increased its conversion rate by 120%!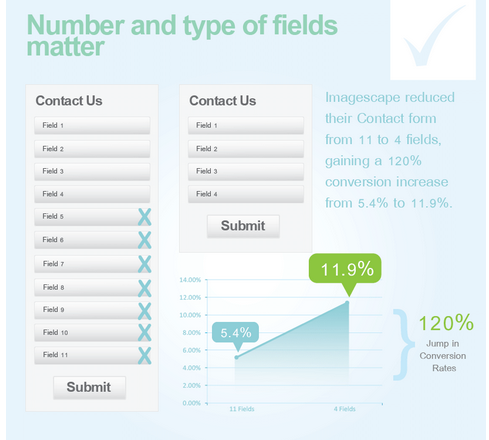 Multi-step forms, forms with lots of fields, and forms with questions your donors can't answer easily are a bad idea. They wreck your conversions. These types of forms are usually unnecessary, anyway. If you want other data points about your customers, you can always get them later through surveys or smart email marketing segmentation.
Finally, make sure to keep your entire form visible on a single page. If donors end up on a second page with additional fields, they might feel overwhelmed and abandon the process.
For more information on collecting donations online, read our guide to setting up your payment form: How to Accept Donation Payments Online
Let Donors Share Their Donation
Some people like to donate because it makes them look good to others. They want to show off their charity to their friends. That's okay, because giving is contagious. Seeing someone donate to a cause makes another person more likely to give.
When your donors arrive on the thank you page after sending their donation, give them an easy-to-find and simple-to-use button to share the page to their preferred social media site. Populate the image and copy for them so they can share with a single click.
To let your donors share a page on your WordPress site, simply install a page-sharing plugin, such as Social Warfare, Monarch, Easy Social Share Buttons, or WP Social Sharing.
Provide Other Ways to Give
Some people may be interested in your cause, but can't or won't donate their money. It's smart to get these people involved in some way by recommending other ways they can give.
For instance, your website might tell them how they can volunteer their time, recruit others, or solicit donations on your behalf. Don't let these options distract from the main donation call-to-action, but put them on an easy-to-find page.
This technique gives your donors control, choice, and flexibility, which makes them feel far more comfortable getting involved.
Disclose How You'll Use the Donations
Studies show that donors want to know how you'll spend their money, so it's important to be transparent about your internal costs and what you actually spend on the cause. Break your percentages down in an easy-to-understand format somewhere on your site.
If you aren't comfortable speaking in terms of dollars or percentages, tie each donation amount to your service. For instance, One Tree Planted tells donors they'll plant a tree for every dollar donated.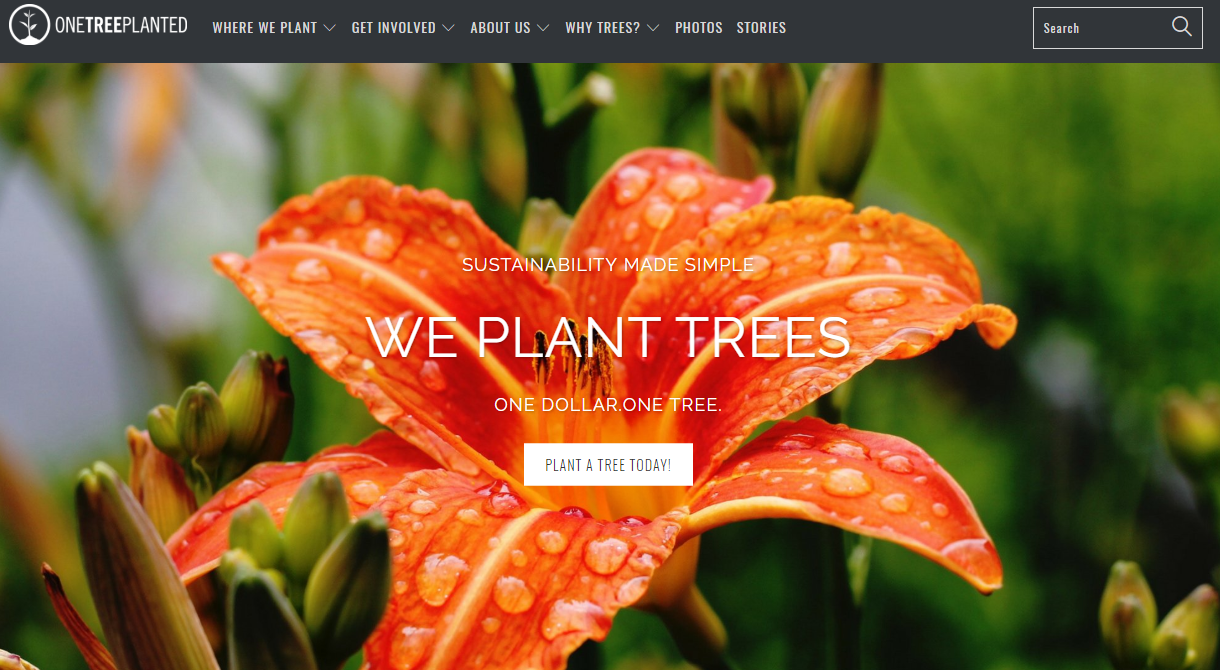 Take the Relationship to Email
Once the donor makes their payment, it's important to follow-up through email. Send a receipt for their records, but also use this message as an opportunity to establish an email-based relationship. You know they'll see it because 70.19% of people read receipt emails.
Connect your donation form to your preferred email marketing tool so email addresses flow into your list. Then create a strategy to nurture your donor list over time so they stay engaged with your organization, get further involved, and donate more in the future.
It's much easier to get donations from past donors than new ones. By continuing your relationship over email, you can reassure past donors that they didn't waste their money.
Consider the Bigger Picture
While donations are probably the main purpose of your website, don't focus all of your attention on your donation pages and forms. Not everyone who visits your site is ready to make a donation, familiar with your organization, or even aware of your cause.
Create ancillary value by building out other features, such as…
An interesting blog full of unique, inspiring stories
A discussion board for members and non-members to share and support one another
Educational resources (books, videos, guides, etc.) to educate your visitors
Resources and tools to help your visitors solve problems or overcome obstacles
Information about volunteering or meet-ups
These features may not lead to a donation directly, but they inform would-be donors about your cause, make your audience feel comfortable, and help you build a robust community that strengthens your organization's power and reach. You also give people opportunities to return to your site over and over, which might convert them into donors.
Quick Tips to Create an Engaging Donation Experience
Here are a few more straightforward tips to help you design a donation experience that drives conversions:
Make your logo and branding visible on every page so donors know they're donating to the right place. Make your site pretty, too, because 75% of donors are turned off by out-of-date websites.
Use a menu to help donors navigate your website, but remove the menu on your primary donation landing page. This prevents them from becoming distracted.
Optimize your page titles for search engines so they find your pages (especially your primary donation page).
Make sure your entire site (especially your donation pages and forms) are mobile-friendly and responsive.
Include captivating images throughout your site. As humans, we're stimulated by visuals. They help us connect with causes and organizations.
Finally, make sure to have regular conversations with your donors. Find out what type of online experience they expect. What would make them donate more? What would have made them donate sooner? Use this information to improve your website.
If you build a donation experience that matches your audience's expectations, makes them feel comfortable, and drives them to take action, your website will become your most valuable fundraising tool.