Post-Sale Emails: What You Should Send to Your Customers
Just because you made a sale doesn't mean your work is done with that customer. While it's tempting to immediately turn your attention to the next sale, it's important to think about the long-term health of your existing customer relationships.
Why bother? Because it's 10 times more expensive to acquire a new customer than keep an old one, and existing customers are 9x more likely to convert and spend 500% more than new customers.
The best way to keep those relationships healthy is with frequent communication that makes your customers' lives better. As an online business, you can do that with post-sale emails.
Post-sale emails are exactly what they sound like: emails delivered after the customer makes a purchase. These are key tools to engage with your customers, smooth out their experiences, and turn buyers into advocates.
"For a business to thrive, it must provide customers with long-term value that translates into repeat purchases and, thus, increases the customer's lifetime value to the company. And that is where carefully crafted post-purchase emails come in," says entrepreneur and marketer Danny Wong.
This begs the question: What post-sale emails should you send to nurture that relationship? In this article, we'll explain the most important post-sale emails every online business should send.
1. Thank You / Receipt Emails
The first email your customers receive after making a purchase should thank them for their purchase and provide them with all of the relevant transaction data.
If you sold to a customer in person, you would surely thank them, right? It would be weird not to say "thank you." So you should do the same when they buy online too, even if you already thanked them on your website.
Don't be afraid to be witty, funny, or interesting here. Stay true to your brand. You might say thank you with a silly GIF, a photo of yourself, or a link to a video. The owner of Popov Leather sends a unique thank you video to every customer. (Check out this example.)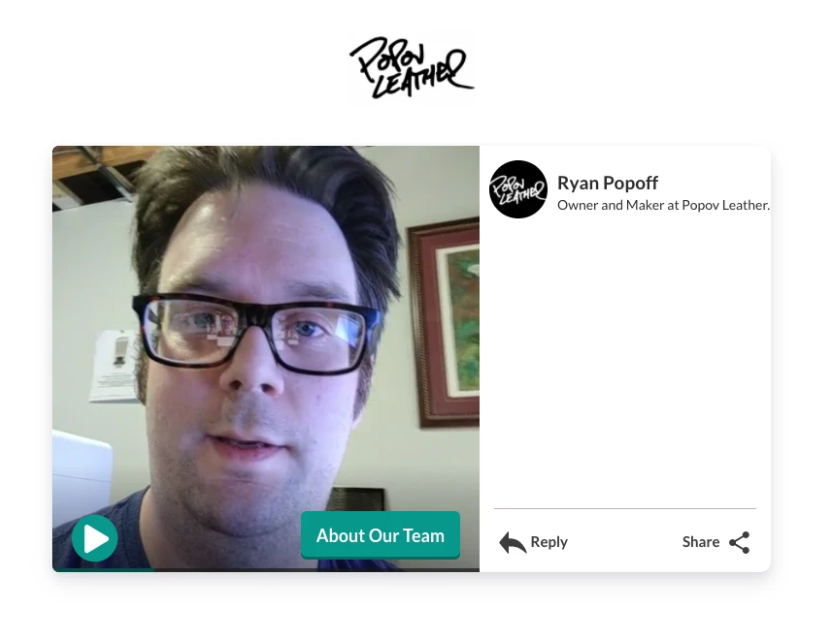 After your thank you, this email should serve as a receipt. Make sure to list the customer's transaction details so they always have a record of the sale. Here's what you should include:
The order number
The order date
The billing address
The shipping address (if different)
Their payment method
The last four digits of the card they used (if they used one)
The products or services they ordered with prices
The order total
The shipping method
The estimated shipping time
Notice how this email from Hover thanks the customer for their order and lays out all the important information.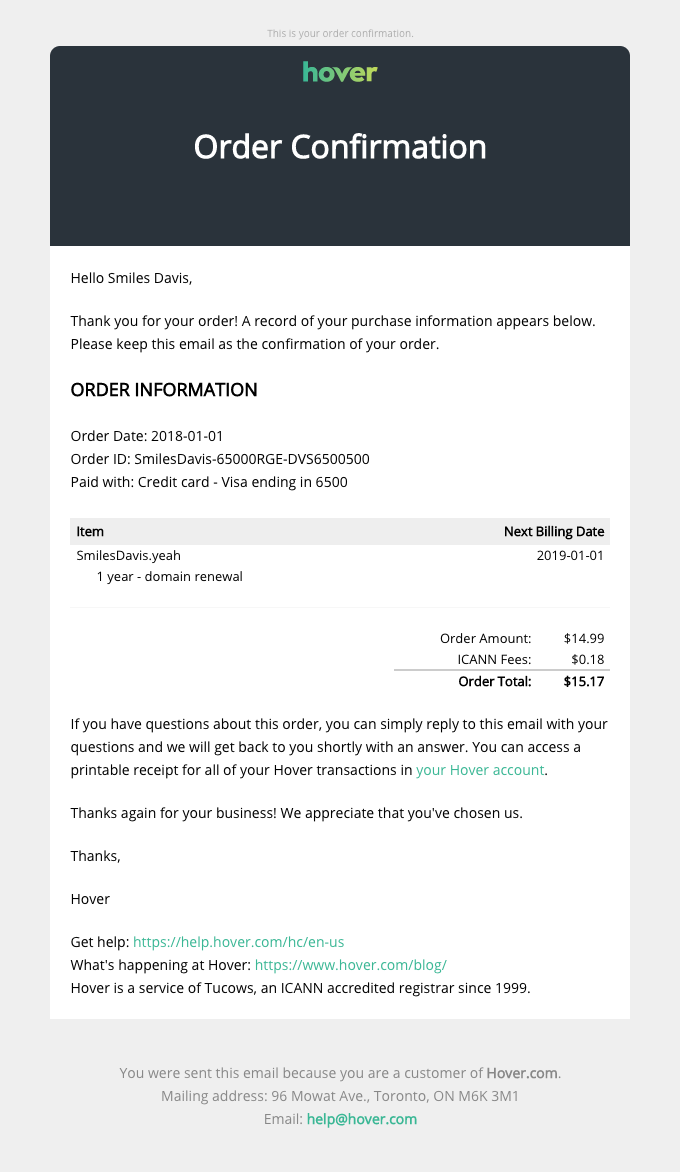 It's important that all of this information is accurate. Your customers will refer to this email if they have any questions about the transaction or if they need to dispute any part of it. This email is just as much for your protection as theirs.
2. Shipping Notification Emails
Whenever customers make a purchase online, they're still left with one anxiety-inducing question: "Will I actually receive my order?"
Whether they bought a one-off physical product, access to an online resource, or a personalized service, people are always nervous that you won't live up to your end of the bargain. After all, it's not like they can storm into your office and demand their money back.
A shipping notification is a simple email that informs your customers that you're taking steps to deliver their purchase. It also helps to add evidence of the shipment to the order as well, such as a package tracking number from a third-party source (like USPS or FedEx).
Shipping confirmation emails aren't just for physical products, though. You can use them for any type of product or service where there's a delay between order and delivery.
For instance, let's say you're a nutritionist who prepares custom dietary plans. Once your customers make a purchase, you send them to an online form where they submit some information to help you design a plan. After submitting, you send a "shipping" confirmation that assures them their product is on the way. You aren't actually shipping a package. Nevertheless, their order is "en route" to them.
3. Reminder Emails
A reminder email is a basic notification that reminds the customer to do something regarding their purchase. You might remind them to use the product, maintain it, follow your steps, or order again.
For instance, let's say you sell software licenses for a WordPress plugin. You might schedule a reminder email for anyone who doesn't activate their license within seven days. This will prompt them to use their purchase and ensure they get value from it.
If you sell a custom four-week workout program, you might send a reminder email each week to keep the customer on track. Again, if you prompt them to use the product, they're more likely to get value from it.
In many cases, it's smart to remind your customers to purchase again. If that software license is about to expire, remind them to renew. If they're nearing the end of that workout program, prompt them to contact you for another.
4. Information Emails
A percentage of your customers will always need help using your product or service to its fullest. They may think they understand how it works at the time of purchase, but then later realize they don't know what they're doing.
And in some cases, customers are sure they understand your product or purchase, even though they really don't. Perhaps they're relying on bad advice or outdated misconceptions.
In either case, it's always useful to serve your customers some helpful content to point them in the right direction. These kinds of emails are always well received, even if customers don't need help, because they provide reassurance.
If you're selling a WordPress plugin, you'll definitely want to teach customers how to install it. This will make their lives easier and reduce the burden on your support team.
If your advice is too lengthy for an email, don't be afraid to link the customer to a blog post. For example, Harry's, a men's shaving products store, sends new customers some shaving tips after they make their first purchase.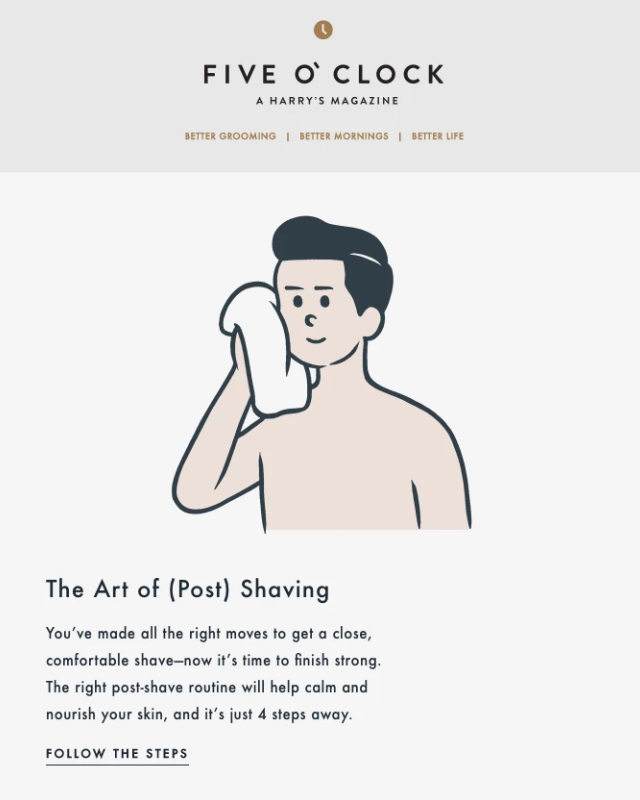 Keep your audience in mind when you prepare informational email content. Think about what they know and what they don't know. Your goal is to fill the gaps so they have a successful experience with your product or service.
5. Review Request Emails
Reviews should be a critical component of your marketing strategy. Why? Because online reviews influence the purchase decisions for 93% of consumers. 91% of 18-34 year-olds trust online reviews as much as personal recommendations.
Additionally, customer reviews can give you insight on your products and services. They can show you what needs to be changed or fixed to better serve your customers.
A review request is a simple email that asks the customer to rate and review the product or service they purchased. You could…
Link them to a page on your site where they can rate you and type their review.
Link to a third-party page to rate and review you (like Facebook, Yelp, your Google Business page, or a review platform for your specific industry).
Ask them to reply with a comment or testimonial.
Airbnb makes reviewing super simple. Customers can click a button right in the email to leave their review. Fewer steps mean more people will take action.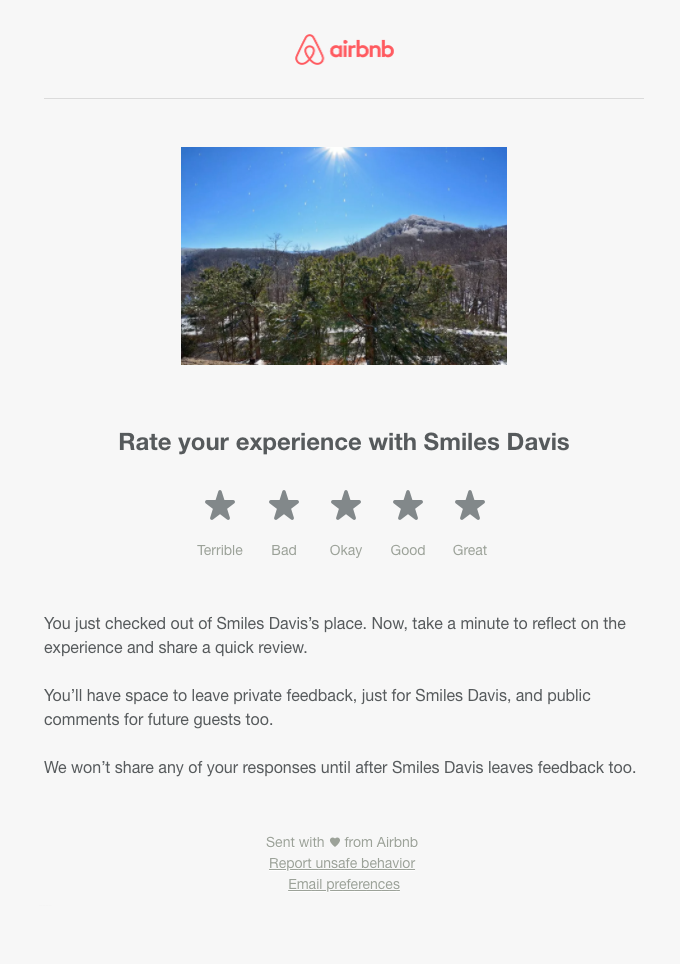 Don't ask your customers to review you right away. Give them some time to receive and get some value out of your product or service. For most purchases, this requires at least a few weeks. (If you ship physical products, make sure they get the product before you ask them to review it!)
If you think your customers are willing to invest some time, don't be afraid to ask them to complete a survey that asks 10-12 questions about their experience. Use a tool like SoGoSurvey, Survey Monkey, or Typeform.
How to Send Post-Sale Emails
As you can imagine, sending each of these emails manually would require a lot of work. So you'll want to enable some automations that manage these tasks for you. For that, you'll need an email marketing tool with the right set of automated features.
We recommend Jilt because they have the right set of pre-built automations for post-sale emails. You can create your own automations too, of course.
Once you sign up for an email marketing tool, build the post-sale emails we outlined above. They will help you improve the customer experience and keep them engaged so they buy from you again in the future.