6 Ways to Boost Sales & Retain Customers With Email Receipts
Are you wanting to boost sales and improve the customer experience with your payment confirmation email receipts?
Unfortunately, many eCommerce businesses don't leverage the power of eMail receipts. With all the day-to-day tasks business owners have on their plates, email receipts can become another chore to check off the list.
However, email receipts play a larger role in the success of your eCommerce business. In this article, we'll offer six ways to use them to boost sales and strengthen customer relationships.
Sending Payment Receipts in WordPress
There are several different ways you can send your customers payment confirmation emails and receipts, depending on what payment processor you use to collect payments on your site.
Generally, the best way is to ensure that you automate the process so you don't need to manually send email receipts for every purchase made on your site. In addition, creating personalized payment receipts for individual payment forms you're using on your site is recommended so that your customers feel more connected to your brand and products.
Customers who receive a personalized email receipt rather than a generic one are for more likely to return to your site in the future.
In many cases, purchase receipt emails are one of the first experiences a new customer has with your business. You can drive more revenue and encourage customers to buy from you again by paying a little more attention to improving them.
Let's take a look at six ways to create better payment email receipts.
1. Send Email Receipts Right Away
One of the easiest ways to establish trust with new customers is to send receipts immediately after a successful purchase. This is a basic principle of modern eCommerce that people have come to expect.
Customers may not pay close attention to every email receipt, but they will absolutely notice when they don't receive one at all.
With the prevalence of eCommerce automation today, there's no excuse to not get email receipts to your customers immediately after their purchases. It sets a trustworthy foundation that can lead to repeat sales in the future.
WP Simple Pay, the best Stripe payments plugin for WordPress, makes it super easy for you to get your email receipts delivered to your customers inboxes within seconds after they complete their transactions.
In some instances, transactional emails sent from WordPress don't get delivered to your customers because their email service provider, such as Gmail, is not configured to use WordPress's default PHP mail function.
The good news is that you can easily fix this issue directly from the WordPress admin dashboard by simply installing WP Mail SMTP, a plugin that lets you reconfigure your site to use SMTP to send emails rather than the PHP mail function.
WP Simple Pay allows you to install and activate WP Mail SMTP from the Settings tab to ensure that your emails pass authentication and get delivered.
To learn how to fix WordPress not sending transactional emails issue, see our detailed, step-by-step guide.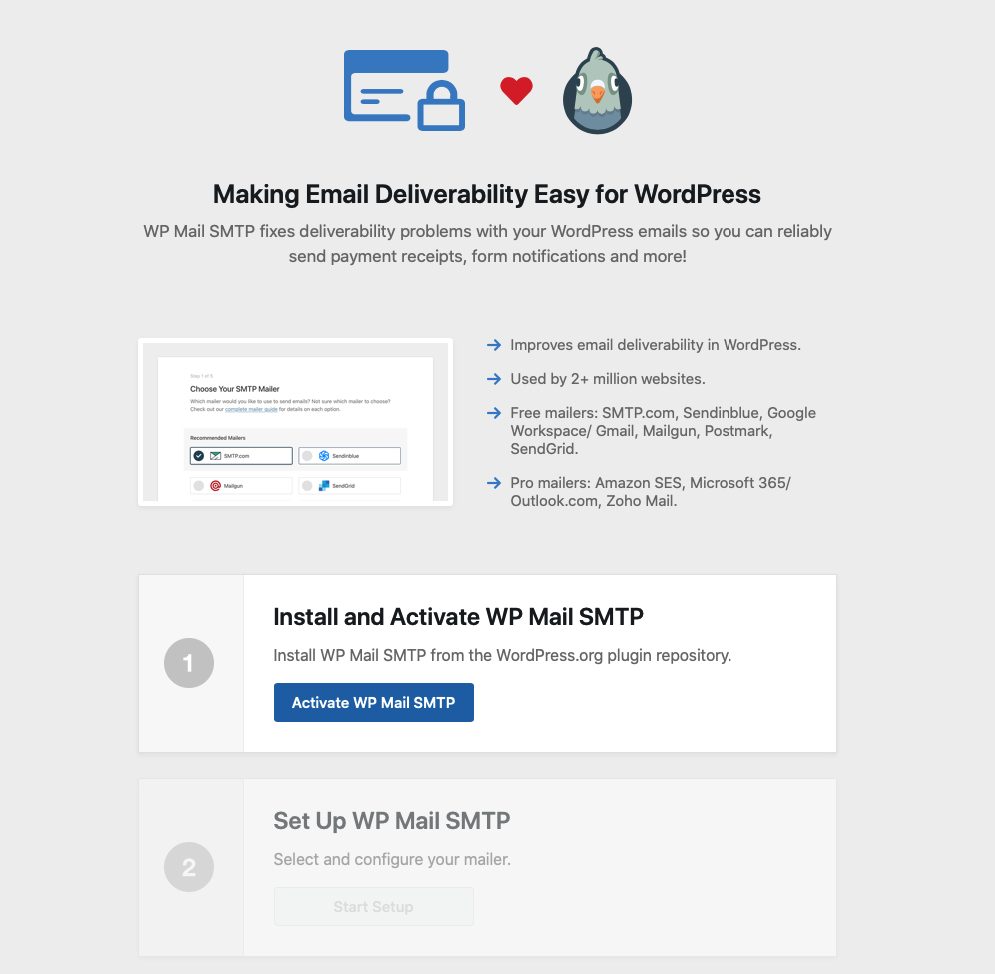 2. Express Gratitude
Manners matter – even when it comes to online shopping! A simple "thank you" goes a long way when it comes to building a stronger relationship with your customer.
While a quick and easy message such as, "Thanks for your business!" is fine, adding specific details regarding any additional steps, like how to access their paid content, where to download a digital file, or even details about their registration for an upcoming event, also shows that you care about your customers.
Take a look at how easy WP Simple Pay makes it for you to customize your email receipt subject line, and your thank-you message.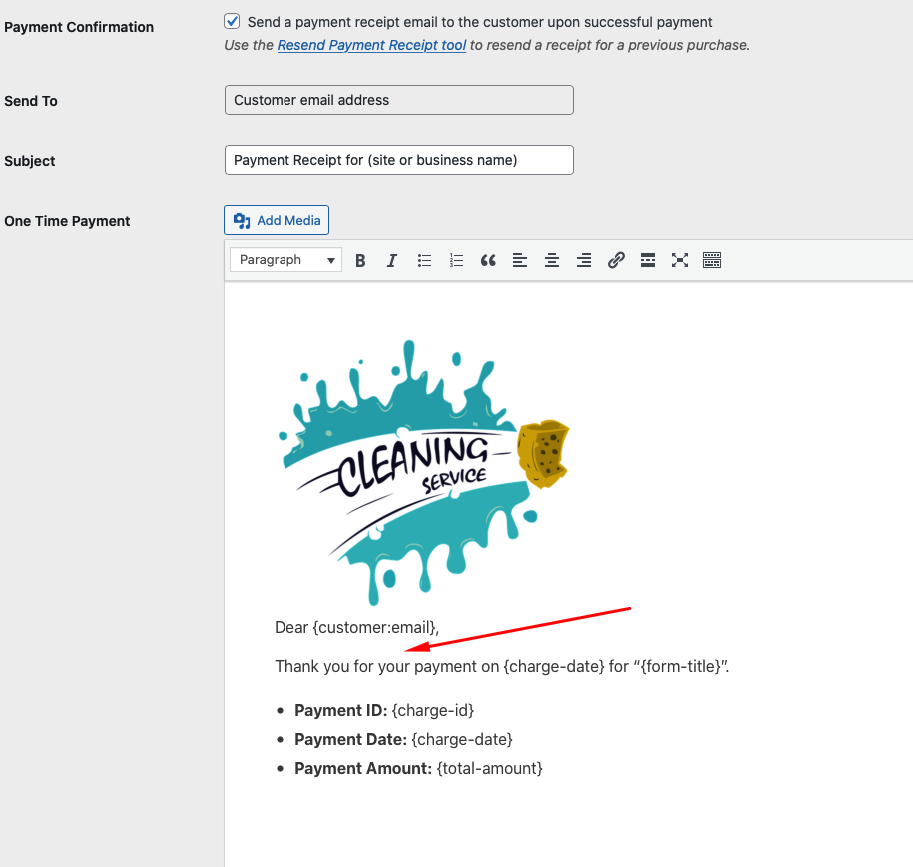 3. Offer Clear Next Steps
In the physical retail world, the steps to complete a purchase are obvious: walk up to the check-out area, hand over your money or use a card or digital pay system at the register, and then walk out with your items.
With eCommerce, since there is a delay between the time the customer pays and the time they receive their product or service, it's important to make sure they know you are working on their order.
Most online shoppers today understand that after rendering payment, they can expect to receive their products in the mail. By providing as many details as possible – including the expected shipping time, shipping method, and a tracking number if you can – you'll instill more confidence in your business among your customers.
This step is even more important if you're selling a service as opposed to a physical product that can be sent through the mail. Whether it's for a fundraiser, an eBook, or an upcoming event, it's essential to keep your customers and donors in the loop.
WP Simple Pay allows you to create custom email messages for individual payment forms in these situations.
For example, let's say you just had someone register for one of your upcoming speaking events, you can customize the email receipt for that particular payment form to include information about where the event is held, what time it is, hotel recommendations, etc.
The best part about this is you can customize your email receipt directly from the form builder for the specific payment form. This means that if you have multiple events, products, or services, you can create customized email receipts for each of them in minutes.
See our step-by-step guide to learn more about how to create per-form email confirmations.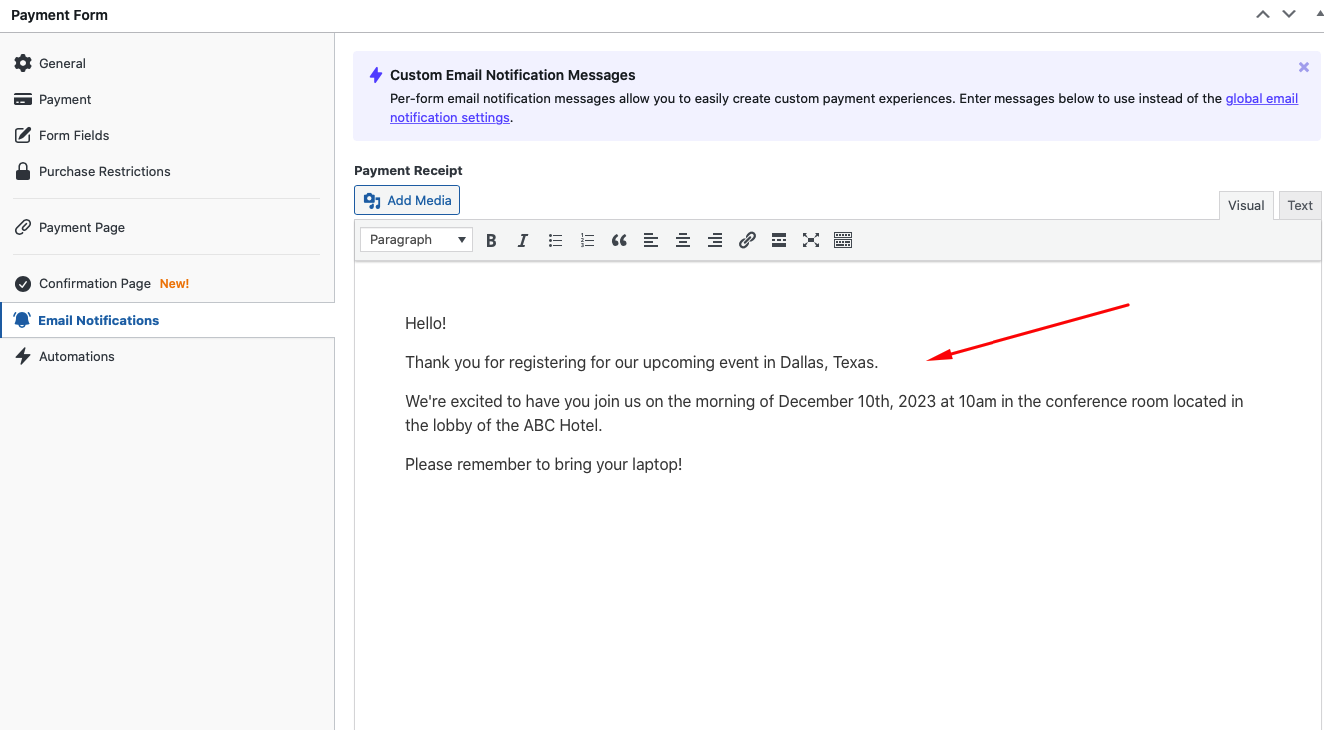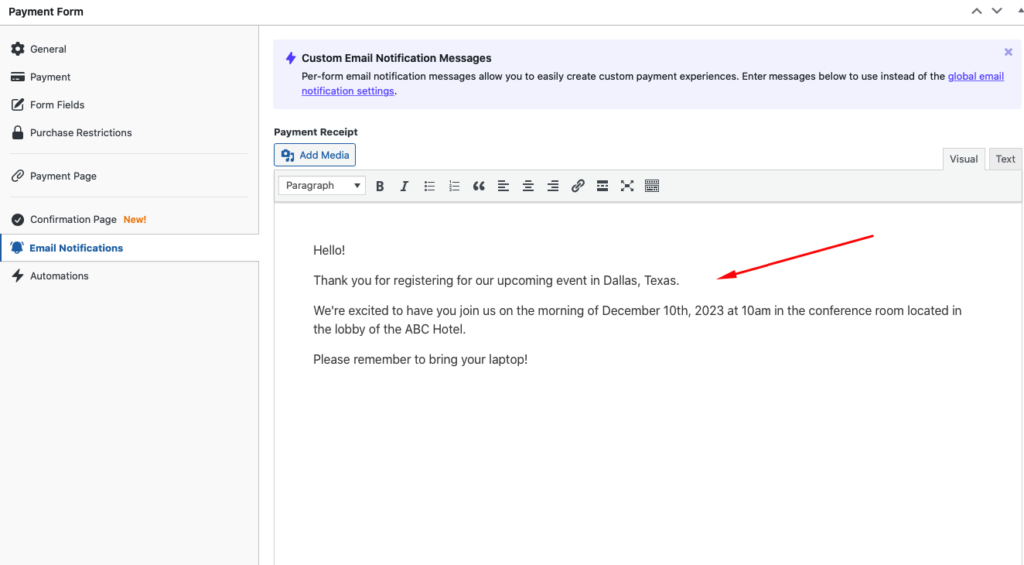 4. Link to Related Products and Services
A customer purchase provides a great deal of information on what someone is interested in. If they've purchased a product from your site, consider whether there is an accessory that they may also be interested in.
Perhaps others who have purchased that item typically buy something else soon after. You can easily include a link to that item to speed up the purchase cycle. You can include a direct link to any other product page you think will make their experience with the original item better.
If you are selling a service, think about potential upsells based on additional services, as well as purchase cycles. Many online service businesses charge a certain rate per month or quarter. Is there an opportunity for you to offer a discount if the customer agrees to extend the service immediately after buying?
Another great option specifically for service businesses is an upsell that allows them to have their questions, inquiries, or service requests prioritized over other customers.
5. Share Some Relevant Content
Think about other company-relevant content that a customer might be interested in. Do you have any recent blog posts that relate to the product or service they've just purchased? Are you getting ready to host a virtual meet-up where customers can ask questions and exchange best practices? Even if it's not directly relevant to the specific product or service they just bought, it makes sense to include a small sampling of other company updates or content pieces.
Don't go overboard, though – a sentence or two with a hyperlink, and/or a clickable visual graphic will be plenty for one email. Remember that it's a receipt, not an eNewletter so most people won't be expecting a flood of information about your business.
However, since you already have their business, as well as their eyeballs, it makes sense to drop in a few bits of information about your business.
6. Keep it concise and clean
No one is looking for a lengthy email receipt with hundreds of words dedicated to your company history, the origin of your team, etc. It's okay to link to these types of pages or include brief snippets about them, but for the most part, you want to be as concise as possible:
Confirm the order
Include the payment amount
Provide any next steps
Offer a few related products or services
Trying to do too much in your emails is an easy way to turn people off, which can actually lower your sales instead of improving them.
The "clean" part relates to the email's visual layout. The simpler the better. Email receipts aren't the place for fancy, experimental graphics or to show off that latest product video the team worked super hard on.
Instead, use basic colors supplemented by your visual style guide, and remember to keep fonts and sizing consistent with your site and product pages. Simple colors, clean lines, and plain text will not only look better and be more readable to recipients, they will reduce the likelihood of an email receipt bouncing – a situation much more serious than a bounced newsletter or marketing email.
WP Simple Pay lets you do all of this without using a single line of code!
There you have it! We hope this article has offered you new ways to improve your email receipts.
If you liked this article, you might also want to check out our guide: 10 Components & Best Practices of a Perfect Email Receipt.
What are you waiting for? Get started with WP Simple Pay today!
To read more articles like this, follow us on Facebook and Twitter.