PayPal vs. Stripe: Which Payment Processor is Right for Your Business?
"PayPal vs. Stripe. Which is better?"
That's a common question that a lot of new entrepreneurs and nonprofit leaders ask themselves when it comes time to set up a way to collect payments through their website. PayPal and Stripe are the two biggest and (arguably) most notable payment processors, so most people's decision usually comes down to these two.
If you're still undecided about which payment processor to use for your organization, this comparison of Stripe and PayPal should help you make your decision.
Transaction Fees
Most entrepreneurs are concerned with transaction fees first-and-foremost, so we'll start here.
Both Stripe and PayPal charge the same base rate for standard accounts: 2.9% plus 30 cents per transaction. Neither platform charges a monthly fee and neither service requires you to sign a contract, which is why they're great for new businesses (you only pay when you make money).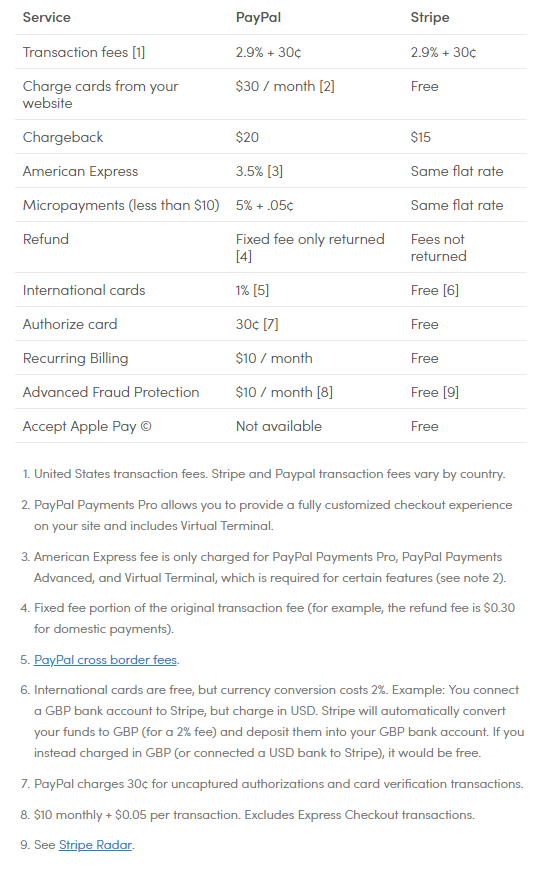 Let's dive into the particulars of each.
Stripe Pricing
Other than the per transaction fee, there are no additional fees. That means no refund costs, no monthly fees, no setup fees, etc. However, Stripe doesn't offer better pricing until you sell more than $80,000 in a month ($1 million annually). You have to contact them to negotiate a better price structure.
Stripe doesn't charge anything for international cards, which is a huge perk if you want to sell your products and services globally. There are a few extra fees if you need to use Connect, Stripe's platform-building suit.
Stripe also supports ACH and Bitcoin with fees of 0.8% per transaction up to $5 maximum.
Stripe transfers money to your account every two days, which is super convenient for early entrepreneurs that need their cash quickly to spend it on growth.
PayPal Pricing
PayPal's pricing is a little more complicated.
You can get special per transaction pricing earlier than Stripe at $3,000 monthly sales (2.5% + 30 cents), $10,000 monthly sales (2.2% plus 30 cents), and $100,000 monthly sales (undisclosed), but they also charge a bunch of additional fees.
If you need a hosted payments page, you have to upgrade to Pro for $30/month and pay a higher per transaction fee: 3.1% plus 30 cents (3.5% for American Express cards).
$10/month extra for recurring billing.
Chargebacks cost $20.
Refunds cost the standard transaction rate.
International cards: 1% over and above regular transaction rate.
If you want to authorize cards before you make a sale, they cost 30 cents each.
PayPal allows merchants to access their funds within three to four days. In some cases (mostly for international orders), it can take up to a week.
As you can see, PayPal's fees are more nuanced, which can make it hard for a business owner or nonprofit leader to be sure of what they'll pay for each transaction. Stripe is far simpler, as well as cheaper if you do less than $10,000/month in sales.
Features
Both platforms have significant advantages over using a payment processor through your bank: They both support subscription payments and digital goods, and they both have tools to accept payments and manage your account over mobile devices.
But their other features differ slightly. Here's a rundown:
PayPal Features
PayPal has three service plans:

Express Checkout: This lets you add PayPal as a supplemental checkout option in addition to another payment processor.
Payments Standard: Online payment processing and invoicing for standard rates.
Payments Pro: Get your standard PayPal features PLUS a Virtual Terminal and hosted checkout page for a monthly fee plus additional processing fee.
General features include:
Developer tools to create custom integrations, though they aren't quite user-friendly.
Support for Android Pay and Apple Pay.
Hosted payment page (with Pro plan).
PCI compliance (but not with the Pro plan).
Buy buttons in mobile apps
Subscriptions
Invoicing support
Stripe Features
Stripe is a robust platform with a lot of features (they claim to have more than 100). Here's a snapshot, but check out their full list.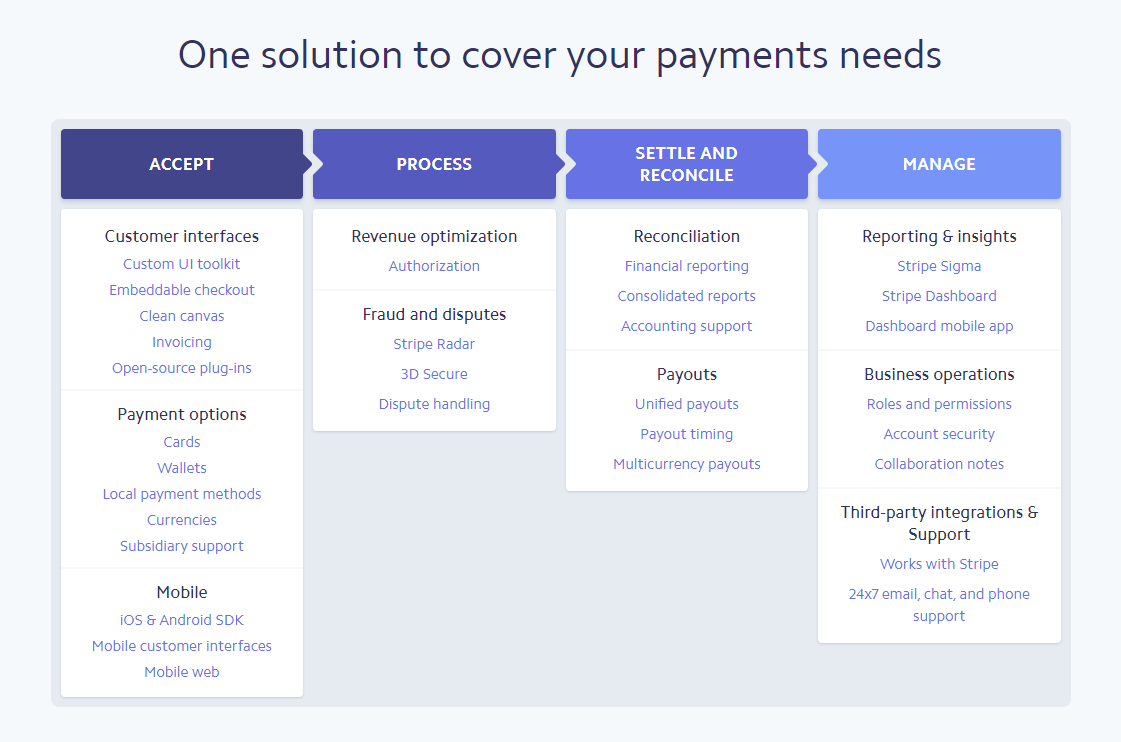 Stripe's Atlas suite of tools helps people set up businesses and Radar is a machine-learning fraud detection tool that polices every transaction that flows through their system.
Stripe's reporting tool, Sigma, is easily the most unique reporting feature that exists on any payment processor. You can even create your own SQL queries to generate custom reports, a feature PayPal lacks (although you can access their stock reports).
Here are some other valuable features:
Hosted payment page
PCI compliance (no additional fees or work on your part)
Customizable checkout
Subscriptions
Marketplace tools
Platform-building tools
Customizable reporting tools
Buy buttons in mobile apps
What People Say
Stripe is used by a number of high-profile, highly successful business, such as Reddit, Shopify, Squarespace, and Mashable. It's considered the choice for modern, trendy organizations.
Here are some things people say about Stripe:
Setup is quick and easy.
The documentation is superb.
The website is clean and easy to use.
There are no hidden or "fine print" fees.
The API is a breeze for developers to use.
Positive user experience.
Automatic PCI compliance is a must (Stripe.js sends payment data right to Stripe so sensitive data never touches your server).
Easy to port data to other services.
The biggest downside to Stripe is that it doesn't have the same household name that PayPal has. It hasn't developed that broad consumer trust yet (even though there's nothing untrustworthy about either platform).
PayPal is also known to be simple to set up (though not as straightforward as Stripe – the onboarding is weak). People say its pricing is transparent, albeit confusing.
PayPal's biggest advantage is that it's a widely accepted payment platform. Everyone has heard of PayPal and most people have a personal account to make online purchases. A lot of people go to PayPal when they start a business or charity for the same reason you might go to your retail bank for a mortgage: You already trust the provider.
PayPal's reporting is decent, but like we mentioned, you can't do much with it other than what PayPal offers. There's no custom reporting functionality. Plus you can't port that data to another service if you decide to change payment processors in the future.
PayPal has a serious complaint worth mentioning. They have a tendency to freeze accounts and hold money for a long period of time as they conduct an investigation. Sadly, there are countless stories of entrepreneurs who have had their operational cash held until PayPal got around to resolving the issue – sometimes for months.
Combined with their limited seller protection,lackluster phone/email support, and difficult and clunky API for development, PayPal has created a reputation as a non-user friendly platform.
Stripe vs. PayPal: Which is Better?
We can't tell you which payment processor is right for you. That depends on your unique needs and business model. When you consider both options, it's important to think about current needs as well as your future needs.
That said, we strongly feel that Stripe is the better payment processor for most online businesses, but it's especially right for new businesses and organizations that are fighting to get through the "newborn" phase.
Why do we feel this way?
Stripe is easier to use and setup, even for non-developers.
Stripe's pricing is easier to understand and plan for (no surprising fees).
Stripe is easier to integrate with other products, which is essential if you plan to grow your business and use more tools.
We like Stripe so much that we made it the only payment processor option for WP Simple Pay. With WP Simple Pay, you can easily collect payments through your WordPress website. Setup is quick and simple. It's perfect for most online businesses who don't want or need a full ecommerce shopping cart.