PayPal vs. Stripe: Which Payment Processor is Right for You?
Are you looking for the best payment processor and wondering which is better: PayPal vs. Stripe?
That's a common question that a lot of new entrepreneurs, small business owners, and nonprofit leaders ask themselves when it comes time to set up a way to collect payments on their site.
PayPal and Stripe are the two largest and most notable payment processors around, so most people's decision usually comes down to these two.
In this article, we'll share some of the advantages and disadvantages of both, Stripe and PayPal, to help you make a comparison between the two and choose the right one for your organization.
Table of Contents
Transaction Fees
Most business owners are concerned with transaction fees first-and-foremost, so we'll start here.
Stripe is less expensive than PayPal when it comes to online card transaction fees. PayPal charges 3.49% + $0.49 per transaction, while Stripe charges 2.9% + $0.30.
Neither platform charges a monthly fee or requires you to sign a contract, which is why they're both well-suited for new businesses because you only pay when you make money.
Now, let's dive into the specifics of each.
Stripe Pricing
Besides the per transaction fee, there are no additional fees. Unlike with several other payment processors, Stripe doesn't require refund costs, monthly fees, setup fees, etc.
Stripe's pricing is the same for all cards and digital wallets, including international cards. This is a huge perk if you want to sell your products and services globally.
Stripe also supports several additional international payment methods, including iDEAL, giropay, Przelewy24, and Alipay. The transaction fees for these range between 1.4% + 0.30 and 2.2% + 0.30.
Stripe also supports ACH Direct Debit with fees of 0.8% per transaction capped at $5. There's also a $1.50 fee for instant account verification. Accepting ACH Direct Debit is highly recommended if your business offers high-dollar products or services. This is because the fees are considerably lower than cards and digital wallets.
Stripe transfers money to your account automatically every day, which is super convenient for new businesses that need their cash quickly to spend it on growth. You can easily change your pay out schedule in the Stripe dashboard.
The payment processor also offers Instant Payouts that allow you to get access to your funds within minutes. If you're already using WP Simple Pay, the best Stripe payments plugin for WordPress, you can enable Instant Payouts from the WordPress admin dashboard.
For businesses that really want to eliminate their online transaction fees, WP Simple Pay makes it easy. You can use the plugin to pass on the additional Stripe processing fee to your customers or donors to ensure that you collect the full net amount.
Remove the additional 3% fee!
Most Stripe plugins charge an additional 3% fee for EVERY transaction
…not WP Simple Pay Pro!
PayPal Pricing
PayPal's pricing is a little more complicated.
The per transaction fee for traditional debit cards and credit cards is 2.99% + 0.49. When it comes to accepting international payments, the fixed fees vary depending on the currency.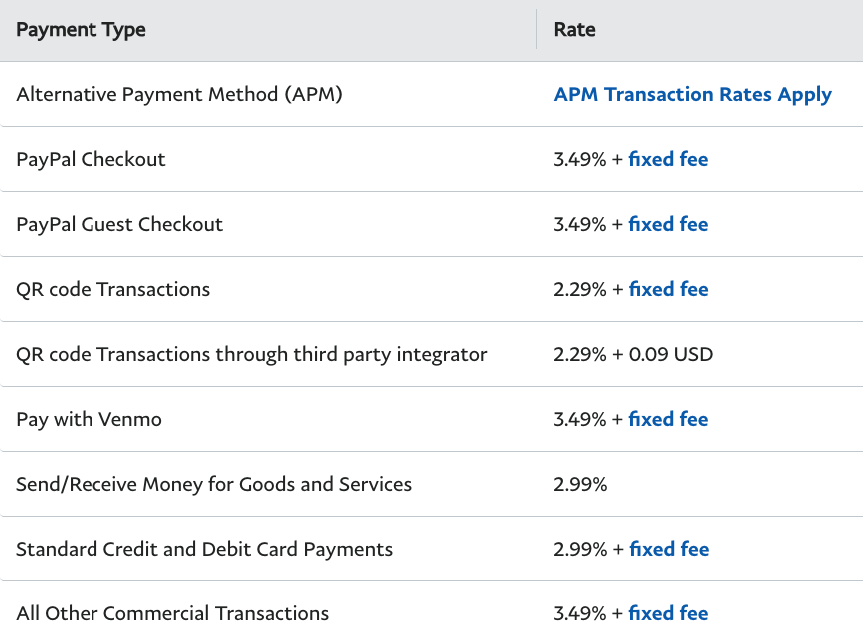 Larger businesses can get special per transaction pricing earlier than Stripe at $3,000 monthly sales (2.5% + 30 cents), $10,000 monthly sales (2.2% plus 30 cents), and $100,000 monthly sales (undisclosed).
With all of that being said, PayPal also charges a bunch of additional fees:
If you need a hosted checkout page, you'll have to upgrade to PayPal Payments Pro for a $30 monthly fee. The per transaction flat rate is 2.89% + $0.49.
Chargebacks cost $20.
Refunds cost the standard transaction rate.
International card payments include a 1.50% transaction fee, plus the standard transaction rates.
PayPal allows merchants to access their funds instantly once they've established a good selling history.
As you can see, PayPal's fees are more nuanced, which can make it hard for a business owner or nonprofit leader to be sure of what they'll pay for each transaction.
Stripe is far simpler, as well as cheaper if you do less than $10,000/month in sales.
Features
Both platforms have significant advantages over using a payment processor through your bank. They offer support for subscription payments and digital goods, and they both have tools to accept payments and manage your account on mobile devices.
Each of the payment processor's features differ slightly. Here's a rundown:
PayPal Features
PayPal has three different core checkout options for ecommerce businesses: PayPal Express Checkout, PayPal Standard Checkout, and PayPal Payments Pro.
PayPal Express Checkout: This offers customers a faster checkout experience that doesn't redirect them away from your site.
PayPal Standard Checkout : Allows customers to complete their payments on a PayPal-hosted checkout page using their PayPal balance or a debit/credit card.
PayPal Payments Pro: Get all of the Standard PayPal features, plus a virtual terminal that allows you to take phone payments, and a hosted checkout page for a monthly fee. A 2.89% + $0.49 flat rate fee on domestic transactions applies.
Standard features for PayPal include:
Developer tools to create custom integrations, although they aren't quite user-friendly
Hosted payment page (with Pro plan)
PCI compliance (but not with the Pro plan)
Support for Apple Pay and additional payment methods, like Venmo, but requires an upgrade to PayPal Advanced Checkout, and some development skills
Buy buttons in mobile apps
Subscriptions
Invoicing support
Stripe Features
Stripe is a simple, yet powerful platform with a lot of unique features that make it the best payment processor for most ecommerce businesses.
Unlike with PayPal, choosing the right Stripe plan doesn't require a lot of research. With the standard plan, you get over 100 features right out of the box. You can also contact Stripe if you want to explore custom payment solution packages for your business.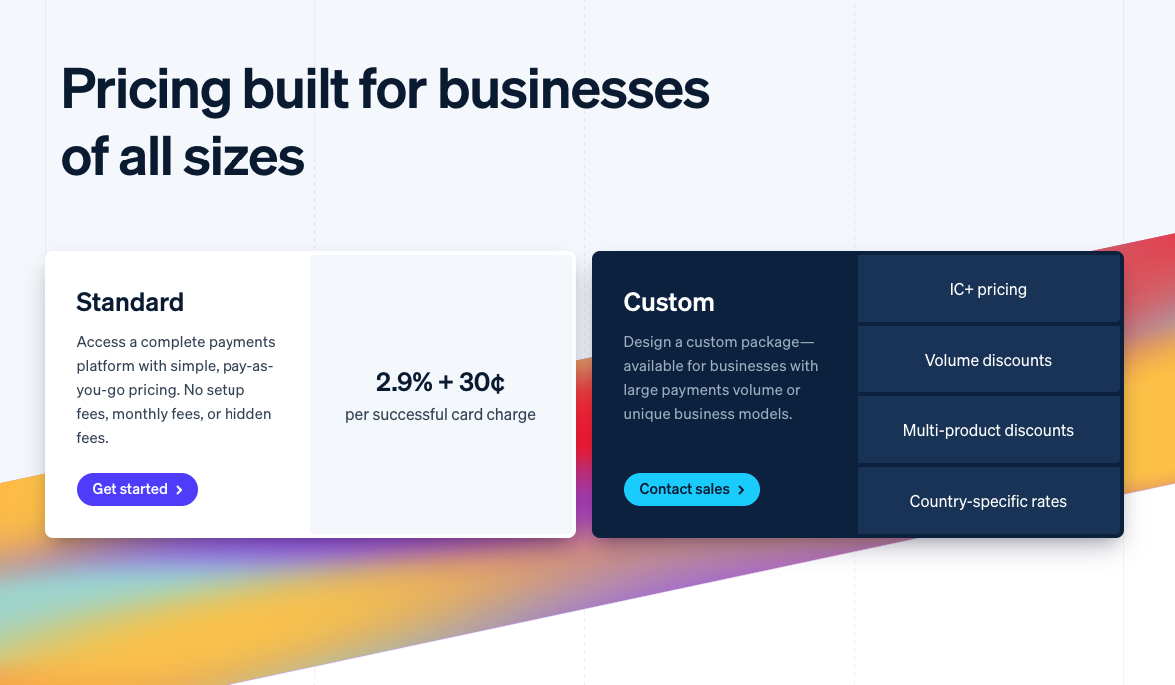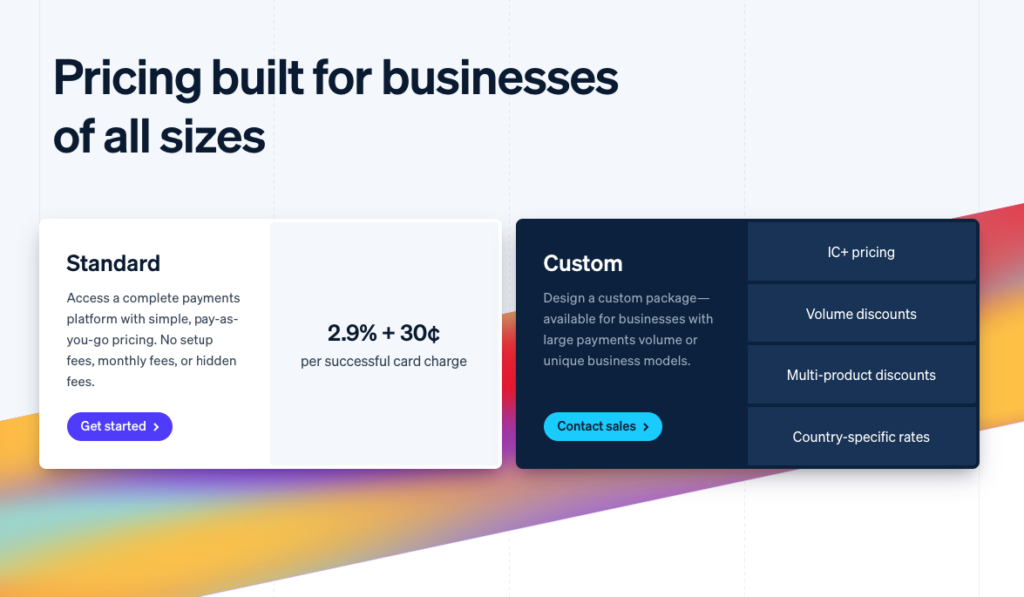 Stripe's Atlas suite of tools helps people set up businesses and Radar is a machine-learning fraud detection tool that polices every transaction that flows through their system.
Stripe's reporting tools are easily the most unique reporting feature that exists on any payment processor. You can customize your reports directly from the dashboard to learn more about your business and make actionable changes.
To learn more, see our detailed guide on how to customize and manage Stripe payment reports.
Stripe also makes it easy to control your fraud protection rules and get an overview of blocked payments and disputes.
Here are some other valuable Stripe features:
Hosted payment page via Stripe Checkout
PCI compliance with no additional fees or work on your part
Customizable checkout
Subscriptions
Marketplace tools
Automatic fraud prevention
Platform-building tools
Customizable reporting tools
Buy buttons in mobile apps
Integrates with WP Simple Pay so you can easily accept payments on your WordPress site without having to set up a shopping cart or a complicated ecommerce solution
Stripe vs. PayPal: Which is Best?
Stripe is used by a number of high-profile, highly successful businesses, such as Amazon, Shopify, and Salesforce. It's considered the right choice for modern and trendy organizations.
Here are some things people say about Stripe:
"Setup is quick and easy."
"The documentation is superb."
"The site is clean and easy to use."
"There are no hidden or "fine print" fees."
"The API is a breeze for developers to use."
"Positive user experience."
"The automatic PCI compliance is a must."
"Easy to import data to other services."
PayPal is known for making it simple to sign up for an account, although not as straightforward as Stripe. Its pricing is transparent, yet confusing, causing it to be difficult to know exactly what your business needs to get started.
While PayPal has been heavily focused on providing a payment platform for individuals to send and receive money from friends and family, Stripe is better suited to process transactions for growing online businesses.
PayPal's reporting is decent, but you can't do much with it other than what PayPal offers. There's no custom reporting functionality like there is with Stripe. Plus, you can't port that data to another service if you decide to change payment processors in the future.
The platform also has one serious complaint worth mentioning. It has a tendency to freeze accounts and hold money for a long period of time as they conduct an investigation. Sadly, there are countless stories of entrepreneurs who have had their operational cash held until PayPal got around to resolving the issue – sometimes for months.
Combined with their limited seller protection, lackluster phone/email support, and difficult API for development, PayPal has created a reputation as a non-user friendly platform.
If your business needs an all-in-one payment platform that requires zero development skills, allows you to accept multiple payment methods in several currencies with the lowest transaction fees, Stripe is the right choice for your business.
Why do we feel this way?
Stripe is easier to use and setup, even for non-developers.
Stripe's pricing is easier to understand and plan for.
Stripe is easier to integrate with other products, which is essential if you plan to grow your business and use more tools.
We believe in Stripe so much so that we made it the only payment processor option for WP Simple Pay, the #1 Stripe payments plugin for WordPress.
WP Simple Pay lets you easily connect your Stripe account to your WordPress site during the setup process so that you can create the perfect payment forms in minutes and begin collecting multiple payment methods from across the globe in minutes.
If you liked this article, you might also want to check out our guide on 8 reasons why Stripe is the best payment processor.
What are you waiting for? Get started with WP Simple Pay today!
To read more articles like this, follow us on Facebook and Twitter.