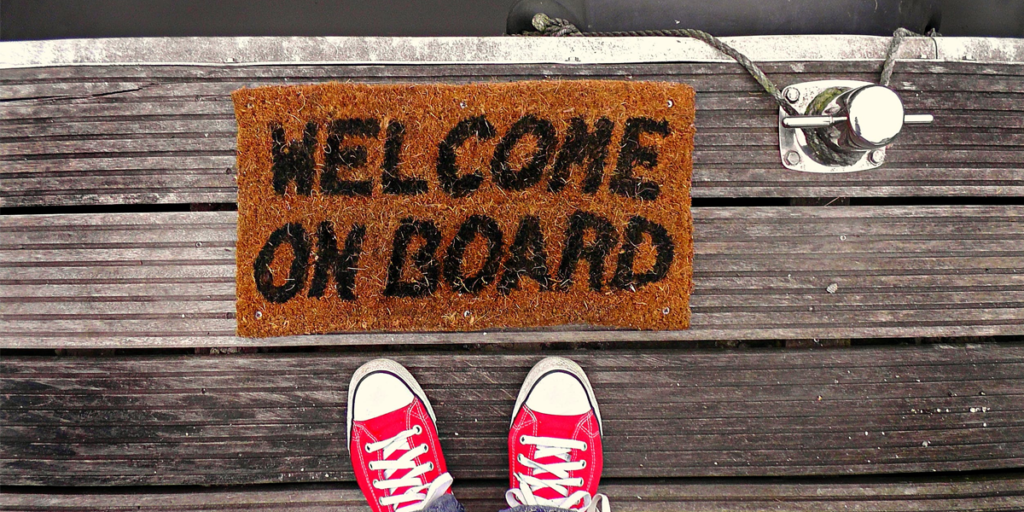 Engage Customers with an Email Welcome Series
When your customers join your email list, how long is it until they receive your first email? If you answered "Whenever I send my next blast," you're making a big mistake that's costing you engagement and sales.
A key way to engage your customers and build deeper connections is to serve a welcome series as soon as they join your email list. In this article, we're going to explain the ins and outs of the welcome series, including what to include in each.
What Is a Welcome Series?
Here's an important stat: The average open rate of a welcome email is 58%. That's absolutely massive. 74.4% of consumers expect a welcome email when they subscribe.
A welcome series is a sequence of multiple emails you send to new customers. There are usually five to seven emails in the sequence with a delay of one or two days between each email. The purpose is to introduce new customers to your brand, provide them with critical information, and encourage them to take further steps while they are motivated (like make a purchase).
Here's a simple example from Basic Piece. These emails arrive a couple days apart after subscribing.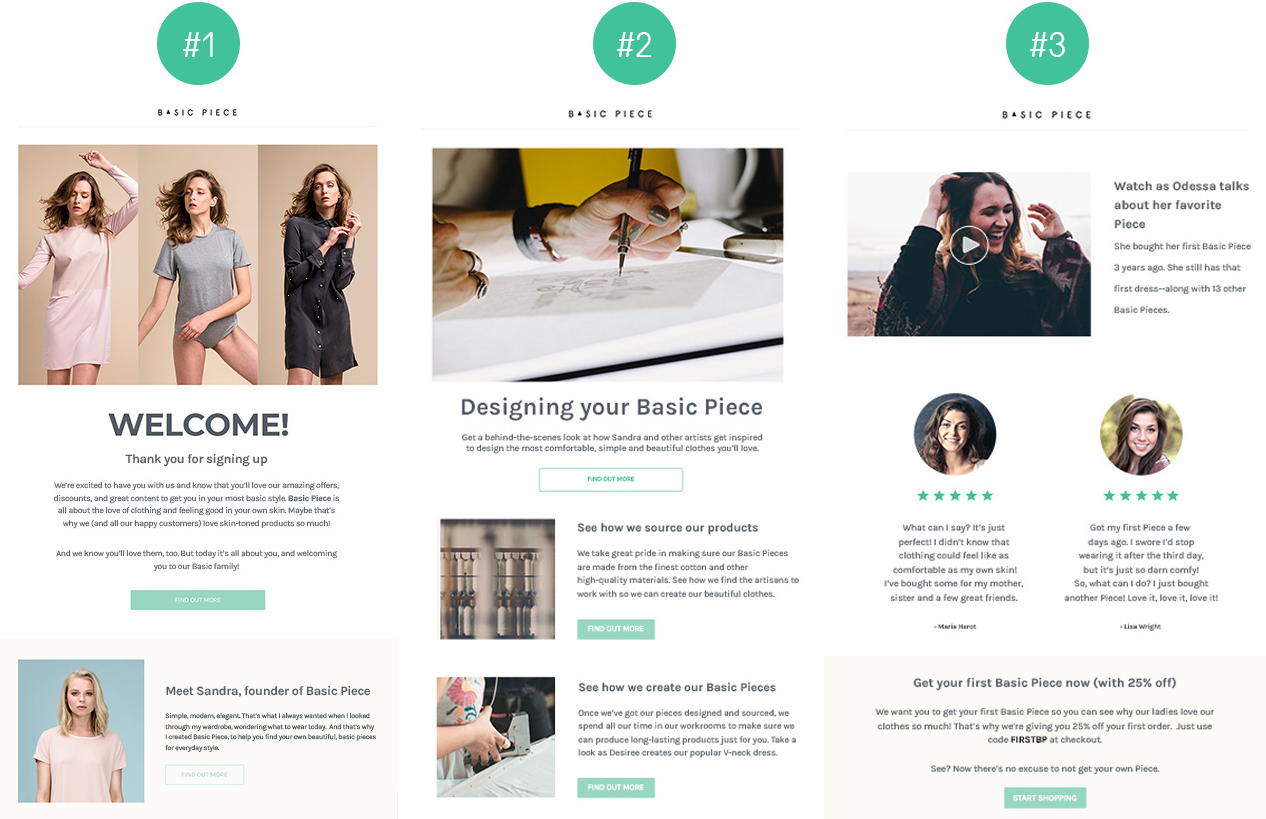 In email marketing software, the workflow looks something like this: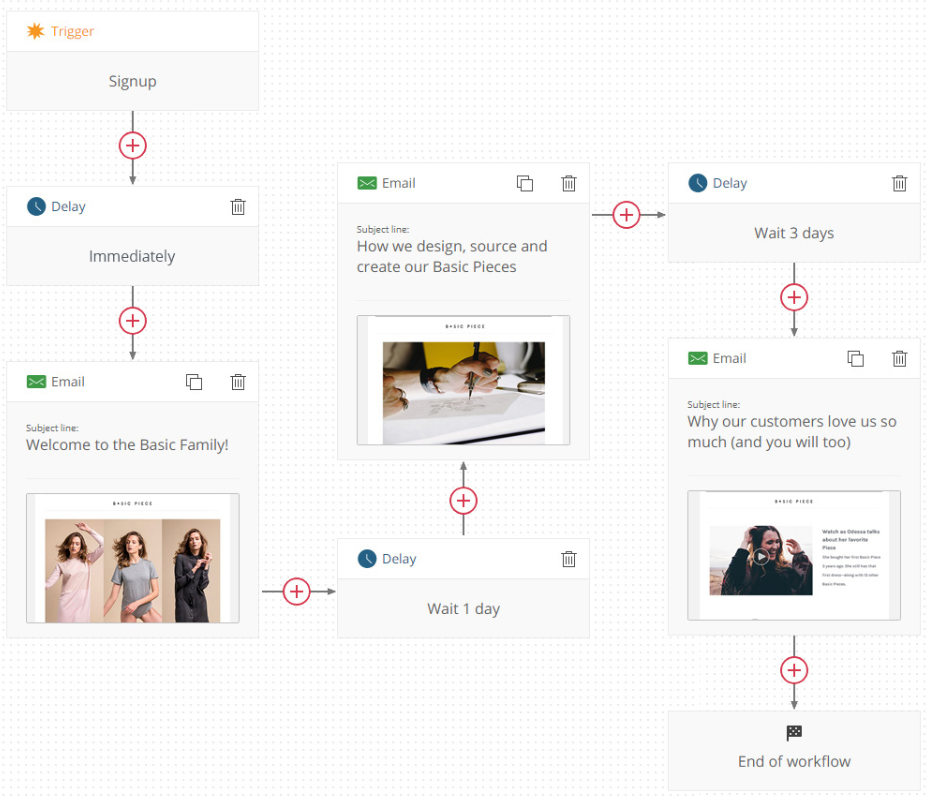 Think of it like this: Who is more likely to make a purchase? Someone who has been on your list for a while or someone who just joined?
Interestingly, it's not the long-time subscriber. That person has already decided not to buy. Leads get colder by the day. They might be willing to buy in the future, but you're more likely to sell to the new subscriber who's currently excited about you.
You might be wondering, "Why don't I just pile everything into a single email? Isn't that simpler for everyone than creating a whole chain?"
One email is a good start, but you don't want to overwhelm your new subscribers. They may decide you aren't worth the hassle and unsubscribe immediately. It's better to deliver little nuggets of information over time so you don't wear out your welcome.
Plus, a single email feels like a transaction. Multiple emails feel like a relationship.
Welcome Series Interval
For most welcome series sequences, it's fine to send one email each day or every other day.
Don't worry about over-sending. The beginning of your relationship with a new subscriber is actually the best time to send email content more often than you normally would. After all, they just opted into your list, so they're ready to hear what you have to say.
Don't allow too much time between emails. If you wait too long, the recipient won't see them as a connected series. You want them to think "Oh, here's the next email in that chain," but not "Ugh, another one already."
There are exceptions, of course. It's important to consider your customers' needs, preferences, and problems.
For instance, if you kick off a welcome series by giving your recipients a free trial of your product, it's smart to give them some time to actually use the product. One day may not be enough time for them to poke around, especially if it's a work product and they sign up on a Sunday.
In some cases, it makes sense to send more than once per day. Home warranty companies are notorious for sending multiple emails the day a subscriber signs up. This is because the subscriber is often highly motivated to buy a warranty and they're simultaneously comparing multiple offers.
Welcome Series Content
Now that you understand why you should create a welcome series, you're probably wondering what to put in those emails. You have a lot of leeway here, but your goal is to build a tighter relationship with the recipient by adding value to their lives and enticing them to take action.
Ultimately, what you send depends on what you want your subscribers to know and do. Let's go over some common options.
1. Deliver Something You Promised
Did you promise the subscriber a lead magnet, coupon, or any other offer in exchange for their email address? Don't pull tricks like, "We'll send you that eBook soon, but first…" If you promised it, deliver it immediately.
2. Acknowledge Their Problems
In the beginning of your relationship with your subscribers, it's important to make them understand that you know their problems. They have to trust you as a problem solver, but they can't do that until they know you're on their page.
3. Offer Tips and Best Practices
If your subscriber has already purchased or gained access to your product or service, use one or several of your welcome series emails to help them use it. This will increase the value they get from your products and services.
Notice how this AirBnB welcome email tells the user how to get started with their account. It's broken down nicely into three easy steps.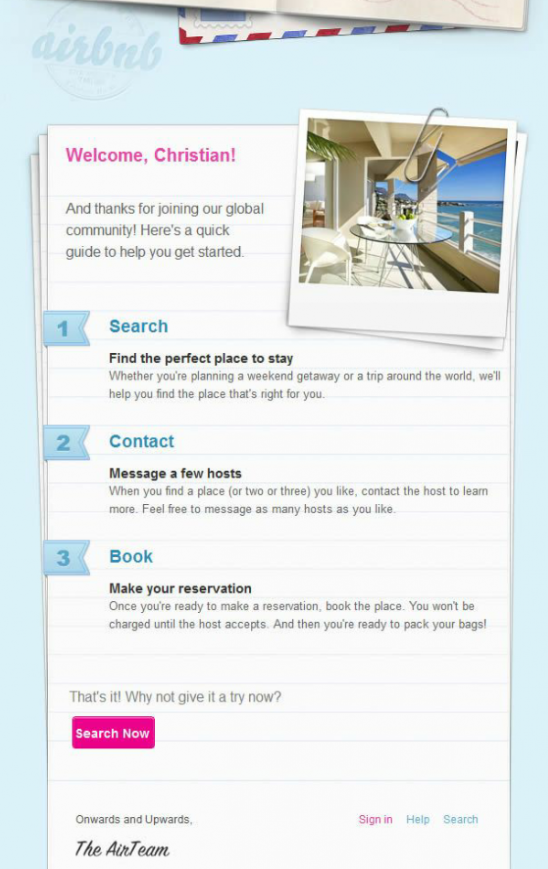 4. Introduce Products and Services
Obviously, you want your emails to sell. If your subscribers haven't made a purchase yet, the end of your welcome series is a good place to encourage them to buy. If they have already made a purchase, use your welcome series to convince them to make additional purchases.
5. Segment Your List
Segmenting your list is an important way to serve your email subscribers the content they love the most and avoid sending them irrelevant messages. But first, you have to learn about your subscribers so you know how to segment them.
This step is easier than it sounds. In the body of your email, simply ask your subscribers a few questions. Make them all links attached to tags in your email automation software. Ask them to click the links that apply to them.
For instance, you might say "Click the links that represent your interests" with choices for cars, trucks, and boats. When they click a link, your email software will tag them appropriately so you can send to each segment individually in the future.
6. Create More Touchpoints
Do you have a Facebook page? A YouTube channel? Maybe an Instagram, Twitter, or Tik Tok account? If so, you probably want your subscribers on those platforms as well so you can connect with them more often. Mention those platforms in your welcome series.
7. Offer a Discount
If the subscriber resists buying, you may need to sweeten the deal with a discount. Sometimes that's all the customer needs to push them over the edge. Make sure to add an expiration date to your coupon to encourage them to act quickly.
Michaels craft store knows its customers are bargain shoppers, so they aren't afraid to lead their welcome series with a discount as a thank you for subscribing.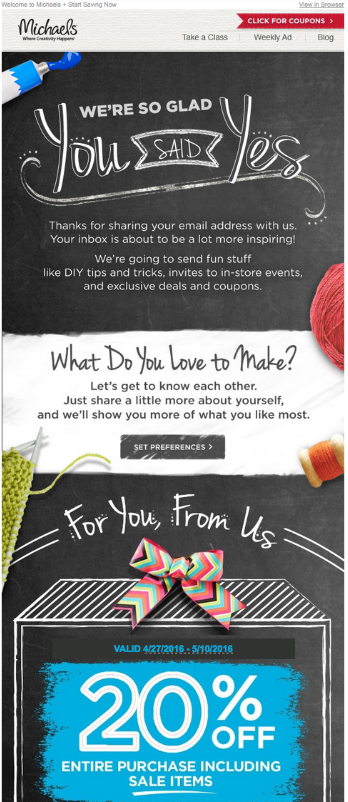 8. Ask for a Rating, Review, or Testimonial
If ratings, reviews, and testimonials are important for your business, use an email in your welcome series to ask for help. Send them to the right page to submit their review or have them simply reply to your email.
Welcome Series and Broadcasts
Like a lot of brands, you probably send broadcast emails. These are email blasts to everyone on your list (or everyone in a segment). You write them as needed. They aren't part of a sequence.
But if you send a broadcast to a subscriber who's also receiving the welcome series at the same time, they could end up with a lot of emails in their inbox. This problem is compounded if they manage to get on other drip sequences at the same time.
Too many emails in a short period of time mean your recipients will unsubscribe, even if those emails are otherwise valuable. No one wants you to clog their inbox.
So it's important to configure your email marketing automation software carefully. Make sure anyone who is currently receiving a welcome series (or any sequence) is excluded from your broadcast emails.
Measure Your Results
Unlike an email blast, your welcome series drips out over time. This means you can make optimizations to improve its performance. Use your email marketing automation software to measure each email in your welcome series. Make continual tweaks to your subject lines and body content to get those click-through rates and open rates as high as possible.
Email welcome sequences are a key way to engage new customers and build deeper relationships. Now that you understand how they work, build yours as soon as you can. Optimize over time and it won't be long before you see higher engagement and – hopefully – higher sales.