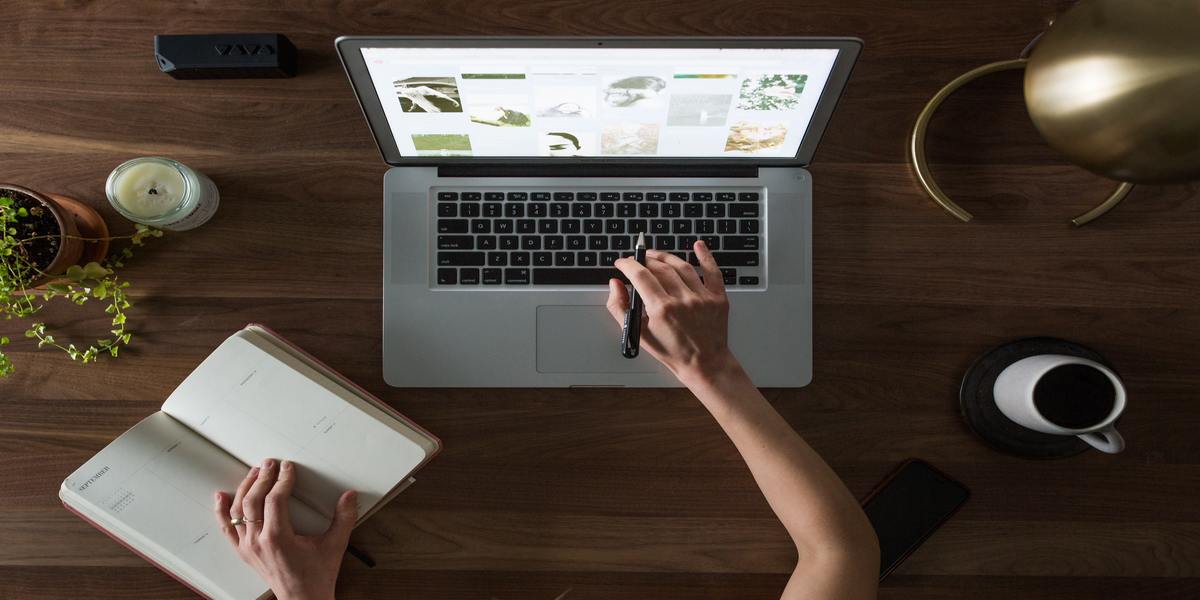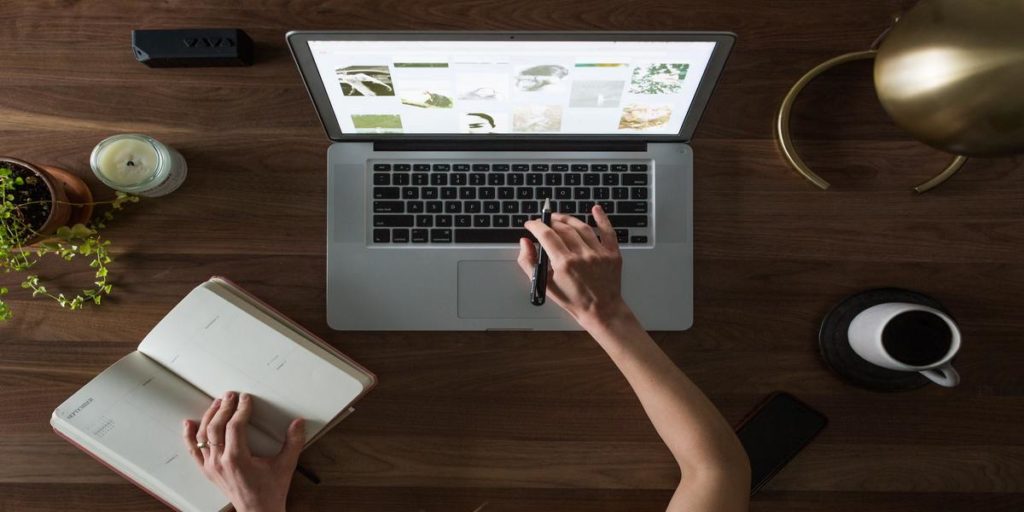 What to Look for in a Nonprofit WordPress Theme
As a nonprofit, your website is the face of your organization. It's where people will explore your cause, where the media will gather information, and – most importantly – where donors will send you money. So it's important to have an easy-to-navigate and aesthetically pleasing website theme.
A theme is a collection of files that determines how your site looks. It works with the WordPress database to display your content. It includes layouts, fonts, colors, navigation, headers, footers, and other elements that give your site a professional look and feel. You can buy a theme or have one made for you.
But before you make a purchase, take a moment to make sure the theme is right for your organization. In this article, we'll go over what you should look for in a nonprofit WordPress theme.
Look and Feel
Your first step when you evaluate a WordPress theme is to ask yourself if it feels like your organization. You should be able to tell in just a few minutes of browsing around the theme's demo pages. (Most themes offer a live preview with dummy content to give you an idea of what it will look like.)
For instance, if your organization focuses on the environment, you may want a theme that's open and clean with earth tones. If your organization helps kids, you may want a theme that's playful with silly fonts and bright colors.
If you have existing branding, you'll want to choose a theme that matches it as closely as possible with few customizations.
Customization, But Not Too Much
"Endless customization" sounds like a great benefit, but only if you're comfortable changing settings, designing images, and even writing code. The purpose of buying a theme is to use a great design right out of the box with minimal changes, so look for a nonprofit theme that's as close to your final vision as possible.
For instance, it's fine to change the header from orange to blue to match your branding. Most premium themes have settings to make those basic changes easily. But if you want to drastically change the page layouts, it's smarter to simply find a different theme that suits your needs.
Furthermore, look for a theme that comes with all the features you need. While it's true that you can find a WordPress plugin to do pretty much anything, you'll want a theme that requires as few add-ons as possible. Each plugin adds bloat and potential compatibility issues.
For example, if you want to display an event calendar on your nonprofit website, use a theme that already comes with that functionality. The built-in events calendar feature is designed to work with the theme, so it will perform well and look best. A third party events calendar will require lots of customization and styling to match your theme.
The Donation Button
It's smart to include a donation button on every page of your site. This ensures would-be donors always have a way to find your donation landing page or payment form. We recommend sticking the button in your header so it's available everywhere.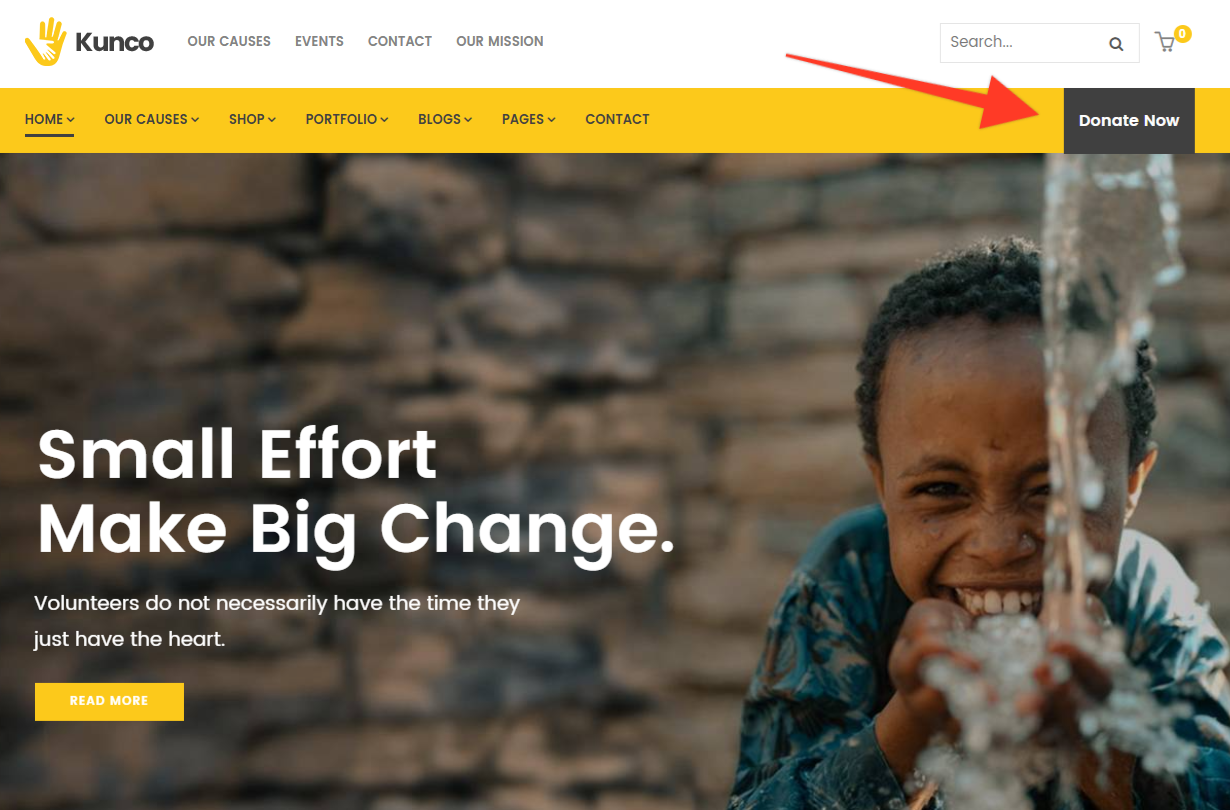 A lot of WordPress themes only let you put navigation links in the header, so choose one that gives you more control here.
Updates and Support
Whenever you buy a theme, it's important to research the seller to discover whether they regularly update the theme and offer support to users. This ensures you get a product that lasts.
Why would they update a theme? Because users inevitably find mistakes and security flaws that need to be addressed. The best theme sellers will also improve the theme over time and offer those improvements to you through updates.
If you aren't an advanced WordPress user who knows how to write PHP and Javascript, make sure whichever theme you purchase is actively supported. Does the seller respond to questions on their support forum or the forum of the third-party vendor (like Themeforest)? Are their answers timely and robust? Can you submit tickets?
Documentation & Self Help Tools
All software products should come with enough documentation to help users use the product, and nonprofit WordPress themes are no exception. Without documentation, you will struggle to use the theme, fail to use it entirely, or be forced to hire an expensive web developer to make your changes.
Check the seller's website for documentation content before you make your purchase. Is it easy to read? Does it include images and videos to help you understand? Does it answer your initial questions? If someone else on your team will manage your website, will that person understand the documentation?
If you plan to have a developer create a custom theme for your nonprofit, make sure part of the sale includes robust documentation. At the very least, your purchase should obligate the seller to answer your questions.
Landing Page Options
Your donation page (which is just a landing page) is a critical part of the nonprofit experience. This is where you'll make your case to potential donors and collect their donations, so it's important that your nonprofit WordPress theme provides lots of control here.
Functionally, a landing page isn't different from any other page on your site, but the design needs to be a bit different. You'll want to use an alternate header and footer on this page (so there aren't any links for visitors to follow). If the page includes a sidebar, you may want to remove it or add a donation form to it.
Notice how this donation landing page isn't quite like a typical page. There's extra content at the top of the page, like the donation goal, amount donated, number of donors, etc. See the full page here.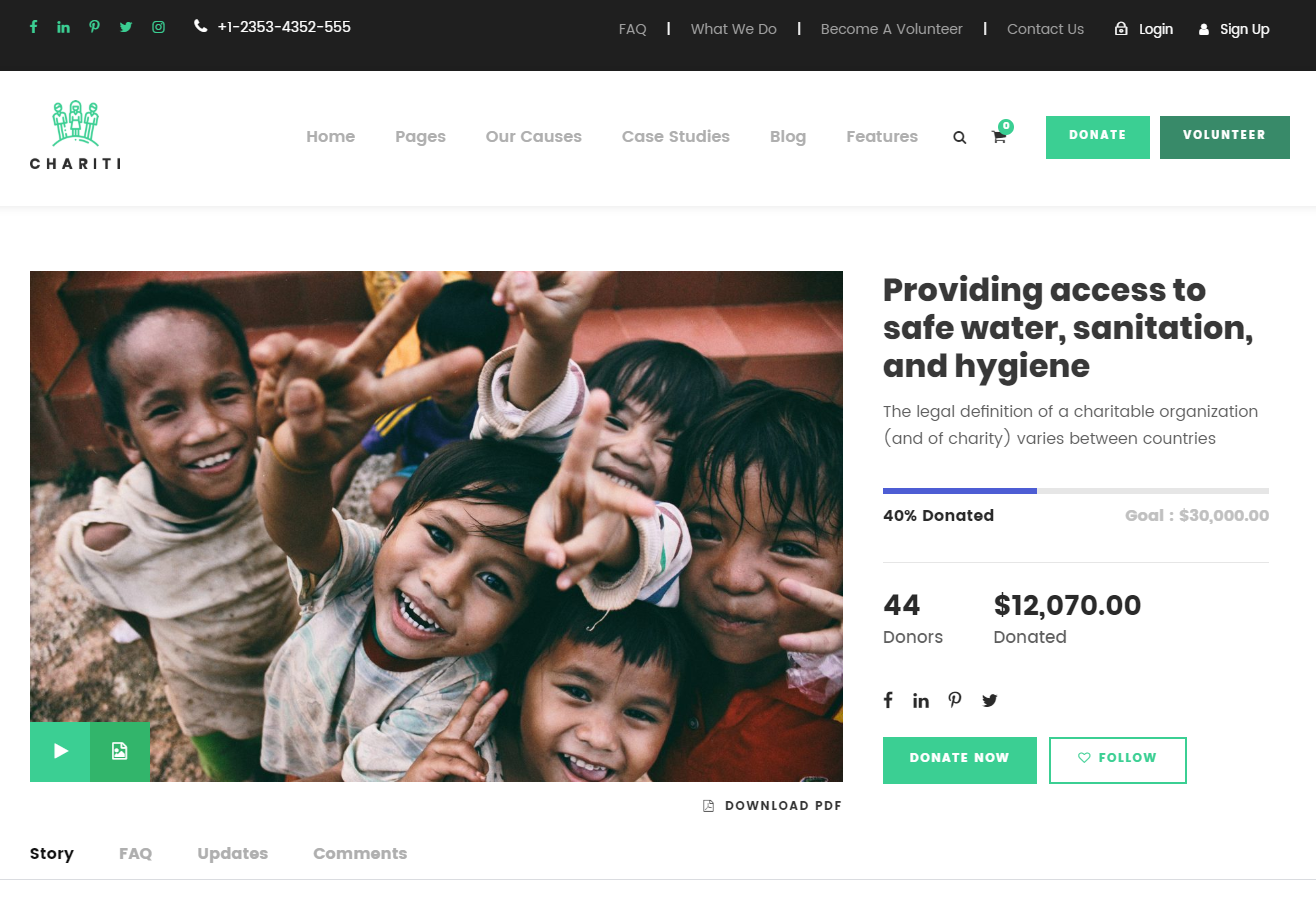 So before you purchase a theme, make sure there are ways to design landing pages just the way you like. These pages are too important to your organization to settle.
Responsive Design
At this point, every website should be responsive, but we've seen plenty of unresponsive nonprofit websites, so we couldn't neglect this point. Responsive design is when a site is made to fit any screen size. It collapses in a deliberate way as the browser window gets smaller, making it just as accessible on a mobile device as it is on a desktop browser.
If your website isn't responsive, users will have trouble navigating it. This is a great way to frustrate potential donors. They might wonder, "If they can't get the website right, how can I trust them to efficiently serve their cause?"
Most themes are responsive these days, but you'll have to make sure the content you add to those pages is responsive as well. Look for themes that come equipped with page builders, such as Visual Composer or Beaver Builder.
Reviews, Ratings, and Downloads
Before you purchase a nonprofit WordPress theme, check the theme's reviews, ratings, and number of downloads. These data points won't tell you everything about the theme, but they clue you in on what other people think about it.
Browse the reviews carefully. Look for complaints from other organizations that dissuade you from using the product. For instance, if you plan to add lots of videos to your pages (which are great tools for nonprofits), look for any comments that say something like, "Embedding videos is hard and rarely works." That would be a big red flag!
Most theme marketplaces make this information easy to find on the theme's product page.
NOT Free
Like many nonprofits, you probably go out of your way to minimize your costs as much as possible. Every dollar you spend on the organization is a dollar you can't spend on your cause. But when it comes to your website theme, you'll want to spend a few dollars.
A premium WordPress theme can run as little as $40 and as much as thousands, depending on whether you buy it through a marketplace or have it made custom. But it's important that you pay something because free WordPress themes leave a lot to be desired.
Free themes typically lack professional styling, documentation, and support. The seller won't answer questions because they don't get paid anything for the work. Plus, free themes typically lack the features you need for a nonprofit website.
Going Forward
Now that you know what to look for in a nonprofit WordPress theme, you're ready to browse for options or work with a developer. But don't forget that you'll need a way to collect payments through your website as well.
WP Simple Pay works with any WordPress theme, which makes it a versatile plugin that pairs well with any nonprofit website. You can choose how your forms display (on page or popup overlay). You can set suggested donation amounts or let donors enter custom amounts. It works through Stripe, so transactions are always reliable and secure.
Get WP Simple Pay for your nonprofit website today. Learn more.