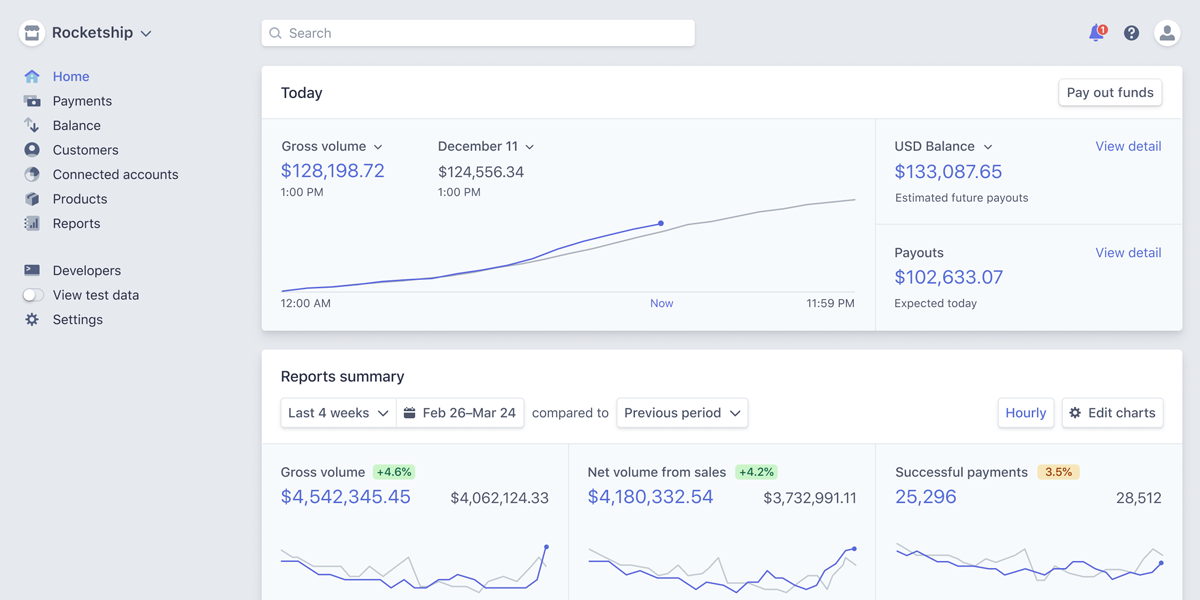 New Stripe Dashboard Features
As a Stripe user, it's important to be familiar with the Dashboard. This interface is where you configure and operate your Stripe account, manage payments and refunds, view reporting data, respond to disputes, and more.
Stripe is a forward-thinking company. They're constantly working to make the Dashboard faster and more productive for users, which means they make frequent updates you should know about. In this article, we'll go over the most impactful updates.
(For a detailed breakdown of the Dashboard components, view our full guide.)
The Customer Portal
Managing subscriptions for customers can be a pain. They're constantly emailing you to upgrade, downgrade, change billing info, update their information, add promotional codes, and other tasks. It would be a lot easier if they could manage their subscription/billing themselves, wouldn't it?
The customer portal is a powerful tool you'll love if you sell subscriptions. It's a secure, Stripe-hosted page for your customers to access. It allows them to manage their subscriptions and billing details without your involvement.
You don't have to build anything yourself. Stripe has already done it for us. And just like the Stripe checkout page, you know this has been tested extensively for ease-of-use and conversions. Here's what it looks like: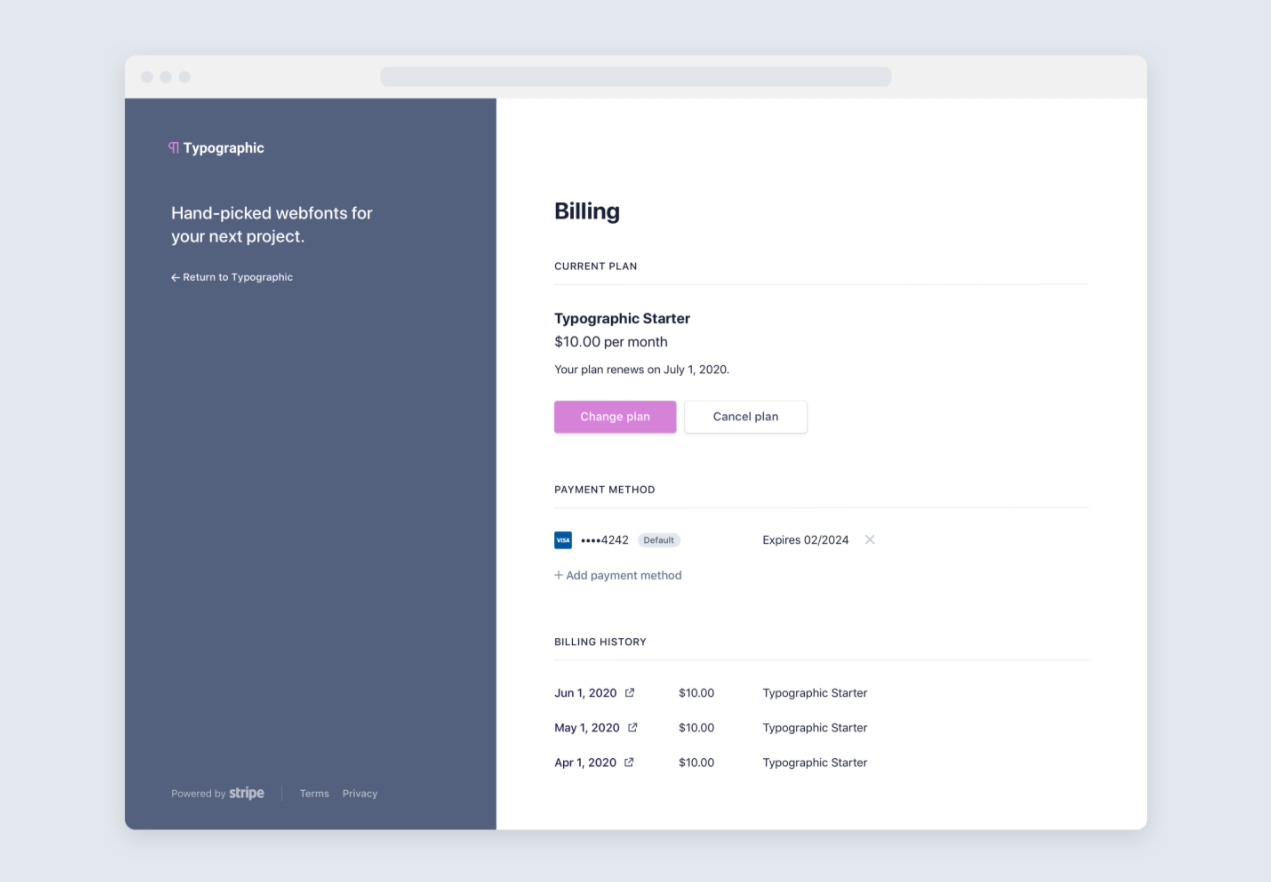 Here are some tasks your customers can perform on this page:
Update payment methods. They can add and remove card numbers.
View their billing history and download any of their invoices.
Cancel subscriptions, immediately or at the end of a billing period.
Downgrade, upgrade, and change the quantities of their subscriptions.
Update their billing information (such as their email address, phone number, and shipping address).
Imagine not having to perform all of those tasks for your customers. All that time is back in your schedule!
While you can't change the structure of the customer portal, you can customize it a bit to match your branding. You can add your own logo and change the headline and colors. You can also add links to your terms of service and privacy policy page.
Stripe will even display localized versions of the portal to customers based on their browser settings. Supported languages include English, French, German, Italian, Japanese, Simplified Chinese, and Spanish.
In the future, Stripe intends to add new features that improve the customer experience and support additional business models, such as email authentication so customers can visit the portal with a static URL and the ability to update subscriptions with multiple products and metered billing.
Configuring the portal is fast and easy. Check out our guide to setting up and using the Stripe customer portal for step-by-step instructions.
Simplified Navigation
Back in May, Stripe made some changes to the layout of the Dashboard's sidebar navigation. The goal was to reorganize the navigation to support the most common workflows and make it easier to find the menu items you're looking for. The result is a streamlined list of links with a more logical order.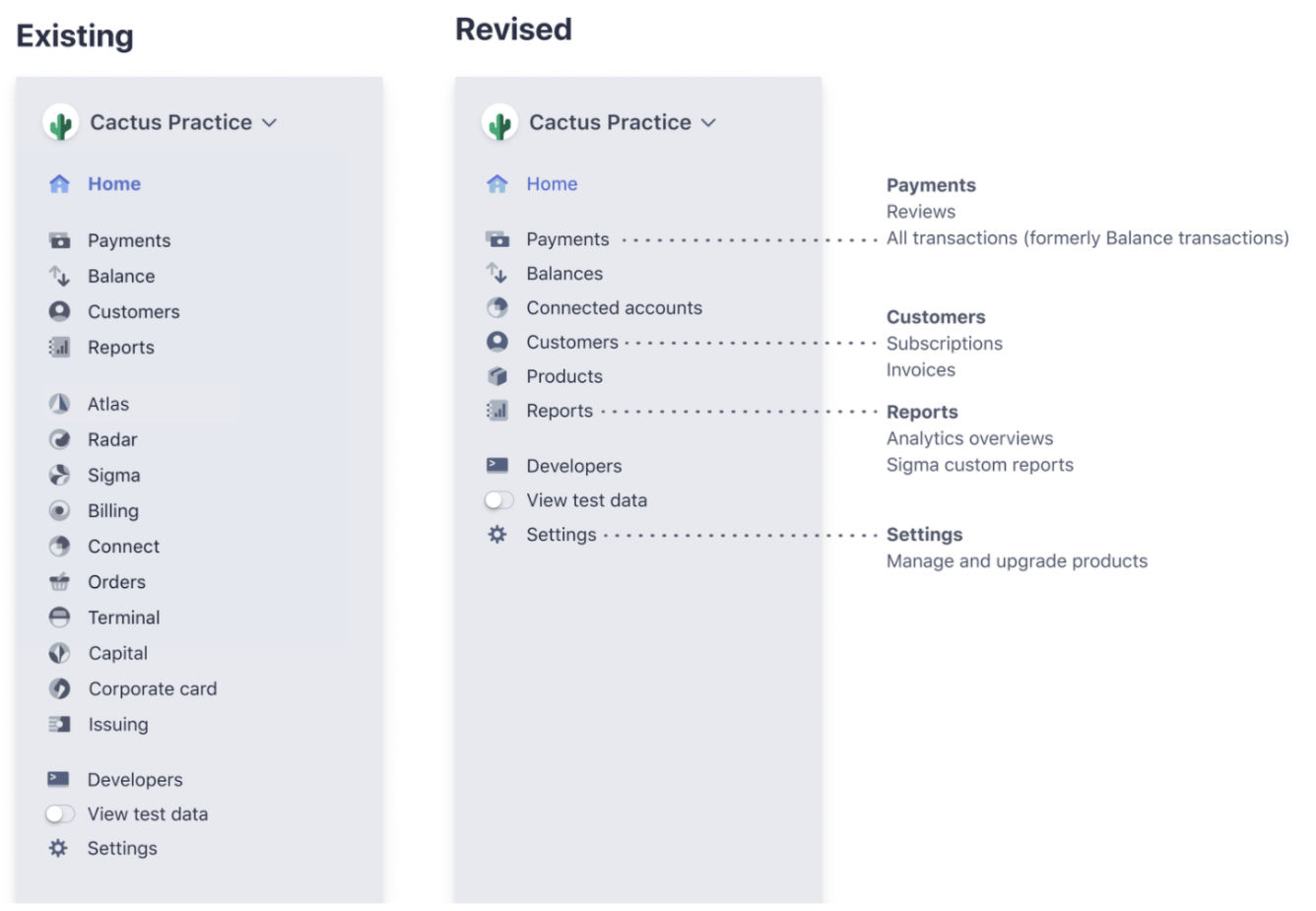 Transactions were previously in Balances > Transactions, but that's been moved under Payments > All transactions.
Billing used to be listed on the left navigation. It's been removed now. Links to the Subscriptions and Invoices pages are now under Customers. The billing analytics view is now under Reports > Billing (along with other reports).
Additionally, Stripe streamlined many of the product-related menu items in the Dashboard. Instead of menu items for Atlas, Radar, Sigma, Connect, Terminal, Capital, Corporate Card, and Issuing, those items have been tucked under the Products item. This is a cleaner approach that minimizes confusion and helps users access the Dashboard's most-used functions.
For instance, users probably don't look for "Radar" when they need to review their payments, which is why reviews are now under the Payments section. The Radar analytics overview now lives under Reports > Radar.
Ultimately, we think these changes are positive. They prevent new users from becoming overwhelmed by the Dashboard's options They also help advanced users navigate around quicker.
Duplicate an Invoice
In August, Stripe added the functionality to create a one-off (non-subscription) invoice by duplicating a previous invoice. You can send the invoice as-is or modify it for your needs.
When you duplicate an invoice, Stripe copies everything that was on the original invoice except for credit notes, and any deleted or archived products, prices, coupons, discounts, or tax rates.
This is a great feature to slim down your workflow. Rather than create new invoices from scratch whenever you need one, now you can simply duplicate an existing invoice that's close to what you need. For instance, instead of making new invoices for repeat customers, you can copy their past invoice with all of their contact details.
To duplicate an invoice, navigate to the Invoices page and find the invoice you want to duplicate. Click the ••• button on the right side of that invoice's row. A drop-down menu will appear. Click the Duplicate invoice link.

Revamped Customer Pages
Stripe has rebuilt customer pages to make daily operational tasks a little easier by adding more context and quick actions on customer pages. This isn't a huge change, but it's a simple quality of life improvement that most Stripe users will love.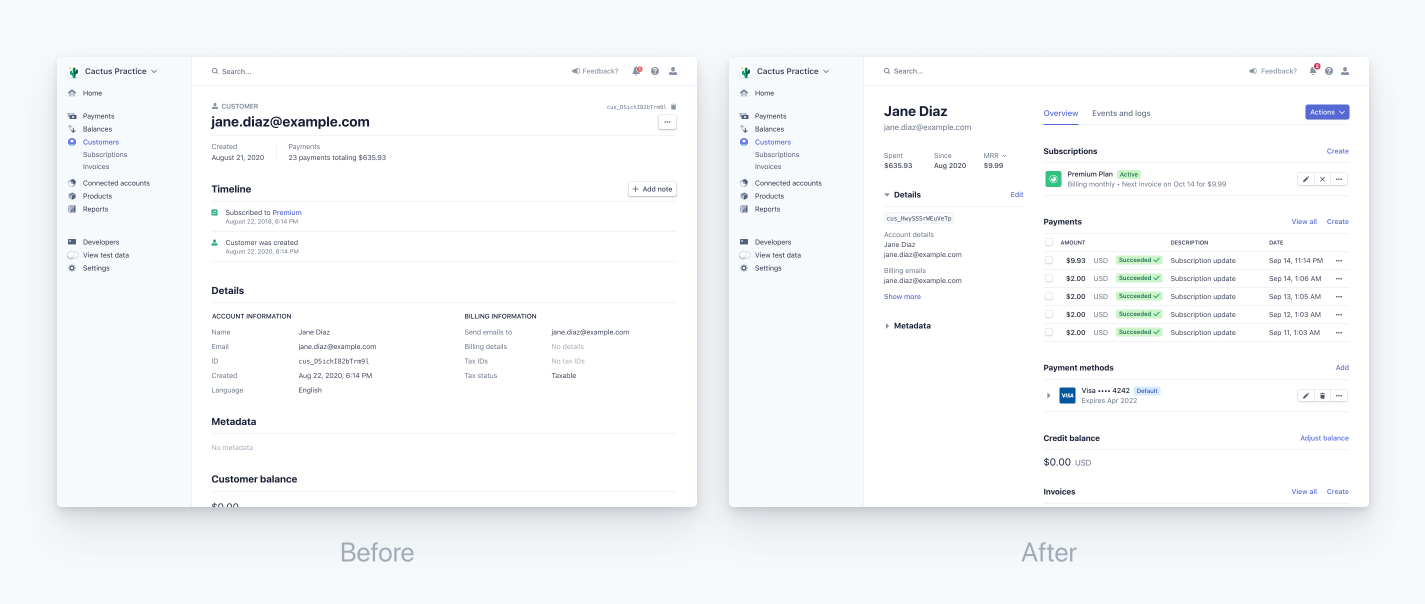 The layout of the page was changed so that all customer information is on the left and all payment information is on the right.
The customer's subscription plan is right up top. It comes with context too, like whether the plan is active and when the customer will be charged next.
The list of payments helps you understand when they were charged and for how much.
The metadata (ID, language, created date, etc.) was hidden beneath a clickable drop-down menu because most users don't need this information.
The action button was changed from ••• to the word "Actions" for clarity.
You can now see the type and expiration date of the card the customer has on file.
Acquirer Reference Numbers
Depending on the card issuer, tracing a refund can be difficult. Unlike payments that appear in the customer's account almost instantly, refunds can take 5-10 days after you submit the refund request to Stripe.
This means a customer may contact you because they don't see the refund you agreed to process. A refund may not be visible to the customer for several reasons:
Refunds issued shortly after the original charge don't appear as refunds, but as reversals. Basically, the original charge just disappears. There's no credit transaction.
A refund can fail if the issuing bank is unable to process it correctly. In this case, the bank returns the money to Stripe and Stripe adds it to your account. This can take up to 30 days after the original request.
To eliminate some of this confusion, it helps to give the customer the Acquirer Reference Number (ARN) that corresponds with a refund. This is a unique number assigned to a card transaction as it moves through Stripe and the bank's systems.
Your customer can take the ARN to their bank, which will be able to provide more information about when the refund will appear in their account. This is a great way to make the customer confident that you're actually sending the refund as you promised.
Stripe now shows the ARN corresponding to a refund in the Dashboard on the payment detail page for the refunded payment. These appear one to three business days after initiating the refund.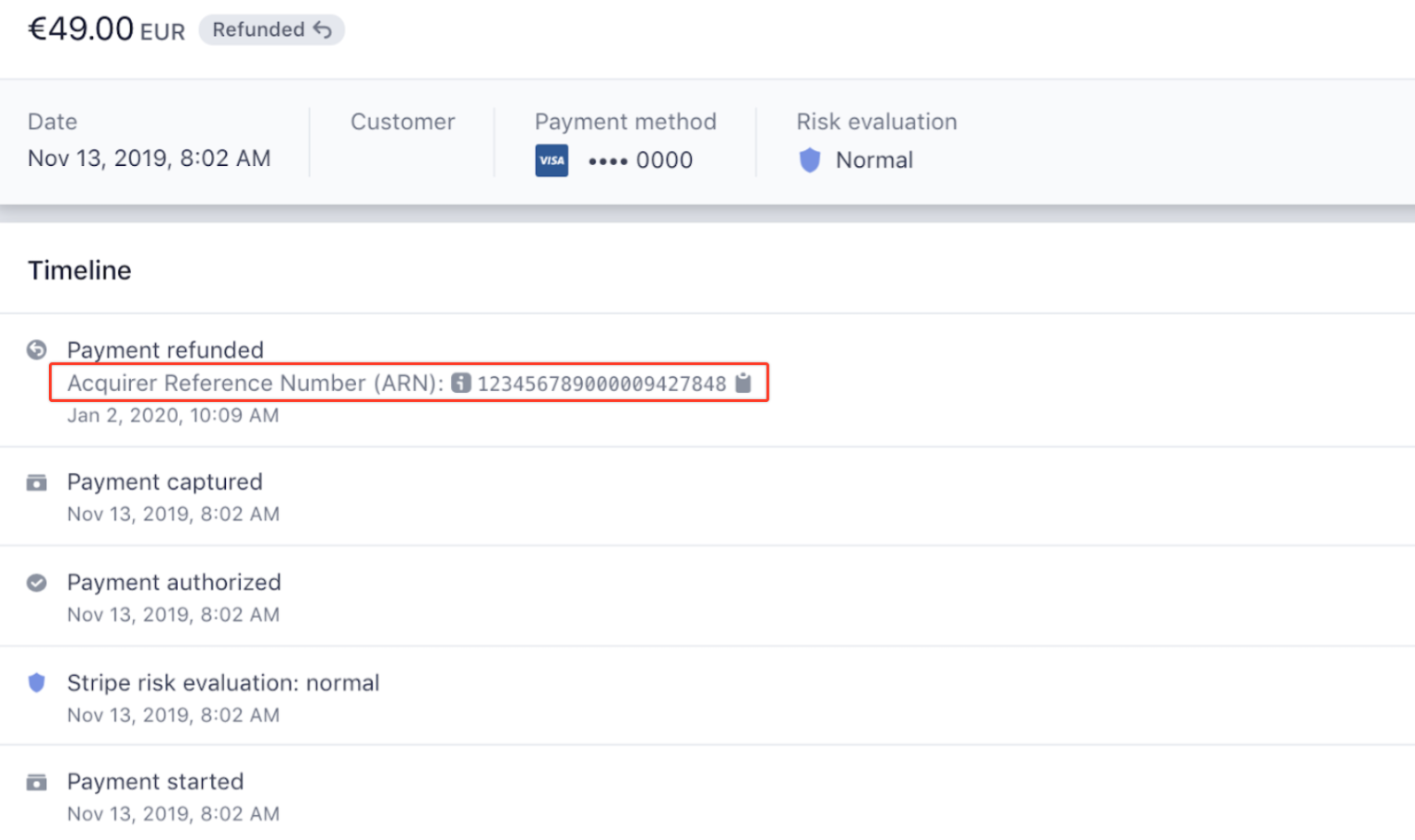 Fewer Steps
Some tasks that you perform frequently in Stripe required multiple steps to complete, often requiring tedious data entry. Stripe has streamlined some of these Dashboard workflows to make them faster.
They redesigned the workflow for manually creating payments. You can now use saved payment details, new payment details, or send a Stripe-hosted invoice via email.
You can now send receipts with a single click. Stripe populates some data automatically to save you time.
Compiling and submitting evidence to contest a dispute can take a lot of time, so Stripe now auto-populates the form with as much information as it can.
Since subscription cancellations are often followed by a refund, you can now refund from the same dialog with a single click.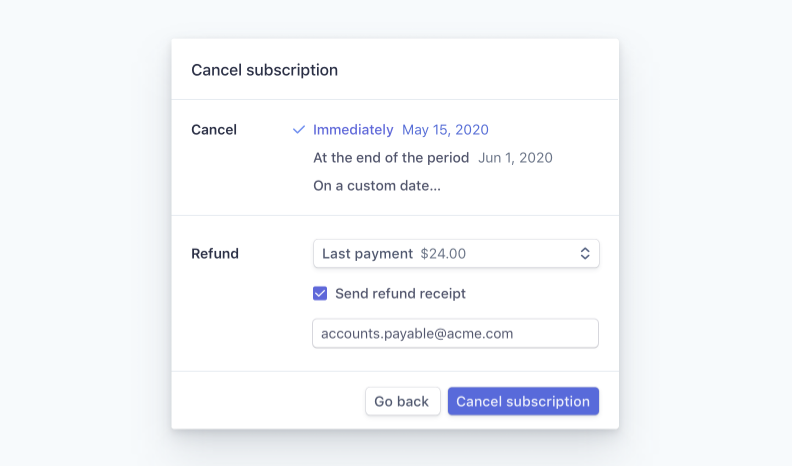 Going Forward
As you can see, Stripe continues to become easier to use. These updates will shave some time and confusion out of your workflow. We'll continue to keep you informed as Stripe further optimizes its platform.