6 Best WordPress Invoice Plugins (Compared)
Do you want to automate the invoicing process for completed online transactions on your WordPress website?
Manual invoices are time-consuming and prone to errors. They also lack consistency and don't represent your business in the best way possible. Fortunately, there are several WordPress invoice plugins you can use to create and share simple, professional, and standard invoices.
In this article, we'll explore some of the best WordPress invoice plugins and how they work to simplify invoicing and provide a positive buying experience for your customers.
Choosing the Right WordPress Invoice Plugin
Each WordPress invoice plugin comes with its own set of unique functions. Choosing the one that best suits your needs is possible by analyzing each feature. It would help if you considered the differences between each plugin to determine which one aligns with your WordPress website and your audience. 
Generally, there are a few key elements you'll want to look for in a WordPress invoice plugin:
Ease of use
Recurring Payment Invoices
Centralized Dashboard
Customizable Invoices
Automation
Integrations and Plugin Compatibility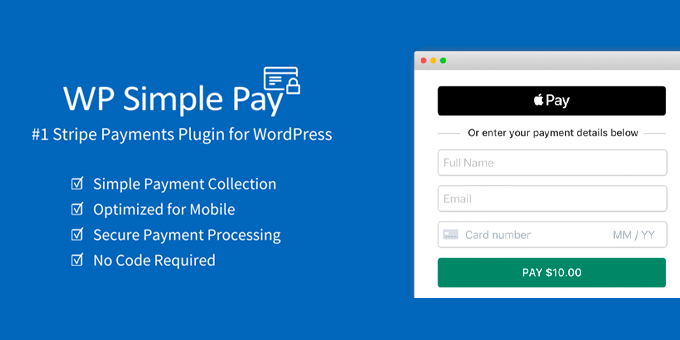 WP Simple Pay is the #1 Stripe payment and invoicing plugin. It provides simple payment processing and invoicing without the need for coding or complicated eCommerce shopping cart integrations. Connecting your Stripe account to the WP Simple Pay plugin in WordPress is all you need to do to start accepting live payments within minutes.
The standalone plugin features multiple pre-made payment form templates for you to choose from based on the needs of your business. You also have the option to add text fields, drop downs, and checkboxes, allowing you to collect customer data along with the payment.
Setting up recurring payments, installment payments, coupon codes, and free trial periods can all be accomplished from within the WP Simple Pay dashboard in WordPress.
Powered by Stripe's upgraded Universal Payment Element, accepting payments with WP Simple Pay from across the globe in 135+ currencies is even easier and more secure than before.
Additionally, WP Simple Pay supports Stripe Link, the new one-click payment solution that enables you to save and autofill your customer's payment and shipping information for faster checkouts.
Pricing: Starts at $49.50/year for a Pro account. There are four plans for the Pro version. You can also get started using WP Simple Pay Lite, the free version with fewer features.
Easy Digital Downloads is the ultimate WordPress eCommerce plugin for digital creators who want to sell their products and files, including eBooks and PDFs.
For those who are already using Easy Digital Downloads, the EDD Invoices extension is the perfect solution for automated invoicing. Routine updates to the extension continuously improve its functionality to help EDD users provide quality service to their customers and ultimately grow their businesses.
One of the extension's key highlights is its ability to create standard, aesthetically-pleasing invoices for every order. This is a great way to deepen your connection with your customers and build a bond based on trust. After all, repeated customers are a crucial part of any successful business.
You may be surprised by how much of an impact simply adding a company logo and a color scheme to your invoices can have on your brand's identity.
Additionally, once an order is placed, an email to your customer reflecting the purchase confirmation can be automatically sent. A bonus to this feature is the ability to include information about your business in the email, such as upcoming sales, discount offers, and future product launch dates.
Easy Digital Downloads premium plan members can easily install and configure the EDD Invoices extension in the Easy Digital Downloads dropdown menu located in the WordPress dashboard.
Pricing: Starts at $99.50/year for the Personal plan. The All Access Pass is $399.60/year and supports three sites.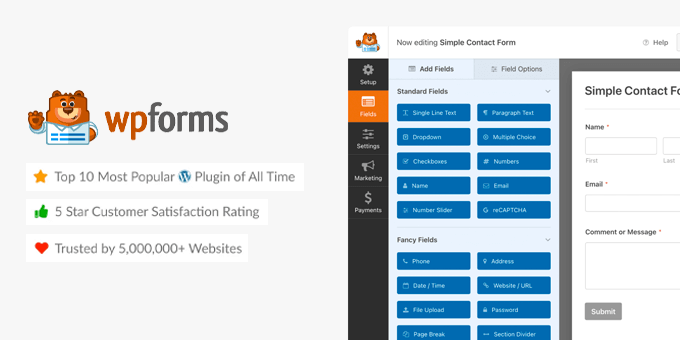 The fastest-growing WordPress form builder, WPForms, is widely selected by professionals because of its user-friendly, drag-and-drop interface that produces forms in minutes and requires zero coding.
The plugin features pre-built templates that make getting a form up and running on your WordPress site fast and simple. WPForms allows you to choose from 600+ templates to create a variety of different forms, including event registration forms, eNewsletter sign-ups, educational forms, surveys, and polls. The plugin integrates with Stripe, PayPal, Authorize.net, and Square to securely collect payments from within any form.
With WPForms, you can also have invoices from completed orders automatically generated and emailed to your customers.
WPForms Pro members have access to a growing list of useful addons that include Zapier, Salesforce, Drip, and Hubspot. 
Pricing: Starts at $49.50/year for the Basic Plan.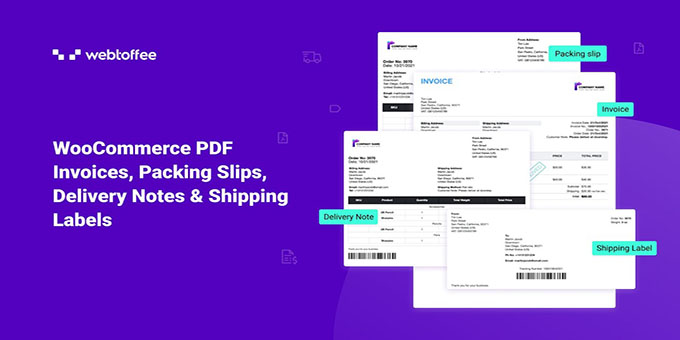 WooCommerce PDF Invoices, Packing Slips, Delivery Notes, and Shipping Labels is an addon for the WooCommerce WordPress plugin that automates invoices, packing slips, and shipping labels all from the WooCommerce orders page. The downloadable PDF documents are attached to the order confirmation email sent to your customers.
The addon is widely chosen by international WooCommerce users because it's compatible with multilingual plugins and offers translation support in over 10 languages.
Pricing: Starts at $69.00/year for a single site. The premium version comes in five variations.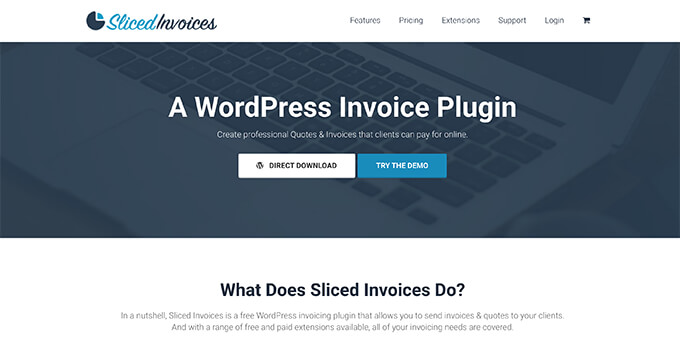 Sliced Invoices is an ideal WordPress invoice plugin option for businesses that need to get quotes and estimates sent to their clients quickly.
The plugin features several pre-built templates for quotes and invoices. You can add your logo to all of your invoices, create pre-defined line items in one invoice to save time, and even use your own CSS invoice design.
The best part about this plugin is that you can rename your quotes and invoices to anything you like. For example, maybe a quote needs to be called a proposal instead.
Reporting is presented in charts and graphs that give you a clear vision to easily track the status of your quotes and invoices and to get a quick overview of various figures.
Pricing: Sliced Invoices is a free plugin with a ton of extensions you can buy individually. Bundles are also available.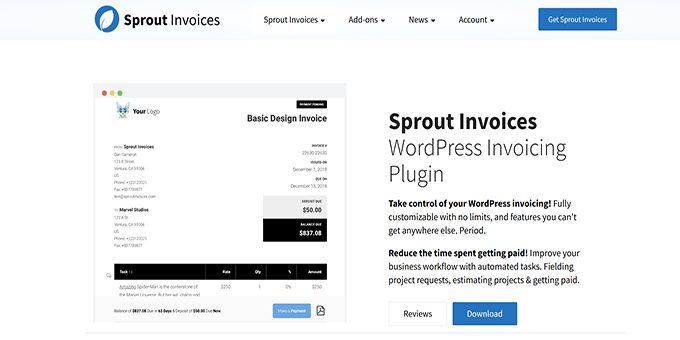 Sprout Invoices is a fully customizable invoice plugin for WordPress that automates invoicing tasks for you. It integrates with 5,000+ apps for flexible automation of your workflows across the web.
Sprout Invoices offers unique invoice design templates to match your brand.
There are several addons that can be integrated with Sprout Invoices to do a range of things, like accepting different forms of payment and providing your clients with a Client Dashboard to view payment history, invoice due dates, and pending estimates.
Pricing: Starts at $39.50/year for the Basic plan. A 14-day money-back guarantee is offered.
Hopefully, this article has helped answer questions you may have had about the WordPress invoice plugins currently holding the top spots on the market and how choosing the right one can help improve your invoicing processes.
If you liked this article, you might also want to check out Components & Best Practices of a Perfect Email Receipt.
What are you waiting for? Get started with WP Simple Pay today!
To read more articles like this, follow us on Facebook and Twitter.