6 Best SEO Plugins for WordPress (Compared)
Do you want to add an SEO plugin to your WordPress site?
Implementing good SEO (Search Engine Optimization) practices is crucial to driving organic traffic to your site and providing your visitors with the content they're looking for.
In this article, we'll go over some of the best SEO plugins and tools for WordPress that you can use to improve your site's SEO, increase traffic, and ultimately grow your business.
What is SEO?
SEO stands for search engine optimization. It is a set of techniques intended to create more visibility for your site on search engines like Google.
Some of the best and most frequently recommended SEO practices include keyword research, link building, and creating quality and relevant content. SEO also includes enhancing the technical aspects of your site like page speed, URL structure, and schema markup to support rich snippets.
If you follow these SEO practices, you'll optimize your site's pages and improve its rank on search engine results pages (SERPs). The higher you rank on SERPs, the more visitors your site will attract.
As you may have already guessed, making sure every page on your site is optimized for SEO can be a time-consuming and complex task. As SEO best practices and techniques continue to evolve and change, using an SEO plugin can help automate most of the process for you while also ensuring your site's SEO strategy stays up to date.
Choosing an SEO Plugin for WordPress
Before we get started, it's important to note that each one of the SEO plugins we chose for this article is designed with its own set of functionalities.
Because some of their features are similar, you'll want to avoid installing more than one SEO plugin for your WordPress site to avoid possible conflicts.
We picked the following SEO plugins based not on popularity, but on their ease of use, inexpensiveness, and comprehensive capabilities.
Now, let's explore some of the top SEO plugins for WordPress so you can decide which one is best suited for your specific needs.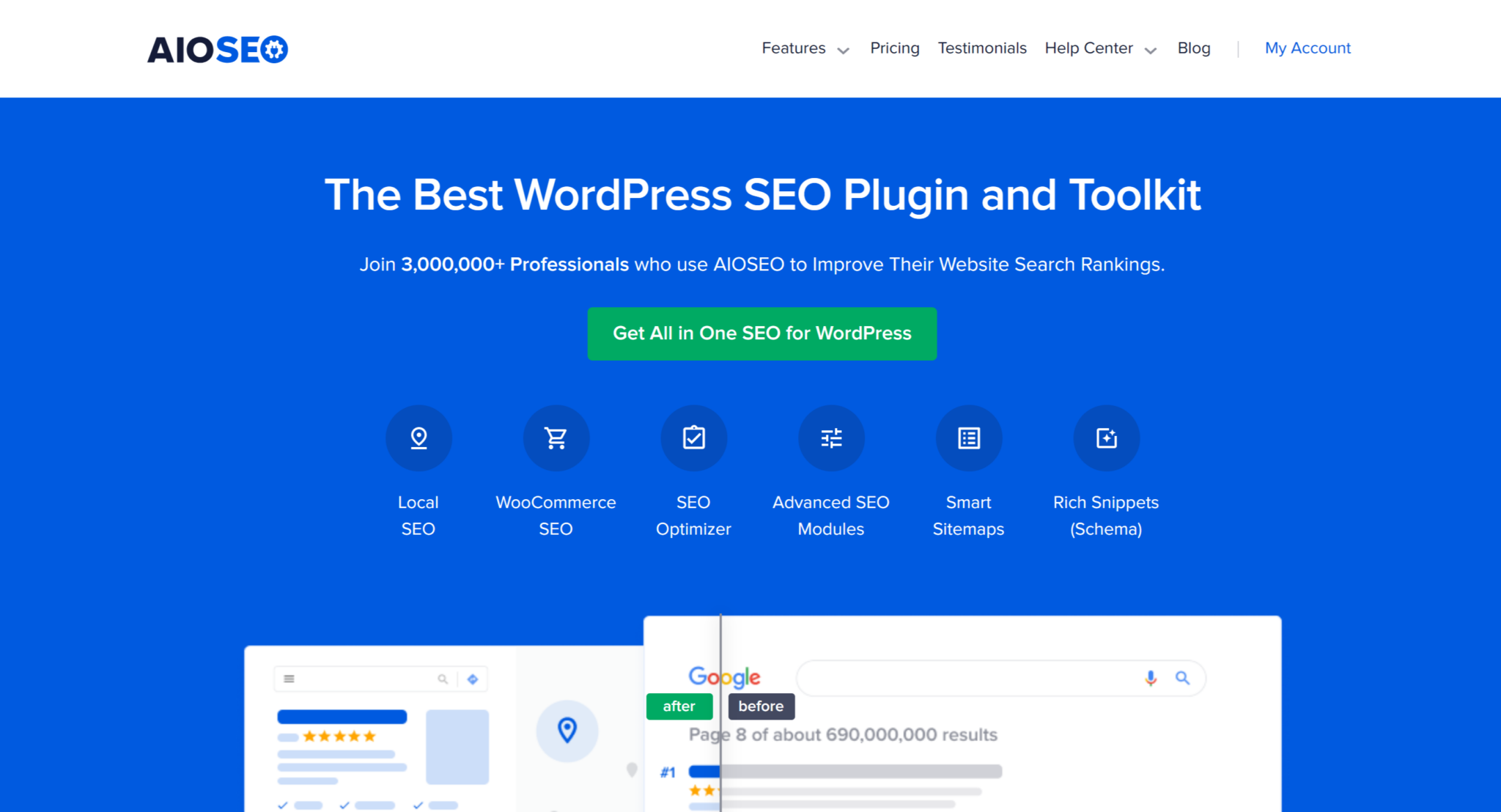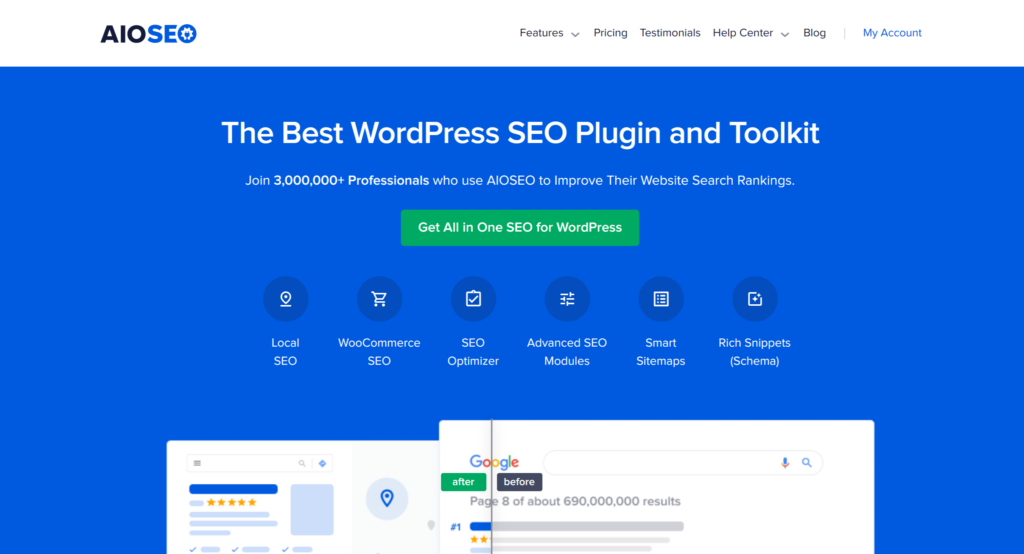 The original WordPress SEO plugin and toolkit, All in One SEO, is the best overall SEO plugin to easily improve your site's search rankings without having to be an SEO expert.
The plugin offers all of the SEO features your site needs including Local SEO, WooCommerce SEO, sitemaps, an advanced SEO optimizer, schema markup, SEO modules, and more.
AIOSEO comes with a setup wizard that helps you easily set up your site's SEO settings based on your business.
For example, you are able to choose from a list of options that includes Online Store, Blog, Portfolio, News Channel, Corporation, or Small Offline Business to ensure that your SEO settings are set up properly from the very beginning.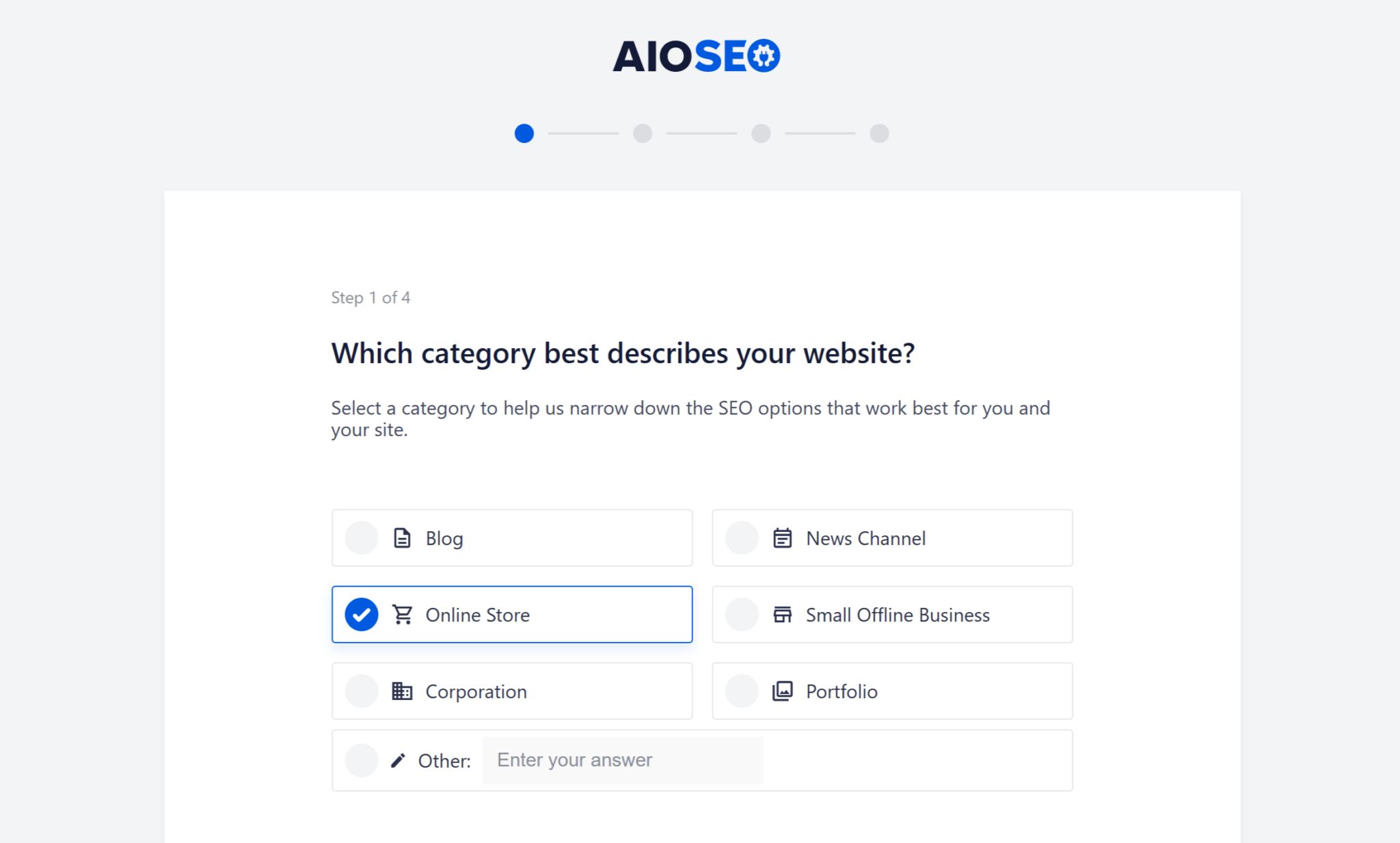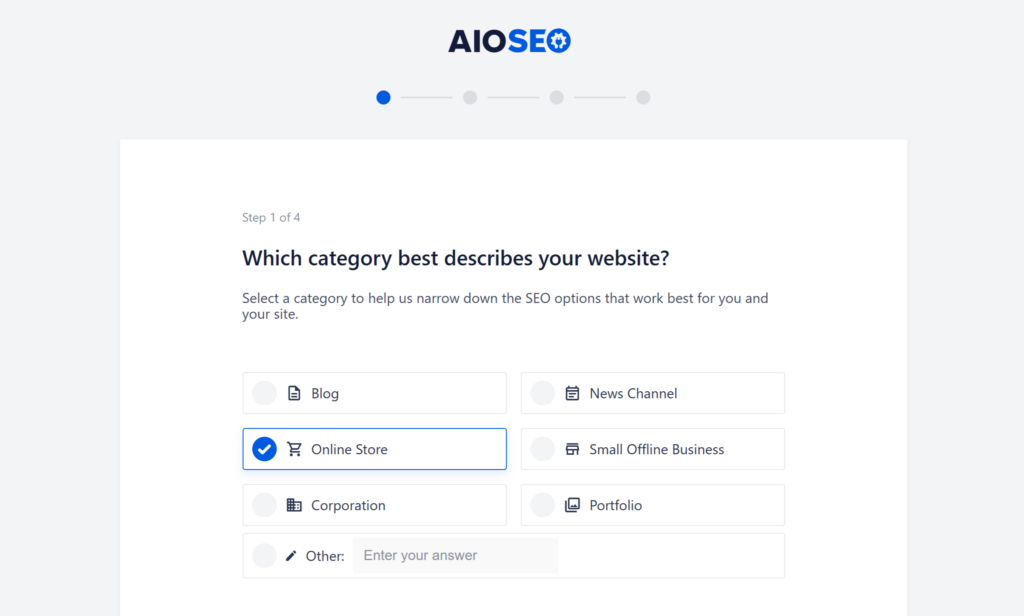 Once you have your SEO settings configured on your site, AIOSEO displays a TruSEO on-page analysis with an actionable checklist so that you can optimize your posts and pages by easily customizing title tags, meta descriptions, and keywords.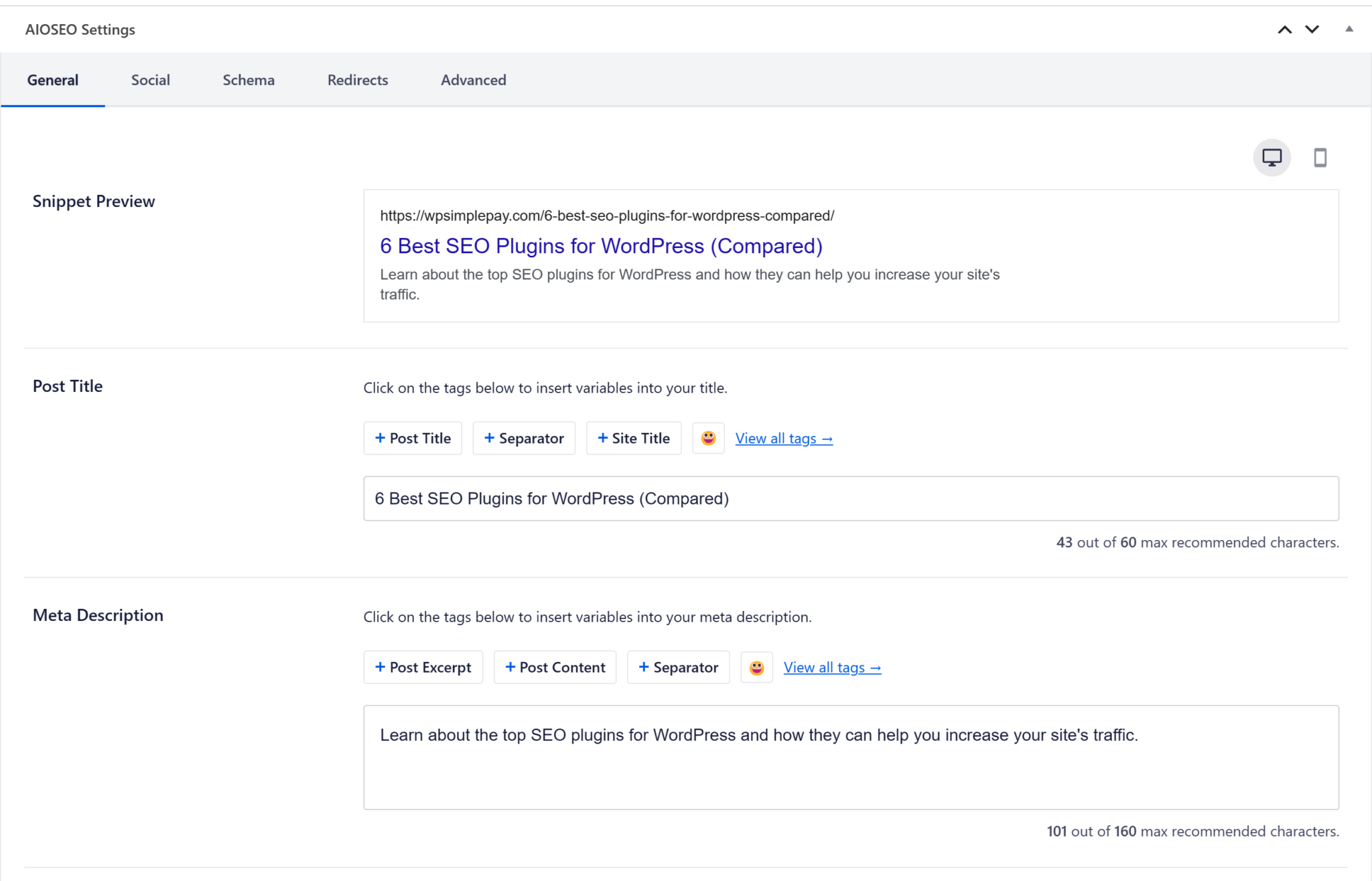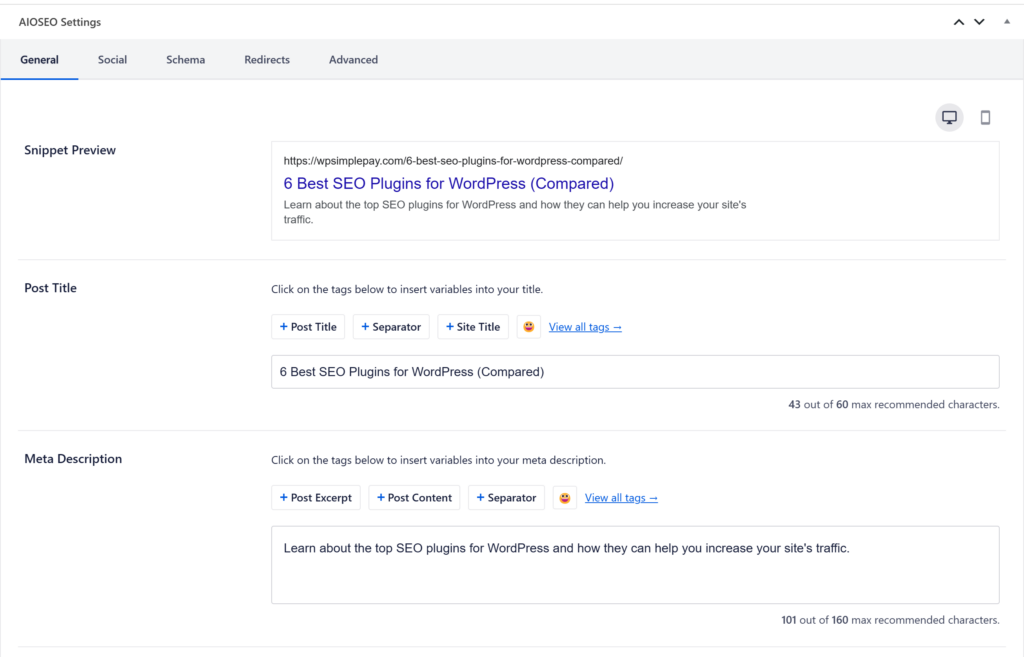 Additionally, the plugin offers tips for optimizing title tags and improving your post's basic SEO and readability.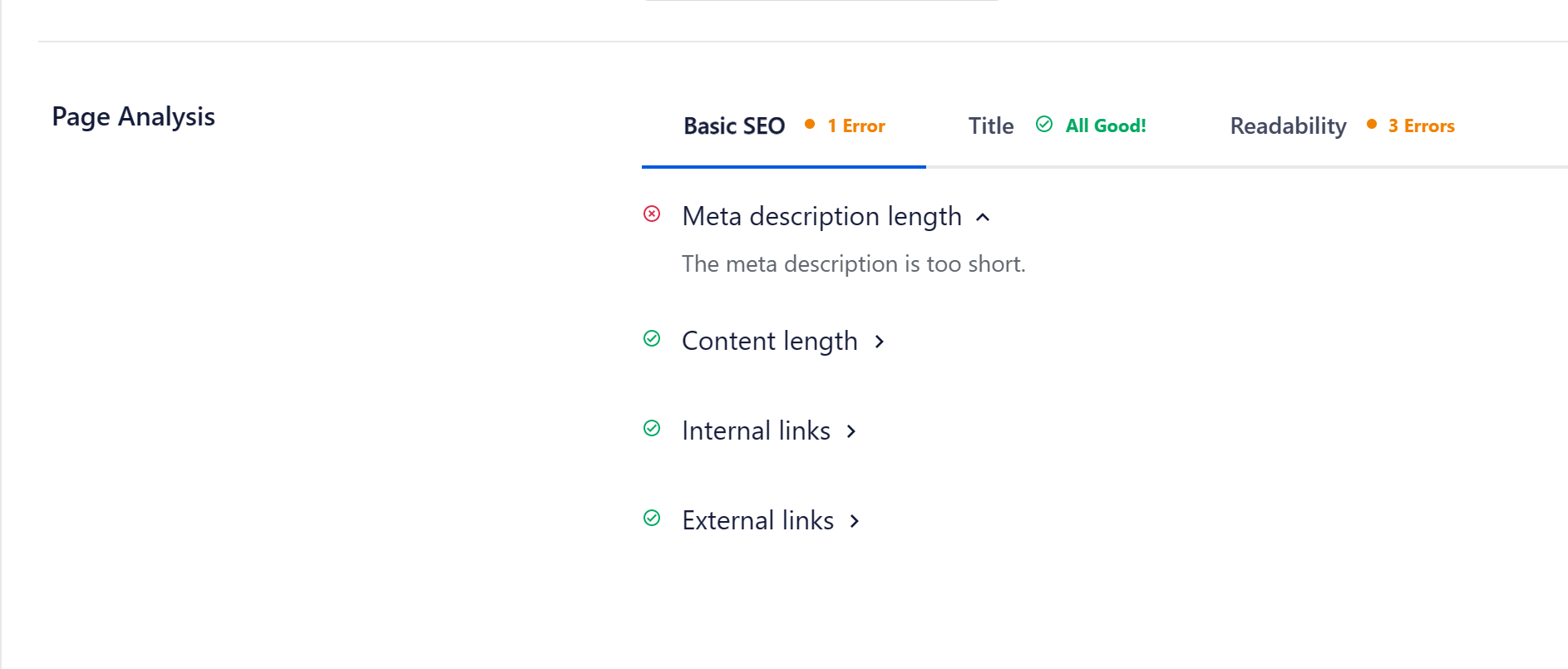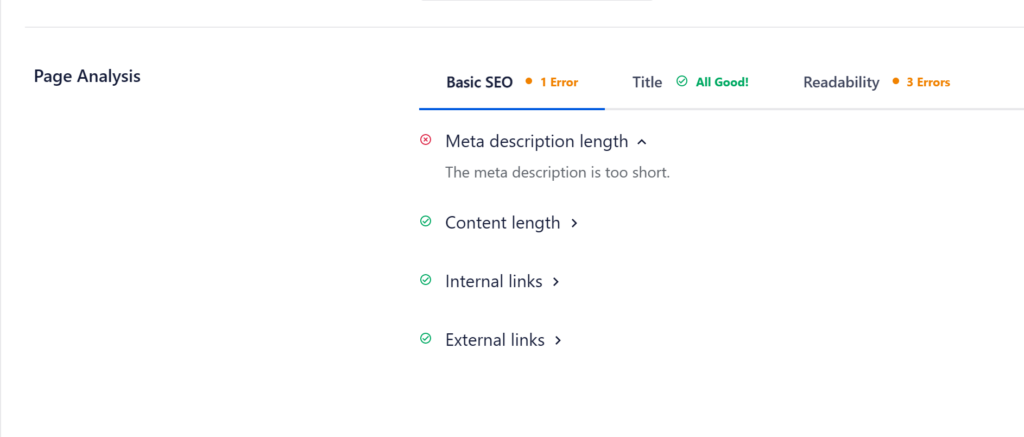 AIOSEO features a rich snippets schema generator that helps Google understand your site's content and display information like five-star ratings in search results.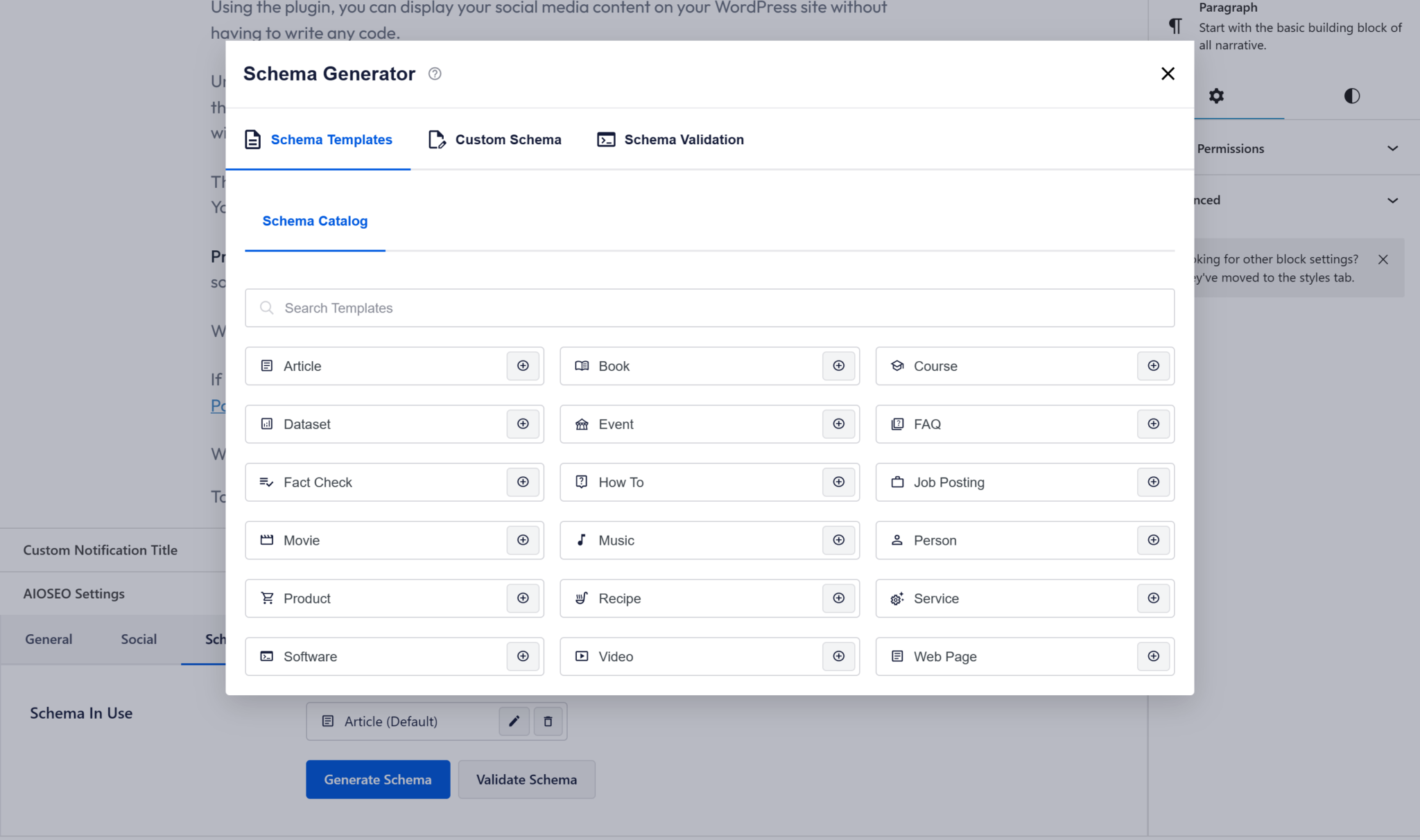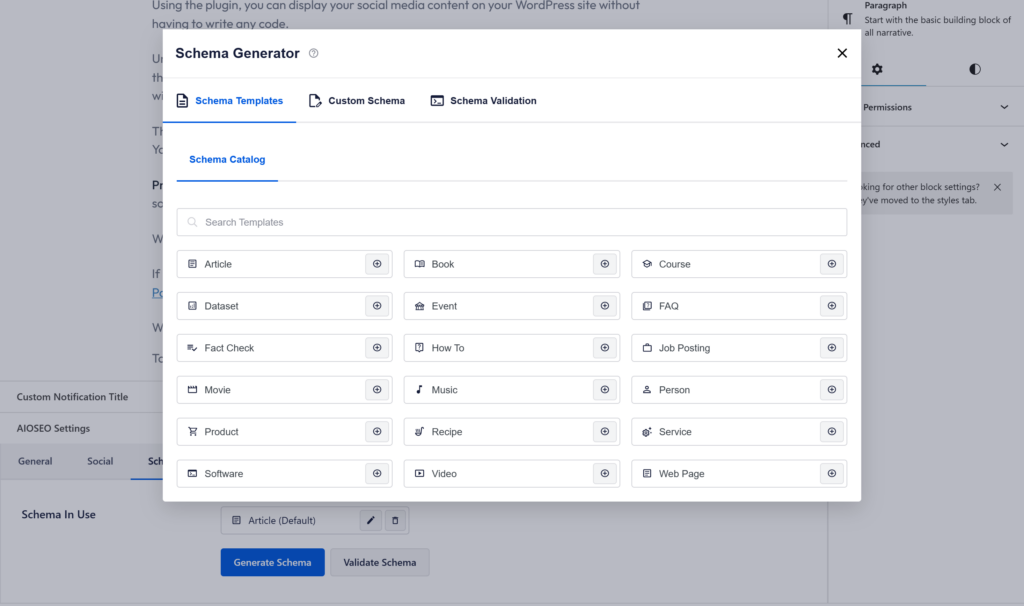 In addition to all of that, AIOSEO has a Link Assistant that provides suggestions for adding internal links to older content. It can even locate orphaned posts that are missing internal links.
AIOSEO seamlessly integrates with social media platforms so that search engines will recognize which profiles are associated with your site to help grow your followers and drive more traffic.
Pricing: Starts at $49.60/yr. You can also get started with a free version that has limited features.

Yoast SEO is a popular SEO plugin for WordPress that helps you optimize your site for search engines.
It's a great option for users who need to meet the highest technical SEO standards, including faster load times for an improved user experience.
Similarly to AIOSEO, Yoast SEO offers on-page SEO analysis features that let you optimize your title tags, meta descriptions, and keywords to ensure you're creating SEO-friendly content.
The plugin can also perform a readability analysis for every post, show Google and social media previews, and suggest internal linking opportunities.
Additional features include schema markup so that Google can better understand your site, and a redirect manager that automatically creates redirects when you delete content.
Yoast SEO integrates with popular WordPress plugins including Semrush and Elementor.
Pricing: Yoast SEO starts at $99/yr. for the premium plan. There is also a free version available.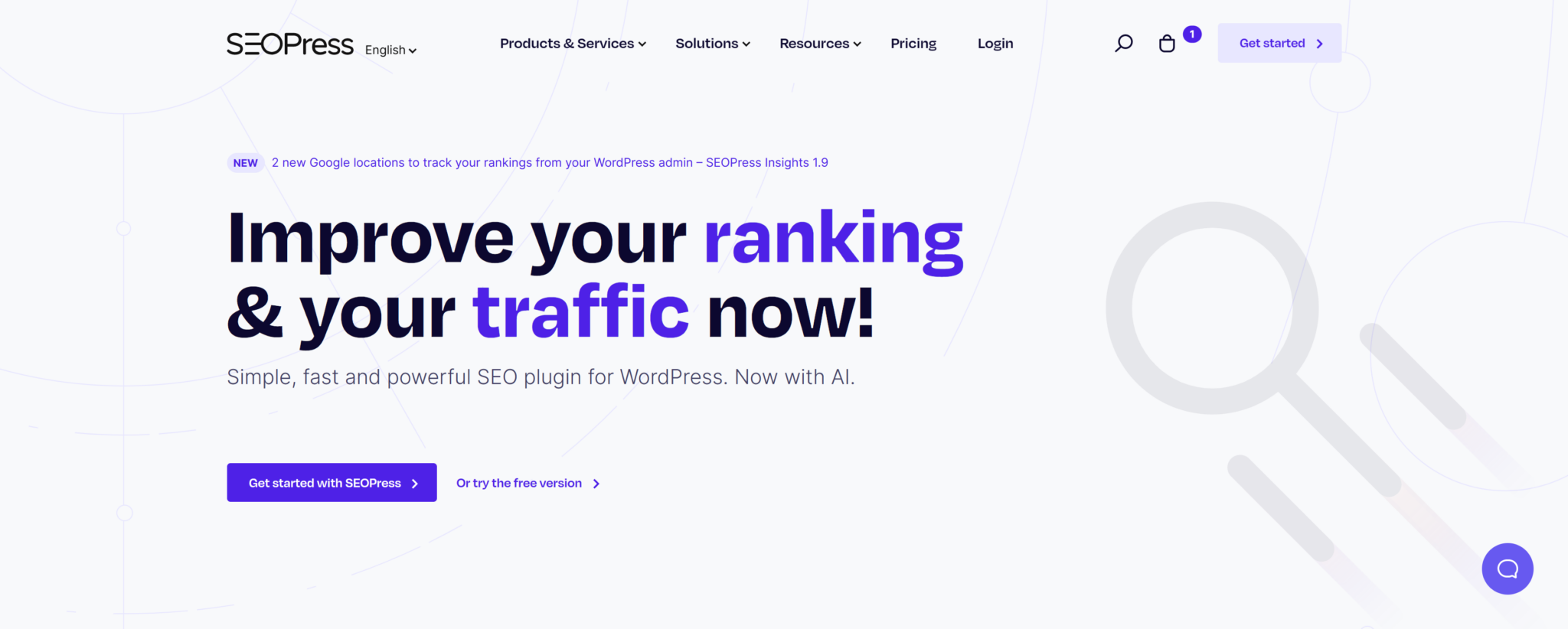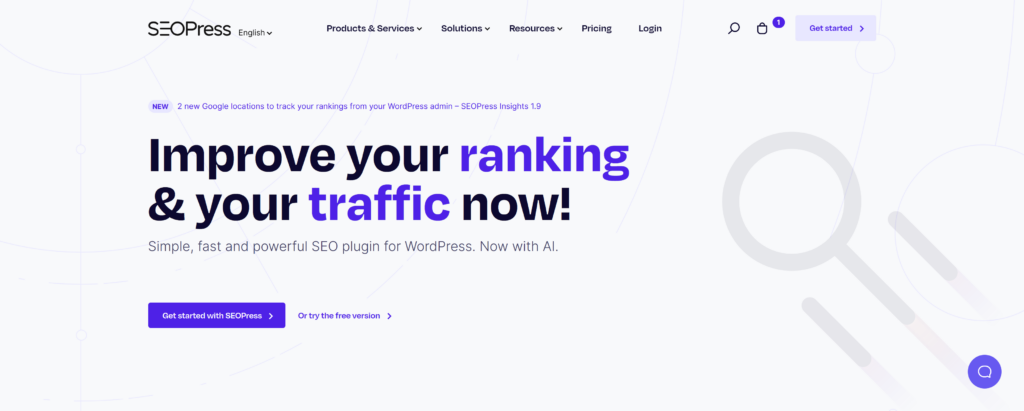 SEOPress is a WordPress SEO plugin that fully integrates with all WordPress page builder plugins.
SEOPress now features an OpenAI integration that generates suggestions for title tags and meta descriptions based on the content of your post or page.
Using the plugin's bulk actions feature, you can generate hundreds of titles and meta descriptions in just a few minutes.
Additional SEOPress features include a redirect manager, a Google search console, customizable schema markup capabilities, and a broken link checker.
SEOPress is one of the most affordable premium WordPress SEO plugin on the market.
Pricing: SEOPress Pro starts at $49/yr for use on unlimited sites.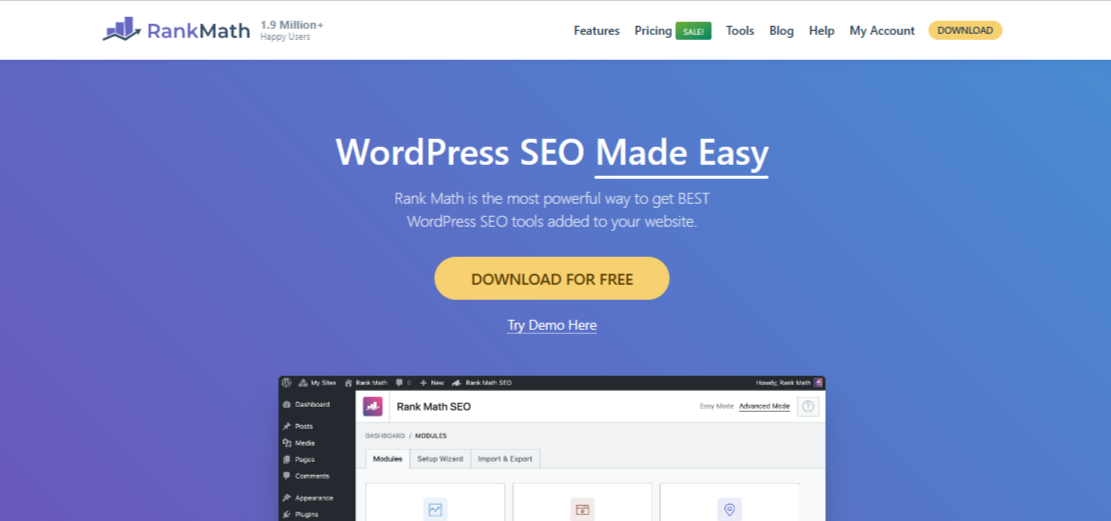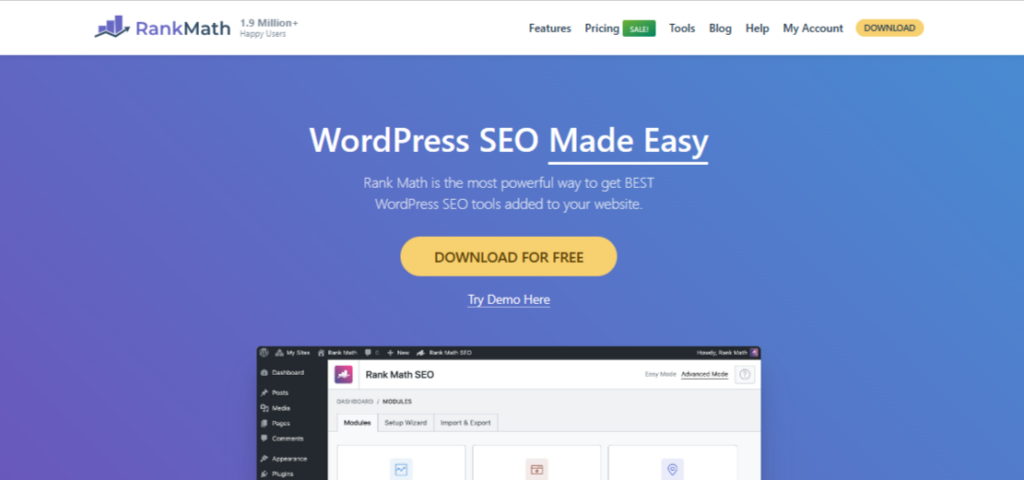 Rank Math SEO is a great WordPress SEO plugin option for those looking to save time on optimizing their site's content.
The plugin's Content AI module includes an AI assistant that helps you write SEO-friendly content. It offers recommendations for related keywords, questions, and links right inside your WordPress editor so you can easily apply them directly to your posts.
Designed with a module-based system, Math Rank SEO allows you to enable and disable each feature separately to give you complete control of your site's SEO tools.
Additional features include schema markup for Google, Google Analytics integration, an advanced SEO analyzer tool, internal linking suggestions, and more.
Pricing: Starts at $59/yr.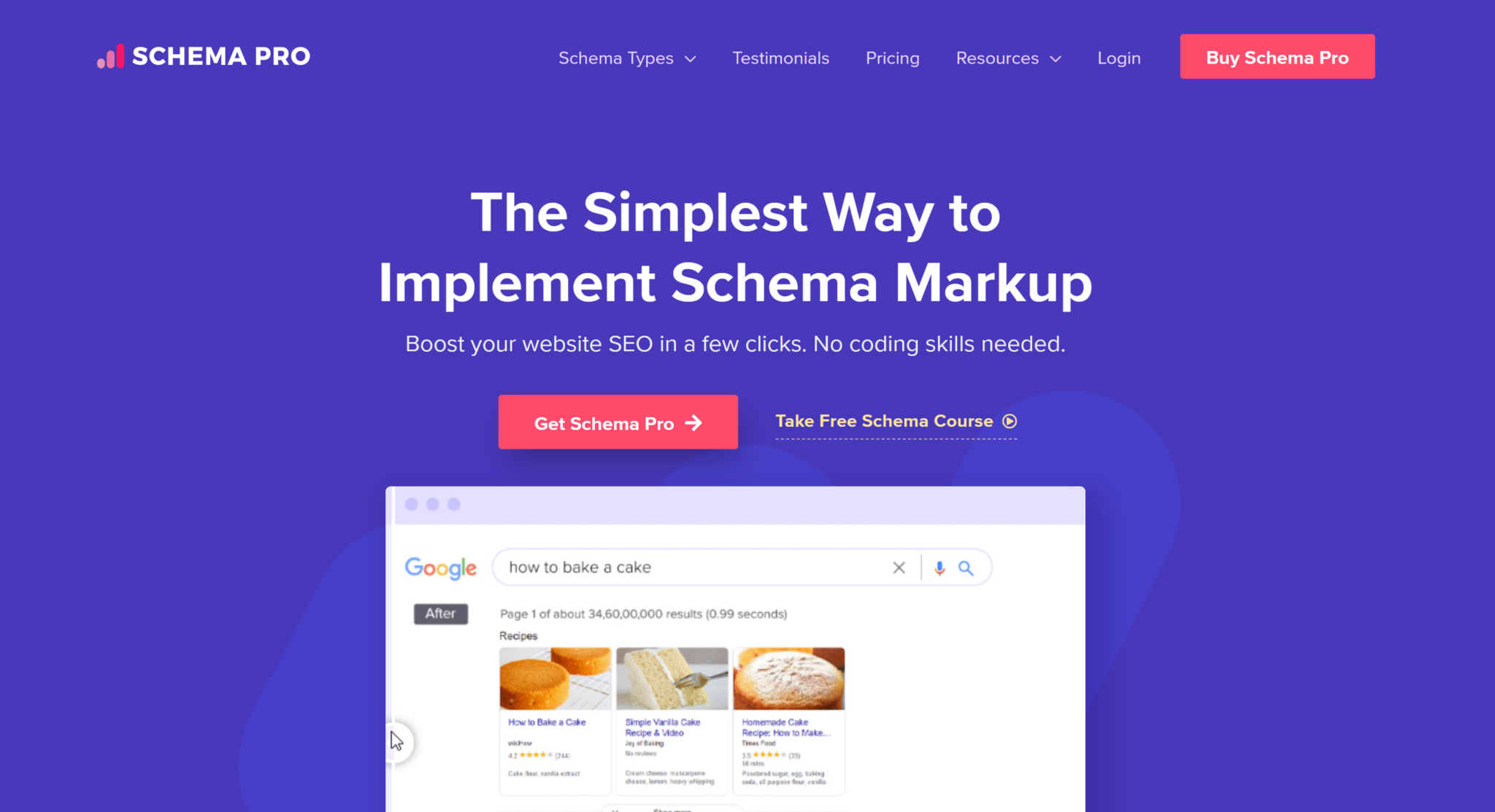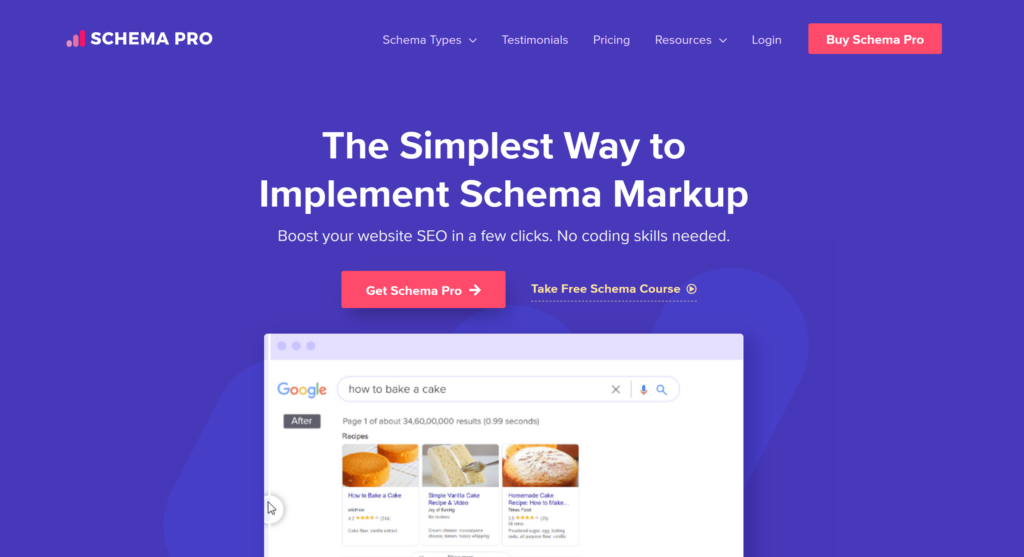 Schema Pro is a plugin for WordPress that specializes in automating schema markup on your site within minutes to make it stand out in search engine results.
Similarly to AIOSEO, Schema Pro offers all major types of schema, including recipe, book, article, job posting, and more so that you can add ratings below a review, prices below a product, or an image next to the description in your site's Google search results.
If your goal is to control schema markup across your entire website after configuring it only once, Schema Pro is a great option for you.
Pricing: Starts at $67/yr.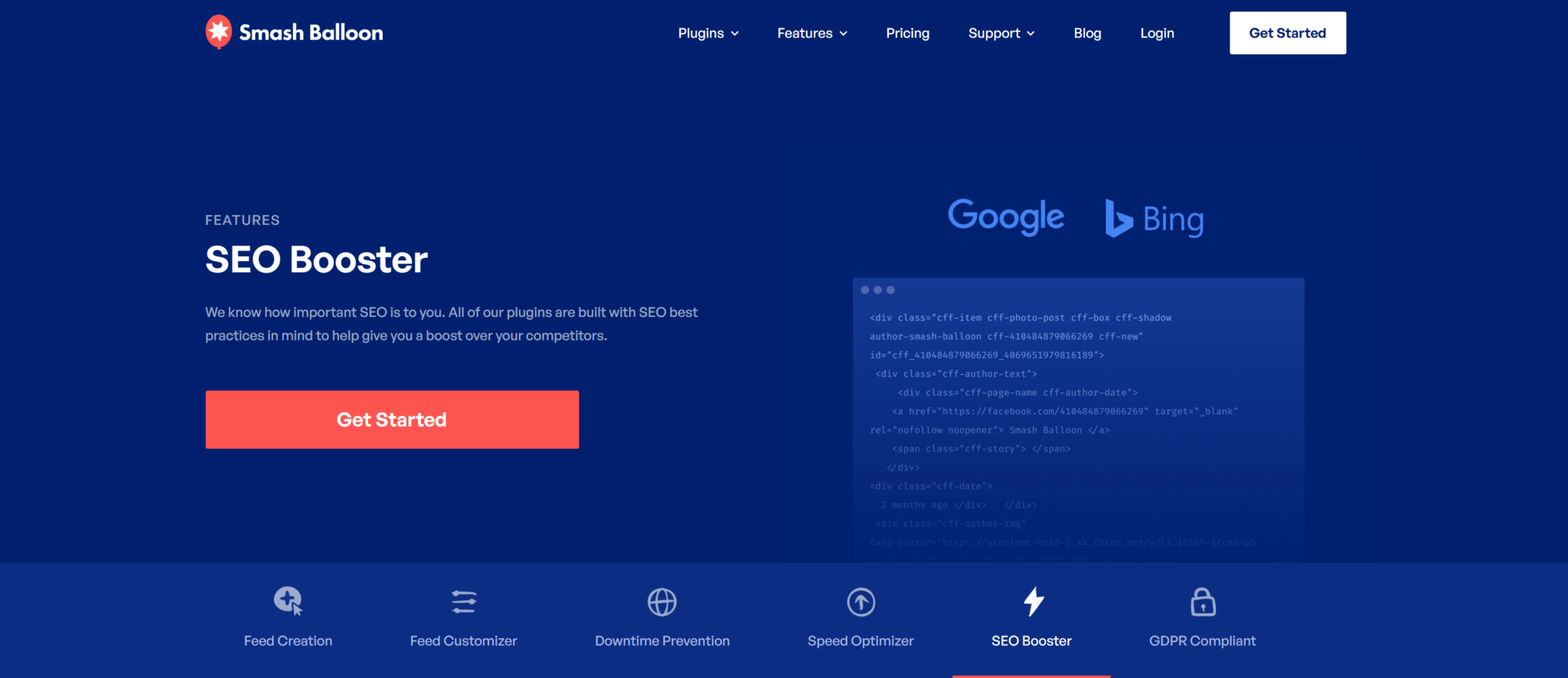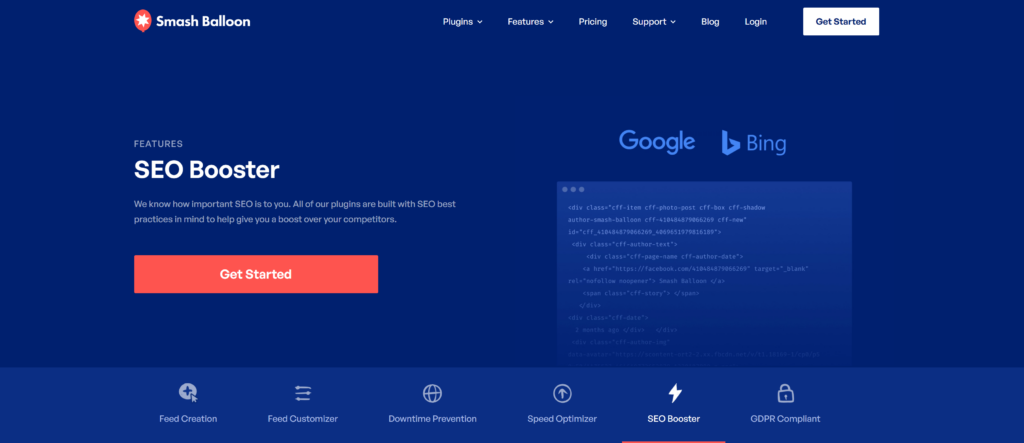 Smash Balloon is a plugin for WordPress that allows you to improve your site's SEO through the use of social media platforms.
Using the plugin, you can display your social media content on your WordPress site without having to write any code.
Unlike other social media plugins for WordPress, Smash Balloon embeds the content in a way that search engines can recognize. This means that keywords on all of your social media posts will help boost your site's SEO.
The plugin supports all major social media platforms including Facebook, Instagram, Twitter, and YouTube.
Pricing: Starts at $49/yr. You can also get the All Access Bundle, which includes all four of the social media feed plugins for $239/yr.
We hope this article has helped you learn more about the best SEO plugins for WordPress.
If you liked this article, you might also want to check out Why You MUST Avoid "Free" WP Simple Pay Nulled [WARNING].
What are you waiting for? Get started with WP Simple Pay today!
To read more articles like this, follow us on Facebook and Twitter.