WP Simple Pay Pro 3.0 Released!
After many months of development and a lot of beta testing, we are excited to announce version 3.0 is here!
WP Simple Pay Pro 3.0 is our biggest release yet and is a complete rewrite from scratch.
Why did we start with a clean slate and not just build upon version 2.5?
In short, we want to continue to be the best Stripe payment forms plugin for WordPress, and that required some big changes. Read on for details.
Payment Form Settings Overhaul
In WP Simple Pay Pro 2.5 and earlier, all payment forms were based purely on shortcodes. And as we added more features and options, the shortcodes you had to edit just became longer and more complex. Basically, it was becoming "shortcode hell."
So we moved to a new payment form designer user interface. This is probably our biggest change, and we think you're going to like it.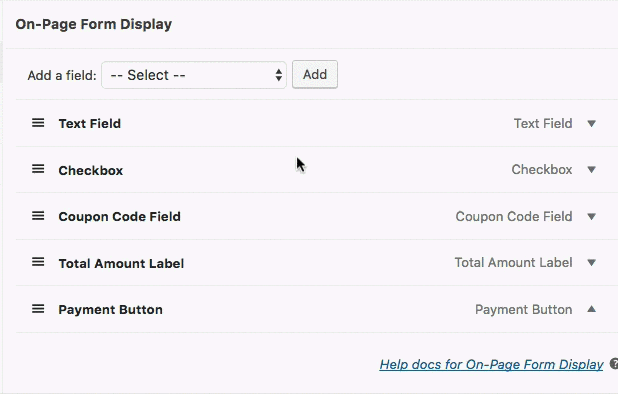 Easier Subscriptions Options Setup
Like with version 2.5, for those with a Business or Elite license, you can integrate Stripe subscriptions in your payment forms.
Not only will the massive shortcodes be gone, but it's a much easier and less error-prone configuration experience. Options for subscriptions are more intuitive and we retrieve plans you've already setup in your Stripe dashboard so you can easily select them.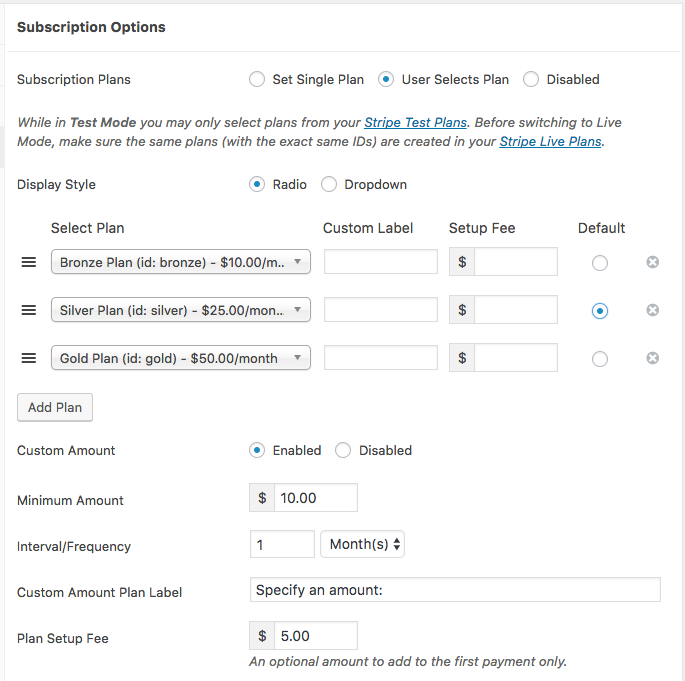 New Payment Confirmation Editor
Now you can easily customize the payment confirmation details your customers see within the post editor using placeholder tags.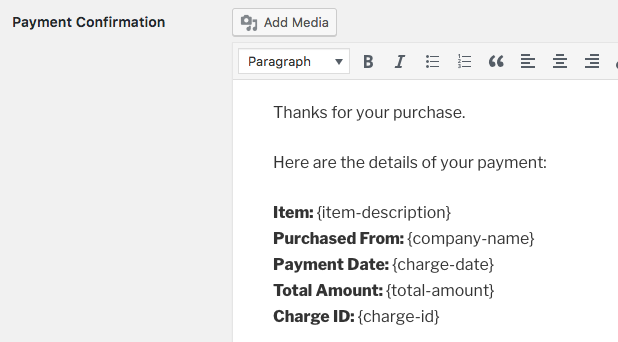 Updated Docs & Demos
We take pride in our responsive customer support, but our documentation also needed a refresh.
So we rolled out a new 50+ page docs site with updated screenshots, real-time search and a way for customers to rate and comment so we can improve it as we go.
Oh, and we have a brand new demo site as well.
More Frequent Feature Releases
Although there is not a ton of new "features" with this release, the restructured plugin will allow us to add features more frequently and without cluttering up the form settings.
We have some awesome new features planned for release very soon after 3.0. We also added a changelog page, and a public roadmap will be coming shortly. As always, you can send in your feature requests anytime.
Pro Version 2.5 (Legacy) Support
Because the settings and admin part of 3.0 is so different from 2.5, there is not a way to migrate payment forms or settings from 2.5 to 3.0.
And we realize current customers may need some time to migrate or simply prefer the old plugin for the time being.
For these reasons, we'll be continuing support and updates for WP Simple Pay Pro 2.5 until June 13, 2018 (end of life).
However, note that version 2.5 will only be receiving critical bug fixes and security updates. New features will be going into version 3 only.
How to Get 3.0
If you're an existing customer you can download version 3.0 from your WP Simple Pay account now. Note the separate license key.
Otherwise, you can purchase a 3.0 license here.