Why You Should Create Your Own Online Course
Countless professionals, hobbyists, and education-lovers take online courses every day for work and pleasure. In fact, the online learning market is expected to exceed $406 billion by 2024, and that includes both individuals and corporations spending more on online learning.
And they don't just look to universities and branded schools for their online education. Many people are happy to purchase access to educational content from their favorite online influencers and authority figures. If you're an online coach or expert who knows a topic well, there's no reason you can't sell access to an online course that's full of your knowledge.
If you're on the fence about creating your own online course, keep reading. We've laid out the benefits of owning online courses to help you make your decision.
Online Courses Are Great Passive Income
The most tangible benefit of creating an online course is passive income. Once you set up the course content and marketing, users will sign up and explore your lessons on their own.
Why is it passive? Because you're selling the same product over and over to different people. You don't have to make or ship a physical product for each order. You don't have to perform a service for each order. All you're selling is access to something you have already created.
To be fair, owning an online course isn't completely passive. You will have to put in a few hours every week to market the course and to help your customers use it. It's also smart to spend a little bit of time improving the course so it's always as valuable as possible. Nevertheless, an online course is more passive than most other online businesses.
Online Courses Scale Up Quickly
An online course is one of the most scalable types of online businesses that exist. Once you have your tools and content in place, there's little difference between selling one membership and selling a million memberships.
When Brandon Gaille ran a blog income study, he found that online courses represent a significant amount of revenue for bloggers. Bloggers would funnel their readers into their courses for easy passive revenue. As their audience got larger, their course revenue grew as well, but not proportionally. Their course revenue grew exponentially.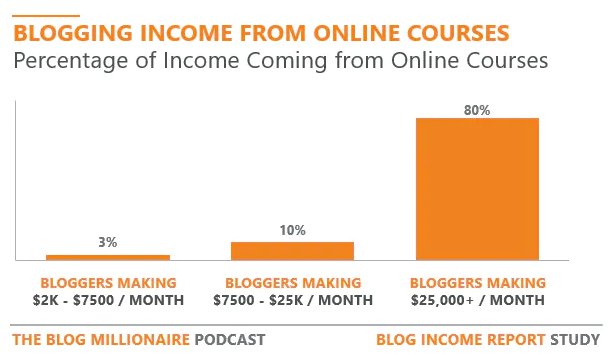 Look at it like this: Let's say you sell social media management services. Each service package you sell requires three hours of your time each week. In this case, you couldn't serve more than 13 clients at any time (unless you were willing to work longer than a standard week). Essentially, your income is capped by your time.
With an online course, however, there's no limit to the number of people who can buy your course. Yes, you will spend a little bit of time handling customer service issues and resolving problems, but the time investment will be minimal. In fact, you could spend a majority of your time improving your content to make your course more valuable or developing additional products.
Online Courses Are Great Sources of Leads
Your online course membership is a perfect pre-qualified list of leads who may be willing to purchase additional products and services. You know what kinds of problems they have and you know they're willing to spend money to solve them. And if they are happy with your course content, they already trust you to meet their needs.
What could you sell them? You could push them to purchase more online courses that address other problems they may have. They might also be interested in other educational tools, like eBooks, videos, or access to a premium newsletter or online community.
Furthermore, course educational content, while valuable, often convinces members that they aren't ready or willing to solve their problems on their own. After taking a course, many people decide that DIY isn't right for them. Instead, they'd rather pay someone to manage their problems for them. This means your course membership is a great audience for one-on-one coaching sessions, consulting services, or other services that require more of your time and attention.
Customer Service for Courses Is Simple
Generally speaking, customer service is simple when you sell an online course. Since you don't have to ship a physical product or perform a service, giving your product to the customer is easy. You simply send them login access to your course once they've paid. Obviously, this can be automated.
Unlike other types of online businesses, giving out refunds for an online course is simple as well. If a customer is truly unhappy, all you have to do is revoke their access and return their money. You don't have to get the customer to return a product, and you didn't waste any time performing a service. It's simple to just return their money and part ways.
Courses Have Low Startup Expenses
Unlike many other types of businesses, online courses cost very little to start up. You don't need startup capital or a bank loan to create or sell a course.
Creating course content doesn't require a big time commitment either. You can create the articles, videos, worksheets, quizzes, and other elements on your own schedule. If you have big aspirations for your course (maybe you want in-depth animated videos or interactive elements), you could always launch a lighter version of your course first with a lower price point.
One way to create an online course is to use a membership course web app. These tools will help you organize your content, members, and payments. They aren't especially expensive, but they come with a cost you may want to avoid the beginning. In most cases, they charge you a monthly fee based on the features you need. Some also charge a percentage fee on every transaction.
But you don't need a membership course tool. Truthfully, all you need to create your membership course is a content management system and the right plugins. You could use WP Simple Pay to start collecting payments (one-off and subscription payments). If your site grows large enough, you could simply upgrade to Restrict Content Pro to automate this process further as well as display or hide content to different groups of members.
You should also invest in an email marketing tool. This is a key way to engage with your customers, notify them about any changes to your online course, and eventually sell them additional products. We recommend Jilt because it has a great suite of features for course creators.
Online Courses Don't Require a Co-Founder
Unlike creating a software product, engineering a physical product, or delivering a complex service, you usually don't require a co-founder to create, launch, and sell an online course. You can do it all by yourself as long as you know the content well enough to teach it.
Building your online course by yourself means you get full say over how the content is presented and how you deal with customers. You don't have to compromise or bargain with anyone. Most importantly, when the money starts blowing in, you get to keep everything.
Start Today
Now that you understand the benefits of creating your own online course (whether you create one as its own business or add one as an additional product to your existing business), we strongly encourage you to start today. All you need is WordPress and WP Simple Pay to get started with minimal cost.