[New] Introducing Payment Form Templates and Page Builder Integrations
Adding payment forms to your website just became much faster!
Just a few weeks ago we added a setup wizard and payment form block to WP Simple Pay to get you up and running quickly.
With WP Simple Pay 4.4.3, we've added a way for you to save even more time by selecting from a collection of pre-built payment form templates.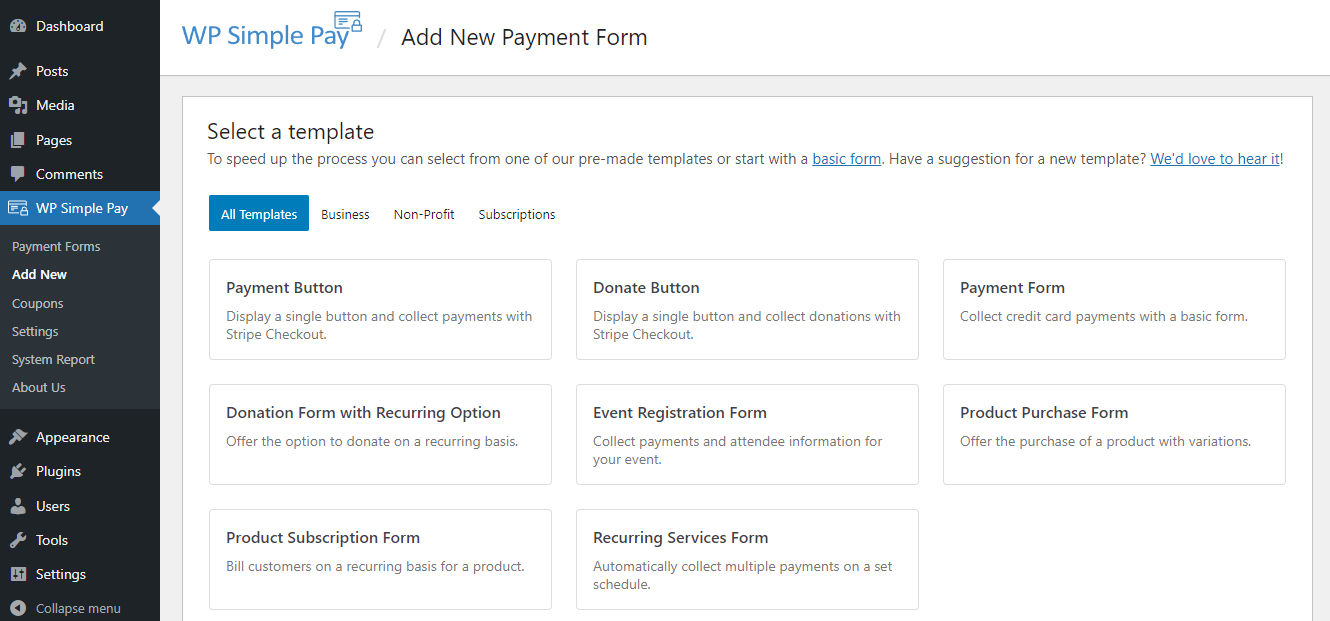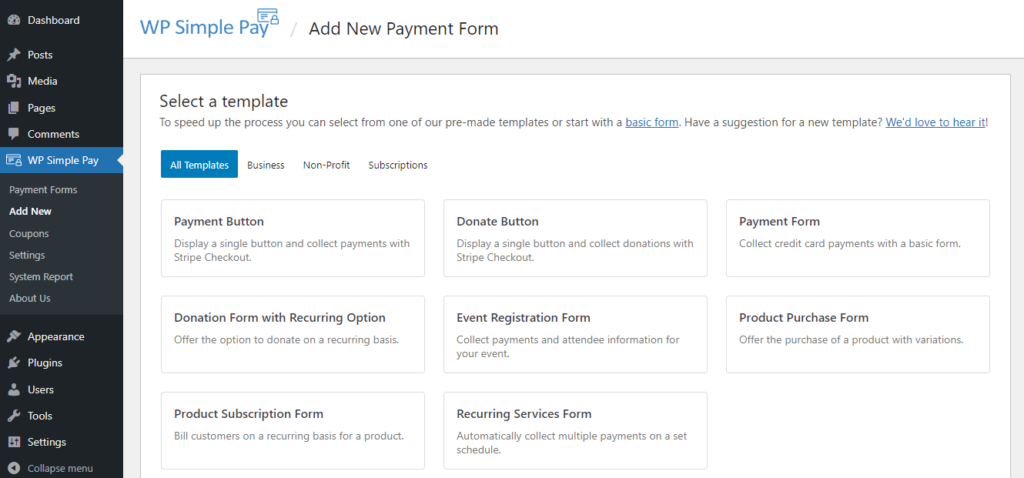 We also added integrations for the popular Divi and Elementor page builders.
Let's dive in and see how these updates can help you publish payment forms on your WordPress site in very little time.
Pre-Made Payment Form Templates
Before this update, the only way to create payment forms was from scratch. But now it's easier than ever to create a payment form connected to Stripe by selecting a pre-built template.
Now when you select WP Simple Pay > Add New, you'll be presented with a template selection screen. With just one more click, you can select a template to start with that best fits your needs.
Here are a few of the templates available to select from as of this release. The screenshot seen underneath each one is how it looks to your site visitors before any customizations.
Payment Form – A simple form for collecting credit card payments from customers.
Donation Form with Recurring Option – Let your site visitors select from different amounts to donate and give them the option to make it a monthly recurring donation.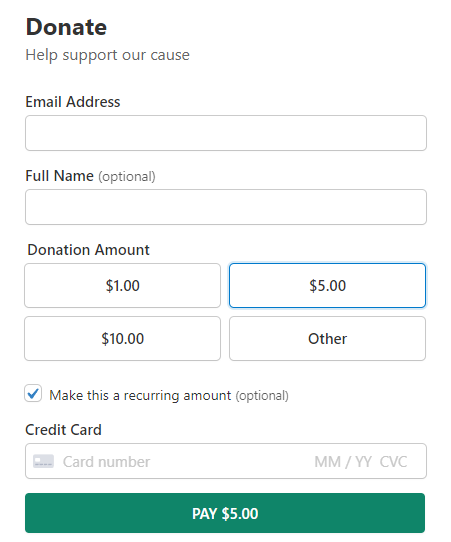 Event Registration Form – Collect full billing information from customers for an event as well as ticket quantity and t-shirt size. Quicker payment by Apple Pay and Google Pay also included.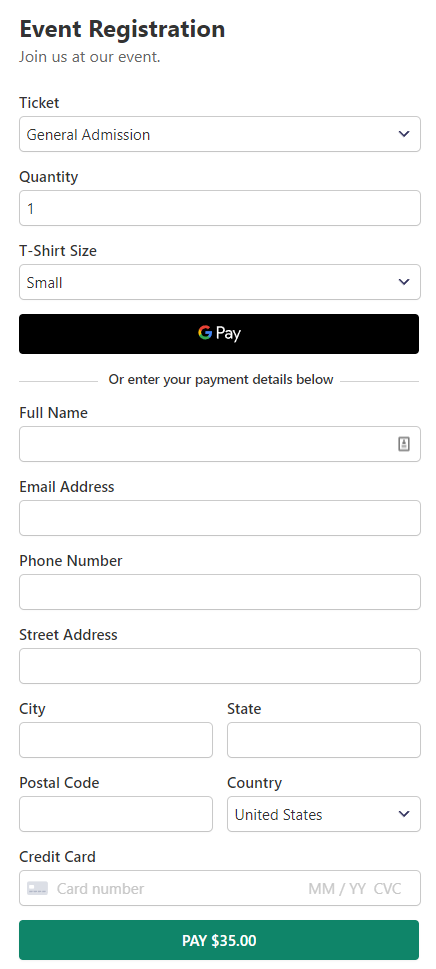 Remember, you can always click the "basic form" link at the top to start a payment form from scratch if that's what you prefer.
Don't like the template you selected? After selecting the template and previewing the form, you can always click "Use a different template" to go back and select something else.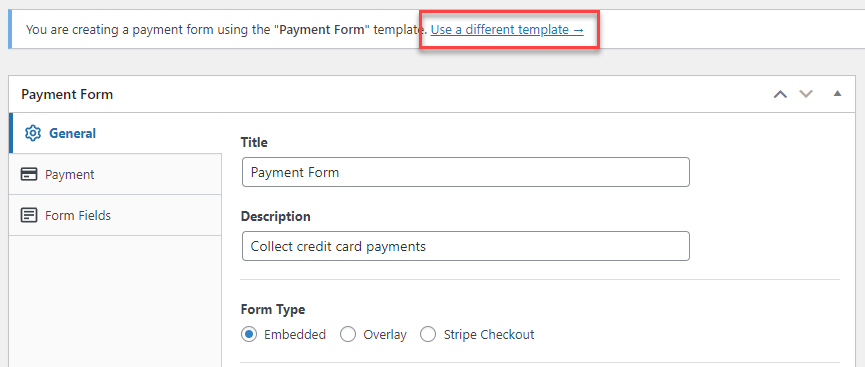 At this point, you can use our drag & drop form builder to add, remove and rearrange fields for further customizations.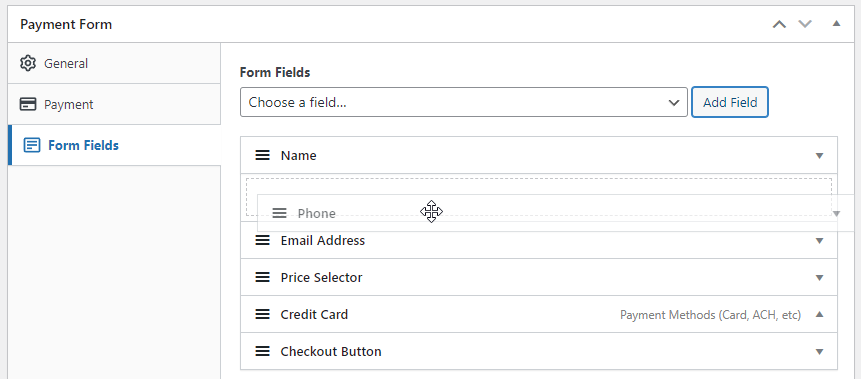 Some templates are included in the Lite version of WP Simple Pay, but our Pro version unlocks many more from our ever-growing template library. If you purchase a Plus or higher license, you'll get access to all payment form templates currently available and all templates we release in the future.
We're adding new templates often, and love getting suggestions, so send them in! Our goal is to save you time no matter what kind of payment form you need to create.
Page Builder Integrations
One of the best aspects of WordPress is that you have options when it comes to building pages for your site. Some prefer to build pages with the modern block editor built into WordPress, which is why we recently added a payment form block. Others prefer to use a third-party page builder.
In this WP Simple Pay release, we added integrations with the popular page builders Divi and Elementor. Now you can easily launch payment forms from Divi and Elementor buttons, pricing tables, and call-to-action modules or widgets with a bit of drag & drop and a few clicks. No code required!
Here's what it looks like to add a Divi button to a page that launches a WP Simple Pay overlay payment form.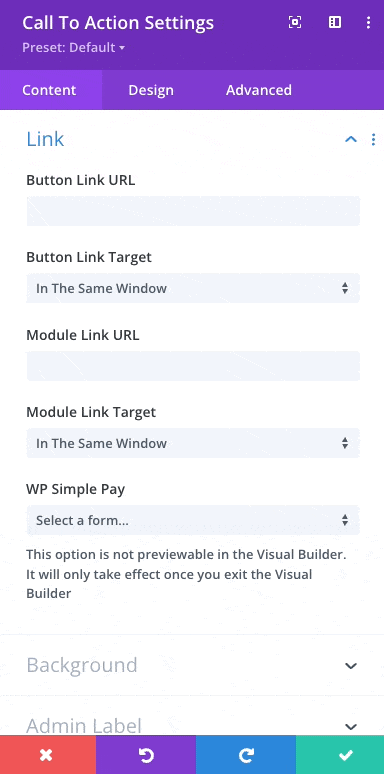 Here's what it looks like to set an Elementor pricing table button to launch a payment form.

For more help on how to use page builders with WP Simple Pay, see our Divi integration doc or Elementor integration doc.
If you use the excellent SeedProd page builder, we're working on an integration with them as well. Here's a workaround if you need to integrate SeedProd now.
WP Simple Pay 4.4.3 – Adding Payment Forms in Just Minutes
With the new form templates and page builder integrations, it takes just minutes to launch a payment form live on your website.
At WP Simple Pay we're committed to helping WordPress users be successful with accepting payments without the need for a developer or complex shopping cart setup. That's why we're continuously improving our plugin, so you can easily create the types of payment forms you need for your business or non-profit.
There's no better time than now to upgrade to a paid plan. Partnered with Stripe, we're always working with them to regularly release new features to empower WordPress site owners to handle payments quickly and easily.
As always, we value your feedback and input — keep the suggestions and feature requests coming. You can reach our customer support team here and they'll be happy to help you out.
Don't have the WP Simple Pay plugin yet?
Go ahead and get started with the best Stripe payments plugin for WordPress – WP Simple Pay.