How to Accept Payments for Music Lessons
Hey music teachers, did you know you can begin to collect payments online easily through your WordPress website? Move on from having your clients write you checks and trying to remember to deposit them. There's a much simpler solution. Set up WP Simple Pay Pro and begin accepting payments for these music lessons within 5 minutes.
Here's an example of a simple payment form that was set up using WP Simple Pay Pro. You can adjust the open field text forms to collect whatever information you need from your students. This instructor below wanted the client to fill in the student's name, month and year that they are paying for, and how many lessons that month. Then there's a custom payment amount that they can fill in as well.
After clicking the pay with card button they are taken through the process of gathering the customer's email and credit card information for a simple and quick payment.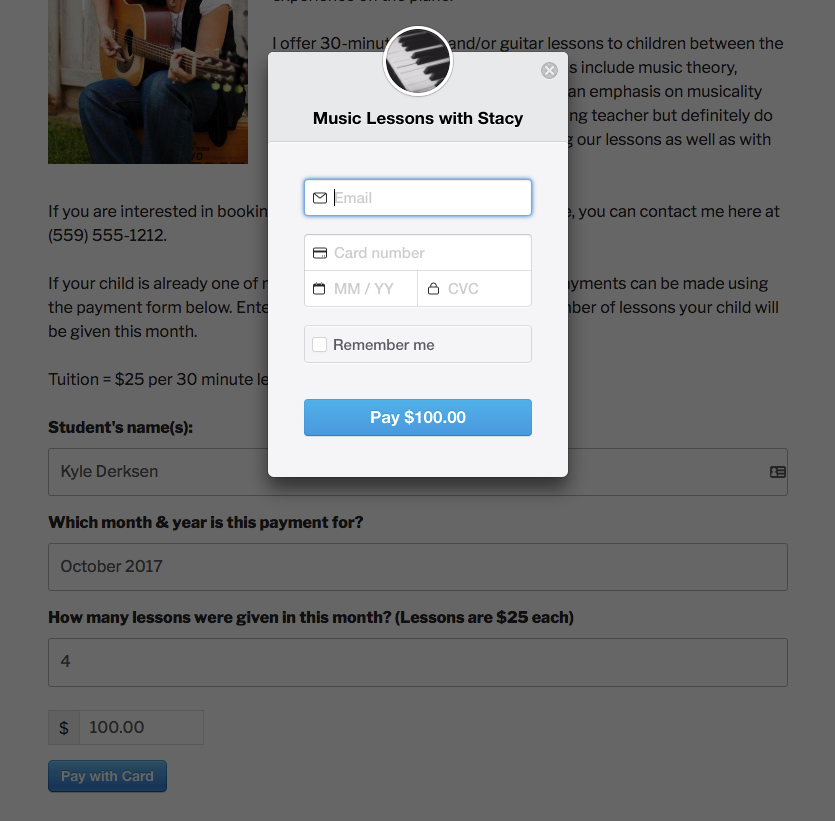 Make life simpler for yourself and for your students' families. Accept digital forms of payment for anything, even for music lessons. You can also set up recurring payments if you charge for music lessons with a standard monthly amount. Our docs pages have detailed instructions on how to easily set those up.
Ready to get started? No need to wait. Get the best Stripe payments plugin for WordPress now and start accepting payments online from your music students.