How to Accept Cash App Pay Payments
Cash App Pay is a payment method available to all Cash App customers for single use and recurring payments to businesses. Cash App Pay uses the customer's stored balance or linked debit card to fund the payment. The customer can confirm the payment in one of two ways:
During checkout from a mobile device, your site redirects customers to the Cash App mobile application for authentication. The payment is authenticated during the redirect. No additional action is needed in the Cash App mobile application to complete the purchase. The customer is then redirected back to your site.
During checkout from a desktop web application, the customer scans a QR code with their mobile device to authenticate the transaction.
One of the remarkable advantages of embracing Cash App payments is the opportunity it brings to tap into previously untapped markets. An impressive two-thirds of Cash App's monthly transactions come from the tech-savvy millennial and Gen Z demographic. Moreover, an astonishing 55% of Cash App users don't possess a credit card, making Cash App Pay an invaluable tool for facilitating payments by utilizing either the customer's stored balance or their linked debit card
For more information, please visit Stripe's Cash App Pay documentation.
| | |
| --- | --- |
| Payment Method Type | Digital Wallet |
| Relevant Payer Geography | United States |
| Presentment Currency | USD |
| Country Availability | United States |
| Recurring Payments | No |
| Refunds | Yes |
| Disputes | Yes |
| Payment Completion | Immediate |
Enable Cash App Pay
To accept Cash App Pay payments, visit the Payment tab in the payment form builder, and enable Cash App.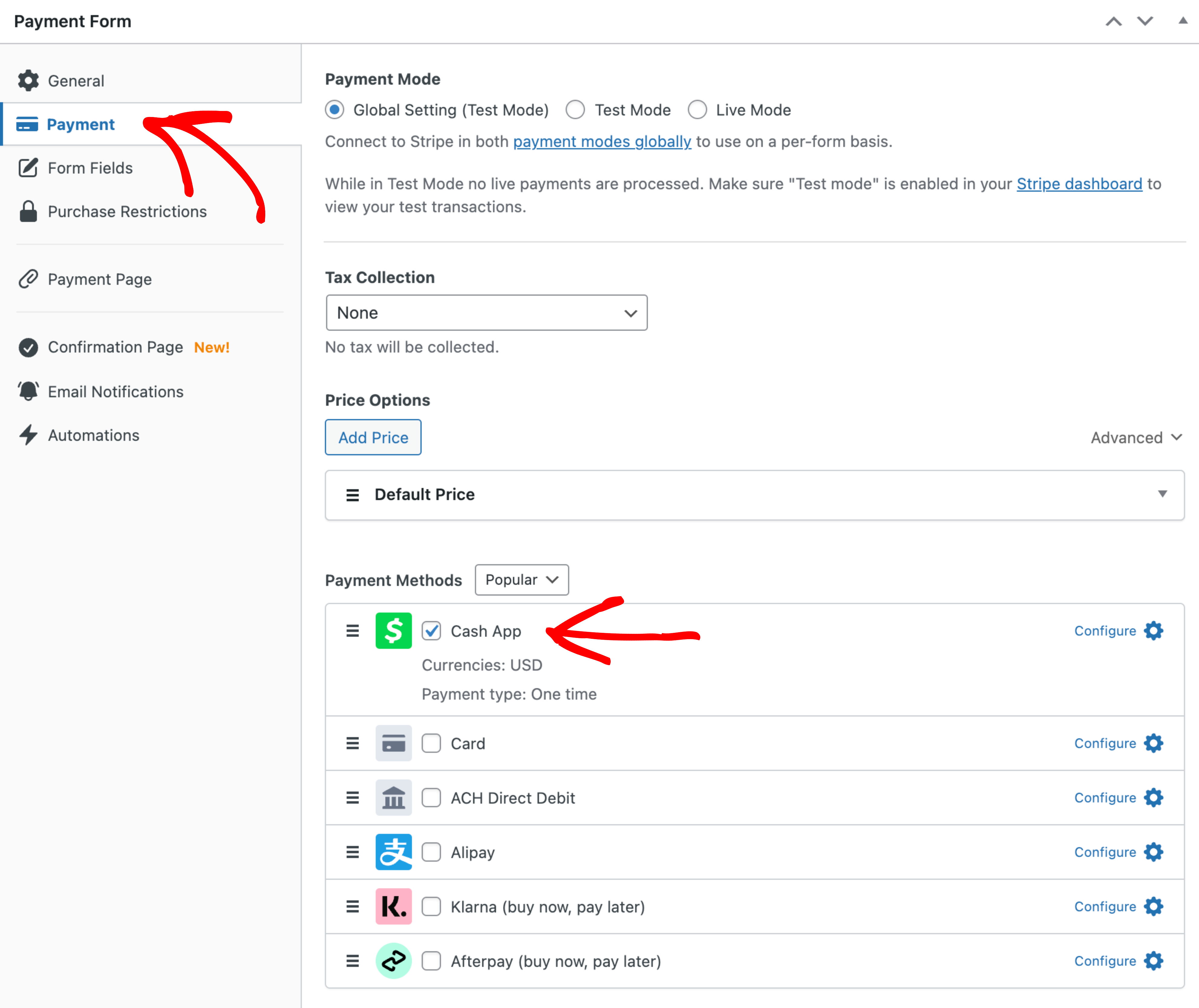 Still have questions? We're here to help!